Twitter's first attempt to fact-check President Donald Trump resulted in a wave of backlash. Some came from the president himself, who unsurprisingly lashed out at the company for "stifling free speech." Others felt the platform didn't go far enough, calling for Trump's unsubstantiated tweets about voter fraud to be deleted instead of flagged.
While those criticisms were pretty predictable for the polarized platform, there were some more measured concerns about the practice, hinging on the fact that parts of Twitter's fact-check page didn't add up.
Twitter added a link to the bottom of two of the President's tweets about mail-in ballots, encouraging readers to "get the facts" by clicking through.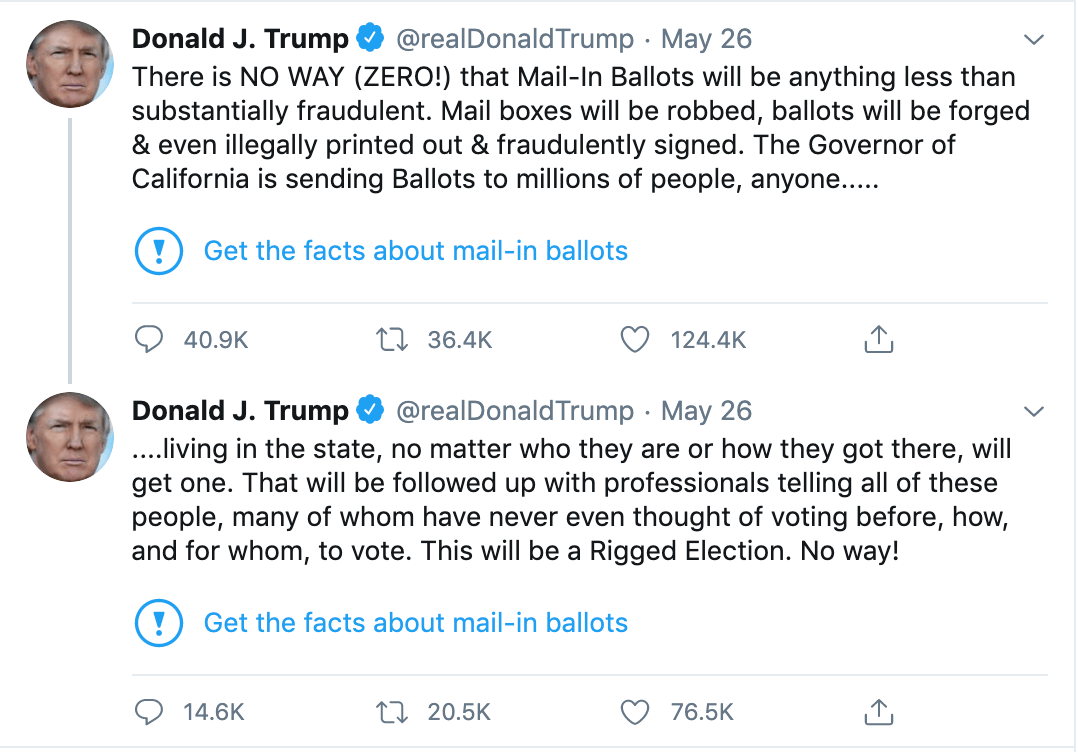 The landing page is headlined, "Trump makes unsubstantiated claim that mail-in ballots will lead to voter fraud." It includes a short blurb under that, pointing to "CNN, Washington Post and others" as its sources to support the "unsubstantiated" label, adding that, "Experts say mail-in ballots are very rarely linked to voter fraud."
From there, the page is broken up into sections, including tweets from publications and individual journalists rebuking his statements and blurbs of summarized information from Twitter.
Except, confusingly, one of Twitter's own claims does not match up with the others on the page.

In the top point of its "what you need to know" section, Twitter notes that, "fact-checkers say there is no evidence that mail-in ballots are linked to voter fraud." That's contradictory to its previous, accurate statement that they are "very rarely" fraudulent, which is what experts have actually found.
As a fact-check from Snopes notes, there is no official federal government database of state-by-state voter fraud incidents, and each state has different regulations, making it difficult to truly measure the amount of voter fraud taking place in U.S. elections. However, studies and reporting over multiple years has found that there are "minuscule" incidents of voter fraud in the country compared to the number of voters. Of that, there is evidence that fraud is "slight more common" in absentee voting—including mail-in ballots.
Additionally, Twitter originally made the claim that Nebraska was one of the states that sent out ballots by mail to all its constituents. Some counties in Nebraska are vote by mail, but it is not statewide.
After it was flagged, Twitter removed that reference.
Nitpicking? Maybe. But when you're making the sure-to-be controversial move to fact-check the president of the United States' tweets to his 80-plus million followers, it's best to apply the same fact-checking standards to your own post.
READ MORE: