President Donald Trump retweeted a video that replaced Joe Biden playing the song "Despacito" on his phone with "Fuck Tha Police" instead, leading Twitter to flag the tweet as "manipulated media."
Biden played "Despacito" on his phone during a campaign event in Florida on Tuesday night after the singer Luis Fonsi introduced him.
However, Trump on Wednesday morning retweeted an account that posted an edited clip of Biden's song-playing, replacing "Despacito" with "Fuck Tha Police" by N.W.A.
The president quote-tweeted the clip, adding: "What is this all about?"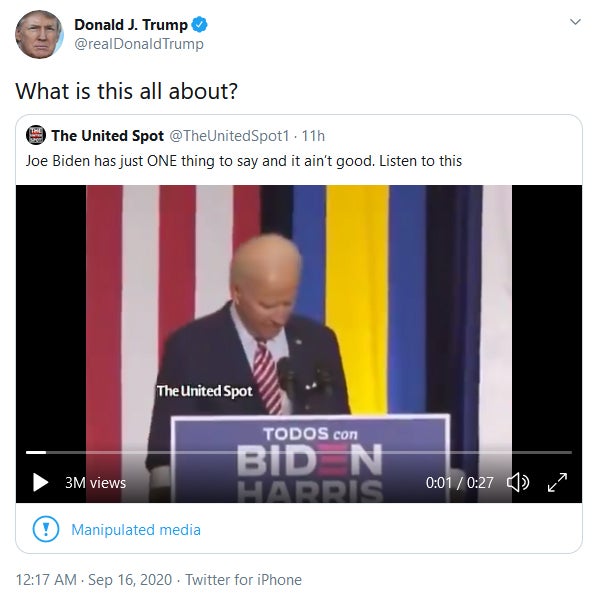 He tweeted it again a few hours later, saying that "China is drooling. They can't believe this!"
Twitter has flagged a number of Trump's tweets for running afoul of its rules, including several that had manipulated media.
In March, the president retweeted Dan Scavino, the White House social media director, who posted an edited video of Joe Biden stating "we can only re-elect Donald Trump." The video was shortened from a speech where Biden stumbled over his words.
The former vice president actually said: "Excuse me. We can only re-elect Donald Trump if in fact we get engaged in this circular firing squad here. It's got to be a positive campaign."
Twitter's decision only to add a "manipulated media" tag to Trump's tweet of the edited "Fuck Tha Police" song drew criticism from people online, who argued that the tag does not do enough to stop the spread of it.