President Donald Trump on Monday night tweeted out random videos of Black men attacking people, demanding to know "where are the protests?" about them.
The president's encouragement of protest for random, unconnected incidents seems to be equating them to the protests against police brutality and racism that have popped up across the country.
The tweets were condemned by a number of people on social media.
In one tweet, the president commented on a video of a Black man hitting a white man in a Macy's. In another tweet, he commented on a woman who was shoved by a Black man in a subway car in New York City.
After sharing the Macy's video, Trump added: "Looks what's going on here. Where are the protesters? Was this man arrested?"
It appears that Trump's tweets were trying to imply that the individual incidents were just as much of a reason to protest as the systemic racism at the center of protests across the country in the wake of the police killing of George Floyd.
The Macy's video was from earlier this month in Flint, Michigan, according to the Detroit Free Press. The newspaper reported people online said the man heard an employee use a racial slur before hitting him.
One of the people who filmed the video told the New York Post the employee called his brother the N-word before he hit him. Macy's told the Free Press the attack was unprovoked.
The tweets from the president were called out for trying to inflame racial tensions.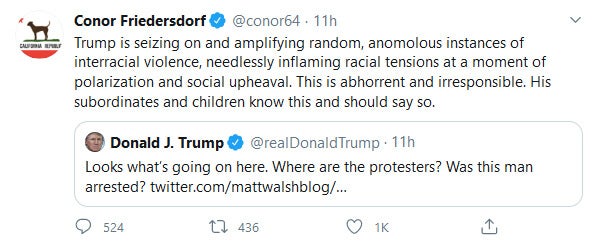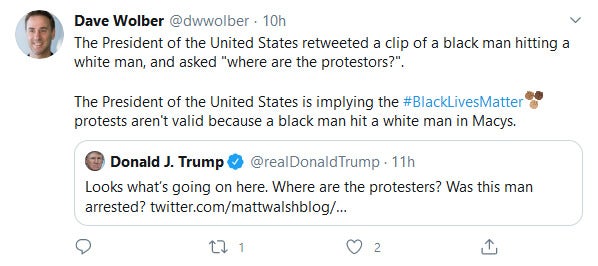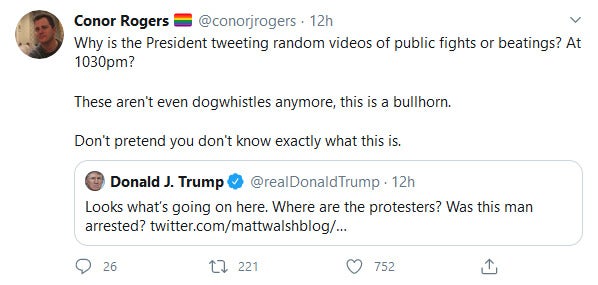 According to Flint police, the Macy's attack is still under investigation.
READ MORE: