The 1990s-era maroon Chevy Suburban blocking the intersection at East Pine St and 13th Ave in Seattle's Capitol Hill neighborhood is the first indication that you've arrived at what is currently the most contentious stretch of real estate in America.
The surrounding six-block area, which has come to be known as the Capitol Hill Autonomous Zone, or "CHAZ," has largely been under the control of protesters since the Seattle Police Department abandoned its East Precinct last Monday.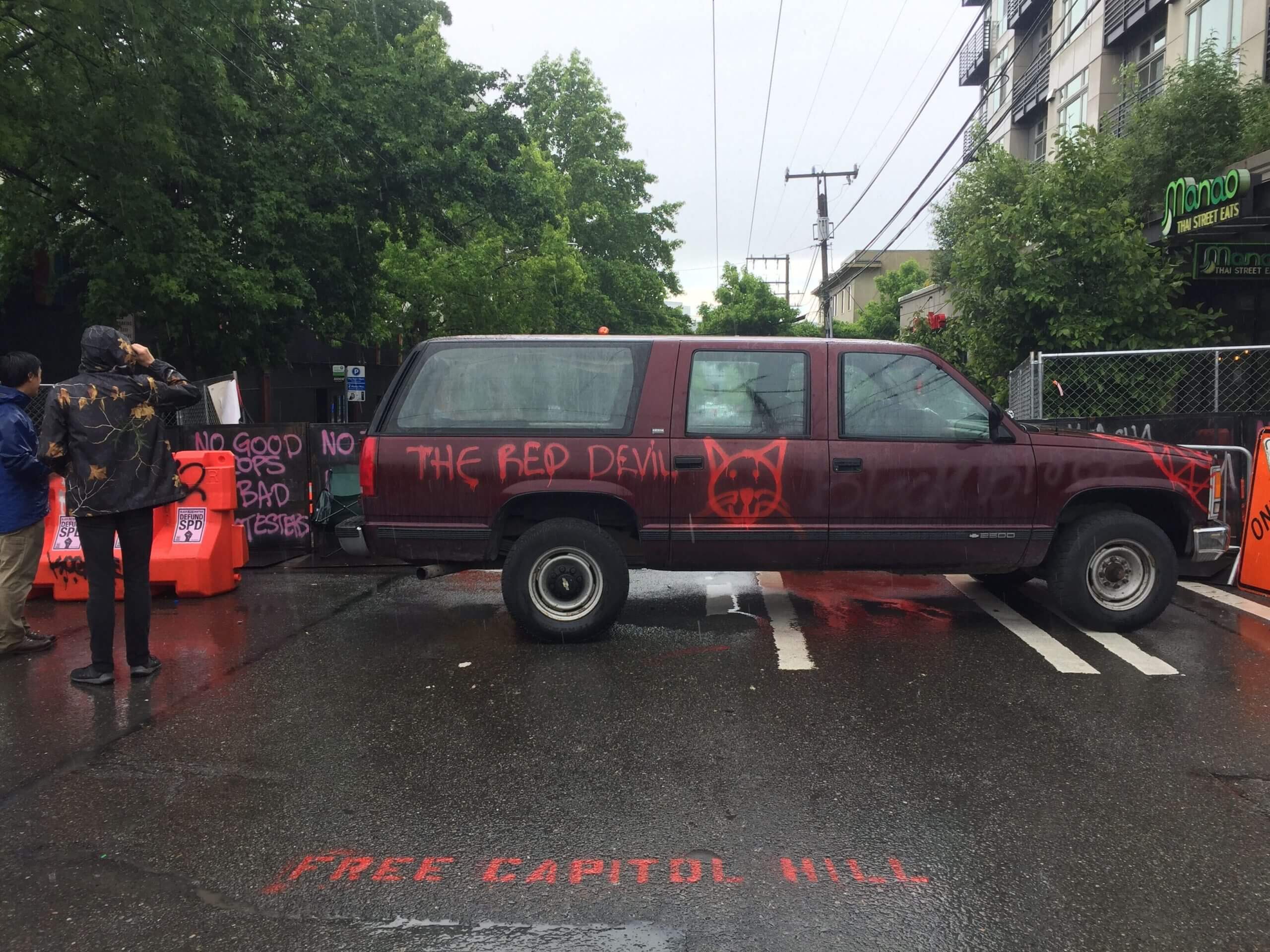 Also referred to as "Free Capitol Hill," the small section of land has not only ignited a political frenzy but has become ground-zero in the ideological war over the role of police in modern society.
The "cop-free zone," which sprung up amid nationwide protests over the police killing of George Floyd in Minneapolis, has been likened to a summer block party by Seattle Mayor Jenny Durkan while simultaneously being described by President Donald Trump as a haven for "domestic terrorists."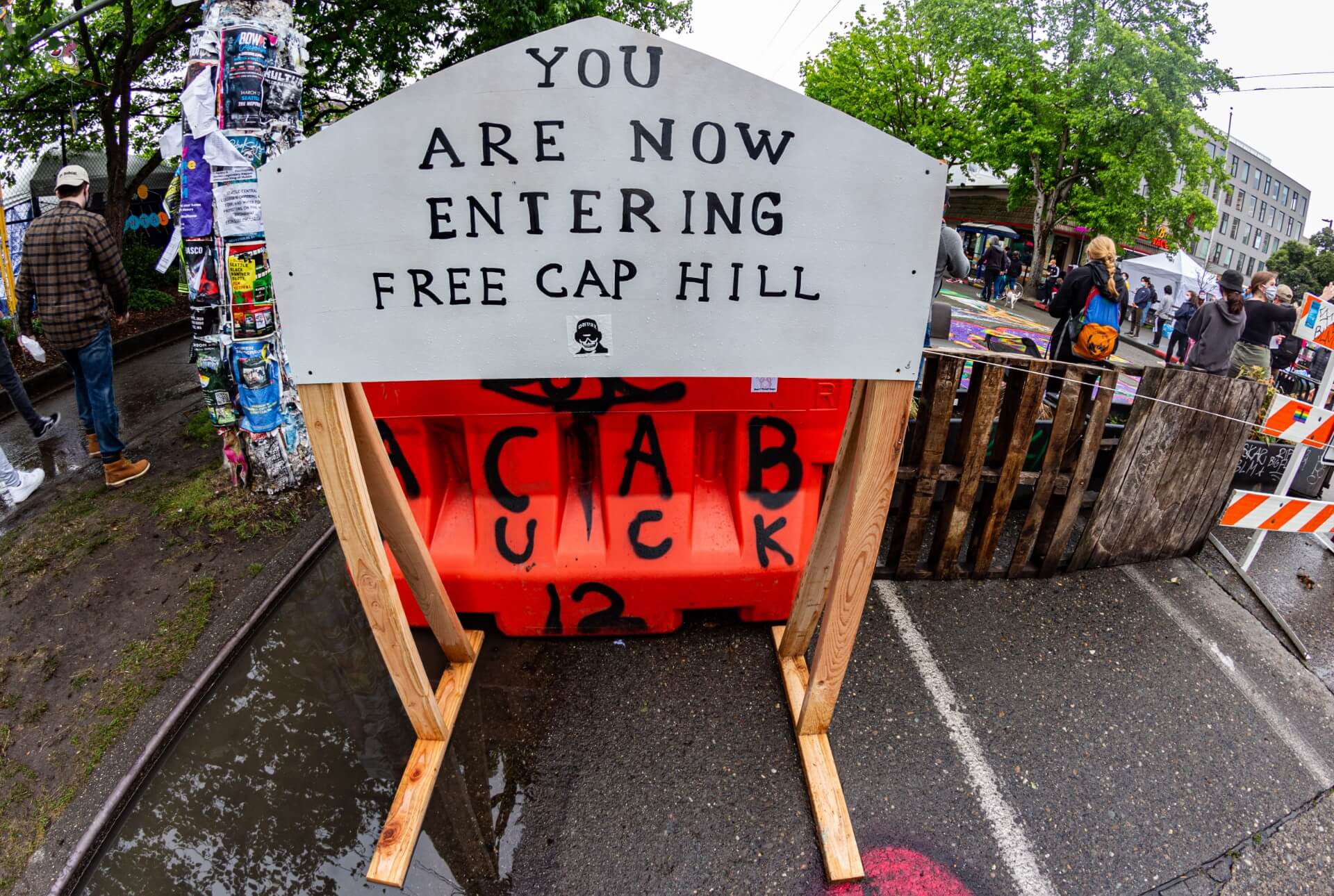 The graffiti-laden and barricaded entrance to CHAZ, reportedly guarded at times by members of a local left-wing gun club, was calm at midday.
The three individuals manning the entry, none of whom were visibly armed, welcomed and thanked visitors as they sauntered in and out of CHAZ unabated. One of those volunteers, a Capitol Hill resident named Josh, had been lending his services in the autonomous zone since the beginning.
"I'll be out here until reasonable concessions are made by the city government or until they make it absolutely impossible for us to be out here," he said.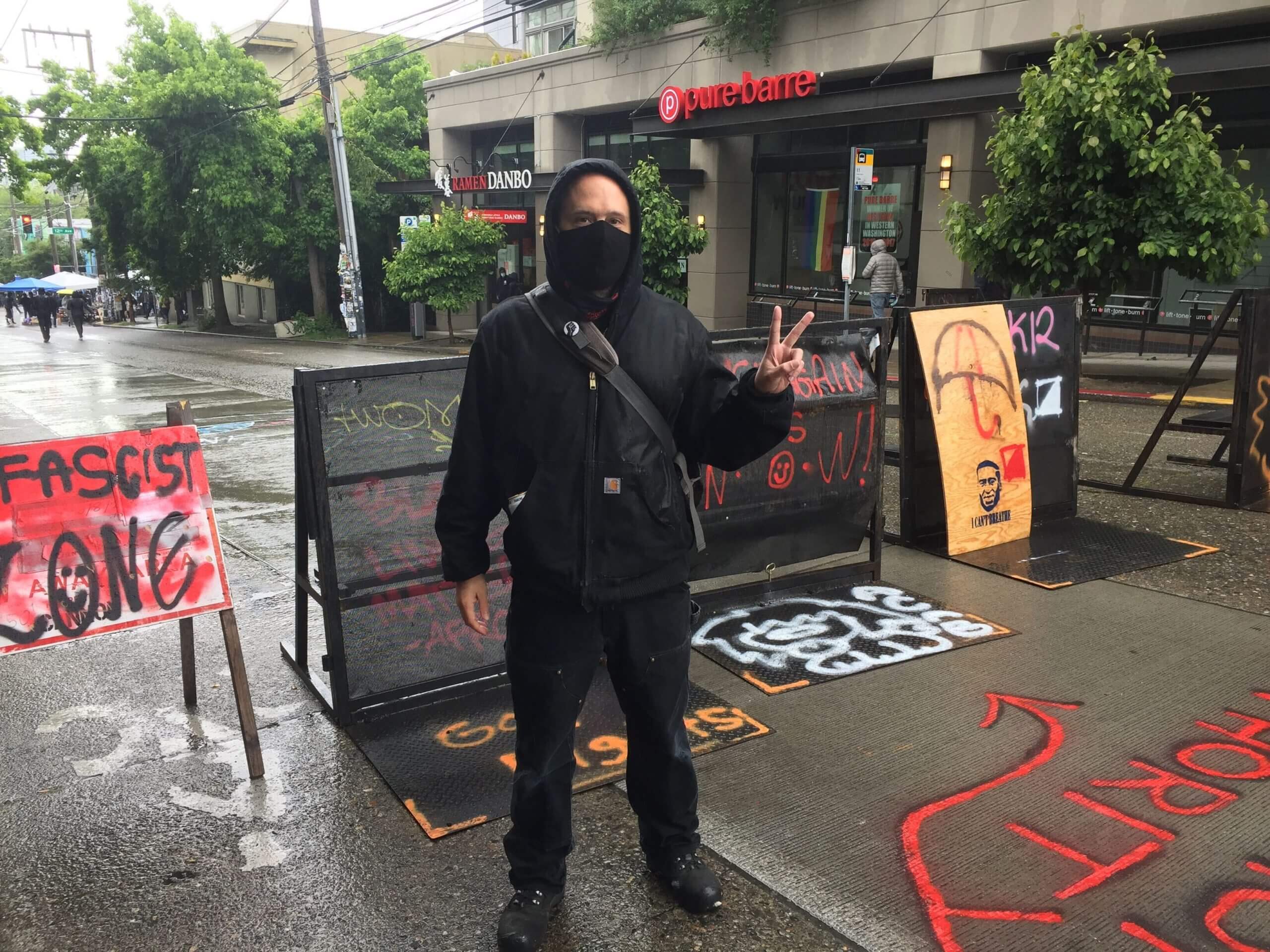 A list of demands was issued on Wednesday by Black Lives Matter protesters which included calls for the Seattle Police Department to be outright abolished. Seattle Police Chief Carmen Best has been a vocal opponent of the current situation, arguing that leaving the East Precinct to begin with—a decision the city says was aimed at reducing tensions between police and protesters—was the wrong move.
The East Precinct for the Seattle Police Department, renamed with spray-paint to the "Seattle People Department," is a shell of its former self. Surrounded by chainlink fencing and adorned with protest signs, the structure's dilapidated appearance is symbolic of the state of relations between the community and law enforcement.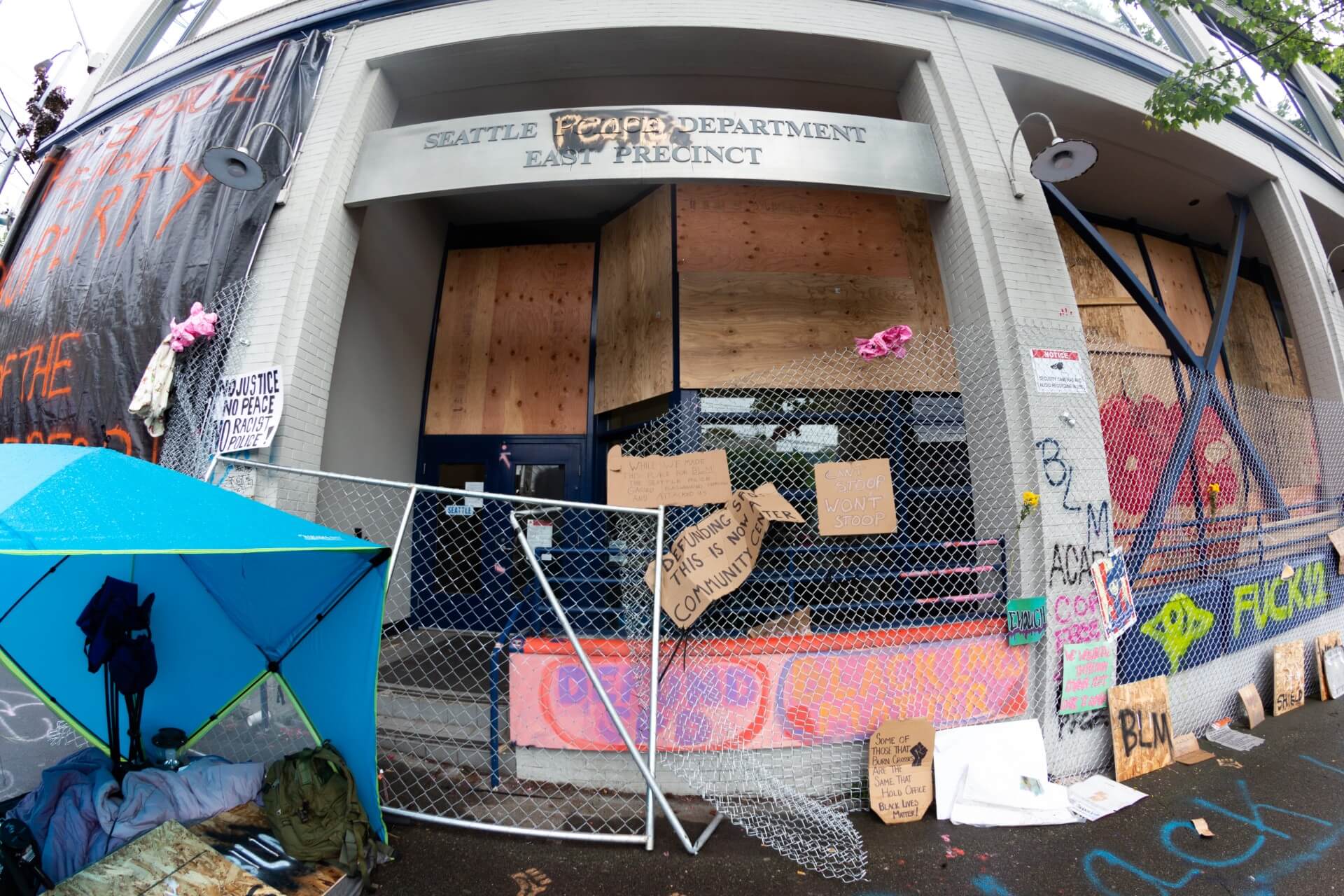 Countless people from engaged political activists to inquisitive onlookers spent the day walking throughout CHAZ's boundaries, undeterred by the familiar Seattle rain.
Bethany, a social worker from the city, came to the autonomous zone after calls to vastly reduce the role of police became a topic of national debate. While handing out white flowers next to a memorial for those killed in police shootings, Bethany said social workers, not law enforcement, should be tasked with responding to mental health emergencies.
"I've been in social services for six years and I know the impact that the police have not just on people of color but specifically on people of color with substance abuse or developmental disability issues," she said. "I've been banging on the drum at my workplace for six years saying we shouldn't rely solely on police and that social workers are better equipped to respond to most things that people call the police for."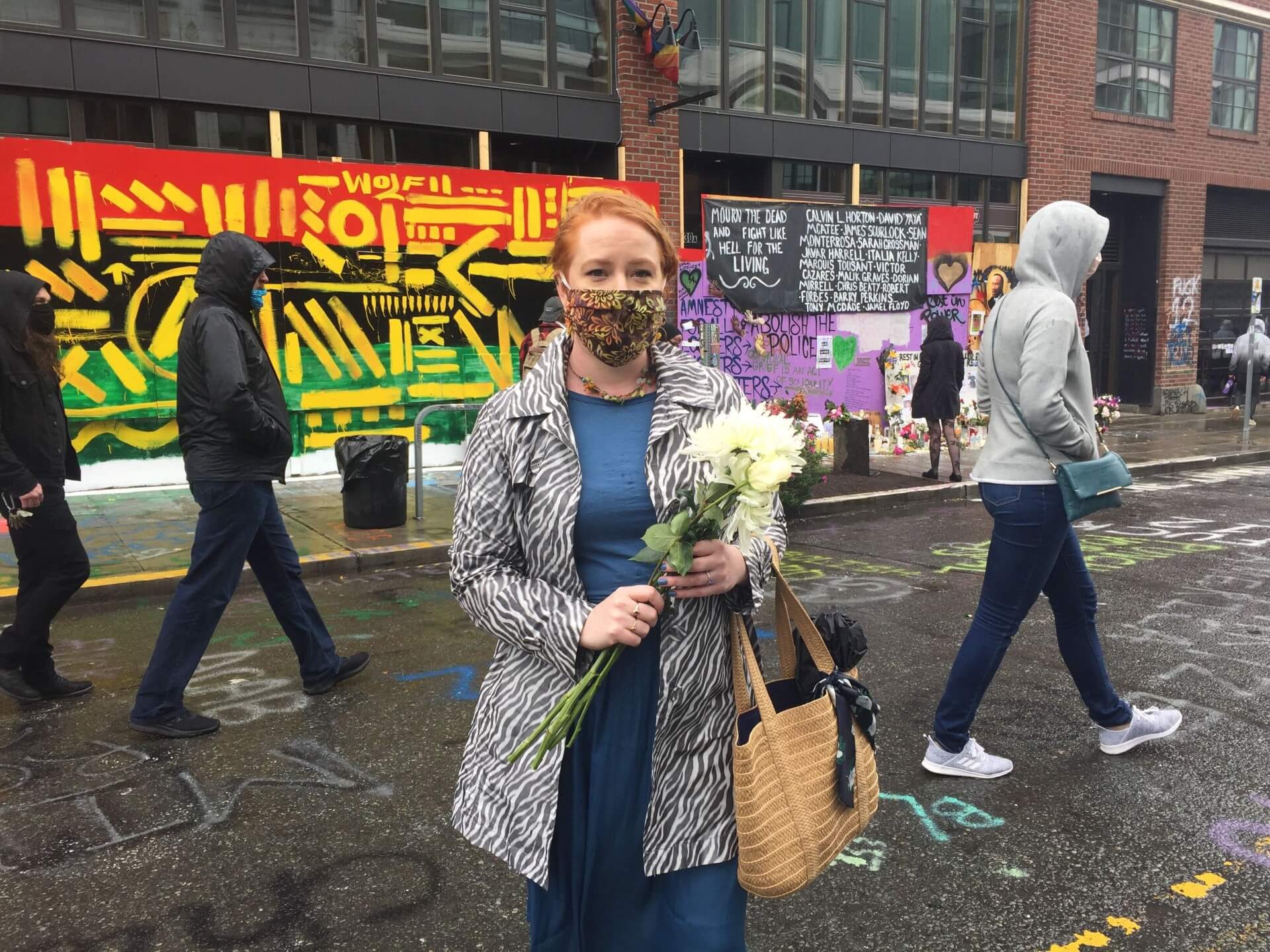 Free Capitol Hill is reminiscent of New York City's Zuccotti Park during the Occupy Wall Street movement. A grassy plot at one of end of the autonomous zone, dedicated to those preparing for the long haul, is covered in a patchwork of tents and small gardens. That's where lifelong Seattle resident "C" was standing alone, taking in the scenery while reflecting on the evolving demonstration.
"Seeing the work of democracy and people actually coming together to unite against this issue and fight for what's right is really powerful," he said. "It's why I'm still out here."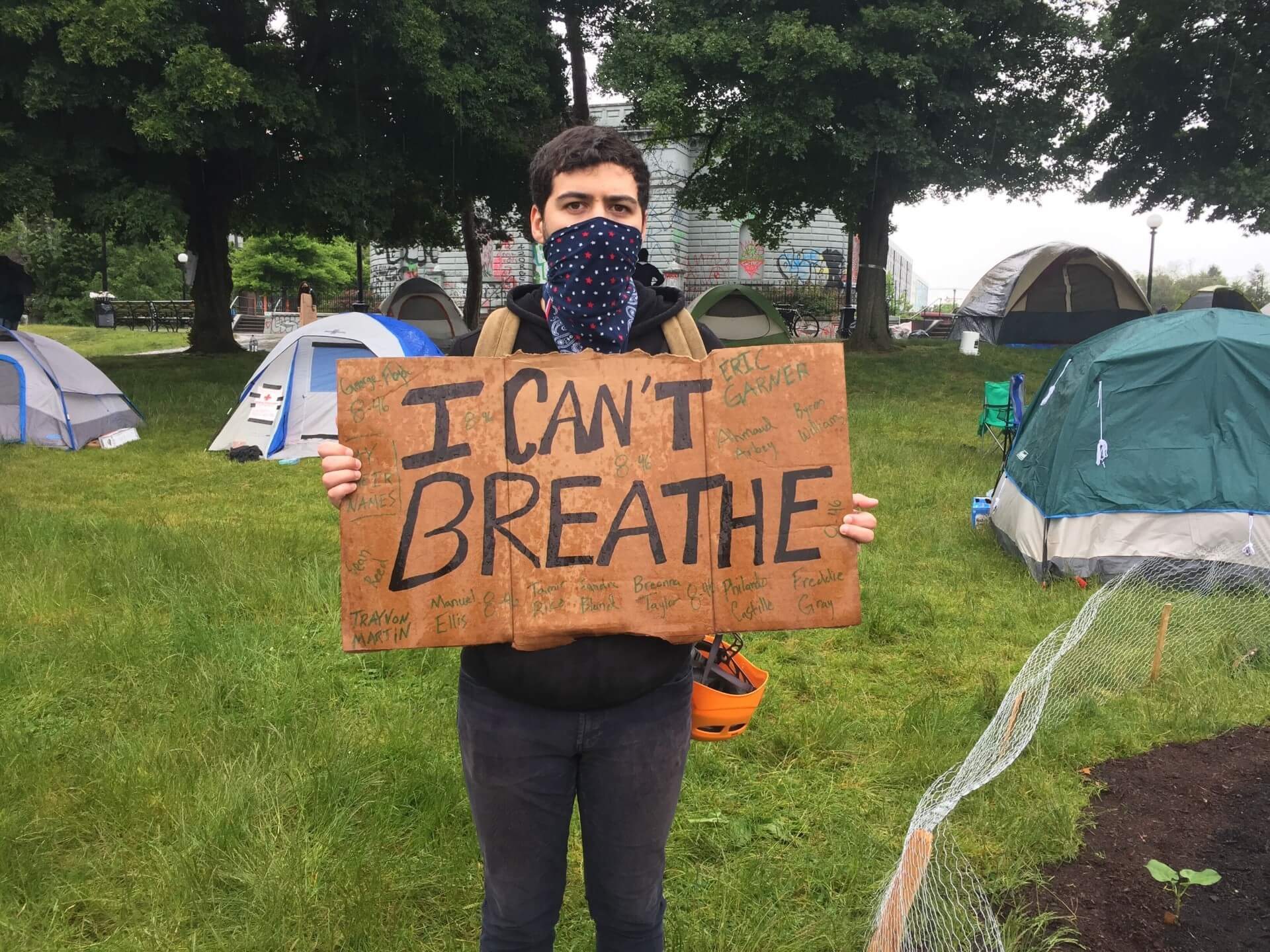 Not everyone shares C's view of the autonomous zone and the goals of its inhabitants. Prominent conservative lawmakers have mocked and condemned CHAZ while Democratic presidential candidate Joe Biden has come out against its primary goals regarding police funding.
Although claims were widely reported that businesses within CHAZ were being extorted, the allegation was later retracted by police. The zone, however, is not without its issues. Much like you'd find across Seattle, physical altercations, as seen in videos spread online, have broken out on occasion. A lack of law enforcement in the area, police claim, has also led emergency response times to nearly triple.
"The difference in that amount of time could prevent someone's life [being lost] and prevent a violent attack," the police chief said, adding that the neighborhood's "marginalized communities" are most likely to be affected.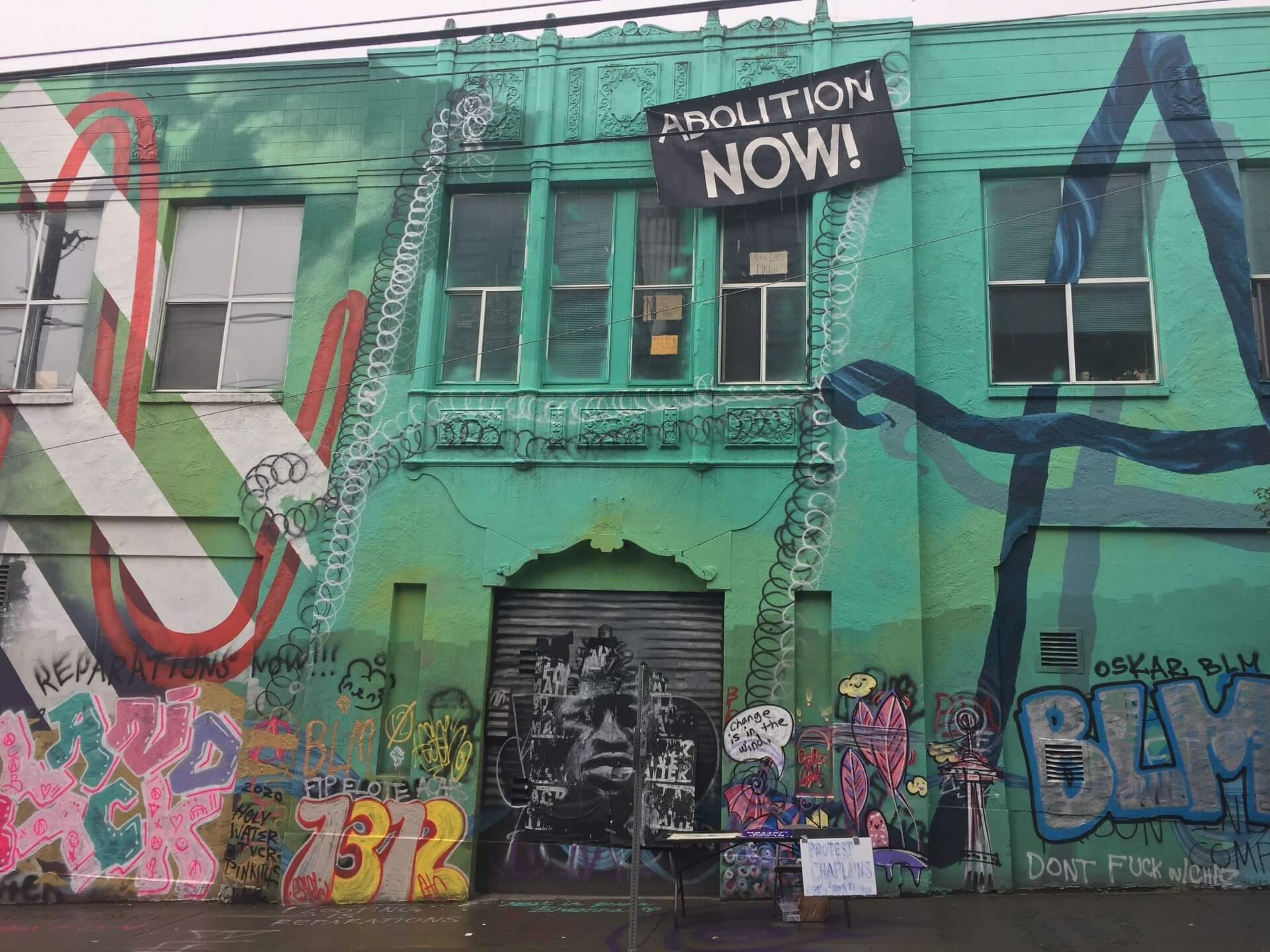 But volunteers within Free Capitol Hill are adamant about offering services they say the local government has failed to adequately provide. An assortment of stands with names like the "No Cop Co-op" have been set up along the street to give away everything from food to masks and medical supplies.
One volunteer stationed at the supply tent, who appeared involved in numerous operations at CHAZ, had a pistol holstered to his thigh. While open carry is legal in Washington state, Seattle's mayor issued a citywide emergency order banning all weapons during the protests. But the mayor thus far appears largely uninterested in enforcing the order and no violent incidents involving armed supporters of Free Capitol Hill have been reported.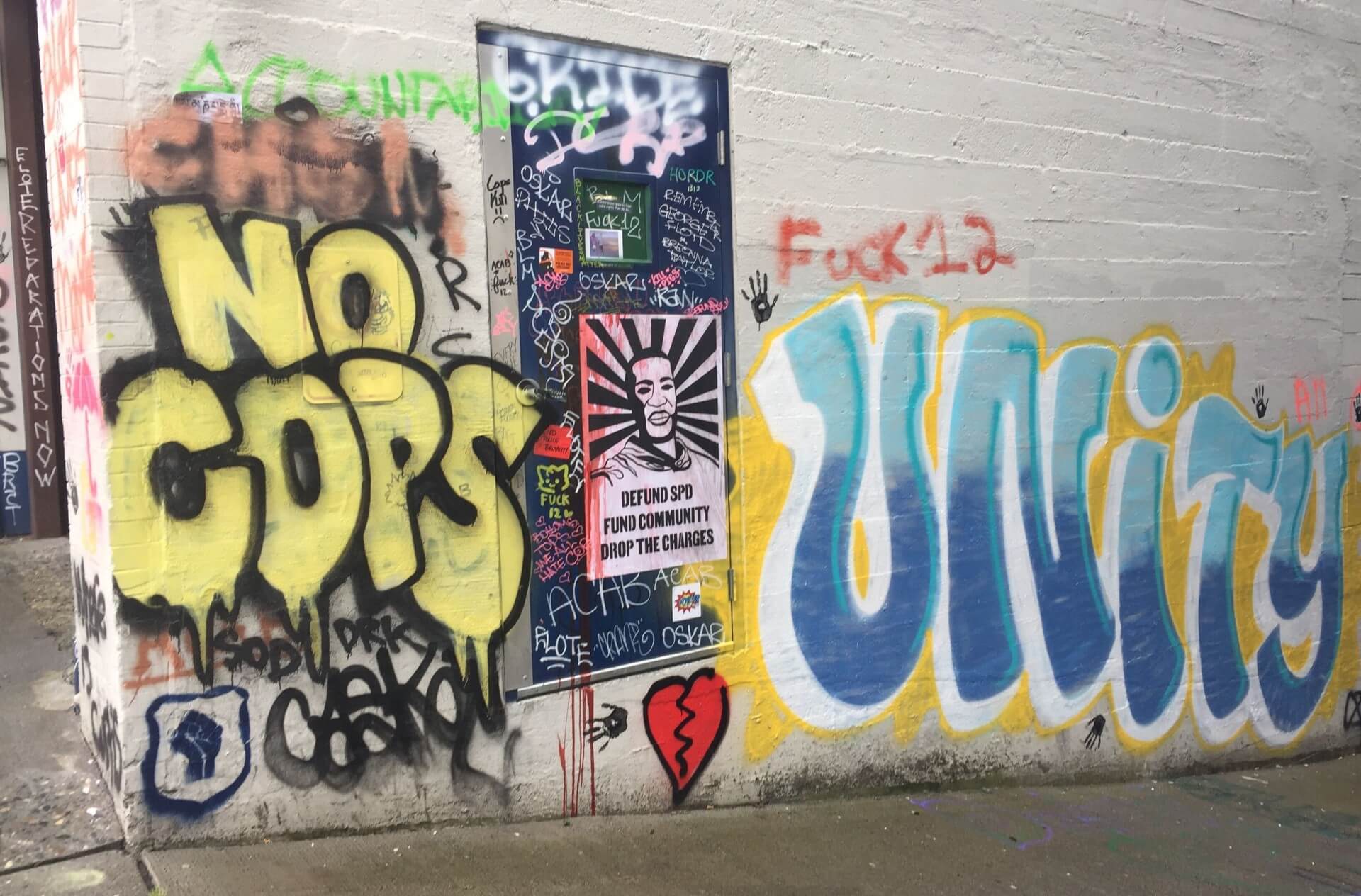 Like many other volunteers, Jeff, a Seattle native who spent much of his day working behind a food stand, has been participating in the growth of CHAZ since its inception.
"As far as I see, what we have here is the community coming out and asking how they can help and saying what their strengths and talents are," he said. "There's no one person leading anything. It's really about reforming ideas of community support in my opinion."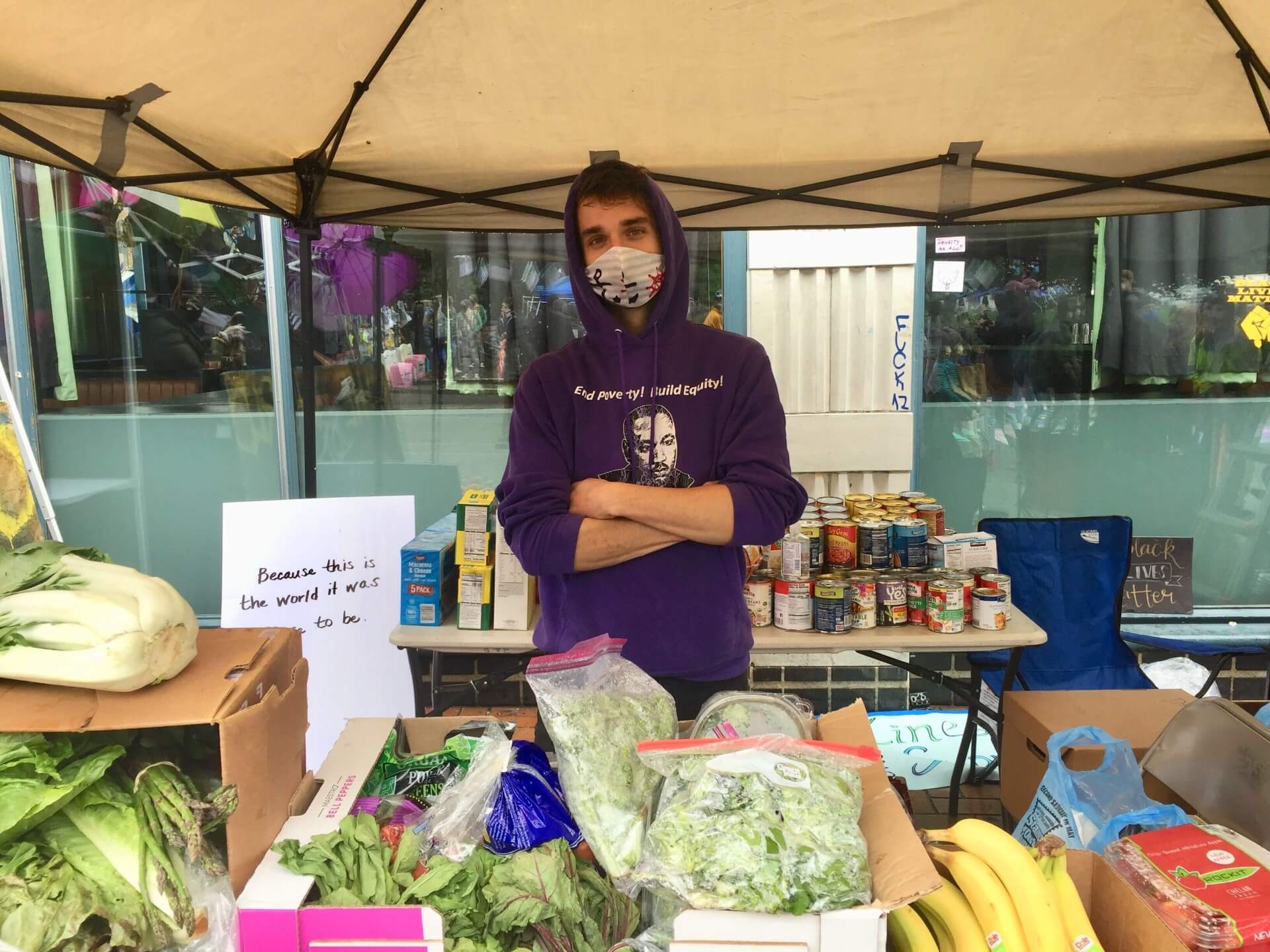 One of the defining characteristics of Free Capitol Hill is the graffiti and murals that have overtaken all of its encompassing buildings. Even the bus stops and the pavement itself within CHAZ have been covered.
Following a violent crackdown by law enforcement in the nation's capital against protesters earlier this month, Washington, D.C. Mayor Muriel Bowser opted to have the phrase "Black Lives Matter" painted along 16th Street in giant yellow letters near the White House.
The street painting has now been replicated in numerous locations across the county, including the autonomous zone in Seattle.
"Stat the Artist," who helped design part of the street mural alongside 16 others, was eyeing the artwork from the sidewalk.
The "I" in "Lives," which includes the words "For The Culture," was Stat's creation.
"I wanted to come down here and have a conversation about what was going on," Stat said. "And when I came out and had those conversations, the shit that they were saying in the media versus what was actually going on was totally different."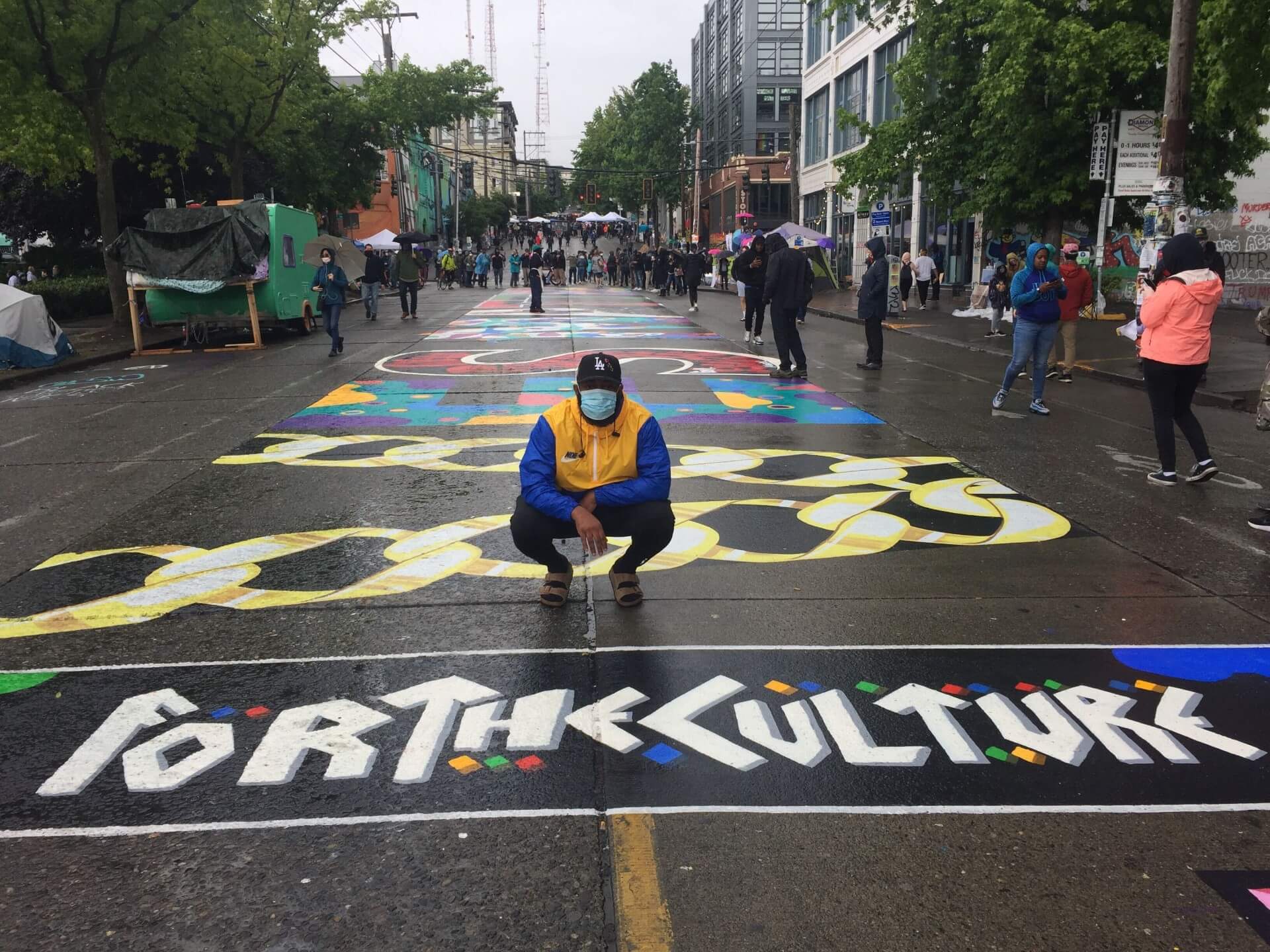 The street mural was a way for Stat and other members of the community to remind onlookers and those outside of the city what Free Capitol Hill is about.
Black Lives Matter supporters have more than once pushed back on what they see as CHAZ becoming Coachella. Others have argued against even calling the area an "autonomous zone," claiming that the name takes away from the protest's main focus.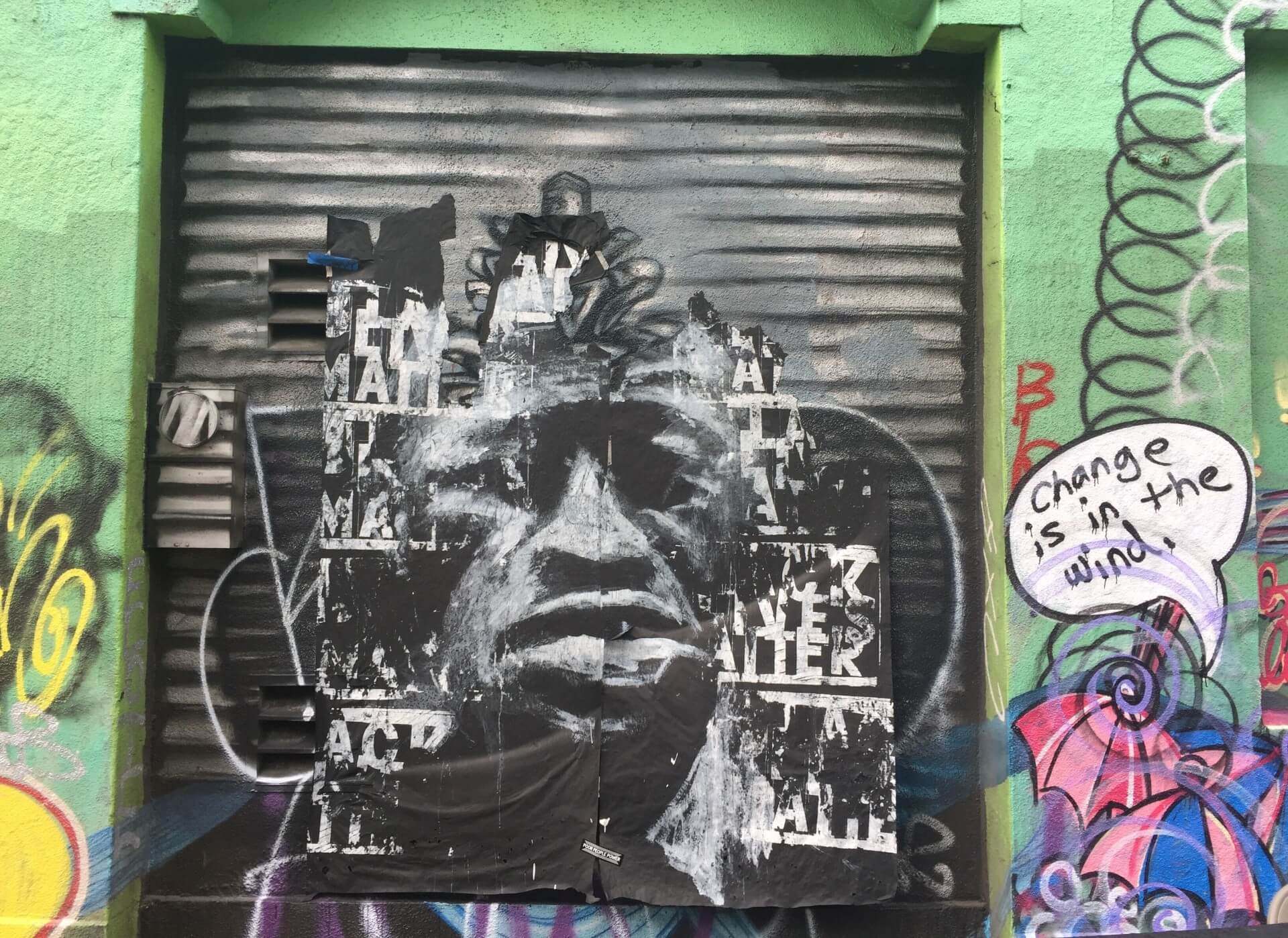 Negotiations between protesters and police regarding the East District are ongoing. It still remains unclear when and if police will return to the neighborhood. Police Chief Best says she is looking to take back the station "as soon as possible." How such an event would play out remains to be seen.
Depending on one's political leanings, CHAZ either represents an anarchist takeover or textbook civil disobedience. Ingrained bias across the board has turned one man's protest and occupation into another man's uprising and insurrection.
But nothing is that simple, including Free Capitol Hill. CHAZ is neither a left-wing utopia nor a coastal mutiny. Instead, the six-block enclave, with its flaws and strengths, is merely the culmination of generations of distrust in authority at-large.
READ MORE: