Twitter took the unprecedented step on Tuesday of fact-checking one of President Donald Trump's inaccurate tweets.
The move by Twitter came not long after the president once again made false claims regarding mail-in ballots.
"There is NO WAY (ZERO!) that Mail-In Ballots will be anything less than substantially fraudulent," Trump said. "Mail boxes will be robbed, ballots will be forged & even illegally printed out & fraudulently signed."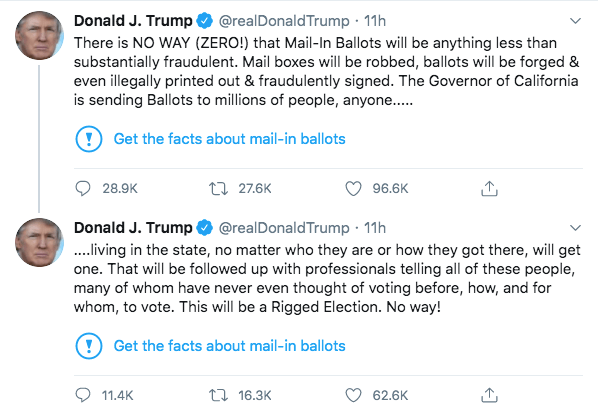 Users who read Trump's claims will now see a new alert at the bottom of his tweets. The notice, which urges users to "Get the facts about mail-in ballots," links to a page aimed at fact-checking the president's remarks.
The page outlines information regarding mail-in ballots and counters Trump's numerous claims.
"On Tuesday, President Trump made a series of claims about potential voter fraud after California Governor Gavin Newsom announced an effort to expand mail-in voting in California during the COVID-19 pandemic," a paragraph at the top of the page reads. "These claims are unsubstantiated, according to CNN, Washington Post and others. Experts say mail-in ballots are very rarely linked to voter fraud."
Aside from linking to articles on the subject from numerous news outlets, the page also lists tweets from journalists who similarly refuted Trump's allegations.
Some of the tweets point to statistics, for example, showing that around "0.00006% of total vote-by-mail votes cast were fraudulent" over the last two decades.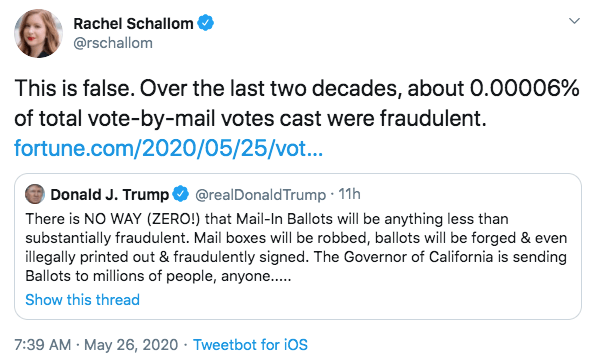 Others note that several Republican-led states conduct elections almost entirely through the mail as well.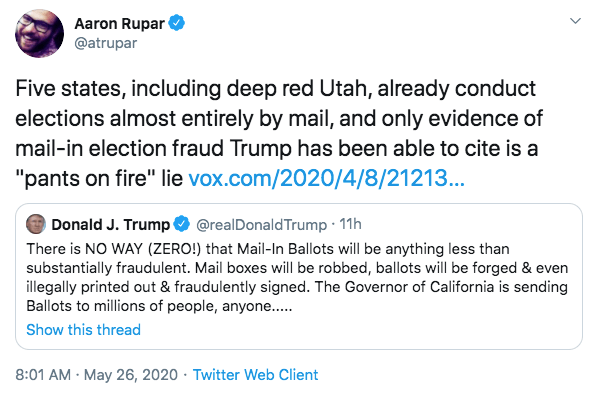 The claim that everyone in California will receive a ballot, as the president said, was also debunked.
"California is not mailing a ballot to 'anyone living in the state, no matter who they are or how they got there,'" Guardian reporter Sam Levine said. "The state is sending ballots to voters who are registered in California."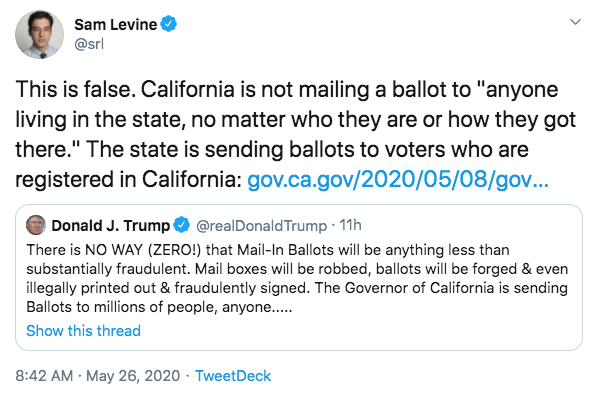 The fact-checking function has already proven to be controversial. Defenders of the president immediately criticized the page's use of mainstream media outlets, while Trump's detractors argued that countless other tweets deserved fact-checking as well.
Twitter's decision comes as the social media site is on the receiving end of increased scrutiny over the president's statements.
Trump had already stirred controversy on the platform this month by spreading the conspiracy theory that MSNBC host Joe Scarborough may have murdered an intern in 2001.
Given the current partisan divide, it remains to be seen whether the fact-checking feature will have any effect on the users it intends to reach.
READ MORE: