Not all undefeated teams are created equal. Look no further than the Kansas City Chiefs and Detroit Lions.
The Chiefs look like one of the few most dominant teams in the NFL, putting together convincing victories week in and week out. Meanwhile, the Lions have barely squeaked by in the first few weeks of the season, with two narrow wins and a tie.
But, you are what your record says you are, and both of these teams are undefeated.
Detroit will face their stiffest test to date in Week 4. So far, Detroit's recipe for winning has been smart by play quarterback Matt Stafford. Stafford has only been picked off twice, and he has two games with zero interceptions. To date, solid game management has been enough.
While Stafford has played smart, the offense hasn't exactly been perfect. The running game has been sluggish and there has been a different top receiving option each week.
On defense, the Lions have been better against the pass than the run. If the Detroit secondary hadn't held Carson Wentz to a 52.8% completion percentage, they likely would have lost in Week 3.
When it comes to the Chiefs, this conversation is far less nuanced. Every week, Patrick Mahomes makes a new player look like a star in a dominant performance. Last week was Mecole Hardman's turn. Hardman had just two catches, but those went 97 yards receiving and a touchdown. In previous weeks, Sammy Watkins and Demarcus Robinson have had breakout performances.
So far, Mahomes looks even better than he did in last year's MVP campaign. Through three games, the QB has a 71.9% completion percentage and is averaging almost 400 yards a game with a passer rating of 134.9.
A scary reality for Chiefs opponents is that this team keeps getting better. While Kansas City doesn't exactly have a vaunted defense, the secondary was much improved in Week 3, and may continue to make strides.
Kansas City Chiefs vs. Detroit Lions
When: Sunday, Sept. 29 at 1pm ET
Where: Ford Field in Detroit, Michigan
Streaming: Fox, NFL Sunday Ticket
There are a number of options for watching Chiefs vs. Lions on streaming platforms that carry Fox. However, consult a coverage map to see what game your regional channel will be playing.
If a game is not being carried in your area, the only option might be an NFL Sunday Ticket package.
Chiefs vs. Lions live stream: How to watch NFL online

Both Sling Blue ($25 per month) or Sling Orange + Blue ($40 per month)  include NFL Network and a number of sports channels—like three ESPN channels and NBCSN—and it's still a nice perk that Sling subscribers can order a la carte packages. Sling TV also offers a special Latino package for bilingual viewers. Sling TV is currently offering a deal where you can subscribe for 40% off the regular price for the first month of your subscription. That means Sling Blue would cost $15, and Sling Orange + Blue would cost $25. (Here's a complete guide to Sling TV channels and our Sling TV review.)
For $10 extra per month, you can get NFL RedZone via the Sling Blue Sports Extra package.
Unfortunately, due to a contract dispute, as of Sept. 26 Sling no longer carries Fox, FS1, and FS2. But there is a workaround.
How to use AirTV with Sling
AirTV solves one of Sling's biggest problems: The inability to receive all of your local channels. By purchasing a basic AirTV for $79.99 or the AirTV Player for $119.99, you can merge those local channels into your Sling TV, (or on your mobile device if you have the basic AirTV). As the Daily Dot wrote in its AirTV review, "It's practically magic." While select Football games are no longer on Sling, you can still catch them with AirTV.
The basic AirTV is a dual-tuner streaming device, while the AirTV Player is basically an upgraded Chromecast that has Netflix preinstalled. You'll still need to own an HD antenna because even though AirTV gets you access to your local channels, it doesn't actually physically show them to you.
But AirTV—which has no monthly fee—serves to strengthen one of Sling's biggest weaknesses compared to other live streaming services like Hulu with Live TV, YouTube TV, and PlayStation Vue. All those services have plenty of local channels. While select NFL and college football games (on Fox, FS1, and FS2) are no longer on Sling, you can still catch Fox games with AirTV.
---
If you're a big-time sports fan, FuboTV is your best streaming service option. If you love international soccer and you're a Spanish speaker, FuboTV also offers various add-on packages, including Fubo Latino and Fubo Português. FuboTV's basic plan showcases nearly 100 channels and includes NFL Network. At $54.99 per month, you'll also get FS1, FS2, NBCSN, NBA TV, Big Ten Network, Pac 12 Network, BeIn Sports, and CBS Sports Network, along with premium channels like FX/FXX/FXM. The only notable omission for sports fans is ESPN. You can add Fubo's Sports Plus package for an additional $8.99 per month, which allows you to stream NFL RedZone to watch the Chiefs vs. Lions game. (Here's the complete FuboTV channels list.)
---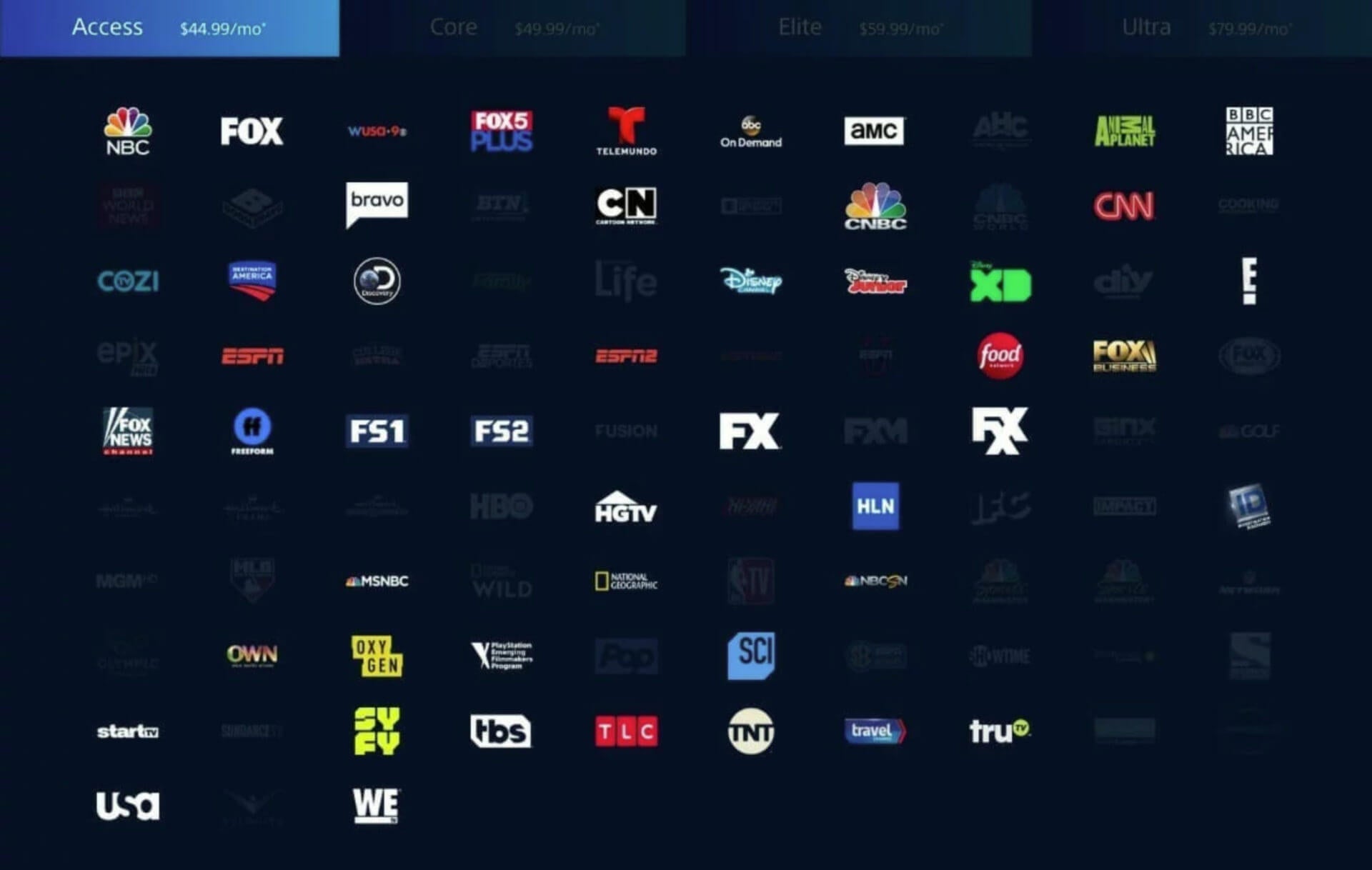 If you'd like to watch live NFL games directly from your PS4, PlayStation Vue is your best bet. PlayStation also works with streaming devices like Roku and Amazon Fire products, but what separates PlayStation from the rest of the streaming services is that it's also compatible with Kodi. No matter how you stream, you'll get to choose from four tiers of channels—all but the cheapest include NFL Network. From there, you can also add NFL RedZone as part of the $10-per-month Sports Pack, which also unlocks ESPN Bases Loaded, ESPN Classic, Longhorn Network, Outside TV, and NBCUniversal regional sports networks. You can see the full list of PlayStation Vue channels here. Two other great perks: You can stream on up to five devices at once, and there's also unlimited cloud DVR.
---

Cost: $44.99 per month
Hulu devices: Roku, Apple TV, Google Chromecast, Amazon Fire Stick and Fire TV, Xbox One, Xbox 360, Nintendo Switch, and iOS and Android devices
Hulu local channels: ABC, CBS, Fox, NBC, the CW (check your local availability here)
Hulu with Live TV includes sports programming among its offerings with ESPN and FS1, and as a subscriber to the service, you'll get free access to Hulu's sizable on-demand library. (Check out the full list of Hulu Live TV channels.)
---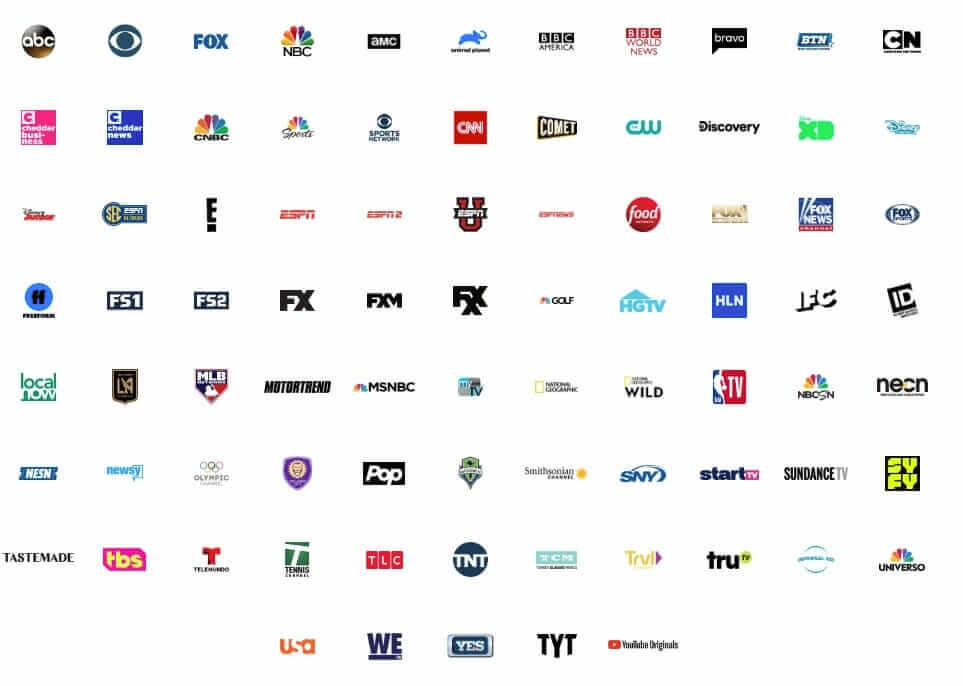 YouTube TV is a great option for college football fans, including ESPN and FS1. (Take a look at the full list of YouTube TV channels here.)
---

Cost: $73.99 per month for four months, or one single payment of $293.96
There are two—and only two—ways of acquiring NFL Sunday Ticket without DirecTV. There's NFLSundayTicket.TV, which costs $73.99 per month for four months. It's everything you love NFL Sunday Ticket but online-only. You can stream from pretty much any device that connects to the internet (but only on one device at a time).
You can also upgrade to the NFLST.TV Max bundle for a total of $99 per month for four months or one single payment of $395.99. You can also add on NFL Game Pass, which allows you to watch replays of every game after they air, for $50 for the full season.
There's another way to watch NFL Sunday Ticket without DirecTV: Amazon Prime. While you can't pay for the package using Amazon Prime, you can at least watch all of the games on the service. To start, first download the NFL Sunday Ticket channel on Amazon Prime. It's free. From there, you'll just need to sign in with your subscription credentials to watch the Chiefs vs. Lions game.
College students can purchase NFL Sunday Ticket at a discounted price through  NFLSundayTicket.TV U.
TRY NFL SUNDAY TICKET ON AMAZON PRIME
---
Fantasy Football: Who should I start?
Chiefs – Travis Kelce, Tight End: Despite Mahomes' brilliance, it is hard to tell who will be the most productive option week to week in Kansas City. One constant has been Kelce, who remains a top fantasy option regardless of the game plan.
Lions – Kenny Golladay, Wide Receiver: While a different Lion seems to lead the team in receiving each week, Golladay has been the most dependable option. After an off game last week, expect the pass catcher to bounce back.
Chiefs vs. Lions: Why it matters
Odds are that Detroit will fall back to the pack in a competitive NFC North. On paper, the team isn't necessarily better than the Vikings or the Packers, and for now, the division feels wide open.
However, if the Lions could catch the Chiefs by surprise, they could set themselves up as a top tier team in the NFC.
For the Chiefs, the season is already about bye weeks and beating the Patriots. Kansas City and New England are clearly the class of the AFC, and every win Mahomes and company can add is another step closer to making sure the path to the Super Bowl runs through Arrowhead.
But, KC shouldn't look too far ahead. First, they have to go into Ford Field and take care of a frisky Lions team that has been punching above their weight.
READ MORE: 
For a year-round sports fix, sign up here to receive our weekly boxing newsletter. You'll hear about all the biggest fights and best knockouts from the Daily Dot's streaming sports guru Josh Katzowitz.
The Daily Dot may receive a payment in connection with purchases of products or services featured in this article. Click here to learn more.