We're getting down to the wire of the NFL season and December is when things get really interesting. Who plays when? Which games have playoff implications? Who's on track for a top draft pick? How can I watch? Don't worry: we've got you covered.
Here are all the games that will be played at 4:05pm or 4:25pm ET in Week 15 on Sunday, Dec. 15th, ranked in order from must-watch late-season action on down.
Some games are carried on CBS and others air on FOX, and we'll tell you what game plays on which channel. But, remember to consult the coverage maps to find out what's playing in your region. NFL Sunday Ticket is the only way to make sure you have access to every game and NFL Red Zone is the only way to check out two or more games on this list at the same time.
How to stream Sunday's NFL action

Both Sling Blue ($25 per month) or Sling Orange + Blue ($40 per month)  include NFL Network and a number of sports channels—like three ESPN channels, FS1, Fs2, and NBCSN—and it's still a nice perk that Sling subscribers can order a la carte packages. Sling TV also offers a special Latino package for bilingual viewers. Sling TV is currently offering a deal where you can subscribe for 40% off the regular price for the first month of your subscription. That means Sling Blue would cost $15, and Sling Orange + Blue would cost $25. (Here's a complete guide to Sling TV channels and our Sling TV review.)
For $10 extra per month, you can get NFL RedZone via the Sling Blue Sports Extra package. 
How to use AirTV with Sling
AirTV solves one of Sling's biggest problems: The inability to receive all of your local channels. By purchasing a basic AirTV for $79.99 or the AirTV Player for $119.99, you can merge those local channels into your Sling TV, (or on your mobile device if you have the basic AirTV). As the Daily Dot wrote in its AirTV review, "It's practically magic."
The basic AirTV is a dual-tuner streaming device, while the AirTV Player is basically an upgraded Chromecast that has Netflix preinstalled. You'll still need to own an HD antenna because even though AirTV gets you access to your local channels, it doesn't actually physically show them to you.
But AirTV—which has no monthly fee—serves to strengthen one of Sling's biggest weaknesses compared to other live streaming services like Hulu with Live TV, YouTube TV, and PlayStation Vue. All those services have plenty of local channels.
---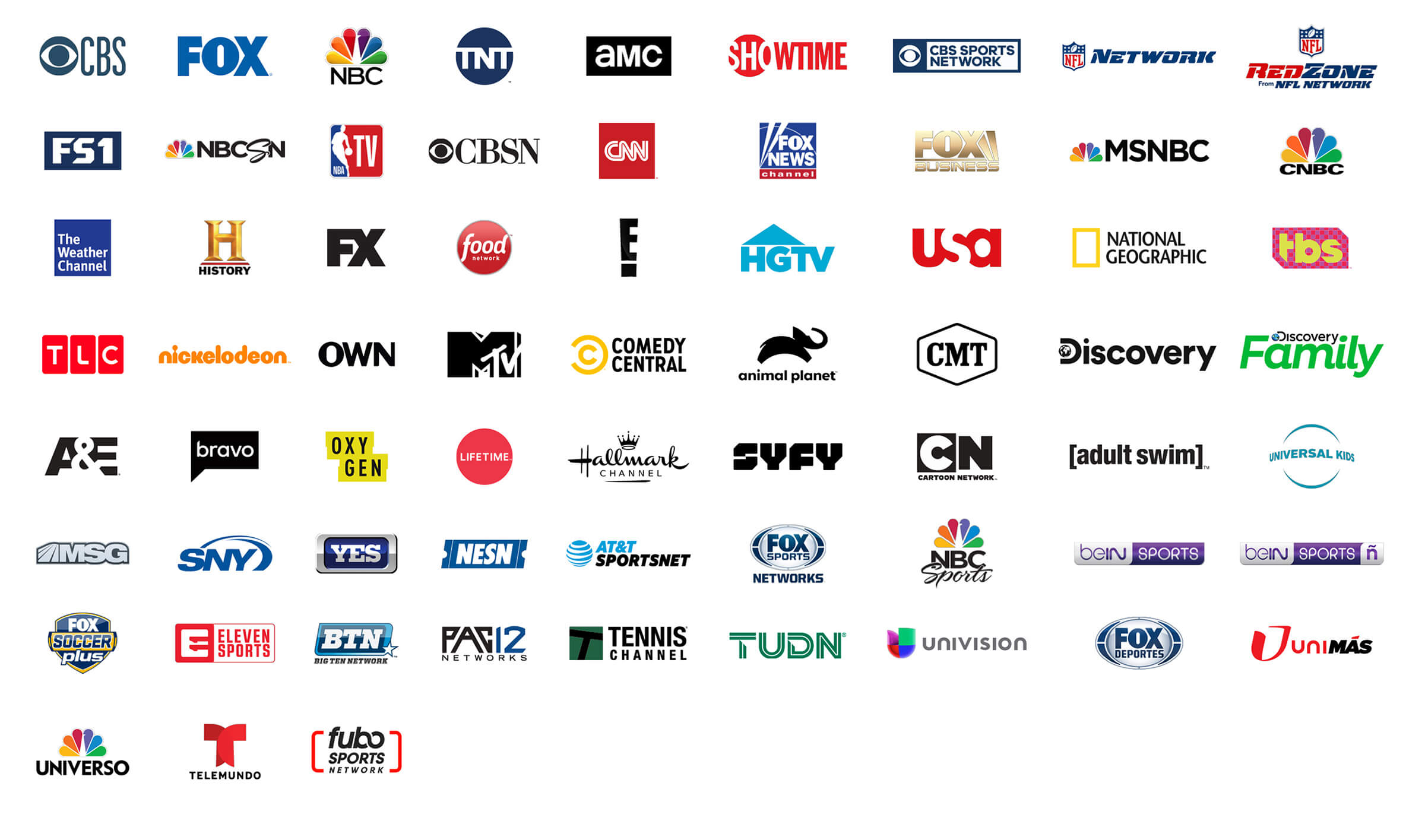 If you're a big-time sports fan, FuboTV is your best streaming service option. If you love international soccer and you're a Spanish speaker, FuboTV also offers various add-on packages, including Fubo Latino and Fubo Português. FuboTV's basic plan showcases nearly 100 channels and includes NFL Network. At $54.99 per month, you'll also get FS1, FS2, NBCSN, NBA TV, Big Ten Network, Pac 12 Network, BeIn Sports, and CBS Sports Network, along with premium channels like FX/FXX/FXM. The only notable omission for sports fans is ESPN. You can add Fubo's Sports Plus package for an additional $8.99 per month, which allows you to stream NFL RedZone. (Here's the complete FuboTV channels list.)
---

Cost: $44.99 per month
Hulu devices: Roku, Apple TV, Google Chromecast, Amazon Fire Stick and Fire TV, Xbox One, Xbox 360, Nintendo Switch, and iOS and Android devices
Hulu local channels: ABC, CBS, Fox, NBC, the CW (check your local availability here)
Hulu with Live TV includes sports programming among its offerings, including ESPN and FS1, and as a subscriber to the service, you'll get access to Hulu's sizable on-demand library. (Check out the full list of Hulu Live TV channels.)
---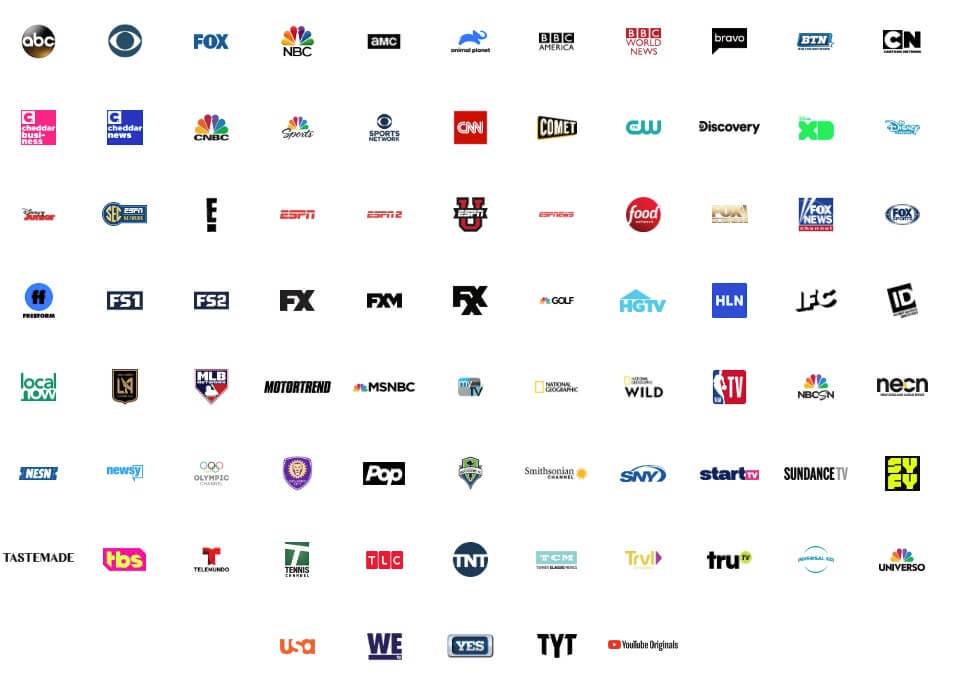 YouTube TV is a great option for college football fans, including ESPN and FS1. (Take a look at the full list of YouTube TV channels here.)
---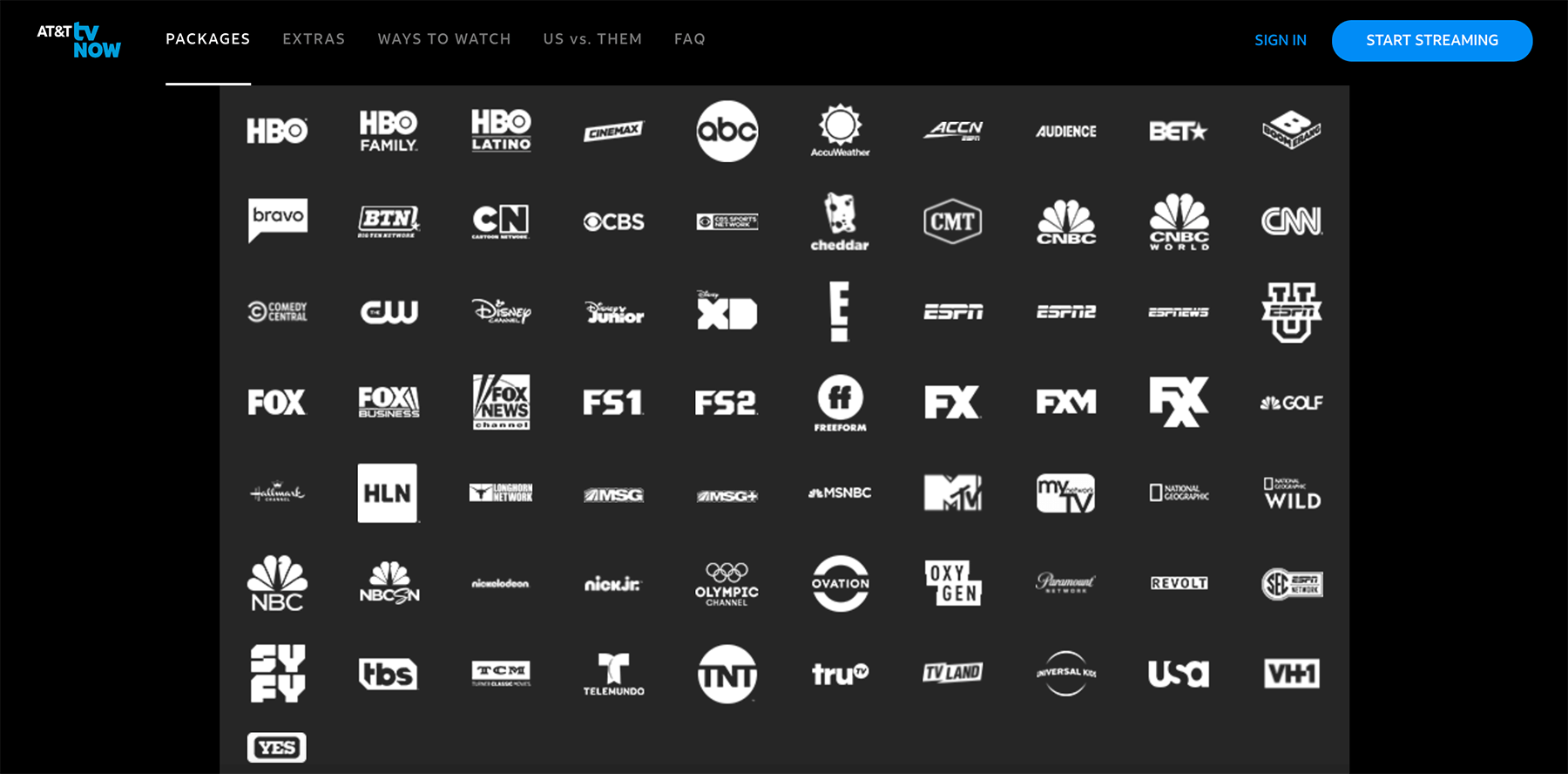 Cost:

$50-$135 per month 

Hulu devices:

Roku, Apple TV, Google Chromecast, Amazon Fire Stick and Fire TV, iOS and Android devices

Local channels:

NBC, CBS, Fox, ABC, the CW (

enter your ZIP code here

to check your availability)
AT&T TV Now is a bonus for AT&T wireless customers, especially for those who happen to be soccer fans. It provides instant access to more than 45 channels, including local channels. That means NBC as well as NBCSN for Premier League action, Fox as well as FS1 and FS2 for MLS, Bundesliga, the U.S. men's and women's teams, and even Liga MX offerings, and ESPN and ESPN2 for its array of soccer and other sports programming. It even offers free HBO on PLUS and MAX channel suites. Plus, it comes with CloudDVR for up to 20 hours of TV recording per month. One account works on two devices, but you can add more devices for only $5.
---

Cost: $73.99 per month for four months, or one single payment of $293.96
There are two—and only two—ways of acquiring NFL Sunday Ticket without DirecTV.
There's NFLSundayTicket.TV, which costs $73.99 per month for four months. It's everything you love NFL Sunday Ticket but online-only. You can stream from pretty much any device that connects to the internet (but only on one device at a time).
You can also upgrade to the NFLST.TV Max bundle for a total of $99 per month for four months or one single payment of $395.99. You can also add on NFL Game Pass, which allows you to watch replays of every game after they air, for $50 for the full season.
There's another way to watch NFL Sunday Ticket without DirecTV: Amazon Prime. While you can't pay for the package using Amazon Prime, you can at least watch all of the games on the service. To start, first download the NFL Sunday Ticket channel on Amazon Prime. It's free. From there, you'll just need to sign in with your subscription credentials.
College students can purchase NFL Sunday Ticket at a discounted price through NFLSundayTicket.TV U.
TRY NFL SUNDAY TICKET ON AMAZON PRIME
---
The NFL Week 15 Sunday late games: Preview, playoff implications, odds, and how to watch
Here's the best, worst, most important, and coldest of Sunday's late afternoon NFL action.
Los Angeles Rams at Dallas Cowboys (4:25pm)
This is one of the most consequential games of the day, as both of these teams are playing to keep post-season hopes alive. The Eagles and Cowboys seem to be in a competition to see who can lose the most games and still win the NFC East. The 8-5 Rams are finally getting their act together as the season comes to a close, but have the misfortune of being in the best division in the NFL. The Boys are trending down and the Rams are trending up, but this game could go either way as both squads features some of the most explosive offensive weapons in the league.
Playoff implications: Big time. The Cowboys need to start winning to hold onto the NFC East and the Rams have to move ahead of one of these wildcard teams (currently the Seahawks and the Vikings) to get into the postseason.
Betting line: The Rams are 1.5-point road favorites.
How to watch: FOX (via Sling TV, Hulu with Live TV, Fubo TV or YouTube TV) and NFL Sunday Ticket
Cleveland Browns at Arizona Cardinals (4:05pm)
This game could be really fun, even if it doesn't mean much. The Browns need the Steelers and the Texans or Titans to almost lose out to get into the postseason and the Cardinals are statistically eliminated. But, these two teams have had good weeks and are capable of putting up serious points. Both Kyler Murray and Baker Mayfield have their ups and downs, but when they are playing well, both QBs are a good time.
Playoff implications: The Browns could get into the playoffs with help from a few teams, but odds are they are only technically in the hunt at this point.
Betting line: The Browns are 3-point favorites, with the over at 49 points. (Only the Texans-Titans game is projected as more of a shootout.)
How to watch: CBS (via Sling TV, Hulu with Live TV, Fubo TV, or YouTube TV) and NFL Sunday Ticket
Minnesota Vikings at Los Angeles Chargers (4:05pm)
Though the Chargers have pulled out a nice win here and there this season, this looks like the end of the road for Philip Rivers and his longtime team. The Vikings have too much offensive firepower to lose to a team in disarray and Kirk Cousins' early-season jitters are a distant memory. Barring a miracle, the Vikes should roll.
Playoff implications: In the next couple of weeks, the Vikings could move up the wild card rankings or take control of the NFC North. Though seeding is still to be determined, Minnesota will likely be going to the playoffs.
Betting line: The Vikings are 1-point favorites even though the Chargers are hosting.
How to watch: CBS (via Sling TV, Hulu with Live TV, Fubo TV, or YouTube TV) and NFL Sunday Ticket
Jacksonville Jaguars at Oakland Raiders (1:05PM)
There was a time this season when these two teams were exciting, but that time has come and gone. The Minshew magic of the early season Jags has evaporated. The injury-plagued Raiders have dropped three of their last four. You like the Raiders to win here, but it's tough to like this game overall.
Playoff implications: Like the Browns, the Raiders are still technically in the playoff race, but what faint glimmers of hope they have of a postseason berth should fade away soon enough.
Betting line: The Raiders are favored by 6 1/2 points.
How to watch: CBS (via Sling TV, Hulu with Live TV, Fubo TV, or YouTube TV) and NFL Sunday Ticket
Atlanta Falcons at San Francisco 49ers
The Falcons have gotten frisky lately, winning three of their last five, but that newfound optimism will likely come to an abrupt end against the San Francisco 49ers. The Niners look unstoppable as their Jimmy G-led offense is finally catching up to their historically good defense. Meanwhile, the Falcons are fielding one of their worst teams in memory. This late-season surge in Atlanta has been notable and perhaps this game will be closer than we thought. But this looks like the Niners' league with most other teams just playing in it.
Playoff implications: The Seahawks are nipping at the Niners' heels. San Francisco could end up a wild card instead of holding home-field advantage if they drop another game. Look for an exciting matchup between Seattle and San Francisco to end the regular season.
Betting line: The 'Niners are 10.5-point favorites.
How to watch: FOX (via Sling TV, Hulu with Live TV, Fubo TV or YouTube TV) and NFL Sunday Ticket
Note: Betting lines provided by the oddsmakers at William Hill. 
READ MORE: 
For a year-round sports fix, sign up here to receive our weekly boxing newsletter. You'll hear about all the biggest fights and best knockouts from the Daily Dot's streaming sports guru Josh Katzowitz.
The Daily Dot may receive a payment in connection with purchases of products or services featured in this article. Click here to learn more.