Movies transport us to another world—but you're limiting yourself just by sticking to Hollywood. There are countless foreign films on Netflix that are worth your attention. Here's a short list of foreign films (all of which include English subtitles to follow along with) to help get you started and expand your cinematic tastes via Netflix.
The best foreign films on Netflix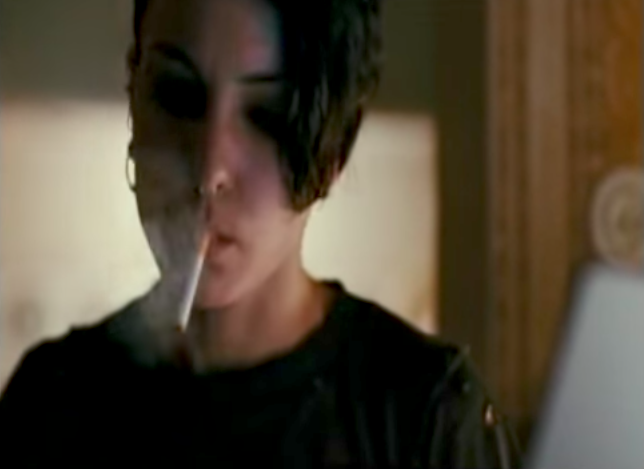 Original Language: Swedish
Subtitles: English
By the time the American version of The Girl With the Dragon Tattoo was released into theaters in 2011, Sweden had already adapted the entire Millennium trilogy to film (which is also streaming as a six-episode season). The original is the superior as Michael Nyqvist and Noomi Rapace portray a suspenseful and thrilling ride that's every bit as dark as the book itself. —Michelle Jaworski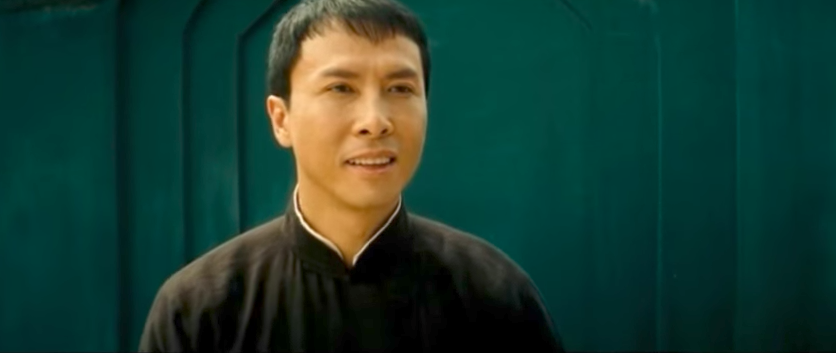 Original Language: Cantonese
Additional Audio: Ip Man 3 also available in English and Spanish
Subtitles: None for Ip Man and Ip Man 2; English and Spanish for Ip Man 3
Donnie Yen (who audiences will recognize as the blind warrior Chirrut Imwe in Rogue One) stars in the trilogy of biographical martial arts films as real-life Wing Chun master Ip Man, who eventually became Bruce Lee's teacher. The first film focuses on events that occurred during the Sino-Japanese War, the second film follows Ip after he opened a Wing Chun school in Hong Kong, while the third featured a young Bruce Lee (played by Danny Chan) going to Ip's Wing Chun school to learn martial arts. While the fights are excellently choreographed and executed, it's the emotional story that brings it home. —M.J.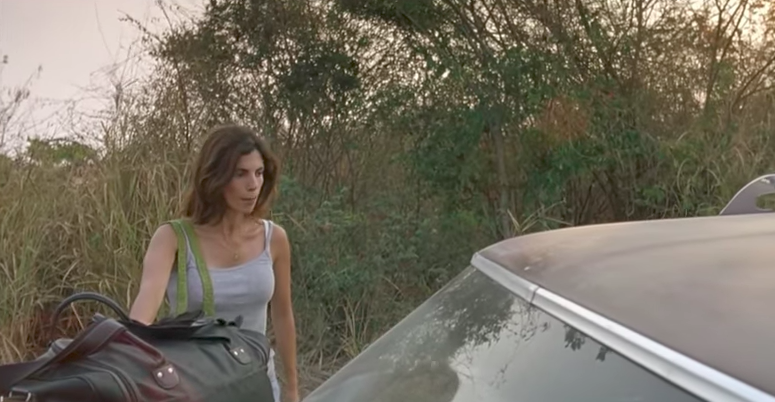 Original Language: Spanish
Subtitles: English
Two teenage boys (Diego Luna and Gael García Bernal) convince an older woman to go on a cross-country road trip with them in 1999 Mexico as they both try to impress and seduce her. It's Alfonso Cuarón's spin on the American road movie, and the three of them explore and discover new things about each other and themselves. —M.J.
Original Language: Japanese
Subtitles: English, Spanish, Traditional Chinese, French
John Woo gets back to basics with the melodramatic and ridiculously entertaining Manhunt. After waking up in bed next to a dead woman, Du Qiu finds himself accused of her murder. To prove his innocence he must go on the run while he looks for evidence. On his trail is detective Yamura. The two men find himself in shootout after shootout and chase after chase. If you've ever enjoyed one of Woo's action movies, you'll get a kick out of Manhunt. —Eddie Strait
READ MORE: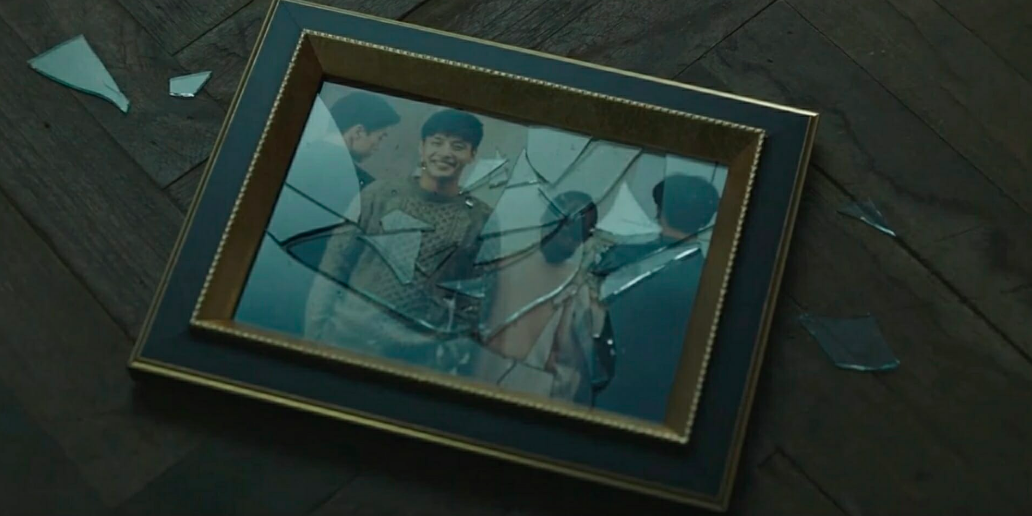 Original Language: Korean
Subtitles: English, Spanish, Traditional Chinese, Simplified Chinese, French
South Korean thriller Forgotten is a slick, twisty yarn. It's also a blast. Jin-Seok gets caught up investigating his brother's kidnapping, and each new thing he learns makes him question everything about his own life. Nothing is as plain as it seems, and our protagonist comes face to face with long-forgotten demons. Action master Jang Hang-jung's film is a well-executed genre exercise that delivers an emotional wallop to go with its thrills and jaw-dropping reveals. —E.S.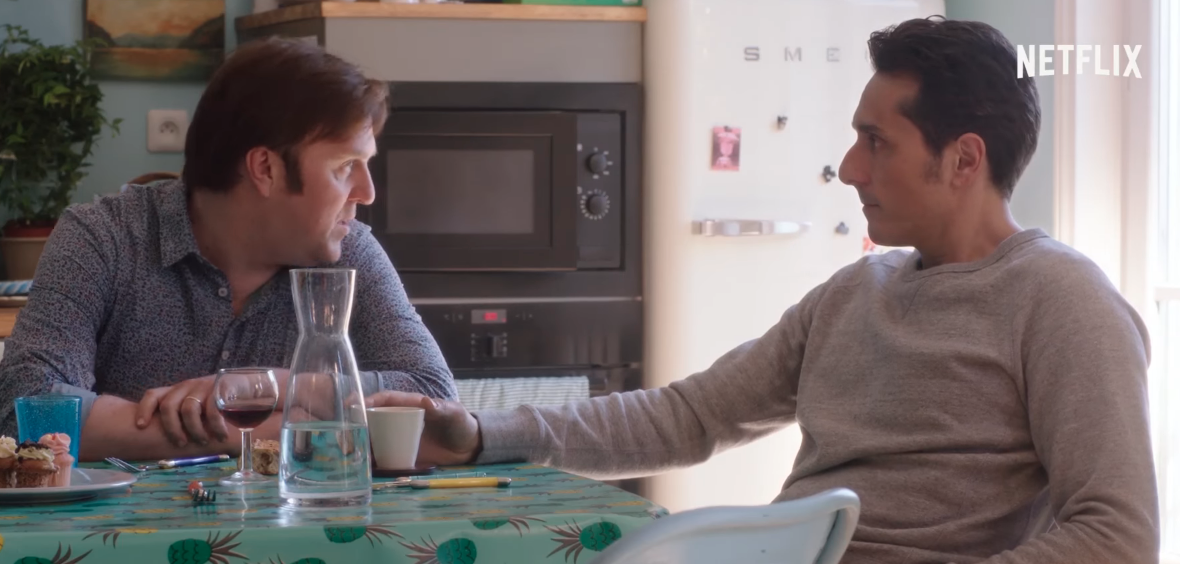 Original Language: French
Subtitles: English, Spanish, Traditional Chinese, Simplified Chinese
Netflix original French-language film I Am Not An Easy Man follows app maker and shamelessly chauvinistic man-child Damien as he navigates an alternate universe, forced to cope with his newfound gender repositioning. The film is darkly funny, purposefully ham-fisted with its un-nuanced, gender-flipped cliches and specific situations that Damien finds himself in, shoe now on the woman's foot. But problems arise when he starts dating the gambling, seductive writer Alexandra, because in this woman's world, we get a story about a man—and only the misguided Damien finds himself changed. —Kahron Spearman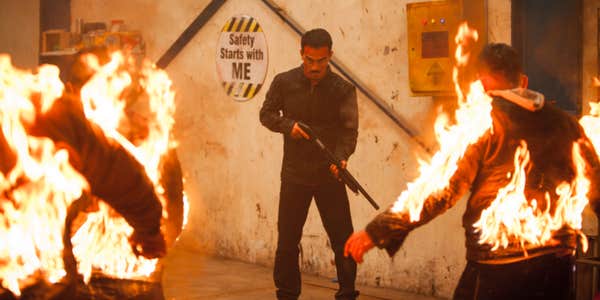 Original Language: Indonesian
Subtitles: English, Spanish, Traditional Chinese, Simplified Chinese
This Indonesian action extravaganza follows Ito (Joe Taslim), a mercenary for the Southeast Asian Triad who decides to leave his brutal lifestyle. But he quickly finds out that there no clean getaways and everything has a cost. With the whole Triad out to get him, Ito must fight for his freedom and life. Writer-director Timo Tjahjanto delivers a raucous two hours full of intricate action scenes both huge and intimate in scale. This film is a must-see for anyone who likes action movies and doesn't mind a little (or a lot) of bloodshed. —E.S.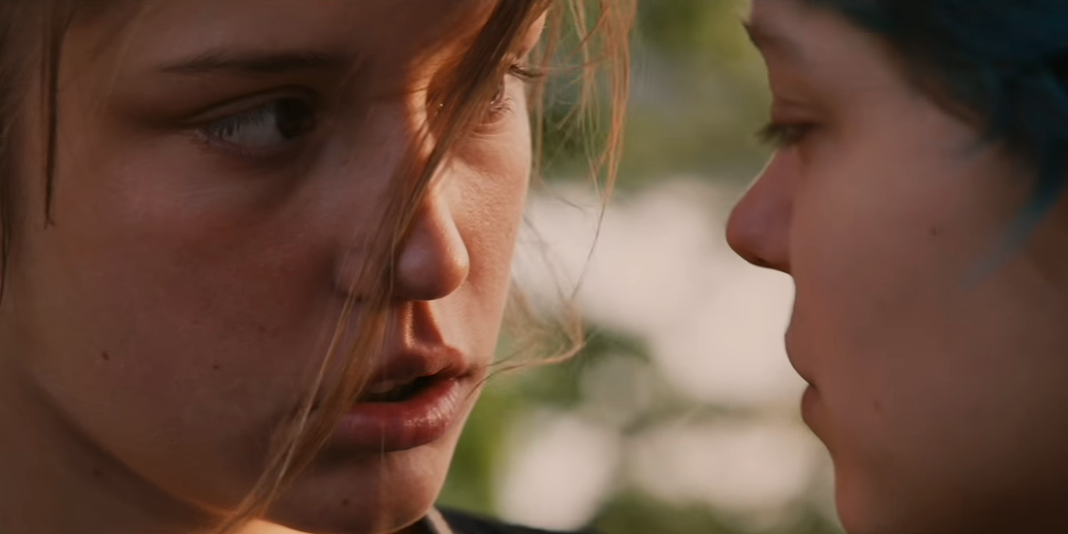 Original Language: French
Subtitles: English
Blue is the Warmest Color explores the highs and lows of a relationship between the two women at the center of the film. It's a familiar story, for sure, but it's a raw and personal look into their lives, which is worth its nearly three-hour run time. —C.O.
9) Neruda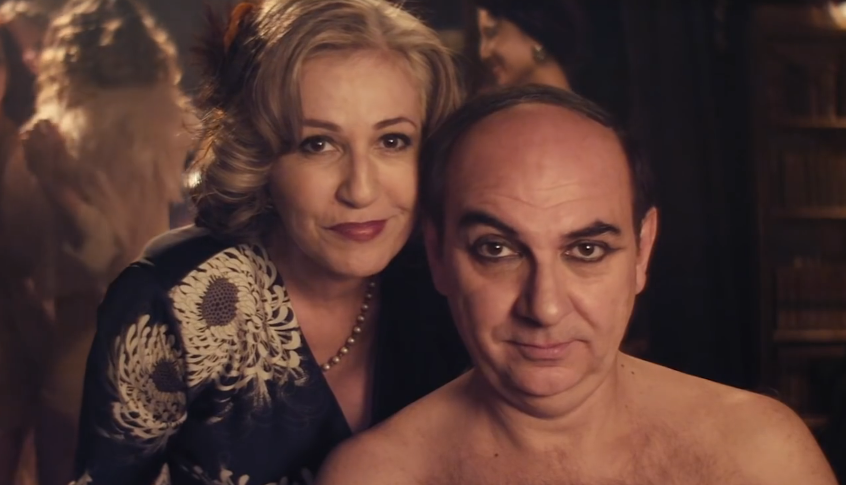 Original language: Spanish
Subtitles: English, Spanish
Director Pablo Larraín has described Neruda as an "anti-bio" of the poet Pablo Neruda. Indeed, the film, which stars Luis Gnecco as Neruda and Gael García Bernal as a cop on his trail, plays with biography and fiction, celebrity and politics. Neruda lived in interesting times and Larraín plays up the parties and speeches in stunning detail, balanced out by a noirish game of cat-and-mouse. —Audra Schroeder
10) Roma (Available Dec. 14)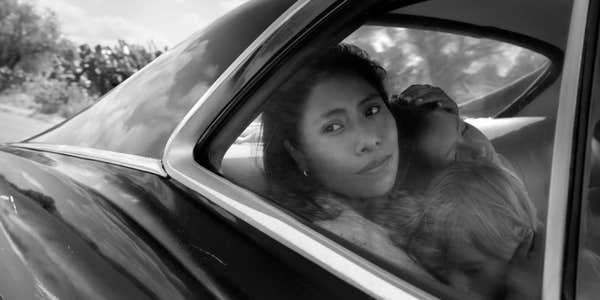 Original Language: Spanish
Subtitles: English
Inspired by his childhood in 1970s Mexico City, Roma is the latest film from visionary writer/director Alfonso Cuarón (Gravity; Children of Men). It's a moving autobiographical drama about a young woman who works as a housemaid for a wealthy Mexican family, based on Cuarón's beloved childhood nanny. After earning widespread praise at film festivals, this could be Netflix's first chance at one of the major Oscar categories. —Gavia Baker-Whitelaw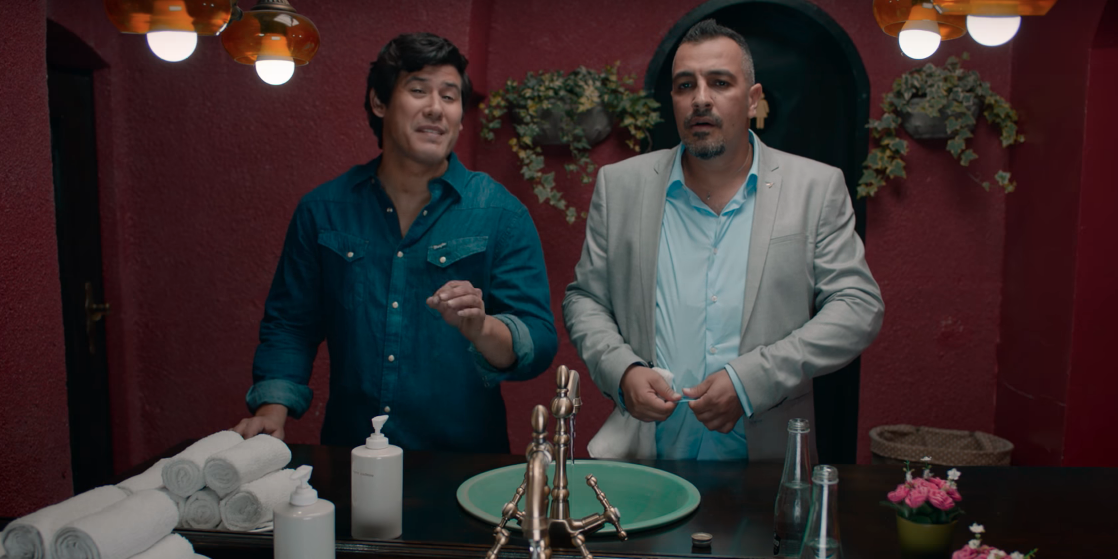 Original Language: Hebrew  
Subtitles: English, Spanish, Traditional Chinese, Simplified Chinese
Guy Amir and Hanan Savyon, an already-flourishing Israeli TV duo, make the great leap forward onto the silver screen with the serviceable and ultimately rewarding Maktub, a dark hybrid comedy about two low-level mobsters thrust from their thug roles into living guardian angels. Steve (Savyon) and Chuma (Amir) are mob collectors, who as maktub (or fate) would have it, are the only survivors of a terrorist attack after they go into a restaurant bathroom to settle a bet about whether a shirt stain consisted of pomegranate concentrate or blood from a chef they'd just beaten up for money. Maktub's leads end up servicing the supporting characters more often than they should, but the plot ends bind together well, mitigating any character shortcomings. Maktub finishes sweet, with Amir and Savyon conclusively nailing their compound of playfulness and gallows humor. —K.S.
12) Under the Shadow
Original Language: Persian
Subtitles: English, French, Spanish, Simplified Chinese, Traditional Chinese
In 1980s Tehran, during the War of the Cities, a mother and daughter huddle in their apartment as missiles bombard their city. The historical horror and PTSD-inducing sights of rockets cracking roofs should be terrifying enough, but then an evil spirit takes interest in the little girl and things go from bad to worse. Directed by Iranian-born Babak Anvari, Under the Shadow deals with the social issues of a woman's place in a fundamentalist Muslim society as much as it does demonic forces. —John-Michael Bond
13) Verónica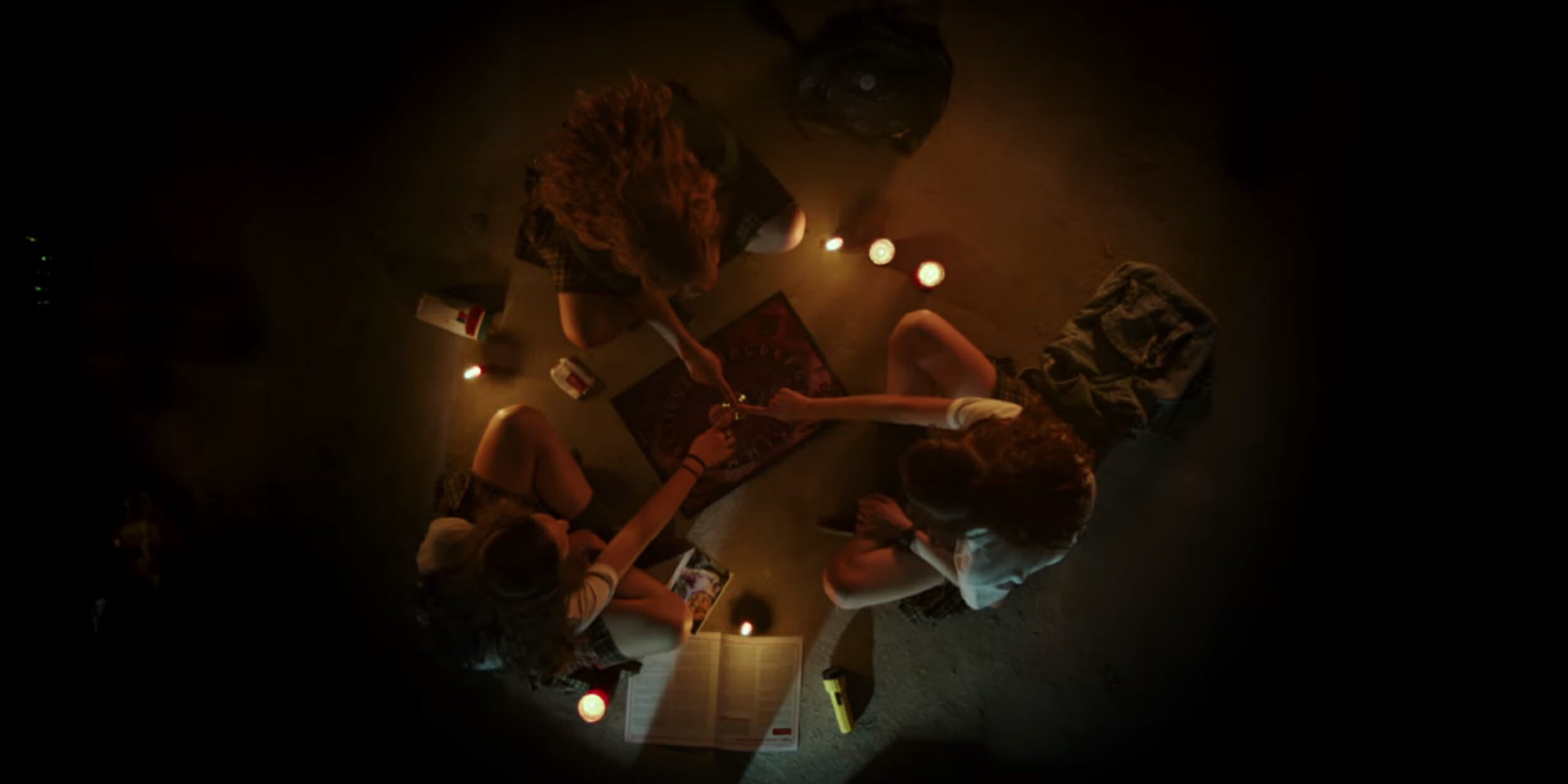 Original Language: European Spanish   
Subtitles: English, French, Simplified Chinese, Traditional Chinese
Verónica, from Spanish horror director Paco Plaza, made a splash on Netflix in March for being horrifying, and because it's based on a (reportedly) true story. Verónica (Sandra Escacena) holds a seance with her friends in the basement of their Catholic school while everyone else is outside watching a solar eclipse. If this confluence of events sounds like a bad idea, you're right, because instead of reaching her deceased father, she channels a demon. It's a stylized haunt with emotional weight and solid performances. It also speaks to a woman coming of age (in the most horrific way possible). —A.S.
READ MORE: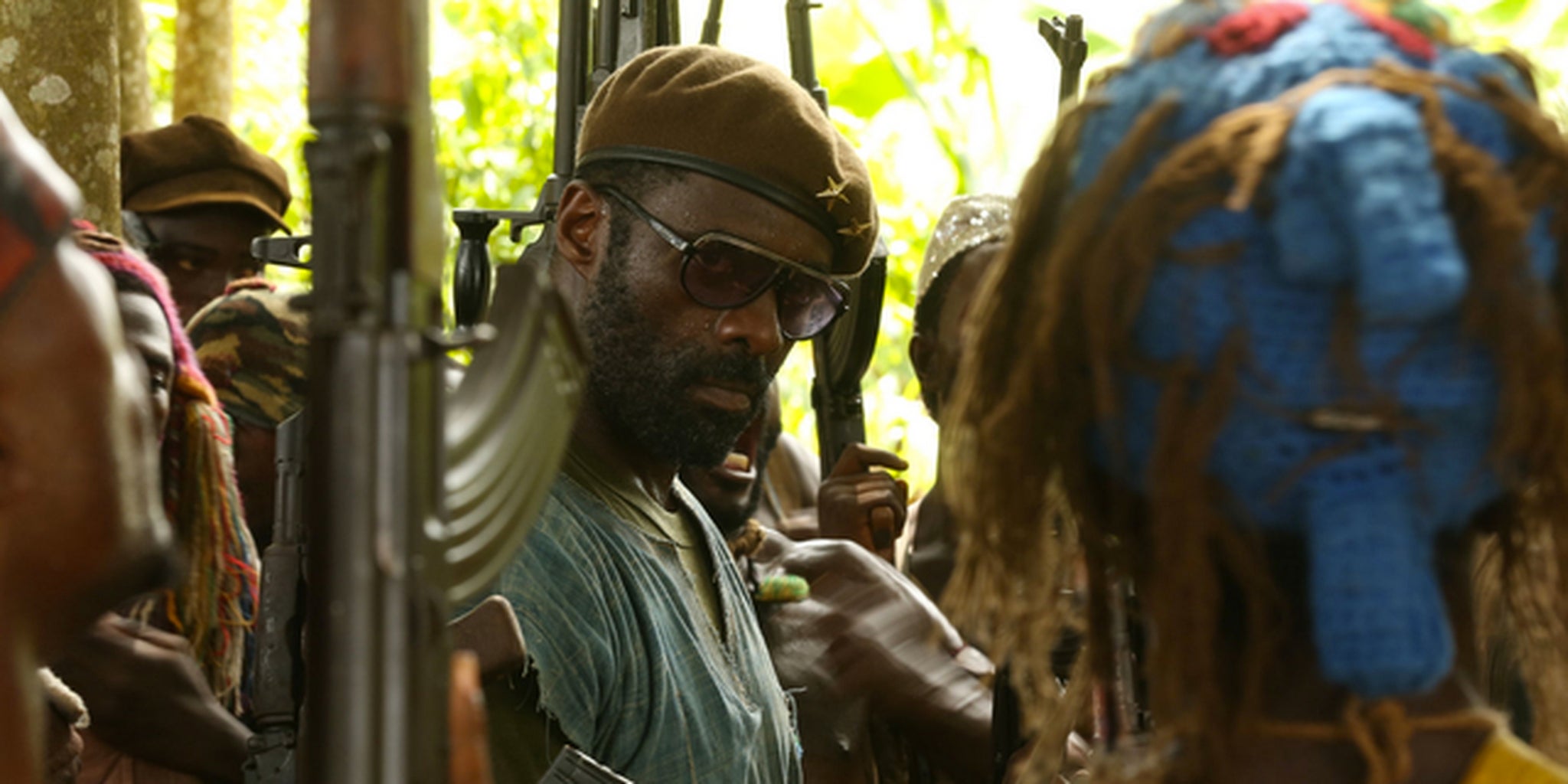 Original Language: Akan/English
Subtitles: English, French, Spanish, Simplified Chinese, Traditional Chinese
Netflix's first foray into prestige cinema, at least in terms of narrative filmmaking, was this child soldier drama from 2015. Upon its release, Beasts of No Nation immediately declared that in addition to giving you daily doses of '90s nostalgia, the streaming giant was committed to socially engaged stories too. Directed by True Detective's Cary Joji Fukunaga and starring Idris Elba in what should've been an Oscar-nominated performance, this is an intense watch but also a rewarding one. If nothing else, it'll make you aware of how few depictions of Africa we really see onscreen, and how much that needs to be corrected. —C.O.
15) The Killer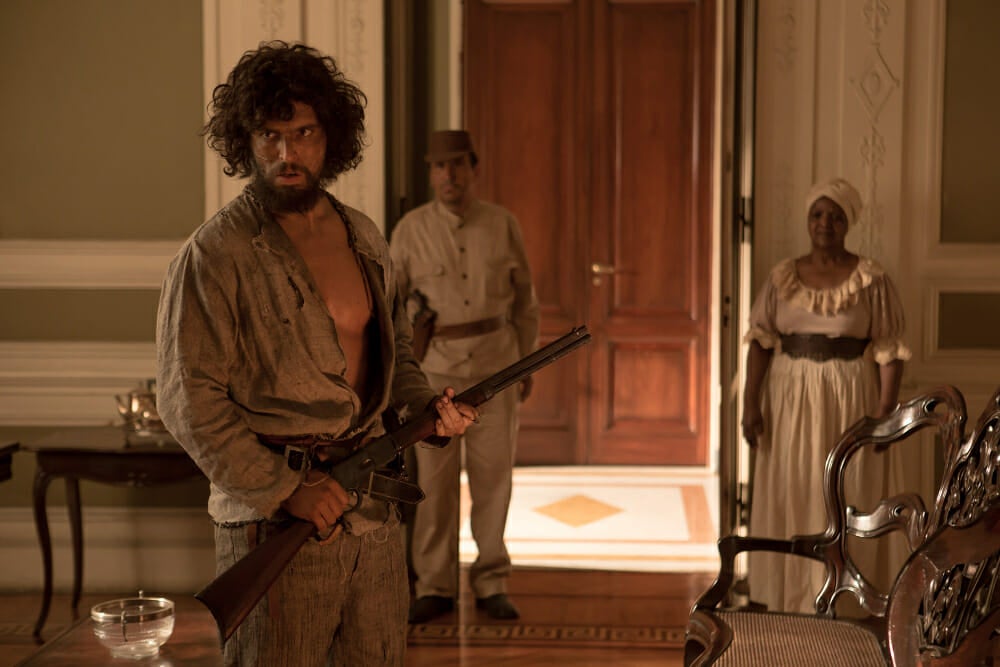 Original Language: Portuguese
Subtitles: English
This well-executed Brazilian shoot-em-up flick cuts no corners in telling its serpentine story and spares no gory details. Branded as O Matador outside of the United States, the film stars Portuguese actor Diogo Morgado as Cabeleira, a manchild assassin searching for his adopted father through the lawless badlands of Pernambuco. —K.S.
16) Cinema Paradiso
Original Language: Italian
Subtitles: English
Giuseppe Tornatore's 1988 Oscar-winner remains beloved by fans of foreign films and fans of movies in general. Cinema Paradiso is nostalgic in the best way, telling the story of a filmmaker who recalls how he first fell in love with cinema at the local movie house while also making friends with the theater's projectionist. It's a lovely, undeniably likable movie with loads of heart. —C.O.
READ MORE:
17) Okja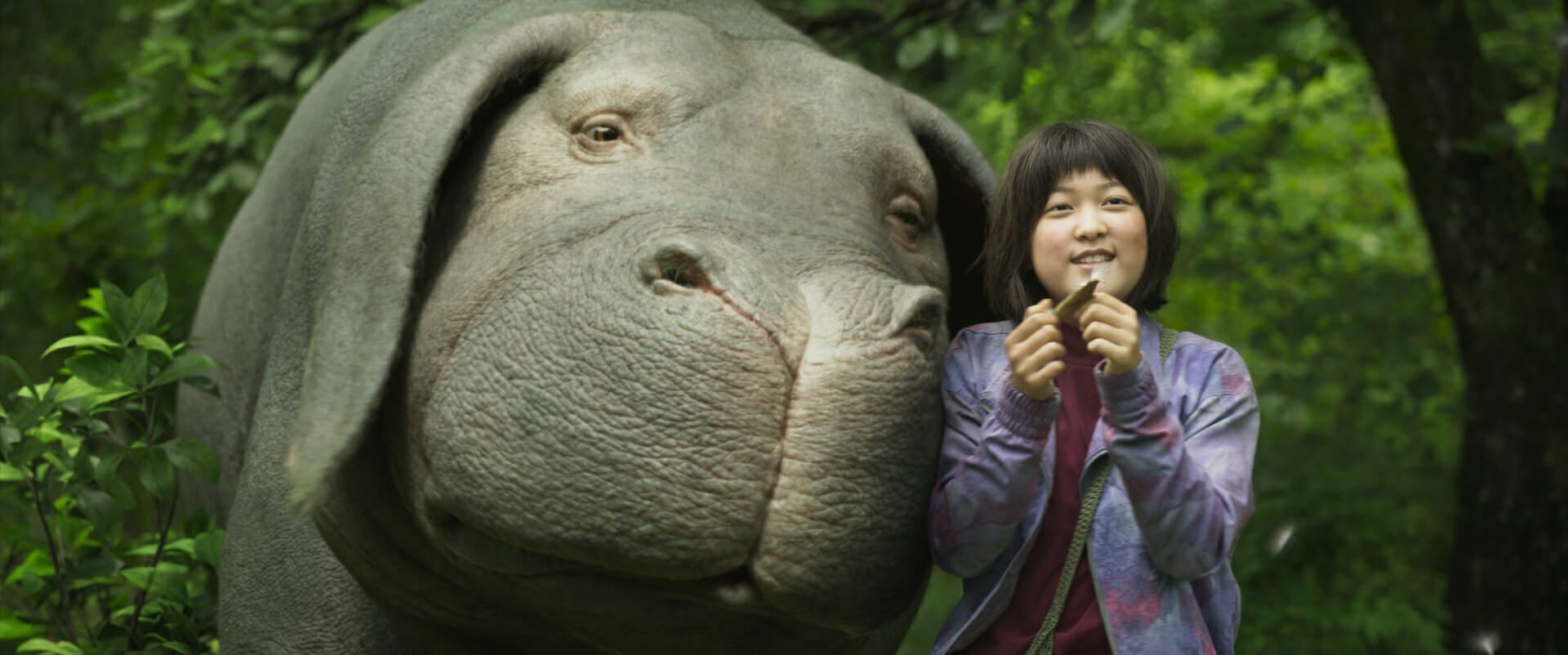 Original Language: Korean/English
Subtitles: English
Bong Joon-ho's Okja is an odd and oddly touching story about a girl, Mija, and her genetically enhanced superpig, Okja. Set in Korea and the U.S., Okja features a diverse cast, thrilling set pieces, and enough emotional moments to keep you engaged even when the film indulges its weirder aspects. Despite the film's tonal shifts, Joon-ho's agility and prowess as a filmmaker ties everything together and makes it feel if a piece. Okja is easily the best Netflix original movie to date. —E.S.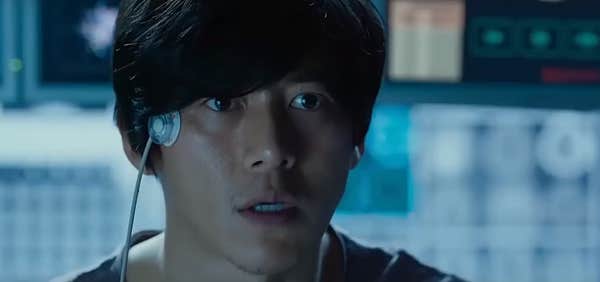 Original Language: Korean/English
Subtitles: English
A South Korean riff on Inception, Lucid Dream follows a journalist, Dae-ho, working to find his son, who was kidnapped three years earlier. The investigation has gone cold, but Dae-ho can relive the day his son was taken through lucid dreaming. For a premise as inherently grim as a parent searching for a lost child, Lucid Dream is surprisingly fun. The investigations taking place in dreamland and the real world intersect in interesting ways, and the story is constantly upping the stakes. —E.S.
19) Faces Places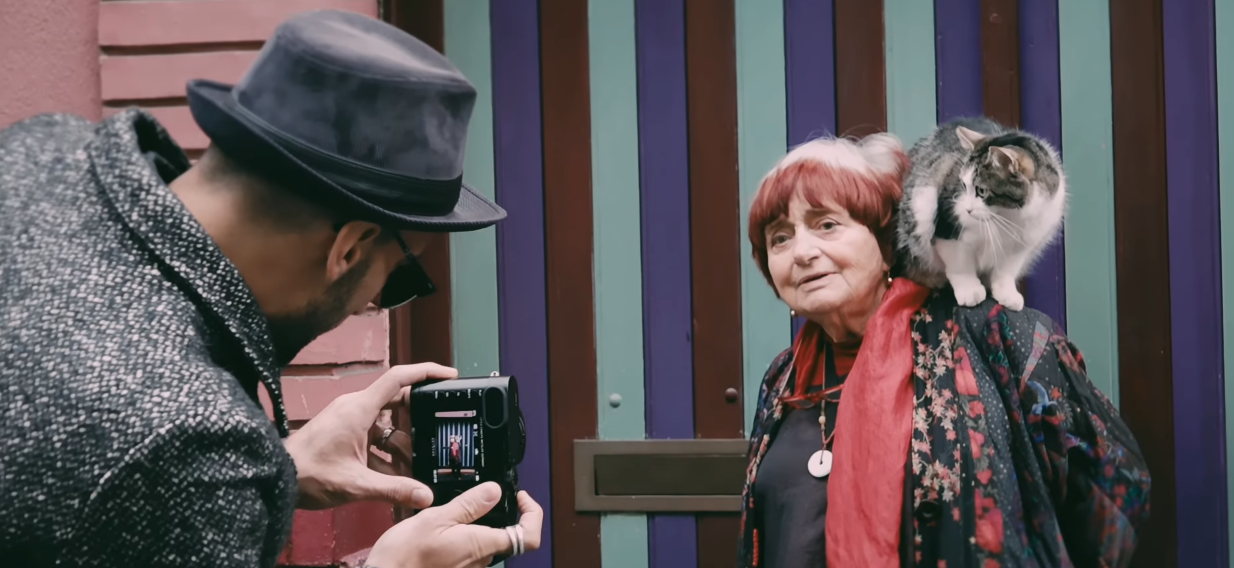 Original Language: French
Subtitles: English
This pretty-much-perfect film lost the 2017 Academy Award for best documentary to Netflix's own Icarus, and while that one is certainly good too, it's unforgivable that Faces Places didn't win. Following famed director Agnes Varda as she travels around the French countryside with artist JR, the two directors' process of talking to people, taking their picture, and then pasting larger-than-life prints of them becomes an exercise in empathy. There are plenty of moving moments in this movie, but the end especially will wreck you. Thankfully, those who missed this gem during Oscar season can catch up with it now. —C.O.
20) Raw
Original Language: French
Subtitles: English
Julia Ducournau's debut feature film is an obstacle course for the senses, and it's one of the most unique horror films of the year. Teen vegetarian Justine (Garance Marillier) is cast off to her first year of vet school and endures a hazing ritual that causes her to awaken in several ways. Raw is about a woman coming to terms with her nascent cannibalism but more fundamentally about a woman discovering desire and sisterhood. Marillier gives a stunning performance as she fights and gives in to her urges, and her transformation doesn't need CGI to be terrifying and ascendant. —A.S.
Still not sure what to watch tonight? Here are our guides for the absolute best movies on Netflix, must-see Netflix original series, documentaries, docuseries, and movies.
Need more ideas? Here are our Netflix guides for the best war movies, documentaries, anime, indie flicks, true crime, food shows, gangster movies, Westerns, and movies based on true stories streaming right now. There are also sad movies guaranteed to make you cry, weird movies to melt your brain, and standup specials when you really need to laugh. Or check out Flixable, a search engine for Netflix.
Editor's note: This article is regularly updated for relevance.