Warm up your best metal growls and make a reservation at your nearest karaoke lounge, because Aggretsuko is back for an encore. In its second season, titular red panda/office worker Retsuko contends with an overbearing mother, a paranoid trainee, and a new suitor. While Aggretsuko season 2 is always fun in the moment, it's considerably less pointed than the first season, which ultimately makes it less satisfying. 
Aggretsuko season 2
RELEASE DATE:
6/14/2019
DIRECTOR:
Rarecho
STREAMING:
Netflix
Netflix's cutest metalhead panda is back in the booth, trying to find love and train an insecure new employee.
The second season of Aggretsuko can be divided roughly into two arcs. In the first, Retsuko attempts to train the newly hired badger Anai, who is fresh out of college and totally inexperienced. No matter how kindly she tries to treat him, he takes all of her feedback in the worst way. Anai records everything Retsuko says, sends her detailed emails enumerating every purported offense, and even files complaints about power harassment.
Part of the appeal of the first season of Aggretsuko was just how relatable Retsuko's struggles were, and how they reflected the real-life experiences of many working women. Retsuko's toxic relationship with her boss Ton was specifically written to reflect gendered power dynamics in the workplace. While there could have been room for this with Anai—many young men have trouble accepting working with female superiors—he turns against male coworker Haida as well, sidestepping that particular possibility. Instead, one of Aggretsuko season 2's central conflicts is that kids these days are just too darn sensitive and need to be coddled like small children.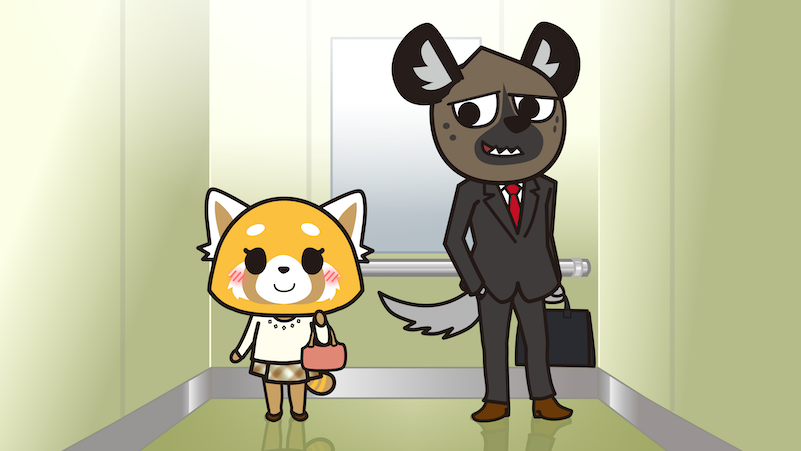 Meanwhile, Retsuko is searching for her own sense of purpose. Her mother keeps trying to set her up on arranged dates specifically to find her a husband. In the process, Retsuko realizes she doesn't have any hobbies or interests besides messing around on the internet until she falls asleep. She has no driving motivations—until she sees gossipy hippo Kabae with her children, and realizes what she really wants is to get married and have a family.
Far be it from me to condemn marriage as a personal choice—I'm coming up on one month since my own wedding—but this didn't sit right with me. Retsuko's problem wasn't just her lack of goals, but that she didn't have any way to spend her time other than fooling around on her phone. Her newfound desire for a family doesn't resolve this; she still doesn't have any hobbies or interests. Retsuko has nothing to define herself other than her job and romantic life.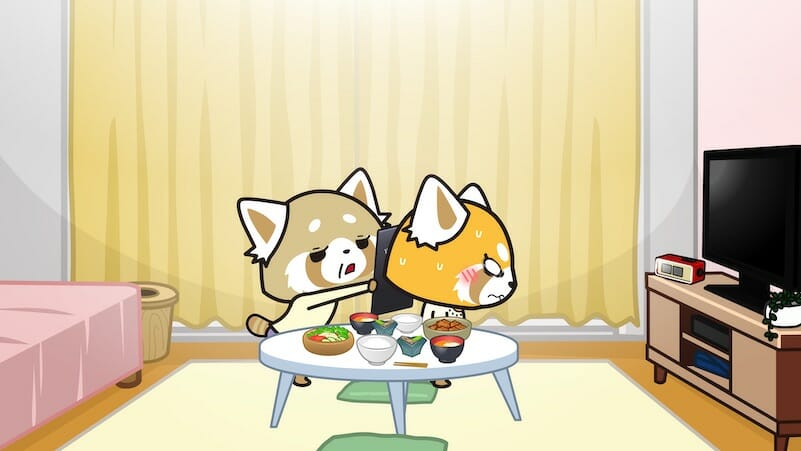 Aggretsuko season 2 still has plenty of appeal. Viewers may wonder if the show based Retsuko's mother on their own mom; I know I did. This season also gives more screen time to Kabae, who was arrested for espionage at the end of season 1. The show reveals that she's a working mother and recognizes just how difficult and respectable that title is. Retsuko takes a road trip with her mentors, the always-delightful Gori and Washimi. I never stopped enjoying this season, but I also didn't come out of it raving that everyone should watch it the way I did with its predecessor.
While Aggretsuko's first season may not have offered solutions, it did offer catharsis. Retsuko's problems weren't just hers; millions of women struggling in patriarchal systems could identify with them. Aggretsuko season 2 focuses more on Retsuko's personal journey, which is less universal and carries far less institutional anger and frustration. All I can do is wish Retsuko joy and happiness, and wait for another story that so strongly encapsulates workplace sexism.
Still not sure what to watch tonight? Here are our guides for the absolute best movies on Netflix, must-see Netflix original series, documentaries, docuseries, and movies.
Looking for something more specific? Here are our Netflix guides for the best war movies, documentaries, anime, indie flicks, true crime, food shows, rom-coms, LGBT movies, alien movies, gangster movies, Westerns, film noir, and movies based on true stories streaming right now. There are also sad movies guaranteed to make you cry, weird movies to melt your brain, old movies when you need something classic, and standup specials when you really need to laugh. Or check out Flixable, a search engine for Netflix.