There is an unwritten contract when it comes to previewing NFL games. You, the reader, are curious about how and why to watch a game, and I, the writer, explain both in exchange for your click. But, then, the NFL schedules a game like Kansas City Chiefs vs. Chicago Bears on Sunday Night Football, ruining everything.
At the beginning of the season, every fan base of every team has high hopes. Maybe this is their year. But now, as we approach Week 16, we have a clear view of the haves and have-nots. We know, for the most part, who can look forward to the playoffs and who can look forward to the draft.
Technically, this game has playoff implications. However, even if they win this game, the Chiefs would still only have a 32% of securing a bye. If they lose the game, the Chiefs could slip to the fourth seed, but no matter what, they have a better than 50% chance of earning the third seed.
If you aren't a Kansas City fan, why would that prompt you to watch a game that the Chiefs should easily win? Wouldn't you be better off spending your evening with loved ones and refreshing the playoff picture before bed? The eliminated Chicago Bears led by 24th-ranked quarterback Mitch Trubisky, aren't going to beat the surging Kansas City offense.
But it is my job to tell you why you should watch this game. (Other than that it's football, and the argument that football on TV is better than no football on TV.) Let me at least try to come up with something to justify your watching to others, if not yourself.
Certainly, you aren't watching for the Bears' quarterbacking.
Mitchell Trubisky gets picked off…🤭🤭🤭#Bears #Packers #NFL
pic.twitter.com/DkxQ57BGJo

— Christopher Reiss (@ReissReport) December 15, 2019
You might argue that this game is worth it just to watch Patrick Mahomes. Solid reasoning. However, you would probably be better off watching any other Mahomes game if you want to see his greatness. The Bears have a bad offense but a great defense, so this won't be a shootout and Mahomes may be frustrated by the D.
A good defense means you will see less of this than you might like.
The Tarkenton-Favre-Mahomes Gene pic.twitter.com/sKmZo96lzX

— Terez A. Paylor (@TerezPaylor) December 15, 2019
And since the Chiefs should have a comfortable lead relatively quickly, you probably won't see too many of these.
Mahomes to Kelce. Still deadly.

(via @NFL)pic.twitter.com/pTKvIg3skq

— B/R Gridiron (@brgridiron) November 19, 2019
Last week, the Chiefs beat the similarly defensive-minded Broncos 23-3, in a game that awesomely had snow. The Chiefs aren't afraid to get out to an early lead and simply protect the win from there. The Chiefs have actually risen to 11th in Defensive DVOA,  largely on the strength of their pass defense. Trubisky would have trouble throwing on this team even if he were good.
It doesn't get a lot of attention but the Chiefs pass defense has been great this year.

The additions of safeties Tyrann Mathieu and Juan Thornhill gave first-year def. coordinator Steve Spagnuolo the players to execute the new-and-improved scheme. https://t.co/RpNKFROY5K pic.twitter.com/2XmULMclHZ

— Steven Ruiz (a lifelong DC Defenders fan) (@theStevenRuiz) December 16, 2019
Once the Chiefs have a lead, they can probably breathe easy. The Bears' running game isn't much to write home about. In the middle of the season, it looked like the platoon of David Montgomery and Tarik Cohen might offer an offensive spark. That hasn't really been the case. Last week against the Packers, neither back went over 40 yards.
📽 Joe Thomas force un fumble de David Montgomery, et Jaylon Smith récupère ! #DallasCowboys pic.twitter.com/zlpKM6DzOm

— NFL France (@NFLFrance) December 6, 2019
And the problems extend beyond any individual backs and into coaching. No defenses fear Trubisky, putting the team's RBs into situations like these.
The @ChicagoBears are 29th in the NFL in rushing.

Wanna know why? They run into bad looks. I see this time and time again. @670TheScore pic.twitter.com/dGre8InYTh

— Sage Rosenfels (@SageRosenfels18) December 17, 2019
The Chiefs running game isn't much to write home about either. They haven't had a back go over 50 yards for over a month. This play feels like an eternity ago.
.@Chiefs RB Damien Williams knew Tyreek Hill was going to try to catch up to him on his 91-yard TD.

"Don't embarrass me like that on TV again." 😅 #ChiefsKingdom pic.twitter.com/yx9Zz2UmBT

— NFL (@NFL) November 7, 2019
So, it's basically the Bears fine defense against the Chiefs stellar offense. Already a tough matchup, Trubisky will likely make it tough on them by doing something like this.
Jourdan Lewis with an incredible interception. Horrible play by Trubisky #DALvsCHI #DallasCowboys #Bears100 pic.twitter.com/tnl6rS3ggS

— Roto Street Journal (@RotoStJournal) December 6, 2019
Or a team that just can't seem to catch a break will do something like this.
Bears get called for "kick catch interference" for hitting the Packers returner after he caught it #CHIvsGB pic.twitter.com/i7bJ0ENj8W

— Bad Sports Refs (@BadSportsRefs) December 15, 2019
If you can imagine the Bears beating this Chiefs team, then feel free to watch. Or if you enjoy Patrick Mahomes and can't let a single game of his go unwatched—a perfectly understandable position—let this whet your appetite for Sunday night. 
Patrick Mahomes and Tyreek Hill doing WORK! pic.twitter.com/tBZA9o9Rk3

— NFLNews.co (@NFLNewsCo) December 15, 2019
Here's everything you need to know to stream this game live.
Kansas City Chiefs vs. Chicago Bears
When: 8:20pm ET, Sunday, Dec. 22 (coverage begins at 7pm ET)
Where: Soldier Field in Chicago, Illinois
Streaming: Sunday Night Football airs exclusively on NBC and is available on any platform that carries the network. Fans have a number of options for streaming the week's marquee game.
How to stream Sunday Night Football online

Both Sling Blue ($25 per month) or Sling Orange + Blue ($40 per month)  include NFL Network and a number of sports channels—like three ESPN channels, FS1, Fs2, and NBCSN—and it's still a nice perk that Sling subscribers can order a la carte packages. Sling TV also offers a special Latino package for bilingual viewers. Sling TV is currently offering a deal where you can subscribe for 40% off the regular price for the first month of your subscription. That means Sling Blue would cost $15, and Sling Orange + Blue would cost $25. (Here's a complete guide to Sling TV channels and our Sling TV review.)
For $10 extra per month, you can get NFL RedZone via the Sling Blue Sports Extra package. 
How to use AirTV with Sling
AirTV solves one of Sling's biggest problems: The inability to receive all of your local channels. By purchasing a basic AirTV for $79.99 or the AirTV Player for $119.99, you can merge those local channels into your Sling TV, (or on your mobile device if you have the basic AirTV). As the Daily Dot wrote in its AirTV review, "It's practically magic."
The basic AirTV is a dual-tuner streaming device, while the AirTV Player is basically an upgraded Chromecast that has Netflix preinstalled. You'll still need to own an HD antenna because even though AirTV gets you access to your local channels, it doesn't actually physically show them to you.
But AirTV—which has no monthly fee—serves to strengthen one of Sling's biggest weaknesses compared to other live streaming services like Hulu with Live TV, YouTube TV, and PlayStation Vue. All those services have plenty of local channels.
---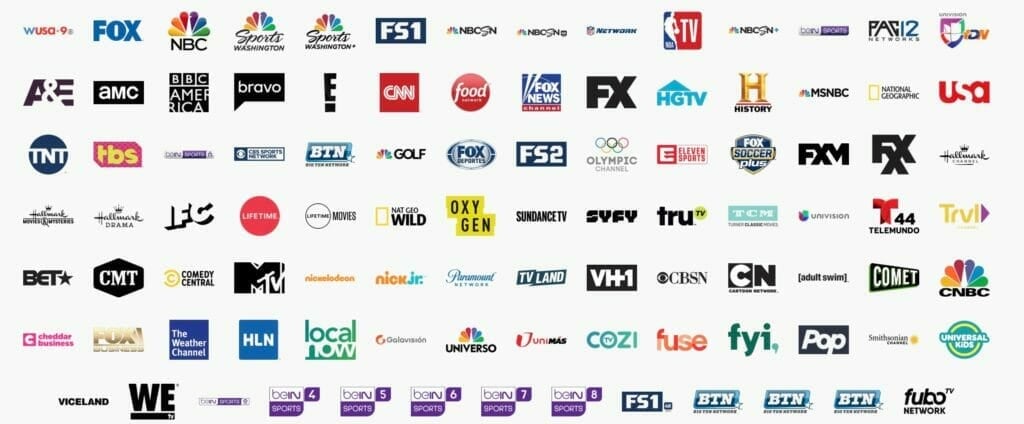 If you're a big-time sports fan, FuboTV is your best streaming service option. If you love international soccer and you're a Spanish speaker, FuboTV also offers various add-on packages, including Fubo Latino and Fubo Português. FuboTV's basic plan showcases nearly 100 channels and includes NFL Network. At $54.99 per month, you'll also get FS1, FS2, NBCSN, NBA TV, Big Ten Network, Pac 12 Network, BeIn Sports, and CBS Sports Network, along with premium channels like FX/FXX/FXM. The only notable omission for sports fans is ESPN. You can add Fubo's Sports Plus package for an additional $8.99 per month, which allows you to stream NFL RedZone. (Here's the complete FuboTV channels list.)
---

Cost: $54.99 per month
Hulu devices: Roku, Apple TV, Google Chromecast, Amazon Fire Stick and Fire TV, Xbox One, Xbox 360, Nintendo Switch, and iOS and Android devices
Hulu local channels: ABC, CBS, Fox, NBC, the CW (check your local availability here)
Hulu with Live TV includes sports programming among its offerings, including ESPN and FS1, and as a subscriber to the service, you'll get access to Hulu's sizable on-demand library. (Check out the full list of Hulu Live TV channels.)
---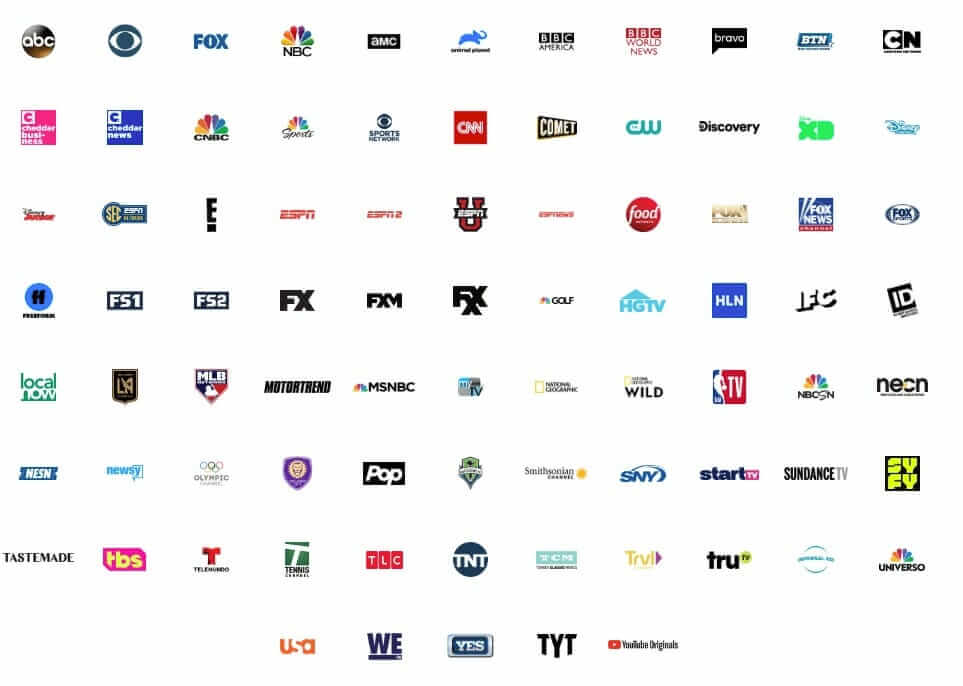 YouTube TV is a great option for college football fans, including ESPN and FS1. (Take a look at the full list of YouTube TV channels here.)
---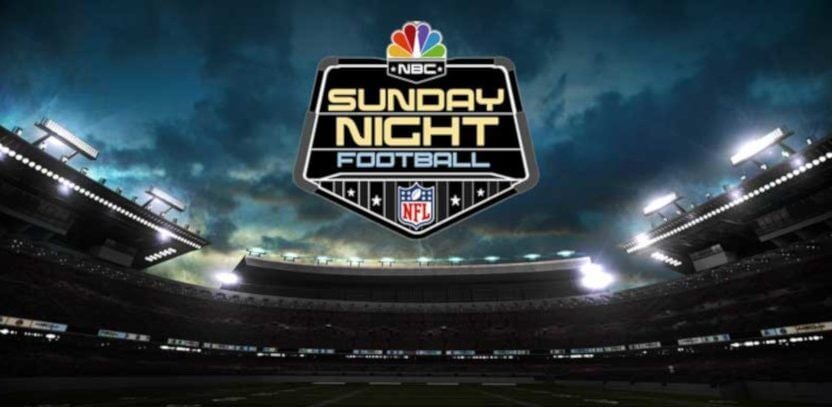 Devices: Roku, Amazon Fire Stick and Fire TV, Xbox, iOS and Android devices
If you have cable or one of the aforementioned live TV streaming services, you can download the NBC Sports app and watch Sunday Night Football there in HD. If you're using a web browser, you may need to install the latest version of Adobe Flash and your browser will need to be current enough to support HTML5 Media Source Extensions. You'll also need an internet connection of at least 10 Mbps. (Here are some tips for faster Wi-Fi.)
---
READ MORE: 
For a year-round sports fix, sign up here to receive our weekly boxing newsletter. You'll hear about all the biggest fights and best knockouts from the Daily Dot's streaming sports guru Josh Katzowitz.
The Daily Dot may receive a payment in connection with purchases of products or services featured in this article. Click here to learn more.