A man is shot in the testicles within the first two minutes of Paradise PD, the new animated series from Brickleberry creators Waco O'Guin and Roger Black. This sets the bar and the show then blasts the viewer with every crude and lewd joke it can muster.

An animated series about cops could be iffy territory—COPS (not to be confused with Cops) couldn't make it more than one season, but Axe Cop saw some success. Paradise PD doesn't try to make its cops—or any of the small town's residents—inherently good. Tom Kenny voices brawny Chief Randall Crawford, the man whose testicles were shot (by his son, who also wants to be a cop). Filling out his ailing force is an elderly racist and a plump Southern boy (both voiced by Dana Snyder); the trigger-happy Gina Jabowski (Sarah Chalke), who's fond of sexually harassing her co-worker; Gerald Fitzgerald (Cedric Yarbrough), the lone Black cop; and Bullet (Kyle Kinane), a morally compromised drug dog. The scourge of "argyle meth" has made it way into Paradise, and the PD has to stop it.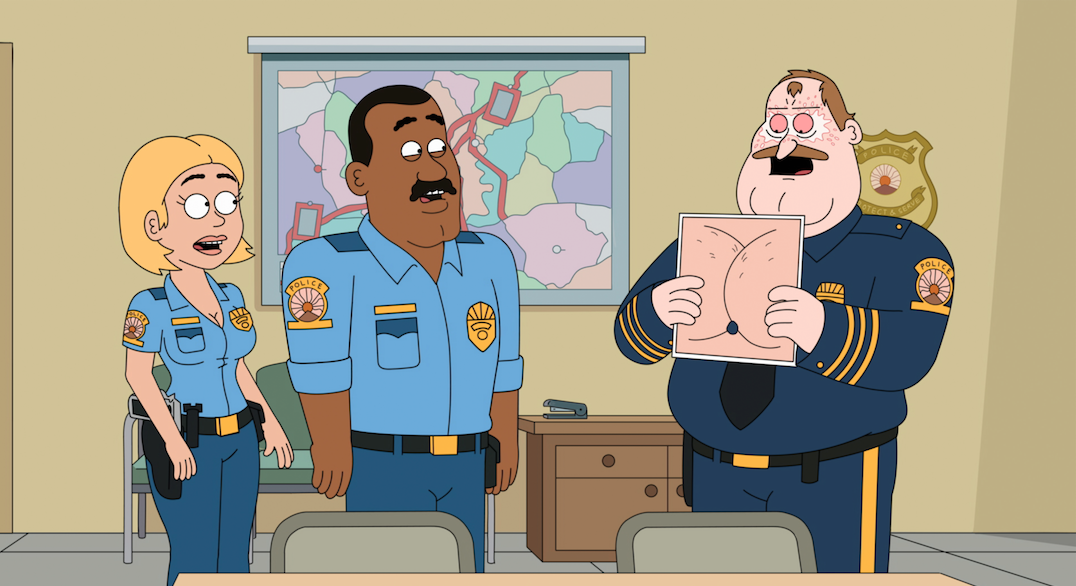 In the four episodes out of 10 made available for review, Paradise PD sets up its foundation: violent, sophomoric, scatological humor heavy on butt and dick jokes. As a parallel to recent Netflix animated series Disenchantment, which attempts to make a point about gender in fantasy, or Big Mouth, which explores the horror of puberty while making deeper points about adolescence, Paradise PD is blunt-force humor without much emotional attachment. But, to some degree, it could be seen as a fantasy: Earlier this month at RTX, Kenny said the series was like "Brickleberry on Earth B," a mirror reality for that show's deranged park rangers.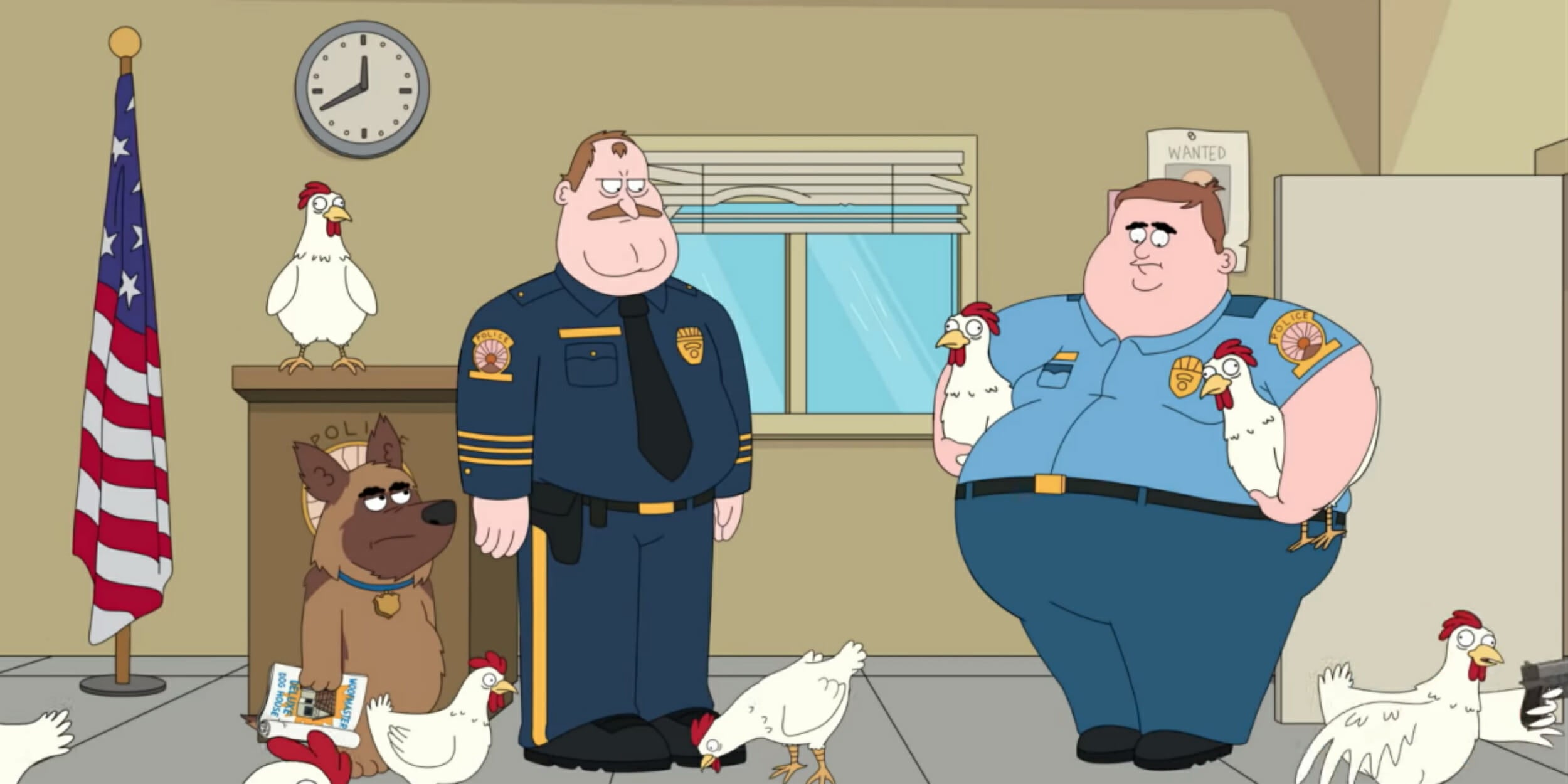 Paradise PD tries to offer some commentary on police. When Gerald accidentally shoots himself, the incident becomes Black Lives Matter versus Blue Lives Matter; his identities literally battle while two public protests take place. Elsewhere, a cop argues that PTSD isn't real. O'Guin said earlier this month that his extended family includes both cops and park rangers; it's clear civil service has informed his shows, but Paradise PD doesn't try to be political or make any bigger points about corruption or abuse of power. No one in Paradise really has any redeeming qualities (at least after four episodes) and everyone is abusing power, among other things, so that leaves more room for jokes about suicide, molestation, and Ballers (and that's just the beginning of episode 2).  
That said, this show won't land with everyone; it's more in league with late-night Adult Swim fare, but perhaps that's what Netflix is going for with its growing adult animation slate. The presence of ubiquitous voice talents Kenny and Snyder is a draw, and there's one truly macabre Golden Girls bit in the series, but you'll also have to endure an unmanned firehose of dick and poop jokes. 
Still not sure what to watch tonight? Here are our guides for the absolute best movies on Netflix, must-see Netflix original series, documentaries, docuseries, and movies.
Need more ideas? Here are our Netflix guides for the best war movies, documentaries, anime, indie flicks, true crime, food shows, rom-coms, LGBT movies, gangster movies, Westerns, film noir, and movies based on true stories streaming right now. There are also sad movies guaranteed to make you cry, weird movies to melt your brain, old movies when you need something classic, and standup specials when you really need to laugh. Or check out Flixable, a search engine for Netflix.