ESPN+ is a godsend to hockey fans. In its first year, ESPN's new subscription service will broadcast more than 180 NHL games during the 2018-19 season. That's more than NBC Sports and NBC combined, and it's easily on par with NHL Network, the league's own streaming service. The service will also exclusively feature In the Crease, the daily hockey program co-hosted by Barry Melrose and Linda Cohn, offering highlights, interviews, and analysis from around the league. Here's everything you need to know about the NHL on ESPN+.

Like AMC Premiere to AMC, ESPN+ is basically a premium version of ESPN, with exclusive series and a ton of live programming. In addition to streaming NHL games, ESPN+ offers a way to watch the niche sporting events that don't typically air on ESPN proper: a ton of boxing matches, PGA tour golf, Grand Slam Tennis, cricket, European soccer, and the United Soccer League, in addition to MLB games, MLS, and college sports. Launching in April 2018, ESPN+ also features original series that take you closer to the sports you love, most notably Kobe Bryant's Detail, which offers deep-dive analysis on specific NBA players. Even more invaluable, it contains the complete archives of ESPN's beloved 30 for 30 documentary series.
ESPN+ costs $4.99 per month or $49.99 per year. But to be clear, ESPN+ is not a substitute for ESPN. You can't use your ESPN+ subscription, for example, to live stream Monday Night Football, but you can stream ESPN+ content without an ESPN subscription. (Here's everything you to know to watch ESPN online.) The ESPN+ content is clearly marked on the ESPN site and in the WatchESPN app with the yellow E+ logo (seen below), and there's a section devoted exclusively to ESPN+ material. As you can see in the screenshot below, games that will be blacked out in your area are clearly marked in advance.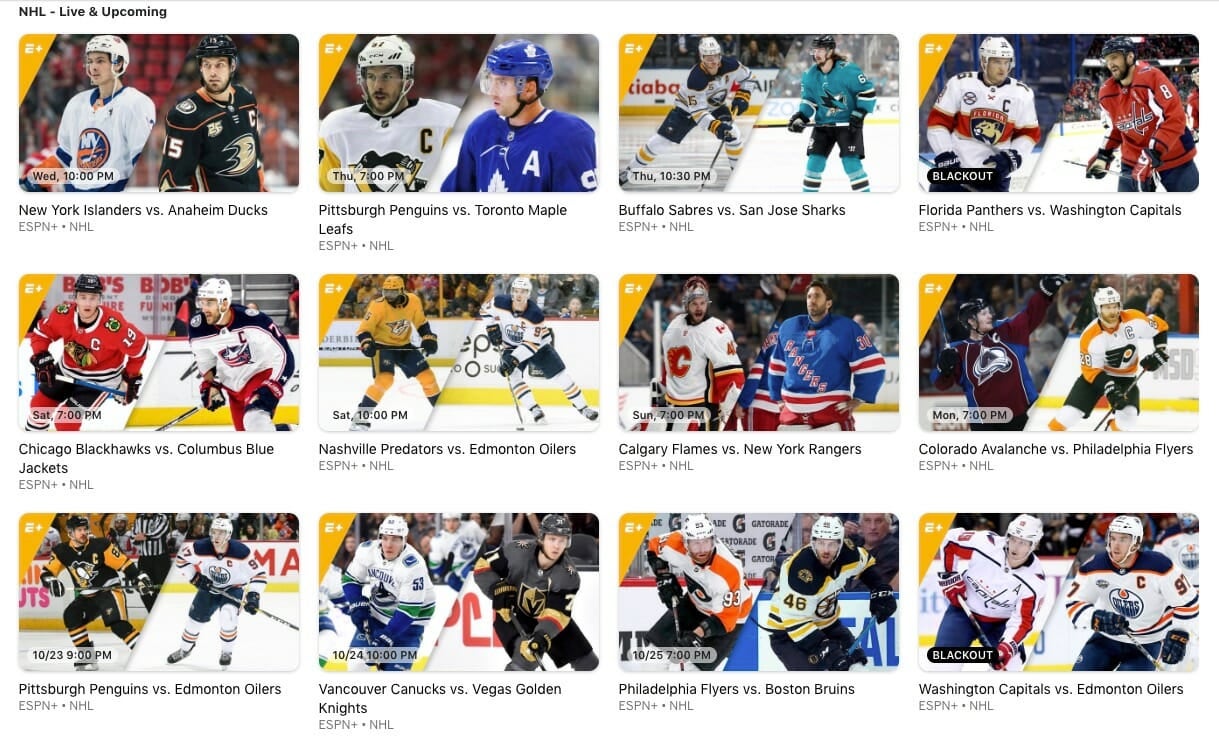 ESPN+ devices
I can't stress this enough: ESPN+ is not a standalone app. You'll need to download the WatchESPN app, and from there, you'll be able to watch ESPN+ content, which is marked with the E+ logo. The WatchESPN app can be used with the following devices:
Android and Kindle Fire
PlayStation 4
Samsung TV
Oculus
Xbox One
iOS and Android devices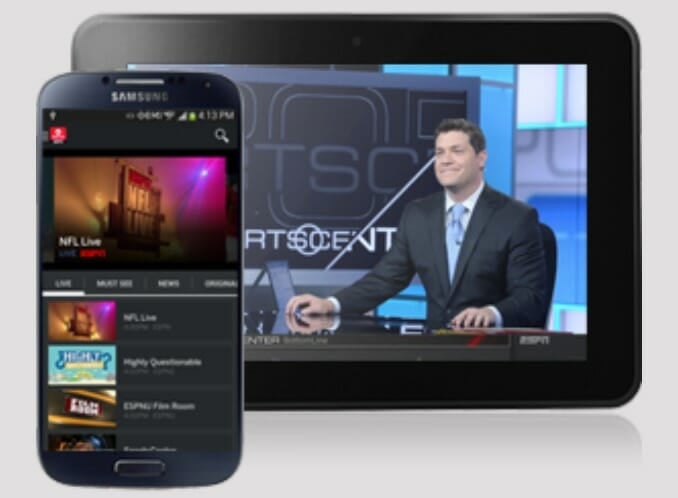 READ MORE:
NHL on ESPN+ schedule for the 2019-2020 has been postponed with times TBD.
NHL on ESPN+ schedule for the 2018-19 season
The NHL on ESPN+ schedule is only available through October. We'll update this article when more programming is announced. All games are subject to blackout restrictions and listed in ET.
Friday, Oct. 19
7pm,  Florida Panthers at Washington Capitals
Saturday, Oct. 20
7pm,  Chicago Blackhawks at Columbus Blue Jackets
10pm,  Nashville Predators at Edmonton Oilers
Sunday, Oct. 21
7pm, Calgary Flames at New York Rangers
Monday, Oct. 22
7pm, Colorado Avalanche at Philadelphia Flyers
Tuesday, Oct. 23
9pm, Pittsburgh Penguins at Edmonton Oilers
Wednesday, Oct. 24
10pm, Vancouver Canucks at Vegas Golden Knights
Thursday, Oct. 25
7pm, Philadelphia Flyers at Boston Bruins
9pm, Washington Capitals at Edmonton Oilers
Friday, Oct. 26
6pm, Tampa Bay Lightning at Vegas Golden Knights
Saturday, Oct. 27
1pm, New York Islanders at Philadelphia Flyers
8pm, Chicago Blackhawks at St. Louis Blues
Sunday, Oct. 28
5pm, Dallas Stars at Detroit Red Wings
Monday, Oct. 29
10pm, Minnesota Wild at Vancouver Canucks
Tuesday, Oct. 30
7:30pm, New Jersey Devils at Tampa Bay Lightning
New to cord-cutting? Here are our picks for the best movie streaming sites of 2018 and free live TV apps and channels. If you're looking for a specific channel, here's how to watch HBO, Showtime, Starz, ESPN, AMC, FX, Fox News, MSNBC, CNN, FS1, TBS, TNT, Golf Channel, Cartoon Network/Adult Swim, the CW, NBA TV, the Weather Channel, and NFL RedZone without cable, as well as free movies on YouTube. If you're on the move, here's how to watch Fox Sports Go and live stream NBC Sports.
The Daily Dot may receive a payment in connection with purchases of products or services featured in this article. Click here to learn more.