If you miss the Women's World Cup—and chances are, given the phenomenal TV ratings it drew across the U.S., that you do—know that there's a way to see those players from now through October. The National Women's Soccer League, better known to fans by its NWSL acronym, was launched in 2012 to provide top-flight club soccer for a number of the world's best players. This includes all 23 members of the U.S. Women's National Team (USWNT), which won its fourth World Cup with a 2-0 victory over the Netherlands in last Sunday's final.
Last week, in the midst of a 2019 season suddenly made more engaging thanks to the World Cup success, ESPN announced it would be broadcasting 14 matches on its network. Starting with the Portland Thorns-Orlando Pride match this Sunday on ESPNews, the schedule includes the two Oct. 20 semifinal matches and the Oct. 27 final on ESPN2. Each team will get at least one regular-season match on either ESPN2 or ESPNews under the agreement. (NWSL's initial broadcast partner for the 2019 season, Yahoo! Sports, will stream the remainder of the matches not covered by the ESPN stations.)
Here's what you need to know to live stream the emerging NWSL.
Who are the 9 NWSL teams, and which USWNT players feature for them?
Chicago Red Stars
This team features four members of the World Cup-winning team, including Julie Ertz (arguably the team's best defensive player), goalkeeper Alyssa Naeher (who made a key PK save in the semifinal against England to get them to the final), and subs Tierna Davidson and Morgan Brian, as well as Casey Short, a fullback who just missed the cut for 2019. The Red Stars also feature Sam Kerr, the Australian forward regarded by many as the best goalscorer in the game.
Houston Dash
This is the only NWSL club to not feature at least one USWNT player, though it does have two possible candidates for the next cycle. Sofia Huerta, who switched her affiliation from Mexico to the U.S, and Kealia Ohai, who has a famous fiancé in J.J. Watt, have played for the senior team, and Jane Campbell will likely figure into the USWNT's goalkeeping rotation in the upcoming cycle. They're also one of four NWSL teams that share both their stadium and front office with an MLS team.
North Carolina Courage
Crystal Dunn did a sensational job at left back at the World Cup, but for the Courage, plays as an attacking midfielder for a loaded lineup including Abby Dahlkemper, Sam Mewis, and Jessica McDonald. In addition to getting more deserved exposure with four regular-season ESPN matches, the Courage will host a women's mini-tournament Aug. 15 and 18 as part of the International Champions Cup (bringing in more of the players you'll recognize from the World Cup).
Orlando Pride
Alex Morgan, who led the line for the U.S. throughout the World Cup, features for the Pride, as do backup keeper Ashlyn Harris (who provided extremely viral Instagram coverage of the USWNT's intercontinental celebrations), and veteran defender Ali Krieger. (Harris and Krieger came out as a couple prior to the tournament; this, coupled with Megan Rapinoe's outspokenness on LGBTQ issues, has made the team particularly resonant to LGBTQ community members and allies.) 2015 Women's World Cup player Sydney Leroux is currently out after giving birth earlier this month but trained with the team in preseason while six months pregnant.
In addition to the Americans on the team, Brazilian star Marta—the first player to score in five straight World Cups—is a pivotal contributor.
Portland Thorns FC
The Thorns are known for the biggest and most boisterous fan base in the league, with crossover coming from Timbers fans who already know their way to Providence Park. USWNT contributors include technical genius Tobin Heath, midfield boss Lindsey Horan, and two defensive depth players in centerback Emily Sonnett and goalkeeper Adrianna Franch. Christine Sinclair, the Canadian veteran forward who has so often been a thorn in the USWNT's side, plays alongside four USWNT players as a Thorn.
Reign FC
This team started life in Seattle and, starting this season, calls neighboring Tacoma home. Megan Rapinoe and Allie Long are the two U.S. team reps here, as well as likely future USWNT defender Megan Oyster, and the international roster includes Australian keeper Lydia Williams, English forward Jodie Taylor (who helped get this year's England team to the semis), and Celia Jiménez Delgado, a Spanish player who repped her country in their inaugural World Cup trip in 2015.
Sky Blue FC
This northern New Jersey-based team, the de facto team for New York City fans, features USWNT veteran and two-time FIFA Best Women's Player Carli Lloyd. The roster also includes Estelle Johnson, an American who grew up in the U.S. but was born in Cameroon, and sought out an opportunity to play for them after seeing them get to the knockout stages of the 2015 World Cup.
Utah Royals FC
This team launched in affiliation with Real Salt Lake of MLS in 2017 after FC Kansas City folded, with the former team's players, draft picks, and other rights transferring to Utah. Forward Christen Press (utilized as a key sub and occasional starter throughout the latest World Cup) is part of a three-woman USWNT contingent also including defenders Becky Sauerbrunn and Kelley O'Hara.
Washington Spirit
Two emerging stars on the team and likely anchors of the 2023 World Cup campaign, Rose Lavelle and Mallory Pugh, play for the Spirit, who are D.C. in name but actually based in Germantown, Maryland. They were, in a previous incarnation, affiliated with D.C. United of MLS, but now are an independent entity. They also feature Andi Sullivan, who could be a significant contributor to future USWNT teams as a midfielder.
NWSL live stream: Watch Women's World Cup winners in NWSL matches for free
Each of the following services carries ESPN2 and ESPNews, providing a one-week trial and therefore an easy way to watch NWSL matches for free. (And to capture the matches not part of the ESPN agreement, be sure to stream Yahoo! Sports.)

Sling TV provides two base channel package options, each priced at $25 per month. Sling Orange includes three ESPN channels (including ESPN2 for NWSL matches, while Sling Blue includes sports channels like NFL Network, FS1 and FS2, NBCSN, and local channels. If you're Team "Why Not Both," Sling Orange + Blue combines the two for just $40 per month. To add ESPNews and NWSL matches carried there, you'll want to add either Sports Extra: Sling Orange ($5 per month). You also might consider Sports Extra: Sling Blue ($10 per month) for extra BeIN Sports channels and  NFL RedZone.
Spanish-speaking viewers have quite a few options. For bilingual families, you might consider the Español: Best of Spanish TV package for either Sling Orange or Sling Blue for 24/7 specialty channel LaLiga TV and beIN SPORTS Connect: Channels 4-9, which features matches from LaLiga, Ligue 1 and Copa del Rey, among others. Both packages cost $5 per month after your free trial. Sling TV Latino is another Spanish-language package for $10 per month, including NBC Universo, History en Español, and—of import to soccer fans—four beIN SPORTS channels. (And choosing Sling TV Latino + Sling Orange for $30 per month gives you access to ESPN Deportes.) For more information, check out our guide to Sling TV channels and our Sling TV review.
---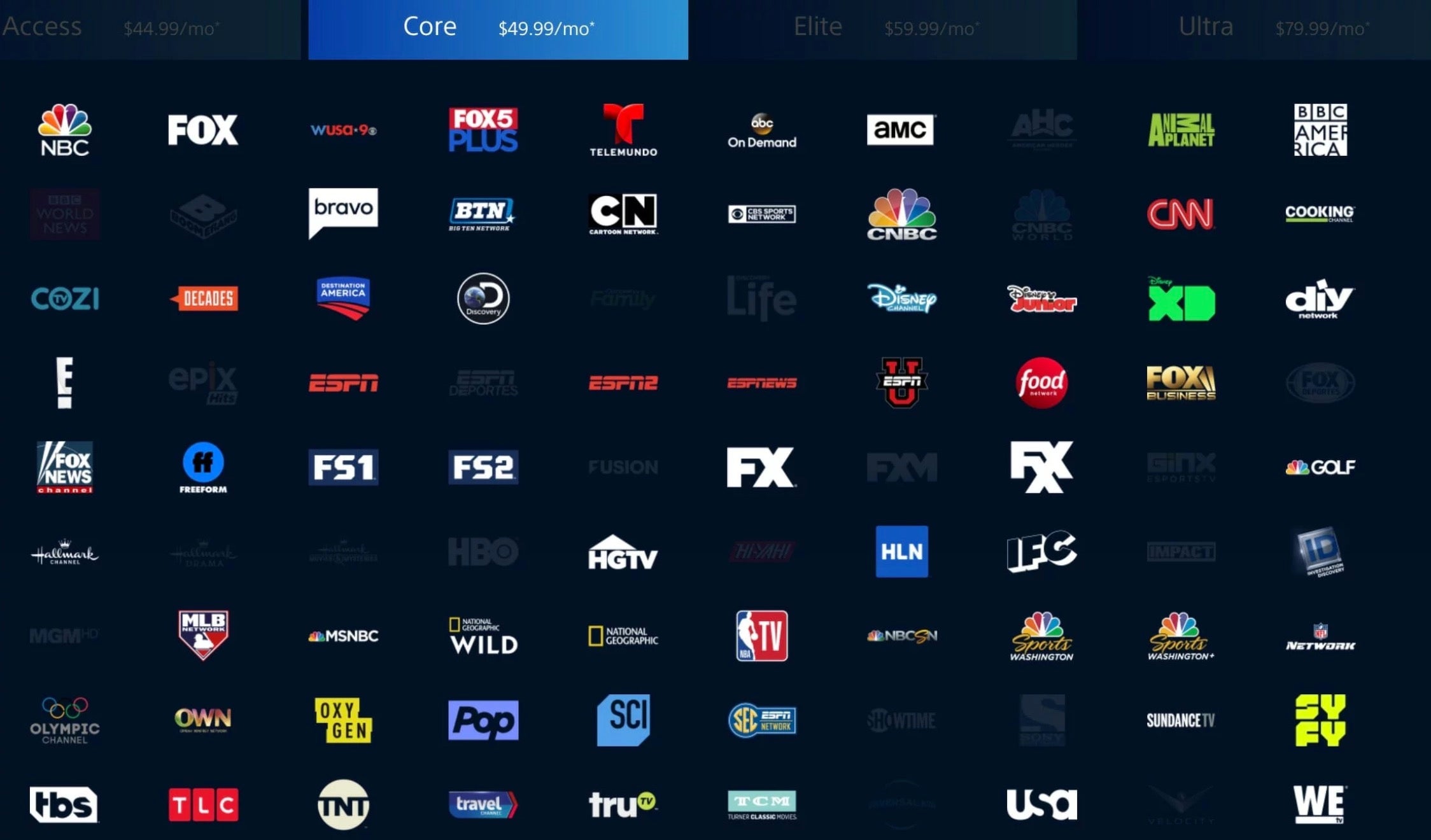 PlayStation Vue is a fantastic option for soccer fans who already own a PlayStation console, but this streaming platform is available on a variety of devices. ESPN2 and ESPNews, the new home for NWSL matches, are part of the Core package of channels that offer soccer and other sports programming, and the options increase at the Elite and Ultra levels.
---

Cost: $44.99 per month (after a 7-day free trial)
Hulu devices:

Roku, Apple TV, Google Chromecast, Amazon Fire Stick and Fire TV, Xbox One, Xbox 360, Nintendo Switch, and iOS and Android devices

Hulu local channels:

ABC, CBS, Fox, NBC, the CW (check your

local availability here

)
Hulu with Live TV includes sports programming (yes, ESPN2 and ESPNews are part of that) among its broad spectrum of offerings, and as a subscriber to the service, you'll get free access to Hulu's sizable on-demand library. (Check out the full list of Hulu Live TV channels.)
---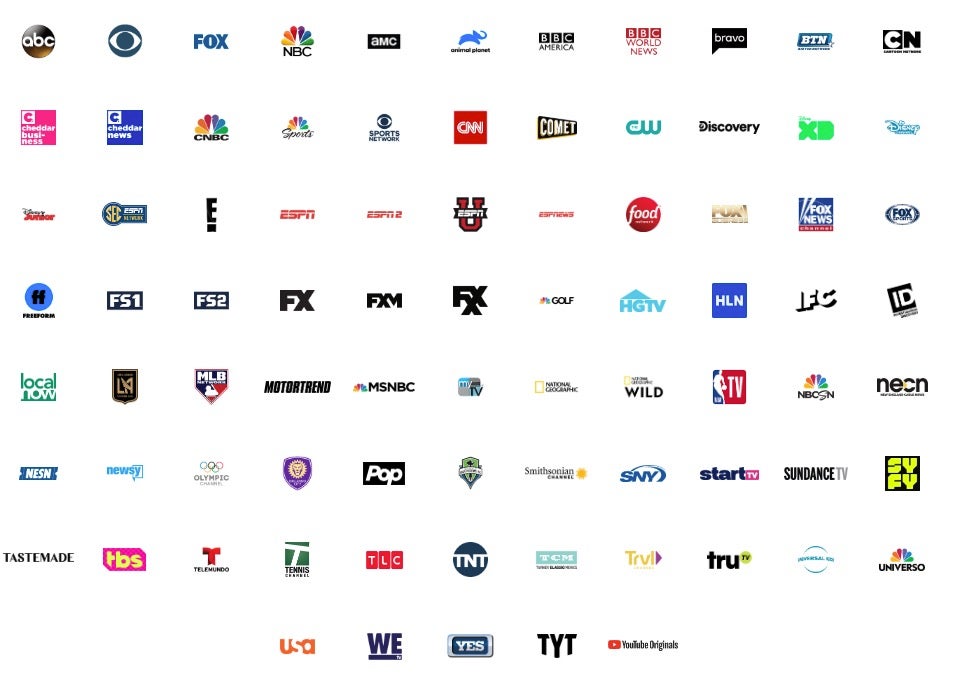 YouTube TV is a great option for soccer fans, including TNT for Champions League matches, NBCSN for Premier League matches, and broadcasting partnerships with three MLS teams. (Take a look at the full list of YouTube TV channels here.)
---
NWSL 2019 schedule
Here are the matches covered by ESPN networks per the agreement with NWSL for the remainder of the 2019 season:
Sunday, July 14, 3pm ET, Portland Thorns FC vs. Orlando Pride, ESPNEWS
Sunday, July 21, 6pm ET, Chicago Red Stars vs. North Carolina Courage, ESPN2
Saturday, July 27, 10pm ET, Utah Royals FC vs. North Carolina Courage, ESPNEWS
Friday, August 2, 7 pm ET, Houston Dash vs. Reign FC, ESPNEWS
Sunday, August 11, 3 pm ET, Portland Thorns FC vs. North Carolina Courage, ESPNEWS
Sunday, August 18, 1 pm ET, Sky Blue FC vs. Reign FC, ESPNEWS
Sunday, August 25, 3 pm ET, Portland Thorns FC vs. Chicago Red Stars, ESPNEWS
Wednesday, September 11, 7 pm ET, Orlando Pride vs. Chicago Red Stars, ESPNEWS
Tuesday, September 17, 7:30 pm ET, North Carolina Courage vs. Houston Dash, ESPNEWS
Wednesday, September 25, 9 pm ET, Houston Dash vs. Washington Spirit, ESPN2
Sunday, September 29, 2 pm ET, Reign FC vs. Portland Thorns FC, ESPN2
Sunday, October 20, 2 pm ET, Semifinal I, ESPN2
Sunday, October 20, 4 pm ET, Semifinal II, ESPN2
Sunday, October 27, 4 pm ET, NWSL Championship, ESPN2
NWSL champions
2018: North Carolina Courage
2017: Portland Thorns FC
2016: Western New York Flash (became the North Carolina Courage in 2017)
2015: FC Kansas City (folded in 2017, players and assets acquired to become Utah Royals FC in 2018)
2014: FC Kansas City
2013: Portland Thorns FC
The Daily Dot may receive a payment in connection with purchases of products or services featured in this article. Click here to learn more.