Are you ready for a refresh with a new messenger service? If you're in the market for the best messaging app, we think we've got you covered with our selection of the best of the current crop of communication solutions for iOS, Android, and Windows Phone owners.
Whether you're looking for a way to make video calls, to be able to phone friends and family abroad for free, organize group happenings, or to simply to send text-based bulletins to buddies, our list will have free fix for you. Here are the best messaging apps in 2018. 
The best messaging apps of 2018 for Android, iOS, and Windows Phone
If security is important to you, Signal is the messenger app of choice. It boasts an advanced end-to-end encryption protocol that provides privacy for every message every time. It's an SMS/MMS replacement service for iOS and Android that also offers group chat and free voice and video calls. As you'd expect from an app that is all about privacy, you can use Signal to send "disappearing messages." By setting a timer to content you share, it will be automatically deleted when the timer runs out from both your device and the recipient's.
Google's Hangouts app is a solid messaging solution on both Android and iOS. You can create status messages, group chat with up to 150 people, send photos, emoticons, GIFs, and stickers. As far as calling goes, calls to other Hangout users are free, and you can carry out group video calls with up to 10 buddies. Google Maps integration lets you share your location, Google voice integration works with your phone number, SMS and voicemail and Google Cloud integration lets you manage the app remotely. That's a lot of functionality packed into one app.
Snapchat isn't a traditional messenger service, but how we message is evolving in a more image- and video-led direction, so as such, Snapchat earns a place on this list. The service shot to popularity with its disappearing photo-based messages, making it an obvious choice for sexting. The service has since grown up into a more well-rounded social tool, offering a ton of content presented in a fun, fresh way. 
Not sure where to get started? Here's our beginner's guide to the best Snapchat hacks, tips, tricks, and secret functions. We can also help you flirt on Snapchat, delete Snapchat messages, save Snapchat videos, find celebrities Snapchats, create a geofilter, and collect Snapchat Trophies.
Free on iOS, Android and Windows Phone (as a beta version)
Designed to "make your working life simpler, more pleasant, and more productive," Slack is aimed at work teams looking for a tool for communication and collaboration, but there is no reason the app can't be used by a group of friends. Whether you're part of a sports team, a club, or just have a social circle of friends you want to keep in touch with, Slack will give you one-on-one messaging, but it really shines for group messaging, allowing for separate chat channels, file sharing, and even calling.
Free on iOS, Android and Windows Phone 
With the claim of being the "fastest" messaging app, relative newcomer Telegram now boasts more than 100 million active users. It has a clean, clutter-free design and the ability to securely send any kind of file with no limits on size. Group chats can have up to 30,000 members, and the app seamlessly syncs across all platforms, with chat history stored in the Telegram cloud. Telegram's "Secret Chat" functionality sees messages self-destruct automatically.
The number one messaging app in South Korea, KakaoTalk offers free text-style messaging and media sharing, free one-on-one and group voice and video calls, location sharing options and the handy ability to schedule appointments and get reminders. The "Plus Friend" functionality lets users follow celebs and brands for exclusive news and offers. On the fun side of things, there are a ton of emoticons and stickers and a novelty voice filter that changes your voice.
READ MORE:
Free on iOS, Android and Windows Phone  
If you're looking specifically for a group communication tool, GroupMe is well worth considering. Bought by Skype a few years back, this easy-to-use app gives you the option to create group chats and start chatting via the app, people's phone numbers (via SMS), or email address. You can create family group chats, sports team groups, or whatever else floats your boat.
Free on iOS, Android and Windows Phone 
Another big player in the world of messaging, Viber's 900 million users can use the app for free calls, video calls, texts, to send stickers, files, photos and videos and record audio and video messages. Group chats can be extended to up to 250 people, chats can be PIN-protected for privacy, and Viber's "damage control" functionality lets you delete a text or voice message even after you've hit send—a feature that could come in very handy. Meanwhile, Viber Wink is kind of a companion iOS app in which photo and video messages disappear after they have been viewed.
Free on iOS, Android and Windows Phone 
One of the most popular all-rounder messenger apps, WhatsApp boasts a healthy 1.5 billion members. The Facebook-owned service is free to use, integrates with your phone's existing contacts, and works perfectly as an SMS/MMS replacement service. There is more to the app than that, though, as you can also send voice messages and make free phone calls, even internationally.
READ MORE:
Free on iOS, Android and Windows Phone 
Bought first by eBay, then by Microsoft, Skype is the instant messenger service your grandparents probably use. That doesn't mean it's garbage, though. It's a free, super-solid, cross-platform service for messaging, file-sharing, and video calls. It may not have the glamor of the more sexy upstart apps, but there's a lot to be said for an app that delivers on what it promises.
Free on iOS, Android and Windows Phone 
A Chinese behemoth, WeChat is one of the world's most populous messenger apps. As well as the multimedia messaging functionality you'd expect, WeChat users can group chat with up to 500 people and place group video calls with up to nine people. The "Moments" feature lets users share via a personal photo stream. Staying on the social side, Friend Radar, People Nearby, and the ability to "shake" your device to see other WeChat users are all fun social features. 
12) BBM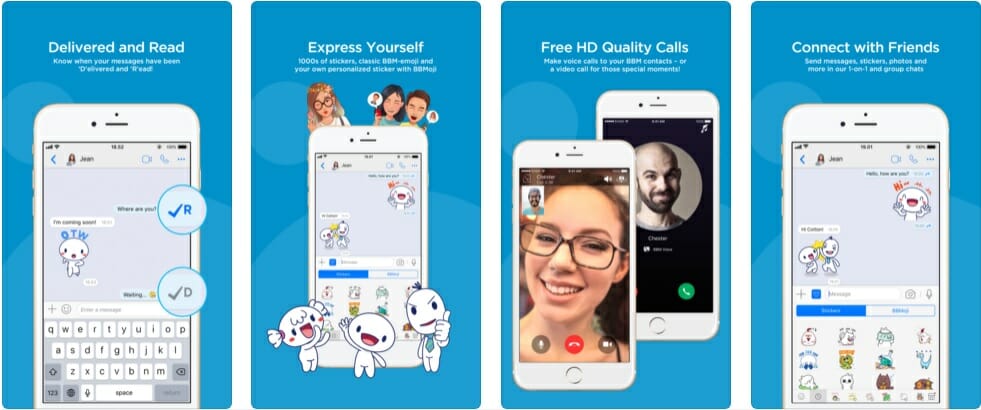 Free on iOS and Android 
Historically one of the most famous messenger platforms, BBM has been revamped for the mobile app era. With this ad-supported app (you can pay $0.99 to adios the advertising), you get free voice and video calls to BBM contacts as well as messenger features that let you send files, photos, and voice messages on a one-on-one or group chat basis. In addition to the messaging abilities, BBM also gives you the option to subscribe to, and create, channels offering a more social experience than just a messenger app alone.
READ MORE:
Free on iOS, Android and Windows Phone 
Big in Japan, LINE combines messaging with social networking. On the messenger side of things, there's free one-on-one voice and video calls, instant messaging, group chats, and calls. The "Keep" section allows you to store messages, photos, and videos for quick sharing. You can create posts for your LINE Timeline and see and comment on friend's posts. You can also follow official LINE accounts for celebs and brands.
Free on iOS, Android and Windows Phone 
Huge in Russia, Belarus and Kazakhstan, the VKontakte social networking service is the overall most-visited Russian website. The mobile app has strong messaging functionality built in, letting users send messages, share "stories," photos and videos, view others' videos and live streams, listen to music, play games, and join various communities. To get the best of the music side of things, you will need to subscribe, but the messenger functionality is free.
Voxer is a little different to most of the other messaging apps we've highlighted as its main selling point is its walkie talkie-style messaging. This push-to-talk functionality lets you instantly communicate live with others. The messages are delivered live as they're being recorded but also sent as a voice message as well that you can replay later. Voxer also offers more traditional messenger features such as the option to send texts, photos, videos, recorded voice messages and share your location.
Free on iOS, Android and Windows Phone 
IM+ is a "unified chat experience" claiming to be an "all-in-one app for messaging and social networking." On iPhone, IM+ supports Twitter, Google Talk, Telegram, Facebook, Messenger, Instagram, Skype, Tinder, Jabber, LinkedIn, Gmail, ChatWork, ICQ, VKontakte and more, giving you all your messages and social stuff in one place. The interface might take a little getting used to, but if you're looking for a solution to save space on your phone, IM+ could be the app for you.
Editor's note: This article is regularly updated for relevance.