Every once in a while you may share something on Snapchat that you really wish you hadn't. In the old days, everything on Snapchat used to disappear, but nowadays that's not so certain. Luckily, you can still delete Snapchat messages, conversations, and even Stories—as long as you know how.
If you've ever been caught wishing you could unsend a message or delete a shoddy Snapchat story, here's what to do.
How to delete Snapchat messages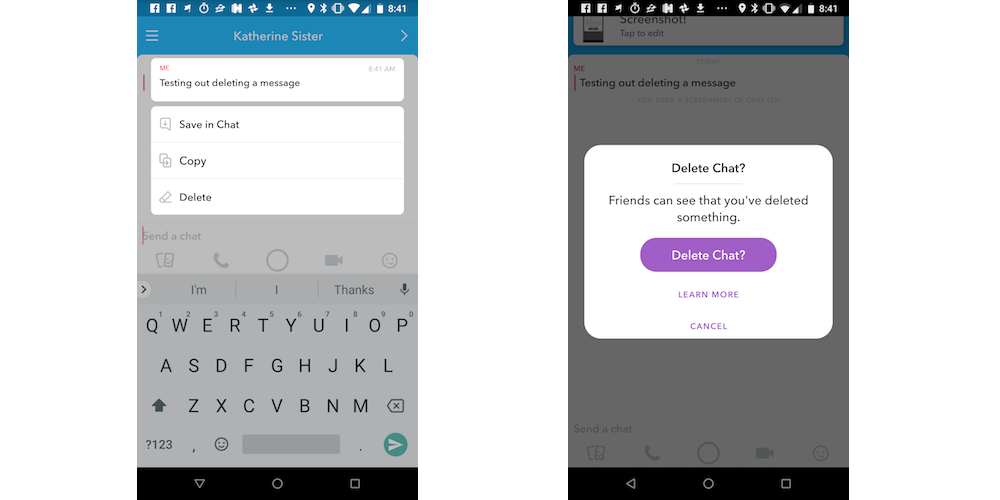 In June, Snapchat introduced the ability to "unsend" messages that you sent in the app. Instead of just deleting a message on your end, it deletes the message from everyone's phones. (However, if a contact has already seen the message, it can't undo that.)
To delete Snapchat messages like this, head to the chat where you sent the message. Press and hold on the message itself and a dialog box will crop up with options such as Save in Chat, Copy, and Delete. Tap Delete. You'll then get a second dialog box to confirm your decision (or tap to learn more about what deleting a chat entails).
As mentioned before, if someone has already seen the message, that can't be helped. The feature also isn't discreet: It notifies all members of the conversation that you deleted a chat.
READ MORE: 
How to delete Snapchat conversations
You can also delete entire Snapchat conversations. To do this, head to your profile, then tap the gear icon in the upper right to access your settings. Towards the bottom of this menu, there's a section titled Account Actions. Under this header, find and tap Clear Conversations. From here, you'll be given a list of contacts you have current conversations with. You can tap the X beside those names to clear the conversations from the app. Voila!
READ MORE:
How to delete Snapchat Stories
If you want to delete a Snapchat Story, it's pretty simple. Head into your Stories tab by tapping your Bitmoji icon in the upper left of the main Snapchat screen. Then, tap the three-dot icon to the right of your story. To delete it, select Delete Story. Alternatively, you can tap the specific story photo or video you want to delete to open it.
Then, either tap the three-dot icon in the upper right or the arrow at the bottom of the screen (depending on whether you're on Android or iOS). From there, you'll see a trash can icon and a download icon pop up. Tap the trash can icon to delete that particular Snap from your Story.
Need more help? Here's our beginner's guide to the best Snapchat hacks, tips, tricks, and secret functions. We can also help you flirt on Snapchat, find celebrities Snapchats, create a geofilter, and collect Snapchat Trophies.