Between being bombarded by Kim Kardashian's internet-breaking mirror pics and your teenage nephew's edgy Snapchat-filtered photos, the pressure to take attractive yet effortless selfies is on. Gone are the days when raising your phone at arm's length and pouting ever so slightly created the perfect selfie. Now you practically need your own makeup artist and lighting crew…or at least the best photo editing apps for selfies.
Thanks to modern technology, studio-quality selfies are as easy as downloading a smartphone selfie app. In just a matter of screen taps and swipes, you can put your best face forward with these eight free selfie apps.
The 10 best selfie apps
1) Parfait: The selfie picker
We've all been there: you've taken possibly 20 selfies to commemorate your first great hair day in weeks, but you're not sure which one to post. With Parfait, you can take the guesswork out of comparing your best take to show off.
Parfait allows you to upload a batch of similar photos, select certain features of a selfie that you want to focus on, and judge each feature apart from the entire photo. After all features in all selfies are evaluated, the app determines which photo or photos possess the most features that met your standard. For example, if you had 10 selfies and wanted to pick the one that best shows off your eyebrows and smile, you would upload all 10 to the app, highlight your smile and each eyebrow, and then either approve or deny each feature that the app shows you. When all features have been evaluated, the app would then show you the photo that you liked your eyebrows and smile in the best.
Available on iPhone.
2) AirBrush: The carefully crafted selfie
So you want a few blemishes cleared, your teeth whitened, a few "problem areas" enhanced, and the perfect filter to show off that wild background? Take care of it all with AirBrush. While some apps might overdo it and make you look like a cake-faced baby doll, AirBrush allows users to custom-edit photos to achieve the bare minimum enhancements or go all out with skin color brushes, wrinkle remover, and more.
Simply import your photo, make edits with a few screen pinches and strokes, and voilá: Your selfie is ready to make its debut. You can also compare before and after photos during the editing process, test out your editing prowess on a model, and watch demonstrations for each editing tool. Once you're done, save your selfie to your camera roll.
Available on iPhone and Android.
3) Facetune 2: The live-editing selfie
If AirBrush seems like too much guesswork for you, Facetune 2 is probably more your speed. While there is an original Facetune app, it'll cost you nearly $6 and doesn't have the super cool artificial intelligence features.
The tool that sets Facetune 2 apart from other free selfie-editing apps is its live-editing features, which automatically detects facial features, allowing you to change the shape of your eyes, lips, and nose while using the app camera. After you take your selfie, you can change the curve of your smile, the size of your jaw, the width of your face, resize features, use filters, and more.
Though the Facetune 2 app is free, there is an in-app subscription you can purchase to have access to the full app and tools like automatic touch ups, easier feature edits (instead of just a resize tool), adjusted studio lighting, backdrop replacement, and more. Right now subscriptions are 50 percent off, at $1.99 monthly and $9.99 annually—or, if you don't want all the bells and whistles, you can just save your edited selfie and use another app to finish the job.
Facetune is available on iPhone and Android for $5.99.
4) YouCam Makeup: The glamorous selfie
From achieving the natural makeup look to throwing on a pair of dramatic false eyelashes and red lipstick, YouCam Makeup takes the average naked-faced selfie to the next level. While the app offers a plethora of preset looks, users can also personalize their makeup for each feature of their face and pick out hairstyles and accessories.
After uploading a selfie and choosing your look, "Fine Tune" and reposition the makeup to fit your features, or "Compare" to see how the look stacks up to the original. You can also choose from different makeup looks in real time while using the app camera, then personalize the photo after taking.
Available on iPhone and Android.
5) VSCO: The artsy selfie
While it doesn't have the beautifying tools that the previous two apps have, VSCO Cam makes up for its shortcomings with its highly specific photo-editing tools and filters. From preset filters fit for any quick selfie-snapper to the ability to change aspect ratios, highlights, shadows, and more, the possibilities are nearly endless. Simply create an account, upload your photos, and adjust away.
Like the way you stylized one photo but don't want to go through the trouble of doing it all over again? In your photo library, tap the photo to "copy" the edits then tap another photo to "paste." When you're done, you can save your selfie, upload it to social media, or send it to a friend directly from the application.
Available on iPhone and Android.
READ MORE:
6) GoCam by Crunchfish: The hands-free selfie
Sometimes you don't always want your photo to appear like a traditional selfie, arms awkwardly running out of frame and body closely cropped. With GoCam, you can ditch the selfie sticks, the pricey wireless remotes, and the inconvenient self-timers to achieve a hands-free selfie portrait. From up to three meters away, the app recognizes gestures to take photos and videos, either instantly or with a timer of up to five seconds, and even uses front-facing flash.
Available on iPhone.
7) FABBY: The video selfie
OK, hear us out. FABBY may not be the selfie app you wanted, but it's definitely the selfie app you didn't know you needed until you downloaded it. Upload photos or record live selfie videos in front of various backgrounds, from crazy cats to donuts.
When you upload a selfie or use the live camera, the app automatically detects the background and replaces it with the different moving backgrounds. Opt for background music by tapping the music note in the upper left corner. When you feel you've chosen the perfect background and have recorded your video (which you won't do if you uploaded a photo), you can then upload the video to Instagram, Facebook, or download it to your phone.
Sure, this isn't a traditional selfie app, but it's fun nonetheless.
Available on iPhone.
8) Snapchat: The lazy selfie
Sometimes you just want to look cute but don't have the energy to work for it. With popular Snapchat lenses such as the cute puppy and the Coachella flower crown, Snapchat takes all the guesswork out of adjusting filters and reshaping facial features. After making an account through the application, press the icon in the top-right corner until you see yourself in the front-facing camera. Then, tap and hold down your finger on the image of your face.
When a white web maps over your face, Snapchat has recognized your facial features, and a row of lens options will appear along the bottom of the screen. Scroll through a few until you find the one that suits your 'tude and press the shutter button to take a photo. Snapchat has even added a selfie lens specifically for emulating makeup, though it often circulates with other lenses and isn't always available on the app.
When your photo appears on the screen, press the icon of the arrow pointing downward (located in the bottom-left corner of the screen), which will save the selfie to your camera roll. Happy snapping!
Available on iPhone and Android.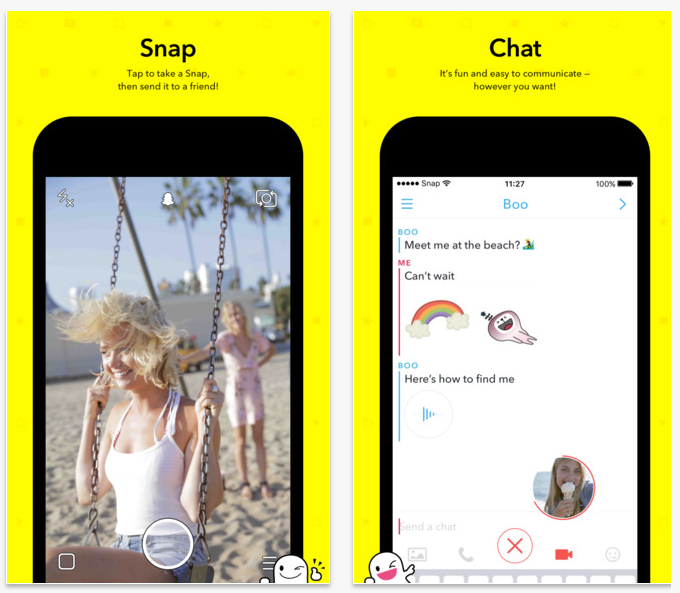 Ever looked at some Instagram star's feed and wondered where in the world they're getting these edgy filters or seemingly custom stickers? How did they make every photo look like a beautiful Tumblr-esque ad campaign? Probably with the help of hip filter apps like Retrica.
Retrica allows users to take selfies with a real-time filter that lets you "focus on capturing your beauty." You can also make photo collages, add stickers that proclaim things like "HA," "Cool," and "Together forever." It gives you the option to create GIFs and videos, too, so none of your Insta feed is left unfiltered.
Available on iPhone and Android.
Photo Editor by Aviary is a solid pick for adding after-effects to your selfies or photos. It offers all the standard editing functions—contrast, filters, brightness, orientation, clarity, cropping—plus a few fun extras, like added vignette features, frames, and stickers. You can doodle on selfies yourself or click the "meme" icon as you edit to turn your photo into a bonified meme.
Available on iPhone and Android.
Just getting started on Snapchat? Be sure to check out our guides on how to flirt on Snapchat and our best tips, tricks, and secret functions for Snapchat.
Editor's note: This article is regularly updated for relevance.