Perhaps you've got non-English speaking relatives visiting, or perhaps you've decided the best way to brush up on a foreign tongue ahead of a trip is to binge watch Friends. Whatever the case may be, you need to change language on Netflix. Except… how do you do that?
If you want to change language on Netflix, the steps vary slightly depending on which device you're using. Whether you're on the web, a mobile device, or a set-top box, here's how to change languages on Netflix.
How to change language on Netflix online
If you're watching Netflix on a computer, head to the Account section of the website, located by mousing over the arrow in the upper righthand corner then selecting Account from the dropdown menu. Under the My Profile section, select Language. While not all shows are available in all languages, you can change your default audio language to one of 22 different tongues, including Spanish, German, Korean, and Chinese.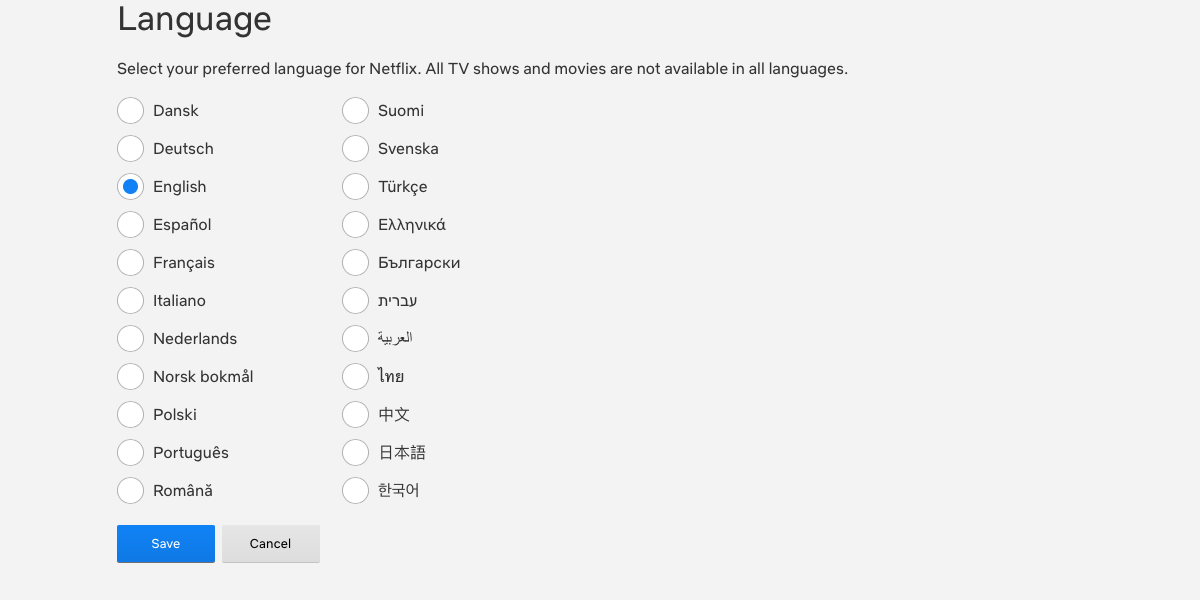 How to change language on Netflix on mobile
On an iOS or Android device, tap anywhere on the screen and then hit the dialog box icon. From there, you'll see options to change the language (audio or subtitle) for the show you're currently watching. After you tap OK, it will resume playback in the language you selected.
READ MORE:
How to change language on Netflix on Apple TV
If you want to change the spoken language on Netflix on Apple TV, while the show is playing, swipe downwards on your Apple TV remote. In the menu that appears, you can then select which language you want the show to play in, both for audio or subtitles.

How to change language on Netflix on Roku
On a Roku streaming device, you'll want to open the Netflix app and then choose a show or movie. On its description page, select Audio & Subtitles. Next, choose your preferred audio or subtitle language from the available options, and when you're done, tap the Back button to return to the description page and resume playing your title. (By the way, be sure to check out our guides to the best Roku channels and private channels.)
READ MORE:
How to change language on Netflix on smart TVs or other set-top boxes
For most other smart TVs and set-top boxes, the instructions are similar to that of Roku. Once you've picked out something to watch, choose Audio & Subtitles from the app's options panel, and then select which language you'd prefer for audio or subtitles. Tap Back to return to the options panel, then press Play to start watching your show.
How to change language on Netflix on other devices
Watch Netflix on another device, such as a Playstation or Wii? Check the Netflix Help page here for how to change language on your specific streaming platform.
Not sure what to watch tonight? Here are our guides for the absolute best movies on Netflix, must-see Netflix original series, documentaries, docuseries, and movies.
Need more ideas? Here are our Netflix guides for the best war movies, documentaries, anime, indie flicks, true crime, food shows, rom-coms, LGBT movies, alien movies, gangster movies, Westerns, film noir, and movies based on true stories streaming right now. There are also sad movies guaranteed to make you cry, weird movies to melt your brain, old movies when you need something classic, and standup specials when you really need to laugh. Or check out Flixable, a search engine for Netflix.