After 14 weeks of the 2019 NFL season, the Dallas Cowboys and Philadelphia Eagles both sit at .500 record, rocking 7-7 records. Both teams have had Sisyphean campaigns with exactly as many ups as downs, and yet both can win the division and go to the playoffs.
You know, if either of them really want to.
The NFC East has been awful this year. Going into Week 16, the division has two 7-7 teams and two 3-11 teams. And because the division features four major media markets, their mediocrity is our mediocrity. This Cowboys vs. Eagles matchup is Fox's "America's Game of the Week."
And isn't that what America deserves?
As any NFL fan knows, the league is divided into divisions. No matter how bad a division may be, one team from each division gets to go to the playoffs. This year, that means the Titans and the Rams, who currently have winning records, may spend the postseason at home while one of these squads "earns" a postseason berth.
Both the Cowboys and the Eagles have had disappointing seasons, but Dallas fans have been treated to a particularly hellish ride this year. They have watched their insanely productive offense sabotaged by coaching, by other phases of the game, and by themselves. Even kicking and special teams has lost this team games as Jason Garrett continues to prove himself among the most inept play-callers in the NFL.
They're still number two in offensive DVOA, despite everything else not going to plan. But boy, have lots of things not gone to plan. 
2019 Cowboys lowlights
Here's Cowboys center Travis Frederick screaming at Garrett after yet another failed running play.
Rarely see lineman cuss out the play caller from the field. Cowboys center Fredrick is clearly upset after the Cowboys 3rd n 2 run late in the game. Not blocked well by LG but clearly not happy with the call. pic.twitter.com/suDcRNqc6E

— Geoff Schwartz (@geoffschwartz) November 13, 2019
Here's the Cowboys forgetting to call a timeout when they only have 10 men on the field.
Short a player, the Cowboys didn't call a timeout. (They didn't use any of their three timeouts in first half.) Here is the play as it developed. pic.twitter.com/QQOEpUtfWq

— Michael Gehlken (@GehlkenNFL) November 12, 2019
Here's a Cowboys defender jumping offsides and handing the Lions a first down on 4th & 2.
These are the types of things that have held the Cowboys back in their losses. Simple and very easily avoidable mistakes.

You just cannot jump here. Especially when Detroit pulled this last week. It was obvious. pic.twitter.com/9rhBeJUaq8

— RJ Ochoa (@rjochoa) November 18, 2019
Here's a missed field goal from just 35 yards out.
Cowboys miss a field goal at the end of the half that would have hit the 1H over (22.5)
pic.twitter.com/rZcuncKVC6

— Barstool Bets (@barstoolbets) November 28, 2019
The Eagles have been better coached than the Cowboys this season, but they've made their share of boneheaded errors as well. Their problem has been a lack of talent on both sides of the ball that has forced their star players to make risky decisions that have a tendency to backfire.
2019 Eagles lowlights
Here's an ugly pick that happened when Wentz tried to force the ball to Dallas Goedert in a desperation situation.
Carson Wentz QB Rating is 26.7 right now.

He already turned the ball over twice in the first half and had another fumble called back to defensive holding.

Here's his INT against the #Seahawkspic.twitter.com/YOpYUrHoZE

— Dov Kleiman (@NFL_DovKleiman) November 24, 2019
Here's a nasty fumble that happens after Wentz sees nothing in the pocket.
Wentz with this 13th fumble of the season that could not have come at a worst time#FlyEaglesFly#GoBirds#PHIvsWSH pic.twitter.com/6SKqYsdNe5

— Sports Text Radio (@SportsTextRadio) December 15, 2019
Let's not let this 16th-ranked defense off the hook. Here's three Eagles missing a tackle, turning a two-yard screen into a 20-yard first down.
Third down and four, #Eagles defense gives up a first down on a screen. pic.twitter.com/epQBdIteQb

— DIE-HARD 🦅 Fans (@Eaglesfans9) December 15, 2019
Oh, and there's special teams. Here the Eagles get taken in for a fake punt against the Falcons. Atlanta beat the Philly in this game, even though they wouldn't win again for nine weeks.
"It's okay! Just a punt!" -Eagles fans (via @thecheckdown) pic.twitter.com/MXiYxBQrGJ

— Blogging The Boys (@BloggingTheBoys) September 16, 2019
Bonus lowlights
Missed tackles have been a common enough occurrence for the Dallas defense as well. Here's Saquon Barkley shredding the 'Boys for 65 yards on a single run, in a season when almost every other team has been able to bottle him up.
#NYGiants Saquon Barkley goes 65-yards past the Dallas defense 🏃🏾‍♂️🏃🏾‍♂️
#GiantsPride

pic.twitter.com/zMzizTj55T

— Giants Nation (@GiantsNationNYC) November 5, 2019
Who deserves to win this game? It's hard to say. Here's the Cowboys messing up a coin toss.
Only the Dallas Cowboys and Dak Prescott can screw up a coin toss.
Dak: Defense, Defense
Dak: We want to kick it,
Dak: Kicking it that way.
Dak: We defer to the 2nd half.
🤔🤔🙄🙄🙄😜😜😜 #LARvsDAL #DALvsLAR #DallasCowboys #CowboysNation #Cowboys #ComeOnMan 😂😂😂 pic.twitter.com/nMzMfYJMgq

— Tim Dennis (@TDennisSportTog) December 15, 2019
But then again, Carson Wentz makes throws like this.
Another bad pass by Carson Wentz, this was on 3rd down and led to a punt.#Eagles signed Wentz to a $128 million contract extension with $107 million guaranteed this off-season. That might have been a mistake.pic.twitter.com/l4s88M3hZ5

— Dov Kleiman (@NFL_DovKleiman) November 24, 2019
Maybe it ultimately doesn't matter who wins. As it stands today, the winner of this game would have to play the San Francisco 49ers on Wild Card Weekend. Is the season really that much better for the 9-7 or 8-8 team that has the pleasure of being humiliated at home against the Niners? Does an evening of watching Nick Bosa do this to Carson Wentz or Dak Prescott make the season any sweeter?
Look at former Ohio State Buckeye Nick Bosa getting the sack on Baker Mayfield… then doing the mid-field plant flag that Baker pulled off at the Horseshoe a few years ago pic.twitter.com/w2jJifLrnZ

— Aaron Torres (@Aaron_Torres) October 8, 2019
No matter how this game pans out, the Cowboys will have to reckon with Jason Garrett's abominable playcalling. It feels like this should finally be the year for a coaching change in Dallas, even if we have to endure a week or two more of Jerry Jones hemming and hawing before we get it.
Philadephia is going to have to reckon with the fact that it has $100 million in guarantees tied up in Carson Wentz and hasn't been able to set him up for success. A playoff berth might feel good, but that would put them a little deeper in the draft and a little less likely to find the receiver who might make this offense work.
But, hey, someone has to win the NFC East. And we'll find out who it is on Sunday. And we'll be one week closer to not having to watch these two teams play anymore this season.
Here's everything you need to know to live stream Cowboys vs. Eagles, if that's still something you want to do.
Dallas Cowboys vs. Philadelphia Eagles
When: 4:25pm ET, Sunday, Dec. 22
Where: Lincoln Financial Field in Philadelphia, Pennsylvania
Streaming: Fox, NFL Sunday Ticket
There are a number of options for watching Cowboys vs. Eagles on streaming platforms that carry Fox. However, consult a coverage map to see what game your regional channel will be playing.
If a game is not being carried in your area, the only option might be an NFL Sunday Ticket package.
Cowboys vs. Eagles live stream: How to watch NFL online

Both Sling Blue ($25 per month) or Sling Orange + Blue ($40 per month)  include NFL Network and a number of sports channels—like three ESPN channels, Fs1, FS2, and NBCSN—and it's still a nice perk that Sling subscribers can order a la carte packages. Sling TV also offers a special Latino package for bilingual viewers. Sling TV is currently offering a deal where you can subscribe for 40% off the regular price for the first month of your subscription. That means Sling Blue would cost $15, and Sling Orange + Blue would cost $25. (Here's a complete guide to Sling TV channels and our Sling TV review.)
For $10 extra per month, you can get NFL RedZone via the Sling Blue Sports Extra package.
How to use AirTV with Sling
AirTV solves one of Sling's biggest problems: The inability to receive all of your local channels. By purchasing a basic AirTV for $79.99 or the AirTV Player for $119.99, you can merge those local channels into your Sling TV, (or on your mobile device if you have the basic AirTV). As the Daily Dot wrote in its AirTV review, "It's practically magic."
The basic AirTV is a dual-tuner streaming device, while the AirTV Player is basically an upgraded Chromecast that has Netflix preinstalled. You'll still need to own an HD antenna because even though AirTV gets you access to your local channels, it doesn't actually physically show them to you.
But AirTV—which has no monthly fee—serves to strengthen one of Sling's biggest weaknesses compared to other live streaming services like Hulu with Live TV and YouTube TV. All those services have plenty of local channels.
---

Cost: $54.99 per month
Hulu devices: Roku, Apple TV, Google Chromecast, Amazon Fire Stick and Fire TV, Xbox One, Xbox 360, Nintendo Switch, and iOS and Android devices
Hulu local channels: ABC, CBS, Fox, NBC, the CW (check your local availability here)
Hulu with Live TV includes sports programming among its offerings, including ESPN and FS1, and as a subscriber to the service, you'll get free access to Hulu's sizable on-demand library. (Check out the full list of Hulu Live TV channels.)
---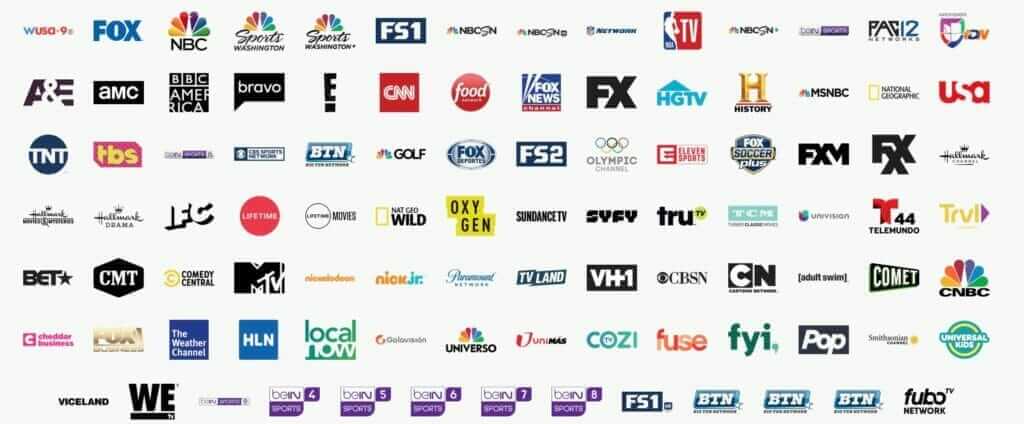 If you're a big-time sports fan, FuboTV is your best streaming service option. If you love international soccer and you're a Spanish speaker, FuboTV also offers various add-on packages, including Fubo Latino and Fubo Português. FuboTV's basic plan showcases nearly 100 channels and includes NFL Network. At $54.99 per month, you'll also get FS1, FS2, NBCSN, NBA TV, Big Ten Network, Pac 12 Network, BeIn Sports, and CBS Sports Network, along with premium channels like FX/FXX/FXM. The only notable omission for sports fans is ESPN. You can add Fubo's Sports Plus package for an additional $8.99 per month, which allows you to stream NFL RedZone, (Here's the complete FuboTV channels list.)
---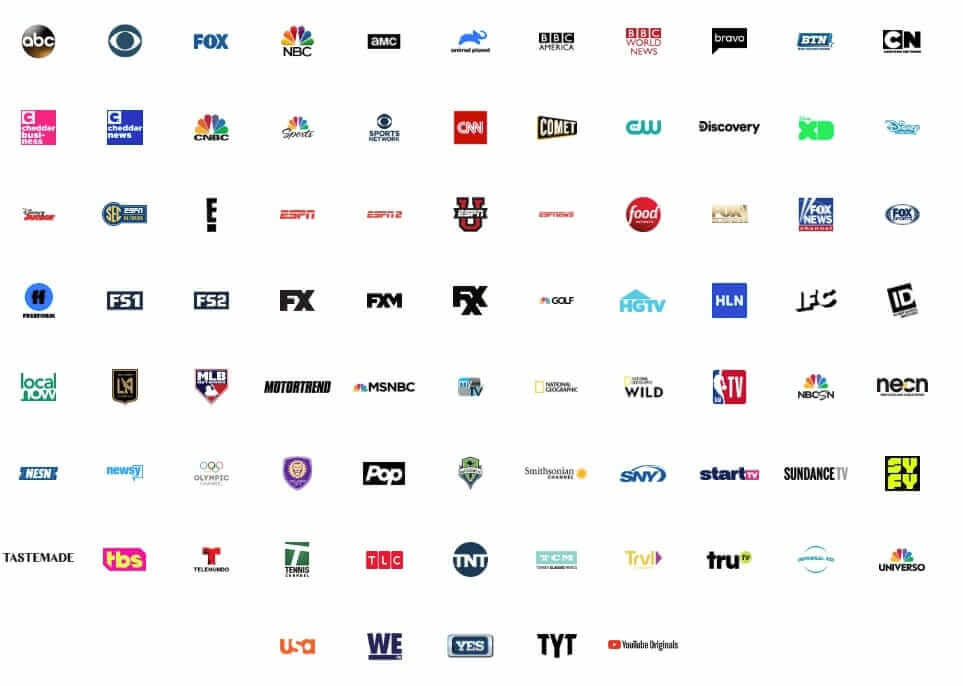 YouTube TV is a great option for college football fans, including ESPN and FS1. (Take a look at the full list of YouTube TV channels here.)
---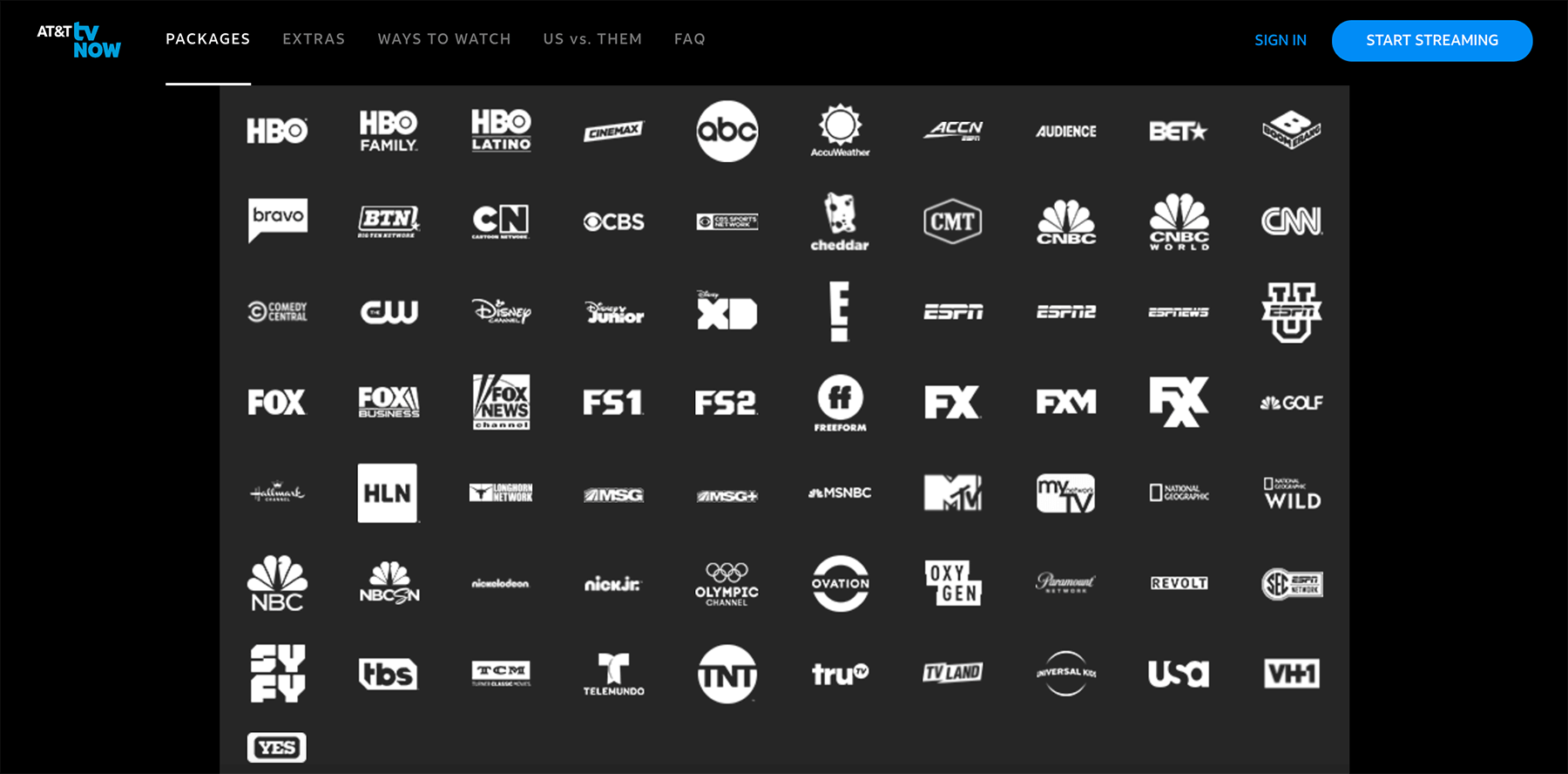 Cost:

$50-$135 per month 

Hulu devices:

Roku, Apple TV, Google Chromecast, Amazon Fire Stick and Fire TV, iOS and Android devices

Local channels:

NBC, CBS, Fox, ABC, the CW (

enter your ZIP code here

to check your availability)
AT&T TV Now is a bonus for AT&T wireless customers, especially for those who happen to be soccer fans. It provides instant access to more than 45 channels, including local channels. That means NBC as well as NBCSN for Premier League action, Fox as well as FS1 and FS2 for MLS, Bundesliga, the U.S. men's and women's teams, and even Liga MX offerings, and ESPN and ESPN2 for its array of soccer and other sports programming. It even offers free HBO on PLUS and MAX channel suites. Plus, it comes with CloudDVR for up to 20 hours of TV recording per month. One account works on two devices, but you can add more devices for only $5.
---

Cost: $73.99 per month for four months, or one single payment of $293.96
There are two—and only two—ways of acquiring NFL Sunday Ticket without DirecTV.
There's NFLSundayTicket.TV, which costs $73.99 per month for four months. It's everything you love NFL Sunday Ticket but online-only. You can stream from pretty much any device that connects to the internet (but only on one device at a time).
You can also upgrade to the NFLST.TV Max bundle for a total of $99 per month for four months or one single payment of $395.99. You can also add on NFL Game Pass, which allows you to watch replays of every game after they air, for $50 for the full season.
There's another way to watch NFL Sunday Ticket without DirecTV: Amazon Prime. While you can't pay for the package using Amazon Prime, you can at least watch all of the games on the service. To start, first download the NFL Sunday Ticket channel on Amazon Prime. It's free. From there, you'll just need to sign in with your subscription credentials.
College students can purchase NFL Sunday Ticket at a discounted price through NFLSundayTicket.TV U.
TRY NFL SUNDAY TICKET ON AMAZON PRIME
---
READ MORE: 
For a year-round sports fix, sign up here to receive our weekly boxing newsletter. You'll hear about all the biggest fights and best knockouts from the Daily Dot's streaming sports guru Josh Katzowitz.
The Daily Dot may receive a payment in connection with purchases of products or services featured in this article. Click here to learn more.