Outer Banks, Netflix's latest coming-of-age original series, has it all: class warfare, a high-stakes treasure hunt, and forbidden romance—making it one of the platform's most binge-worthy TV shows this spring.
The mystery drama follows a group of teens in Outer Banks, North Carolina during a life-changing summer. Nicknamed the "Pogues," the group comprises John B. (Chase Stokes), JJ (Rudy Pankow), Kiara (Madison Bailey), and Pope (Jonathan Daviss). After Hurricane Agatha leaves the beach vacation destination without power for the summer, the Pogues find a sunken boat in the marsh that appears to be related to the recent disappearance of John B.'s dad, which sets off a deadly chain of events.
Outer Banks

RELEASE DATE:
April 15, 2020
CREATORS:
Josh Pate, Jonas Pate, and Shannon Burke
STREAMING:
Netflix
'Outer Banks' follows a group of teens nicknamed the 'Pogues' in Outer Banks, North Carolina during a life-changing summer that includes class warfare, a high-stakes treasure hunt, and forbidden romance..
While the series was not filmed in the North Carolina (it was filmed in South Carolina instead), the show is based on the real-life social dynamics on the islands, and some of the characters were reportedly inspired by real people. In this fictional Outer Banks, the island is split in two: the wealthy, polo-wearing, plantation-owning "Kooks" and the delinquent, working-class surfers, the "Pogues." The nicknames for both social groups are unexplained and awful, but the tension between the two groups is palpable.
Each character fulfills a classic teen drama archetype. As the ring leader, John B. is a hunky, easygoing surfer who has lived on his own since his dad went missing at sea. JJ is a troubled guy with a short fuse and an abusive father. Pope has worked hard to earn a scholarship so he can attend college like the Kooks, who barely have to try. Kiara is the token girl and social justice warrior, who is technically "Kook rich" but chooses to hang out with Pogues because they have more in common. On the Kook side, Sarah Cameron (Madelyn Cline) is the rich girl who desperately wishes she could live her life "outside of the bubble wrap," while her vapid boyfriend Topper (Austin North) can't understand why his girlfriend isn't that into him anymore.
Outer Banks combines the charm and aesthetic of Dawson's Creek with the drama and violence of the O.C. The plot is unpredictable and suspenseful, especially if the thought of getting caught in the middle of the ocean during a storm gives you anxiety. The Pogues manage to do that and get shot at multiple times, violently beat up by Kooks, and chased by the police—their shirts unbuttoned or off entirely most of the time.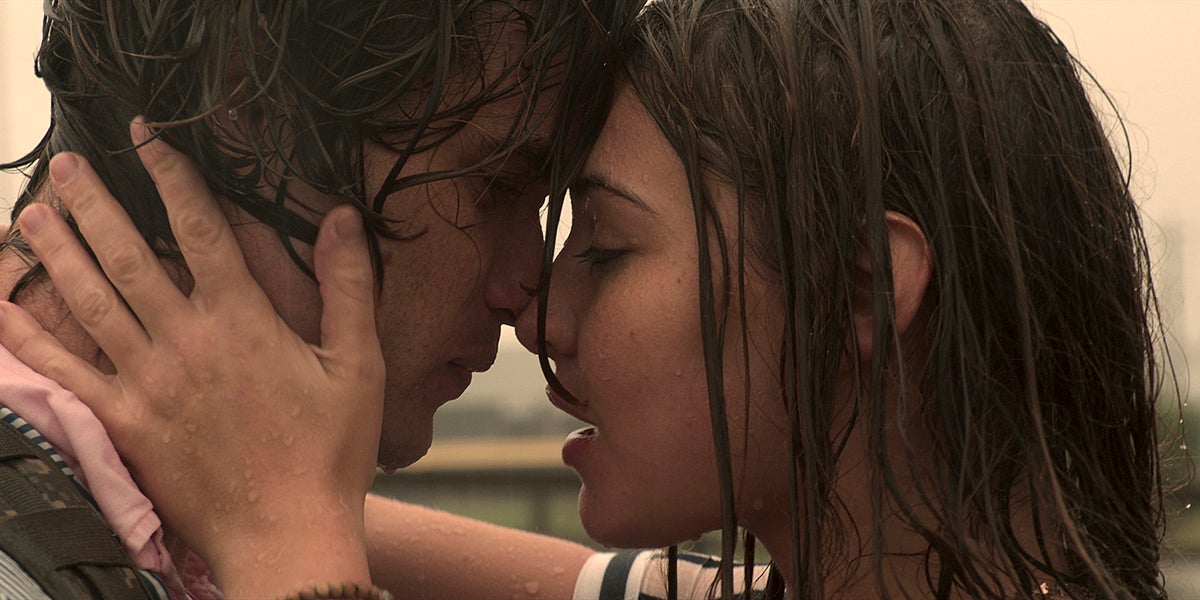 The show is by no means perfect: It's got its fair share of lazy writing, confusing plot decisions, and bad acting—but that's to be expected from a YA Netflix TV show. Still, all of these pieces come together to create a 10-episode series that is easy to binge in less than 48 hours. With its mystery, drama, and beautiful coastal backdrop, Outer Banks offers a healthy dose of escapism if you're looking for a distraction from the real world.
Still not sure what to watch tonight? Here are our guides for the absolute best movies on Netflix, must-see Netflix original series, documentaries, docuseries, and movies. Looking for something more specific? Here are our Netflix guides for the best war movies, documentaries, anime, indie flicks, true crime, food shows, rom-coms, LGBT movies, alien movies, gangster movies, Westerns, film noir, and movies based on true stories streaming right now. There are also sad movies guaranteed to make you cry, weird movies to melt your brain, old movies when you need something classic, and standup specials when you really need to laugh. Or check out Flixable, a search engine for Netflix.
---