Netflix's latest true crime offering, Killer Inside: The Mind of Aaron Hernandez, has a lot going on. It's frustrating. The series presents a fairly comprehensive look at the fall of Aaron Hernandez, from star athlete to convicted murderer. You're probably already familiar with the case. It's one of the defining sports stories of the last decade. With the story being so fresh in the collective consciousness, the biggest issue facing Killer Inside is redundancy. Can it present a new angle or new information to a story that has already been through the investigative ringer? The answer is a frustrating no.
Killer Inside: The Mind of Aaron Hernandez
RELEASE DATE: Jan. 15, 2020
DIRECTOR: Geno McDermott
STREAMING: Netflix
This documentary series looks at all of the factors that brought Aaron Hernandez from the Super Bowl to prison.
Anyone who followed the case will already know most of its broad strokes. In June 2013, Hernandez became a key player in the murder of Odin Lloyd. Hernandez, a star player for the New England Patriots, quickly went from a person of interest to the alleged triggerman. Within days the Patriots cut Hernandez, and the ex-Patriot had been charged with first-degree murder. As the case played out, more of Hernandez's past came to light—almost all of it troubling. From Florida bar fights from his time in college to an unsolved double homicide in Boston, Hernandez's history of violence was almost as prodigious as his football talent. Days after his acquittal of the Boston murders in April 2017, Hernandez hanged himself in his jail cell.
Over about three and a half hours, broken up into three episodes, Killer Inside rehashes all of that information. Sprinkled into the narrative of legal issues is Hernandez's story outside of football. Featuring interviews with lifelong friends, teammates, and journalists, Killer Inside gives light to the other sides of Hernandez, with mixed results. Yahoo sportswriter Dan Wetzel (who also serves as executive producer) leads viewers through the timeline. He's a good guide and makes it easy to follow along.
When the topic diverts from the crime narrative, however, Killer Inside runs into trouble. Most of the interviewees veer into speculation, saying things that can't be verified. It can be salacious at times, unimportant at others. One aspect of Hernandez's life that came to light post-arrest is his sexuality. Childhood friend and teammate Dennis SanSoucie talks about their time together on the field and how it progressed in private.
Furthering this theme is Hernandez's former Patriots teammate Ryan O'Callaghan, who talks about how he dealt with being a gay man in a hyper-masculine sport. Combined with SanSoucie's comments, this builds up Hernandez as a conflicted man, struggling to be himself. Without corroboration, these moments feel… insignificant? speculative? Between O'Callaghan, SanSoucie, and his father, there are moments where the topic at hand is forgotten in favor of broader messages about acceptance.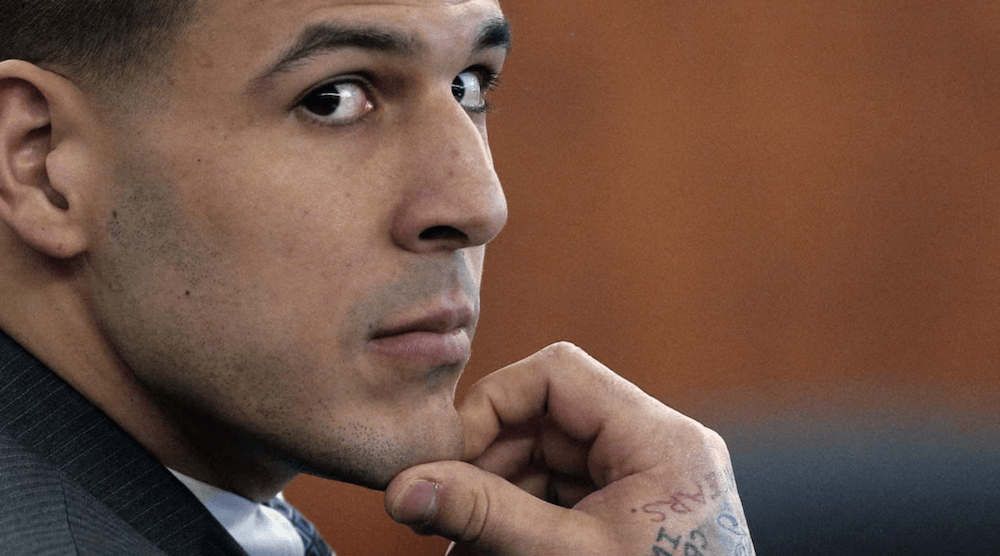 With Hernandez never having admitted to his crimes, all we're left with is speculation. One concrete issue director Geno McDermott raises is Hernandez's brain damage from playing football. Analysis of Hernandez's brain post-suicide revealed extreme trauma. Between outside commentators, like former player Chris Borland who retired after one season because he was worried about his long-term health, and old comments from Hernandez about how players' pain is dealt with, Killer Inside reveals another possible factor for Hernandez's behavior. 
By all accounts Hernandez was in a state of paranoia leading up to Lloyd's murder. With that, the mental and physical pain he dealt with from football, the drug use, his sexuality, his explosive temper, and his family problems, Killer Inside feels like a doc in search of something it can't find. I've struggled to figure out why, but it feels like grasping at straws to me. We'll never know Hernandez's true motivations, but we know the final result. The quest for the unknowable gives Killer Inside its drive, but it proves frustrating. At times, it feels like armchair psychology. 
The most insightful moments in Killer Inside come from the recordings of Hernandez's prison phone calls. He knows the reality of his situation, often referencing that he's facing the harshest penalties if found guilty. He makes half-hearted claims of innocence that feel like they're for the benefit of anyone listening in. But when he jokes with his agent, "can you get me a Smith and Wesson deal," it's the single most revealing moment of the whole series. 
Your familiarity with Hernandez's case will dictate how much you enjoy Killer Inside. Anyone unfamiliar with the case will get a good overview. Those who already know about the case from the news, the stories, or the 2018 podcast series by the Boston Globe Spotlight team, can safely skip Killer Inside.  
Still not sure what to watch on Netflix? Here are our guides for the absolute best movies on Netflix, must-see Netflix original series and movies, and the comedy specials guaranteed to make you laugh.
Looking for something more specific? Here are our Netflix guides for the best war movies, documentaries, anime, indie flicks, true crime, food shows, rom-coms, LGBT movies, alien movies, gangster movies, Westerns, film noir, and movies based on true stories streaming right now. There are also sad movies guaranteed to make you cry, weird movies to melt your brain, old movies when you need something classic, and standup specials when you really need to laugh. Or check out Flixable, a search engine for Netflix.