None of the critics who work at the Daily Dot wanted to review Jeff Dunham's new Netflix special, Beside Himself. Like Jeff Foxworthy and Larry the Cable Guy before him, Dunham has never been a critical darling. But that hasn't stopped him from becoming the ninth-highest-earning standup comedian in the United States in 2019, raking in $15 million, according to Forbes.
Jeff Dunham: Beside Himself
RELEASE DATE:
9/24/2019
DIRECTOR:
Troy Miller
STREAMING:
Netflix
The puppeteer-comedian's new standup special reminds us why his red state fan base loves him, even if critics don't.
Dunham has been a top national act for over a decade, and this is an interesting time to revisit the comedian and puppeteer. As controversial standups like Louis C.K., Aziz Ansari, and Shane Gillis are being "canceled," some assume they can simply go make money outside of Hollywood, doing so-called "red state tours."
But selling out arenas across the country isn't easy. Ansari and C.K. are doing great business as tabloid curiosities today, but establishing an enduring reputation outside of major markets takes work. And whether you like it or not, Dunham has put in the work.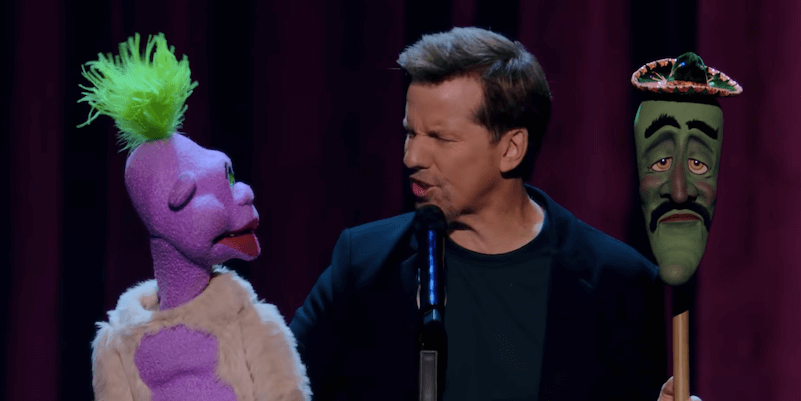 While sections of Dunham's act are offensive, and one bit is in unforgivably poor taste, it is clear that he understands and even loves his fans. The most successful red state circuit comedians, like Jim Gaffigan, Jeff Foxworthy, and Dunham, seem to genuinely appreciate their audience and work hard to produce work they can relate to. And fans love them for it.
When Dunham brings out his puppets, the crowd goes wild. You would think he was introducing each member of a band getting inducted into the Rock and Roll Hall of Fame. Walter, a grumpy older man puppet, does a more dour version of Henny Youngman's "Take my wife, please" bit. Bubba J, a redneck trailer trash stereotype, traffics in the kind of incest and landlord jokes that have been landing on rural people since before the Great Depression. Bubba J breaks down "the way this comedy stuff works" for Dunham: "Well, you say something that makes a few uptight a-holes mad, but all the normal folks who heard the same thing are like, 'Ba-ha-ha-ha-ha.'"
For the most part, Dunham is studiously apolitical on Beside Himself, insisting, "I don't want to cause division. I don't want to pick sides." The closest he gets to politics is with his new puppet, Larry, a frazzled, beleaguered personal advisor to President Donald Trump. Larry mocks Trump's tweets, his hair, and the fact that he fires people a lot. He does not, however, mock Trump's policies.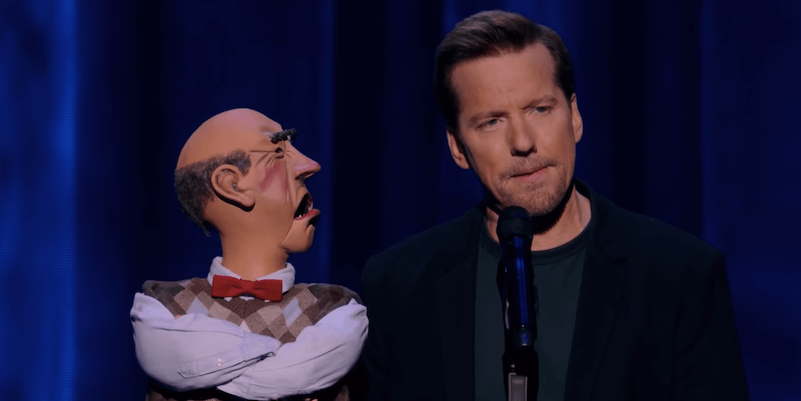 In claiming that he is being apolitical, of course, Dunham is being political. It's just that Dunham's politics involve maintaining the status quo. He mocks sexual harassment and Me Too and remarks, "Of course, you can't judge by skin color unless you're an old white dude."
Dunham even handles José Jalapeño, an anthropomorphized "Mexican" pepper on a stick, with more care than you might expect. Here again, the comedian plays at eschewing politics. I personally think the character of José shouldn't be Dunham's to play, but he generally has the puppet deliver harmless zingers and makes himself the butt of the joke.
Yet Dunham's most famous character, Achmed the Dead Terrorist, is inexcusable. The skeletal suicide bomber is in many ways an illustration of how being apolitical is impossible. Dunham's fanbase was still reeling from 9/11 when Achmed debuted, and like many Americans—including Toby Keith, Kiefer Sutherland, and George W. Bush—the comic used that hurt as an excuse to create a racist caricature and turn a massive profit. To say that isn't political is to misunderstand politics.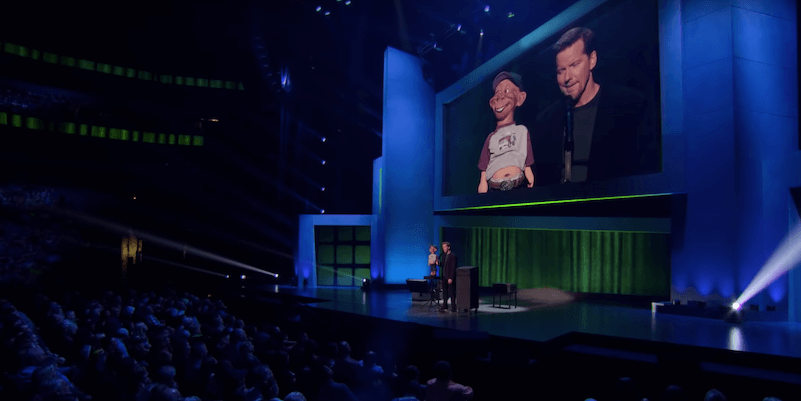 Over a decade later, Dunham still uses Achmed as his set closer while trying to distance himself from the politics inherent in his creation. He avoids saying Achmed is Muslim, but he jokes about Achmed's 72 virgins joining the Me Too movement and has the puppet call the audience "infidels."
By indulging bigotry that appeals to portions of his audience, Dunham shows that he understands his fans, perhaps too well. Dunham might argue that he continues to perform with Achmed because his fans love it, but I doubt he would reflect on why they love it.
Even in the worst moments of Beside Himself, Dunham demonstrates that he empathizes with his fans (if not with his non-fans). When canceled comics like C.K. and Ansari go into red state exile, it's obvious they have contempt for their new audience. If all had gone as planned, they would be making appearances on Fresh Air and entering the 10th seasons of their respective prestige streaming shows. For Dunham, however, this is the dream, and these are his people.
You may not like Dunham's work. I personally don't. But that doesn't mean anyone could do it. Despite his tendency to play to the worst impulses of his audience, Dunham has love and respect for the people who pay to see him in sold-out arenas across the country. And if disgraced comedians think they'll be able to flee to Iowa, Alabama, or Idaho and steal Jeff Dunham's audience away from him, they are in for a surprise.
Still not sure what to watch tonight? Here are our guides for the absolute best movies on Netflix, must-see Netflix original series, documentaries, docuseries, and movies.
Looking for something more specific? Here are our Netflix guides for the best war movies, documentaries, anime, indie flicks, true crime, food shows, rom-coms, LGBT movies, alien movies, gangster movies, Westerns, film noir, and movies based on true stories streaming right now. There are also sad movies guaranteed to make you cry, weird movies to melt your brain, old movies when you need something classic, and standup specials when you really need to laugh. Or check out Flixable, a search engine for Netflix.