It's the rarest thing in MMA when a fight resonates with every pressing political, social, philosophical, historical, tragical, and athletical issue affecting the sport at once. But Saturday night's welterweight title fight between champion Kamaru Usman and Jorge Masvidal, which headlines UFC 251 in a fight you can stream on ESPN+, has managed to pull it off.
Just consider how the fight came to be. After ending 2019 as the biggest thing in the UFC, Masvidal was offered a shot at Usman's belt. But Masvidal, still glowing from a lucrative and star-making victory over Nate Diaz back in November and confident in his newfound bargaining power, scoffed at the money the UFC offered him and publicly refused to sign a contract.
In the process (and probably inadvertently), he became the new face of a long-struggling movement among fighters to use their leverage to squeeze more money out of the UFC while adding a new dimension to the ongoing debate about the need for a fighter's union—a debate that had already been given new urgency by the UFC's decision to rush back into promoting events in the middle of a pandemic.
Which brings us to pressing issue No. 2: The UFC's need to be first. A bad idea that actually seemed to be working out finally and inevitably came back to bite the promotion last week when the man picked to take Masvidal's place against Usman after the UFC balked at Masvidal's demands, Gilbert Burns, was forced out of their fight after testing positive for COVID-19.
Suddenly the UFC didn't have a headliner for their inaugural event on Fight Island, a mythic location it'd been pushing as the ultimate manifestation of the promotion's go-it-alone spirit in the face of global disaster and its brazen refusal to kowtow to the cowardly ramblings of just about every public-health official on the planet—Dana White's purest "fuck you" to the pandemic.
So COVID struck back in the form of a demolished main event, and the UFC was forced to crawl back to Masvidal. And this time he got what he wanted: more guaranteed money, a larger piece of the pay-per-view pie—anything to save the biggest event of the year and to spare the promotion a comeuppance. Once it was announced that Masvidal had passed his COVID test and was boarding a plane for Abu Dhabi—that he'd effectively saved the UFC by making it beg—Masvidal was an even bigger legend than he'd been nine months earlier when he was crowned the first-ever BMF (Baddest Motherfucker) in MMA.
Now all Masvidal has to do to secure that legend for all time is to beat Kamaru Usman. But to do so he'll have to overcome several more obstacles—two as old as MMA itself and one born of our particular twisted moment.
The first MMA mountain Masvidal had to climb was a familiar one. From all reports Masvidal had remained in fighting shape for months, working on the assumption that he'd be getting a shot at Usman sooner or later. But "in fighting shape" doesn't mean "at fighting weight," so Masvidal has had to spend the last week losing 20 pounds—putting his body through the kind of hellish deprivation that has come to define the discipline at the heart of MMA while acting as one of the barriers to its acceptance by a squeamish world.
Then there's the matter of Masvidal's opponent. Masvidal is one of the best strikers in MMA but Usman is one of the sport's best wrestlers. Meaning Masvidal's greatest worry once the fight actually begins will be an evergreen one: who wins in a battle between a striker and a grappler? It's the question MMA was created to answer, and here we are, 17 years after UFC 1, still trying to make a solution stick.
So Jorge Masvidal will be fighting a world-class wrestler on one week's notice after a last-minute flight around the world punctuated by an excruciating weight-cut nobody should ever be put through, and to top it all off, he'll be doing so without his head coach, Mike Brown, in his corner. Brown tested positive for COVID just before Masvidal got on the plane to Abu Dhabi, thus putting the finishing touches on this fight's perfect blend of old MMA miseries and new ones. For Jorge Masvidal, COVID giveth and COVID taketh away.
Here's everything you need to know to watch Usman vs. Masvidal.
ESPN+ is a subscription-based streaming service that lets you watch all sorts of live sports action you won't find anywhere else. Think of it as a way of super-sizing your ESPN viewing, allowing you to stream more exclusive UFC fights.
But ESPN+ offers a lot more than UFC cards, though. In addition to 20 UFC Fight Night events per year, you'll also get 180 NHL games, at least one MLB game every day for the entire season, and thousands of college sporting events. No matter what sport you're into, you'll find plenty to watch on ESPN+: Top Rank Boxing, Grand Slam tennis events, and international soccer from Italian Serie A, EFL, and UEFA Nations League. It also offers the equivalent of NFL Sunday Ticket for Major League Soccer games, allowing you to watch every out-of-market MLS game for the entire season. That's roughly 250 games.
Plus, you'll gain access to the entire 30 for 30 catalog, 150 entries, and counting.
---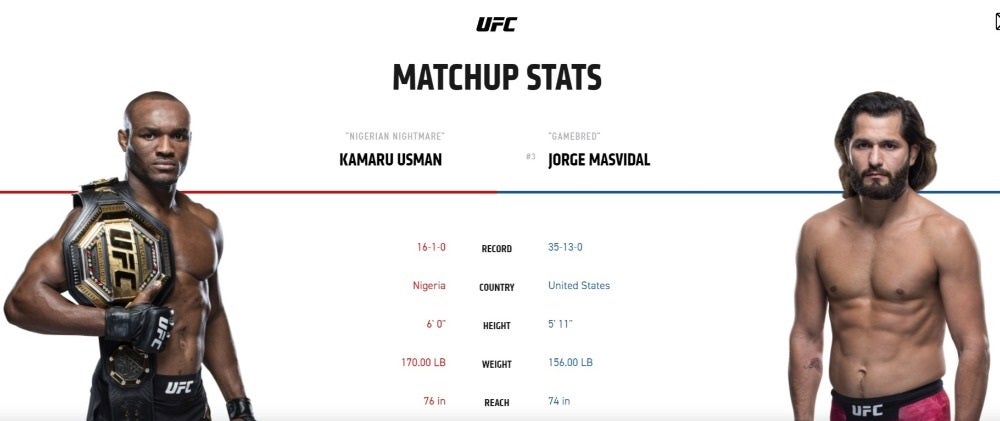 UFC 251: Kamaru Usman vs. Jorge Masvidal
When: Saturday, June 11 at 10pm ET
Where: UFC Fight Island in Abu Dhabi, United Arab Emirates
Streaming: ESPN+
UFC 251: How to watch Usman vs. Masvidal
Thanks to a huge seven-year deal, ESPN+ is now the only way to watch UFC 251 (and all subsequent UFC PPVs). The good news: ESPN+ is now your one-stop shop for the MMA promotion's most important fight cards. Here's how it all breaks down:
UFC 251 cost:
In other words, you can buy UFC 251 for a one-time price of $64.99, but if you spend only $20 more, you'll also receive one year of ESPN+ to go with it. That's a $50 value, and if you're an MMA fanatic, that's a great deal. Along with plenty of exclusive live events (see below), you can also watch all kinds of UFC Fight Night events every year with ESPN+.
If you don't currently subscribe to ESPN+, you can purchase UFC 251 from your desktop or smartphone here. If you already subscribe, you can easily purchase the PPV from the ESPN app by simply clicking on the event in the ESPN+ tab.
One thing to remember: The UFC 251 main event and prelim cards will be featured on ESPN+ (but not the early prelim fights), and you will have to pay the $64.99 PPV fee (full schedule and watch guide below). Here's the main event card:
Kamaru Usman vs. Jorge Masvidal
Alexander Volkanovski vs. Max Holloway
Petr Yan vs. Jose Aldo
Jessica Andrade vs. Rose Namajunas
Amanda Ribas vs. Paige VanZant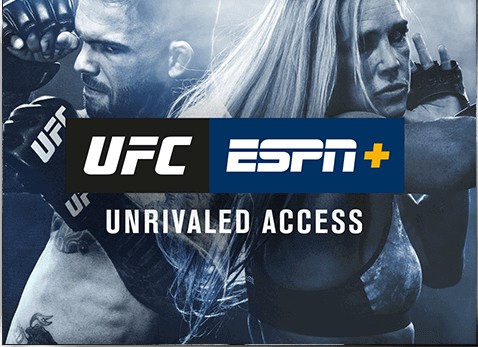 Devices: Chromecast, Amazon Fire Stick and Fire TV, Apple TV, Android TV, Roku players and TV, Oculus Go, Xbox One, PlayStation 4, Samsung smart TVs, and iOS and Android devices
ESPN+ is ESPN's subscription streaming service. It works as an extension of the ESPN app that you probably already downloaded on your mobile device. Have you noticed the live events, articles, or series tagged with a gold "E+" that lives in the corner of the app? Those are the events that are locked behind the ESPN+ paywall. It's literally thousands of broadcasts per year, including the aforementioned UFC Fight Nights and a bunch of exclusive Top Rank boxing events. You'll also get all of the best 30 for 30 episodes, daily MLB action, every out-of-market MLS game, international soccer matches, and more college sports than you can dream of.
Along with access to a number of original series, your ESPN+ subscription also gives you fewer ads across the ESPN network.
TL;DR: It's a pretty great deal and essential for just about every sports fan.
UFC 251 live stream: ESPN prelims
Unlike UFC PPVs in the past, your ESPN+ subscription will also allow you to watch the ESPN prelims for free. Until recently, only those with an ESPN subscription could watch the prelims. But now you can watch the prelims on ESPN or ESPN+. If you choose to watch it on the network on your TV, you'll still need to have a cable or live TV subscription to view it beginning at 8pm ET. Here are the matches you'll be able to watch on ESPN (and ESPN+ now):
Volkan Oezdemir vs. Jiri Prochazka
Elizeu Dos Santos vs. Muslim Salikhov
Makwan Amirkhani vs. Danny Henry
Leonardo Santos vs. Roman Bogatov
If you don't already have a way to watch ESPN online, every major live TV streaming service carries the channel, and all of them offer at least a one-week free trial before you need to start paying. Once you download the ESPN app and type in your credentials, you can watch the prelims and the main event from one convenient location. Here are a few options for you:
Hulu with Live TV is one of the most popular ways to stream live TV, mostly because you gain access to a massive library of on-demand content including classic and current TV shows and movies along with Hulu's original programming. As far as live-streaming goes, you'll have a ton of local, entertainment, and sports channels to flip through, including HGTV, a full suite of ESPN channels, Cartoon Network, FX, and even deep cuts like Nat Geo Wild and Syfy.
For a more à la carte service, look to Sling TV. It offers two cable packages, Sling Orange and Sling Blue, each of which costs $30 per month. If you grab them both (Sling Orange + Blue) you can save $10 per month. Sling Blue offers more bang for your buck with more than 40 channels, including sports necessities like FS1, NBCSN, and NFL Network. You'll also gain access to the usual cable mainstays like Food Network, Discovery, Cartoon Network, SYFY, and FXX. Whichever package you choose, you can save $10 on your first month. Here's the complete guide to Sling TV channels.
YouTube TV is a great solution for families because one subscription can add up to six accounts, and each account comes with unlimited cloud DVR. You can't beat the variety, either: There are sports channels like NBCSN, NBA TV, and four ESPN channels, while Disney, Disney XD, Disney Junior, and Cartoon Network will keep any kid (or kid at heart) busy for hours. It also comes with a few Spanish-language channels like Telemundo and NBC Universo. AMC, BBC America, and IFC are there too, so you won't miss out on all that prestige TV. (You can find the full list of YouTube TV channels here.)
UFC 251 live stream: Fight Pass early prelims
For the die-hard fans out there, UFC's Fight Pass carries the early prelims, which start at 6pm ET. Here's the full Fight Pass lineup:
Marcin Tybura vs. Maxim Grishin
Raulian Paiva vs. Zhalgas Zhumagulov
Karol Rosa vs. Vanessa Melo
Martin Day vs. Davey Grant
UFC Fight Pass launched in 2014. The service hosts the early undercard bouts of every UFC PPV card, and it's also where you can watch the smaller, more local UFC events that aren't picked up by national TV broadcasts. The streaming platform has even begun hosting more occasional boxing cards. The app is incredibly versatile. You can download it via Apple TV, Xbox One, Xbox 360, Amazon Fire TV, Chromecast, Roku, Samsung smart TVs, LG smart TVs, and iOS and Android devices.
Kamaru Usman vs. Jorge Masvidal live stream schedule
Main card | 10pm on ESPN+
Kamaru Usman vs. Jorge Masvidal
Alexander Volkanovski vs. Max Holloway
Petr Yan vs. Jose Aldo
Jessica Andrade vs. Rose Namajunas
Amanda Ribas vs. Paige VanZant
Prelims | 8pm on ESPN and ESPN+
Volkan Oezdemir vs. Jiri Prochazka
Elizeu Dos Santos vs. Muslim Salikhov
Makwan Amirkhani vs. Danny Henry
Leonardo Santos vs. Roman Bogatov
Early Prelims | 6pm on Fight Pass
Marcin Tybura vs. Maxim Grishin
Raulian Paiva vs. Zhalgas Zhumagulov
Karol Rosa vs. Vanessa Melo
Martin Day vs. Davey Grant
---
The Daily Dot may receive a payment in connection with purchases of products or services featured in this article. Read our Ethics Policy to learn more.