At the beginning of the season, it was a foregone conclusion that the New England Patriots and the Kansas City Chiefs would be the two strongest teams in the AFC. It hasn't quite worked out that way.
Though both squads have had good years, these teams are flawed. Not only have the Baltimore Ravens emerged as the clear AFC favorite, but teams like Texans and Bills have arguably played just as well as these other contenders.
Though these teams haven't played perfect football, that doesn't mean you should underestimate either squad. The Chiefs' four losses have mostly come when the offense wasn't at full strength. Quarterback Patrick Mahomes missed some time earlier in the season and he has been forced to play without some of his strongest weapons.
In New England, Tom Brady has also been limited. The aging signal-caller has some of the worst receiving talent of his career surrounding him this season. Unfortunately for Brady, he doesn't have any better pass-catchers waiting on the bench. Even so, his team only has two losses.
The Pats defense has been their saving grace, but after last week's loss to the Texans, fans are wondering if a good defense will be enough to win New England playoff games. This matchup should tell us a lot about both of these teams as they gear up for the postseason hoping to hide their flaws. Here's everything you need to know to live stream Patriots vs. Chiefs, including what to watch for on the field.
New England Patriots vs. Kansas City Chiefs
When: 4:25pm ET, Sunday, Dec. 8
Where: Gillette Stadium in Foxborough, Massachusetts
Streaming: CBS, NFL Sunday Ticket
There are a number of options for watching Patriots vs. Chiefs on streaming platforms that carry CBS. However, consult a coverage map to see what game your regional channel will be playing.
If a game is not being carried in your area, the only option might be an NFL Sunday Ticket package.
Patriots vs. Chiefs live stream: How to watch NFL online

Both Sling Blue ($25 per month) or Sling Orange + Blue ($40 per month)  include NFL Network and a number of sports channels—like three ESPN channels and NBCSN—and it's still a nice perk that Sling subscribers can order a la carte packages. Sling TV also offers a special Latino package for bilingual viewers. Sling TV is currently offering a deal where you can subscribe for 40% off the regular price for the first month of your subscription. That means Sling Blue would cost $15, and Sling Orange + Blue would cost $25. (Here's a complete guide to Sling TV channels and our Sling TV review.)
For $10 extra per month, you can get NFL RedZone via the Sling Blue Sports Extra package.
How to use AirTV with Sling
AirTV solves one of Sling's biggest problems: The inability to receive all of your local channels. By purchasing a basic AirTV for $79.99 or the AirTV Player for $119.99, you can merge those local channels into your Sling TV, (or on your mobile device if you have the basic AirTV). As the Daily Dot wrote in its AirTV review, "It's practically magic."
The basic AirTV is a dual-tuner streaming device, while the AirTV Player is basically an upgraded Chromecast that has Netflix preinstalled. You'll still need to own an HD antenna because even though AirTV gets you access to your local channels, it doesn't actually physically show them to you.
But AirTV—which has no monthly fee—serves to strengthen one of Sling's biggest weaknesses compared to other live streaming services like Hulu with Live TV, YouTube TV, and PlayStation Vue. All those services have plenty of local channels. 
---

Cost: $44.99 per month
Hulu devices: Roku, Apple TV, Google Chromecast, Amazon Fire Stick and Fire TV, Xbox One, Xbox 360, Nintendo Switch, and iOS and Android devices
Hulu local channels: ABC, CBS, Fox, NBC, the CW (check your local availability here)
Hulu with Live TV includes sports programming among its offerings with ESPN and FS1, and as a subscriber to the service, you'll get free access to Hulu's sizable on-demand library. (Check out the full list of Hulu Live TV channels.)
---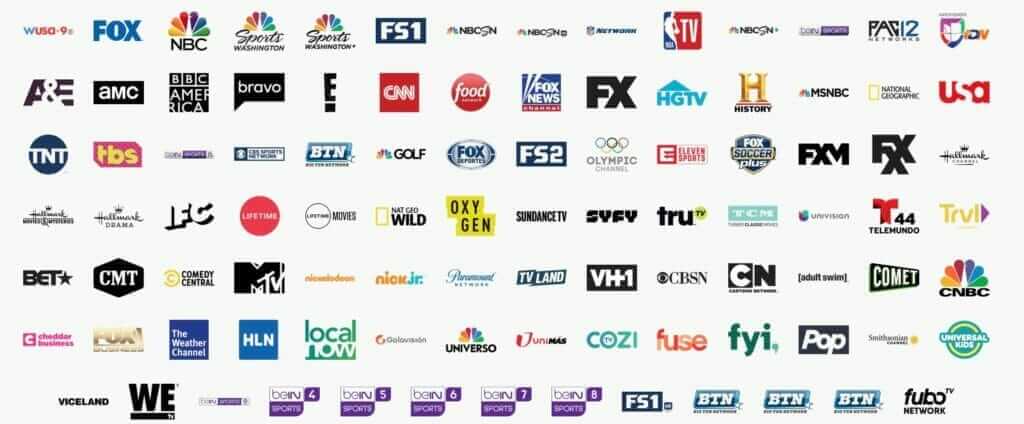 If you're a big-time sports fan, FuboTV is your best streaming service option. If you love international soccer and you're a Spanish speaker, FuboTV also offers various add-on packages, including Fubo Latino and Fubo Português. FuboTV's basic plan showcases nearly 100 channels and includes NFL Network. At $54.99 per month, you'll also get FS1, FS2, NBCSN, NBA TV, Big Ten Network, Pac 12 Network, BeIn Sports, and CBS Sports Network, along with premium channels like FX/FXX/FXM. The only notable omission for sports fans is ESPN. You can add Fubo's Sports Plus package for an additional $8.99 per month, which allows you to stream NFL RedZone. (Here's the complete FuboTV channels list.)
---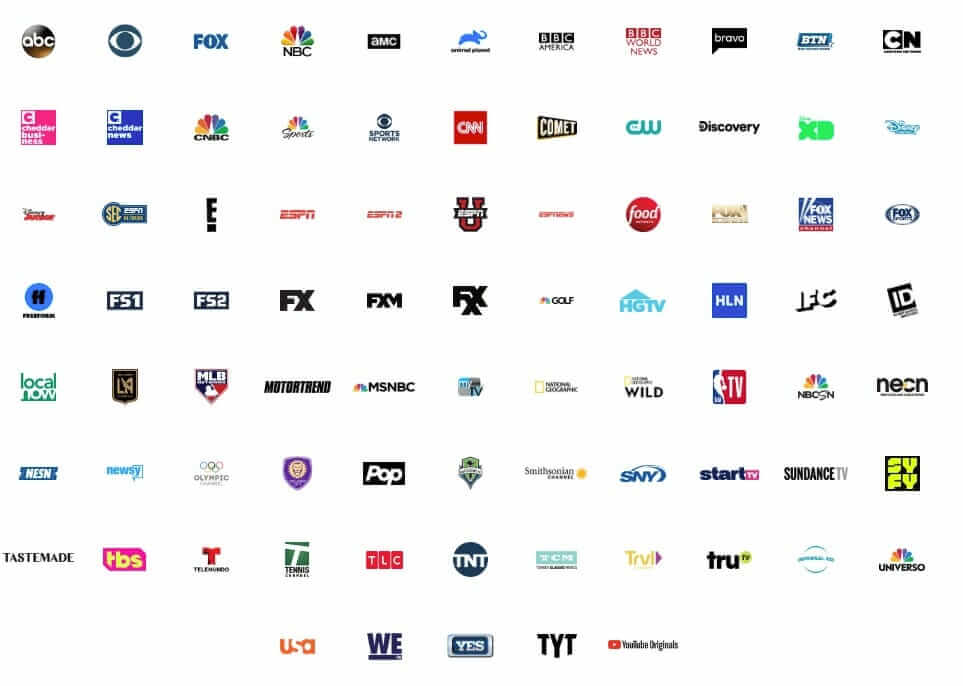 YouTube TV is a great option for college football fans, including ESPN and FS1. (Take a look at the full list of YouTube TV channels here.)
---

Cost: $73.99 per month for four months, or one single payment of $293.96
There are two—and only two—ways of acquiring NFL Sunday Ticket without DirecTV.
There's NFLSundayTicket.TV, which costs $73.99 per month for four months. It's everything you love NFL Sunday Ticket but online-only. You can stream from pretty much any device that connects to the internet (but only on one device at a time).
You can also upgrade to the NFLST.TV Max bundle for a total of $99 per month for four months or one single payment of $395.99. You can also add on NFL Game Pass, which allows you to watch replays of every game after they air, for $50 for the full season.
There's another way to watch NFL Sunday Ticket without DirecTV: Amazon Prime. While you can't pay for the package using Amazon Prime, you can at least watch all of the games on the service. To start, first download the NFL Sunday Ticket channel on Amazon Prime. It's free. From there, you'll just need to sign in with your subscription credentials to watch the Steelers vs. Colts.
College students can purchase NFL Sunday Ticket at a discounted price through NFLSundayTicket.TV U.
TRY NFL SUNDAY TICKET ON AMAZON PRIME
---
New England Patriots vs. Kansas City Chiefs: What to watch for
New England has a great defense and an okay offense. Kansas City has a great offense and a middling defense. This game is going to come down to which of the stronger units can play their best and which of the weaker units can limit their mistakes.
The Texans scored 28 points in their victory over the Pats last week, and they let that happen again, it is going to be hard for them to keep up. Against competitive teams, New England hasn't been able to score much more than 20 points. The Patriots passing game doesn't really work outside of Julian Edelman, and while he is a good receiver, he isn't the kind of pass-catcher than can win a game by himself.
Last week, Houston figured out how an answer for New England's top-tier secondary that other teams might try to replicate as the post-season nears: Avoid it. Short passes put Texan offensive weapons like Duke Johnson and Darren Fells against their linebackers, and both resulted in touchdowns.
The combination of a defense with a clear weakness and Brady's limited passing game isn't a good one for New England.
Meanwhile, the Chiefs' pass defense has improved in recent weeks. Safeties Juan Thornhill and Tyrann Mathieu are looking good lately, and in KC's demolition of the Raiders, they looked stellar.
But, Kansas City's run defense remains a problem. Last week, Josh Jacobs went over 100 yards on the ground and three weeks ago Derrick Henry blew through the defensive line gaining 188 yards. New England's James White isn't an all-pro, but he could be productive this week.
Fortunately for the Chiefs, Mahomes is back to his old self after three games under his belt following a knee injury. Against the Titans, he threw for 446 yards in a loss, and even though his stat line last week wasn't amazing, he looked good on the field. He managed the game well and added a rushing touchdown for good measure.
This is a tough game to predict, but we give the edge to the Chiefs. If Mahomes if truly back to his old self and Houston has figured out the formula for neutralizing the New England defense, look for KC to get the W.
Odds
The William Hill oddsmakers call this pretty even, with the Patriots getting the home-field three-point advantage. 
READ MORE: 
For a year-round sports fix, sign up here to receive our weekly boxing newsletter. You'll hear about all the biggest fights and best knockouts from the Daily Dot's streaming sports guru Josh Katzowitz.
The Daily Dot may receive a payment in connection with purchases of products or services featured in this article. Click here to learn more.