How have the Dallas Cowboys not won more games? How have the Buffalo Bills not lost more? No matter how sophisticated stats and analytics get, questions like these will always vex football fans.
Even against the top-rated Patriots defense last week, Dallas' offense looked good. And the numbers bear this out. For pretty much the entire season, the Cowboys have been the No. 1 team in offensive DVOA. Fantasy players know that there is no better bye week flex option than a lesser-known Cowboys receiver. And yet, the team is just a hair over .500.
The Bills' season has been the opposite story. Buffalo has the 14th-ranked defense and the 23rd-ranked offense. Middling quarterback Josh Allen leads an offense filled with also-rans like Jon Brown, has-beens like Frank Gore, and upstarts like Devin Singletary. And yet, they keep winning.
Week after week. experts predict a fall off for the Bills and an upswing for the Cowboys. After all, it is what the numbers tell us should happen. And contrary to what your cantankerous, superstitious uncle may think, the numbers are usually right.
Is this the week where all becomes right with the world and the better team wins, or will the Bills escape with one more win they have no business getting? Here's everything you need to know to live stream Cowboys vs. Bills, including what to watch for on Thanksgiving.
Dallas Cowboys vs. Buffalo Bills
When: 4:25pm ET, Thursday, Nov. 28th
Where: AT&T Stadium in Arlington, Texas
Streaming: CBS, NFL Sunday Ticket
There are a number of options for watching Cowboys vs. Bills on streaming platforms that carry CBS. However, consult a coverage map to see what game your regional channel will be playing.
If a game is not being carried in your area, the only option might be an NFL Sunday Ticket package.
Cowboys vs. Bills live stream: How to watch NFL online

Both Sling Blue ($25 per month) or Sling Orange + Blue ($40 per month)  include NFL Network and a number of sports channels—like three ESPN channels and NBCSN—and it's still a nice perk that Sling subscribers can order a la carte packages. Sling TV also offers a special Latino package for bilingual viewers. Sling TV is currently offering a deal where you can subscribe for 40% off the regular price for the first month of your subscription. That means Sling Blue would cost $15, and Sling Orange + Blue would cost $25. (Here's a complete guide to Sling TV channels and our Sling TV review.)
For $10 extra per month, you can get NFL RedZone via the Sling Blue Sports Extra package.

Unfortunately, due to a contract dispute, as of Sept. 26 Sling no longer carries Fox, FS1, and FS2. But there is a workaround.
How to use AirTV with Sling
AirTV solves one of Sling's biggest problems: The inability to receive all of your local channels. By purchasing a basic AirTV for $79.99 or the AirTV Player for $119.99, you can merge those local channels into your Sling TV, (or on your mobile device if you have the basic AirTV). As the Daily Dot wrote in its AirTV review, "It's practically magic."
The basic AirTV is a dual-tuner streaming device, while the AirTV Player is basically an upgraded Chromecast that has Netflix preinstalled. You'll still need to own an HD antenna because even though AirTV gets you access to your local channels, it doesn't actually physically show them to you.
But AirTV—which has no monthly fee—serves to strengthen one of Sling's biggest weaknesses compared to other live streaming services like Hulu with Live TV, YouTube TV, and PlayStation Vue. All those services have plenty of local channels. While select NFL and college football games (on Fox, FS1, and FS2) are no longer on Sling, you can still catch Fox games with AirTV.
---

Cost: $44.99 per month
Hulu devices: Roku, Apple TV, Google Chromecast, Amazon Fire Stick and Fire TV, Xbox One, Xbox 360, Nintendo Switch, and iOS and Android devices
Hulu local channels: ABC, CBS, Fox, NBC, the CW (check your local availability here)
Hulu with Live TV includes sports programming among its offerings with ESPN and FS1, and as a subscriber to the service, you'll get free access to Hulu's sizable on-demand library. (Check out the full list of Hulu Live TV channels.)
---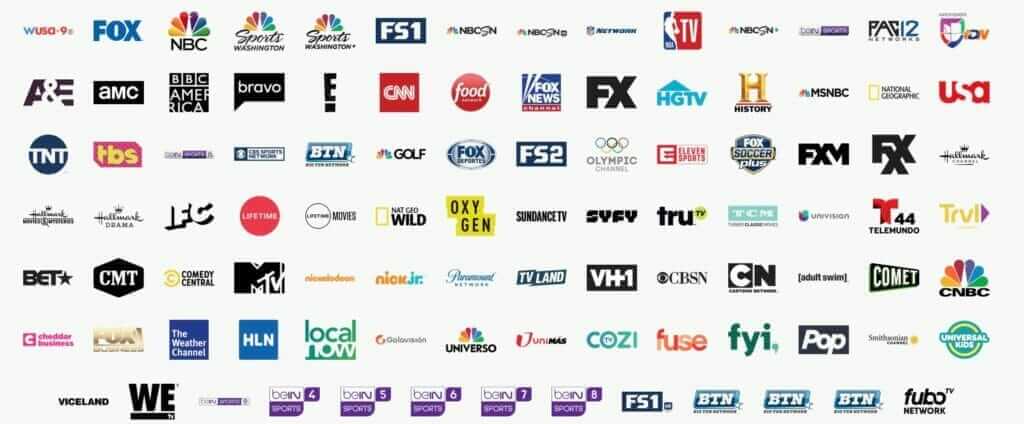 If you're a big-time sports fan, FuboTV is your best streaming service option. If you love international soccer and you're a Spanish speaker, FuboTV also offers various add-on packages, including Fubo Latino and Fubo Português. FuboTV's basic plan showcases nearly 100 channels and includes NFL Network. At $54.99 per month, you'll also get FS1, FS2, NBCSN, NBA TV, Big Ten Network, Pac 12 Network, BeIn Sports, and CBS Sports Network, along with premium channels like FX/FXX/FXM. The only notable omission for sports fans is ESPN. You can add Fubo's Sports Plus package for an additional $8.99 per month, which allows you to stream NFL RedZone. (Here's the complete FuboTV channels list.)
---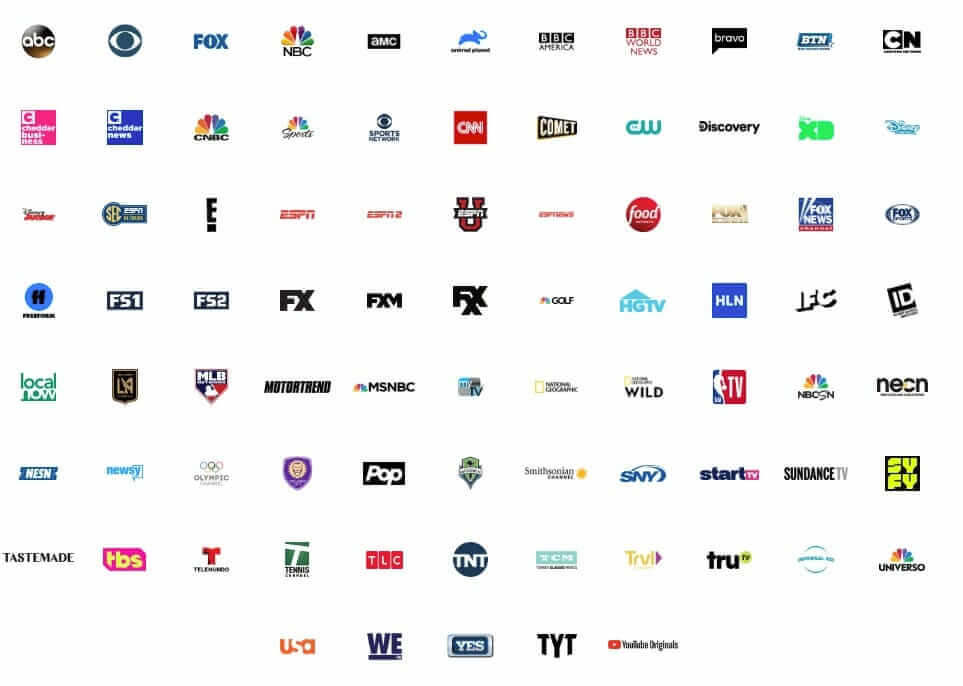 YouTube TV is a great option for college football fans, including ESPN and FS1. (Take a look at the full list of YouTube TV channels here.)
---

Cost: $73.99 per month for four months, or one single payment of $293.96
There are two—and only two—ways of acquiring NFL Sunday Ticket without DirecTV.
There's NFLSundayTicket.TV, which costs $73.99 per month for four months. It's everything you love NFL Sunday Ticket but online-only. You can stream from pretty much any device that connects to the internet (but only on one device at a time).
You can also upgrade to the NFLST.TV Max bundle for a total of $99 per month for four months or one single payment of $395.99. You can also add on NFL Game Pass, which allows you to watch replays of every game after they air, for $50 for the full season.
There's another way to watch NFL Sunday Ticket without DirecTV: Amazon Prime. While you can't pay for the package using Amazon Prime, you can at least watch all of the games on the service. To start, first download the NFL Sunday Ticket channel on Amazon Prime. It's free. From there, you'll just need to sign in with your subscription credentials to watch the Steelers vs. Colts.
College students can purchase NFL Sunday Ticket at a discounted price through NFLSundayTicket.TV U.
TRY NFL SUNDAY TICKET ON AMAZON PRIME
---
Dallas Cowboys vs. Buffalo Bills: What to watch for
One factor that has led to the very different fates for these teams has been coaching.
Dallas coach Jason Garrett continues to be one of the most conservative, vanilla coaches in the league despite his high-flying offense. A late field goal when his team was down by more than a touchdown in last week's game was just the latest in the list of sins that fans and beat writers have been laying at Garrett's feet. When you watch the Cowboys, you are struck by how much better, faster, and stronger their team looks, even in games they lose. The tools are there. They just aren't being used correctly.
In addition to weak coaching, the Cowboys have been bad in areas the casual fan might not notice. They have been weak in getting pressure on the defensive line and their special teams unit is particularly bad. Against the Patriots, penalties and poor punt returns put Dak Prescott in a number of tough situations.
By contrast, Bills coach Sean McDermott has done a great job limiting the liabilities of the Buffalo offense. He and his team have helped Josh Allen avoid mistakes and play to his strengths. With a mobile quarterback who doesn't have the best downfield accuracy, McDermott has built an attack that is at once safe and creative. Additionally, he had success without an all-star running back while a lot of coaches have struggled with how to deploy platoon backfields.
The Bills defense is also flawed, but, like the offense, is well-coached. Run defense has been the glaring problem with this team. But, with a strong secondary featuring players like Tre-Davious White, a decent, if spotty, pass rush, and a stout goal-line defense, they've been able to hide their flaws and keep scores low.
Is this the week where things change for these teams? The Cowboys feel like a team designed to beat the Bills. Buffalo likes a low-scoring game, and Dallas doesn't have many of those. However, there is clearly a coaching gap between these two teams. Don't be surprised if the Bills cook up something to keep this close.
That being said, we will bet on the Cowboys here. They have the better roster, even if they are running out of time to prove it.
READ MORE: 
For a year-round sports fix, sign up here to receive our weekly boxing newsletter. You'll hear about all the biggest fights and best knockouts from the Daily Dot's streaming sports guru Josh Katzowitz.
The Daily Dot may receive a payment in connection with purchases of products or services featured in this article. Click here to learn more.