Eleven days, eight teams, one site. The 2019 College World Series commences at TD Ameritrade Parkin in Omaha, Nebraska on June 15, with two brackets of four schools vying to become the college baseball champion.
Much like the springtime NCAA basketball tournaments, the College World Series brings together baseball fans and university alumni from all over to watch their favorite squads in a multi-day sporting festival of sorts. This year's participating schools come from four different conferences (the SEC, Big Ten, Big 12, and ACC) but almost all from the same geographic area: the greater South. Michigan is the lone non-Southern contender, as they punched their ticket to Omaha by upsetting no. 1-seeded UCLA. The Wolverines also bounced last year's champion, Oregon State, in the regional round, fueling the team's underdog quest to bring the trophy home to Ann Arbor for the first time since 1962.
Regardless of who you're rooting for, there are plenty of ways to catch all of the week-plus-long action—as well as the potential upsets that could occur along the way. Here's everything you need to know to watch the College World Series for free, including the tournament format and the participating teams.
2019 College World Series teams
Auburn
Michigan
Florida State
Louisville
Texas Tech
Mississippi State
Arkansas
Vanderbilt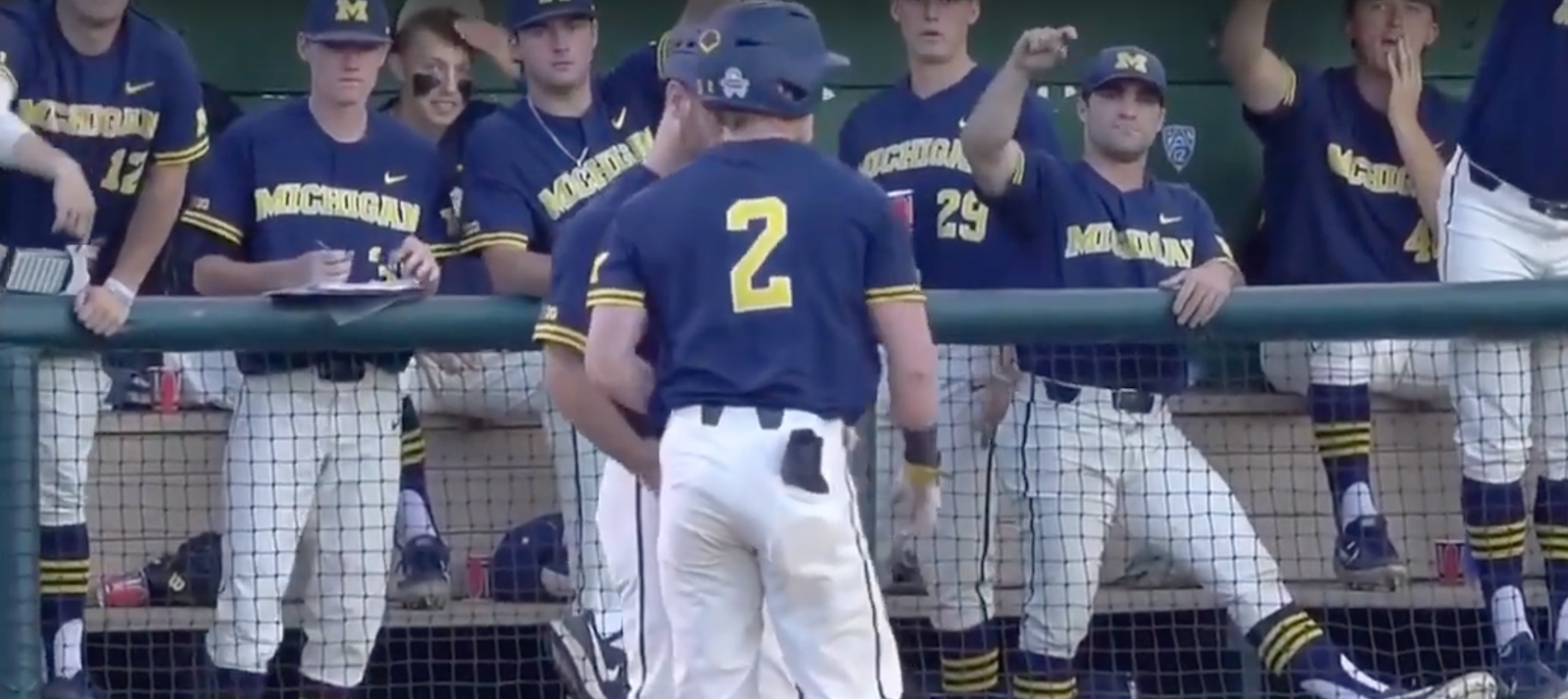 What channel is the 2019 College World Series on?
The 2019 College World Series will be broadcast across the ESPN network, with games airing on ESPN2, ESPN3, and ESPNU. The College World Series finals will be hosted by ESPN.
2019 College World Series live stream: How to watch CWS games for free
Thankfully for live TV customers, ESPN channels are available on several major streaming platforms, which makes accessing the College World Series throughout its entirety easy. All of the following services offer a one-week trial, allowing you to watch most of the 2019 College World Series for free.

Sling TV offers three different channel packages. For ESPN, ESPN2, and ESPN3, you'll need either Sling Orange ($25 per month) or Sling Orange + Blue ($40 per month), and both packages are currently 40% off for your first month.
With Sling Orange, customers benefit from ESPN's coverage of some of the biggest events in sports: college football and basketball, Monday Night Football, NBA basketball, Major League Baseball, and much more. Subscribers will also gain access to some of the most celebrated sports programming on television, including ESPN's acclaimed 30 for 30 documentary series and SportsCenter. With Sling Orange + Blue, you'll get all of that plus the other major sports channels, including FS1, FS2, NBCSN, ACC Network, and NFL Network. Depending upon your tastes, Sling TV provides the sports you crave at perhaps the best price point of any service. It's worth noting that Sling TV is the only service that offers a dedicated channel for ESPN3. (Here's a complete guide to Sling TV channels and our Sling TV review.)
---

Cost: $44.99 per month (after a 7-day free trial)
Hulu devices:

Roku, Apple TV, Google Chromecast, Amazon Fire Stick and Fire TV, Xbox One, Xbox 360, Nintendo Switch, and iOS and Android devices

Hulu local channels:

ABC, CBS, Fox, NBC, the CW (check your

local availability here

)
Hulu with Live TV gives customers all four of the major broadcast networks, which includes the channels that subscribers will need to watch the College World Series, ESPN and ESPN2. For $45 per month, customers receive the aforementioned channels—which show everything from college football to Major League Baseball—as well as FS1, FS2, TNT, and NBCSN. (Here's the complete list of Hulu Live TV channels.) For the price, the breadth of content, and the ability to record up to 50 hours of programming, Hulu with Live TV is a bonafide steal for baseball and sports fans. Subscribers will also receive access to Hulu's full on-demand catalog for free (a $5.99/month value). 
---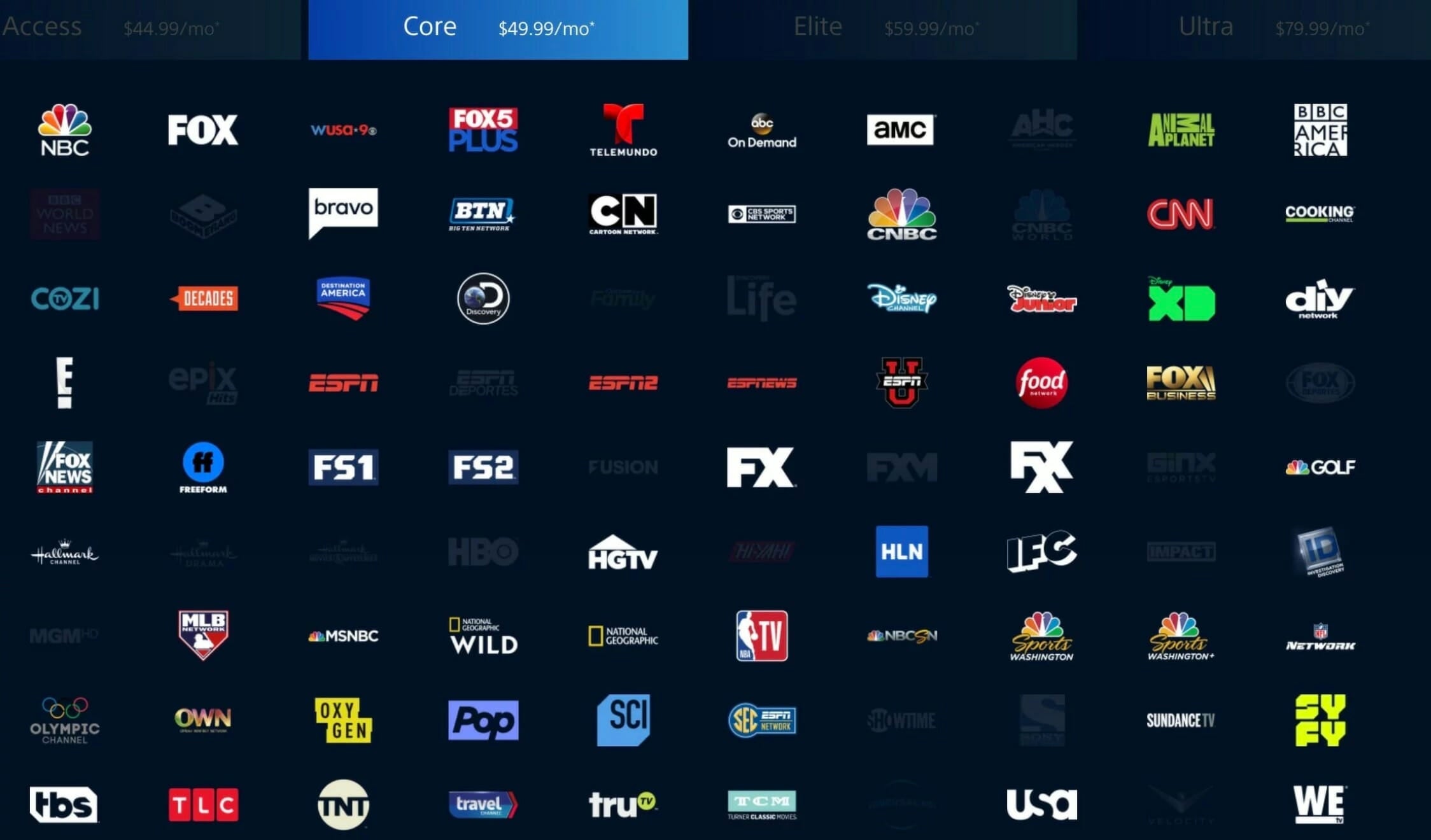 Don't worry: You don't need to own a PlayStation to subscribe to PlayStation Vue. The four-tiered subscription service is accessible to anyone. To watch the College World Series, subscribers need to have the Core plan, which goes for $49.99 per month. That package provides ESPN and ESPN2, as well as FS1, FS2, Fox, TNT, NBC, and NBCSN. For the truly sports-obsessed, PlayStation Vue's Core package also comes equipped with MLB Network and many more specialized sports channels, like the SEC Network and NFL Network. Luckily, PlayStation Vue doesn't hold subscribers to annual contracts, so dissatisfied Core users can always downgrade to Access to save a few more bucks throughout the year. (Here are all of the PlayStation Vue channels.)
---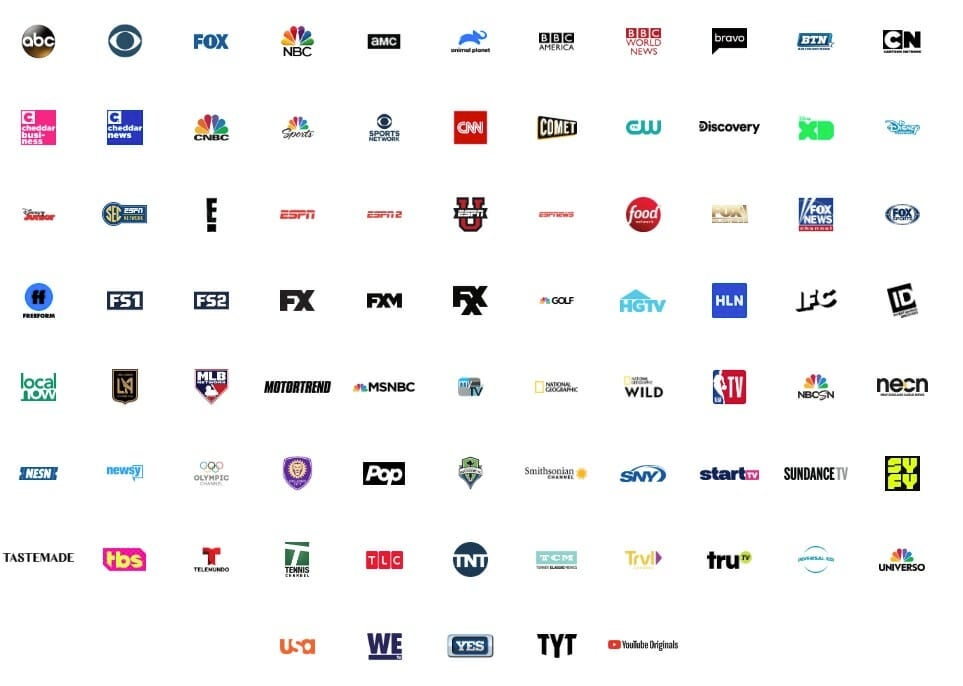 Do you have other plans during certain games of the College World Series? Fear not: YouTube TV gives customers unlimited cloud storage and DVR personalization capabilities so you can record the hours of CWS coverage, beginning on ESPN at 2pm ET on Saturday, June 15. Beyond offering ESPN and ESPN2, YouTube TV offers the four major broadcast networks (ABC, CBS, Fox, and NBC), TNT, CBS Sports Network, NBC Sports Network, NBC Golf, MLB Network, and NBA TV, among many other sports channels. And if you're splitting the YouTube TV bill ($50 per month) with several roommates and/or family members, YouTube TV allows up to six people to be registered on one account—with each person gaining the ability to personalize their DVR. (You can find the full list of YouTube TV channels here.)
---
Other ways to watch the 2019 College World Series online for free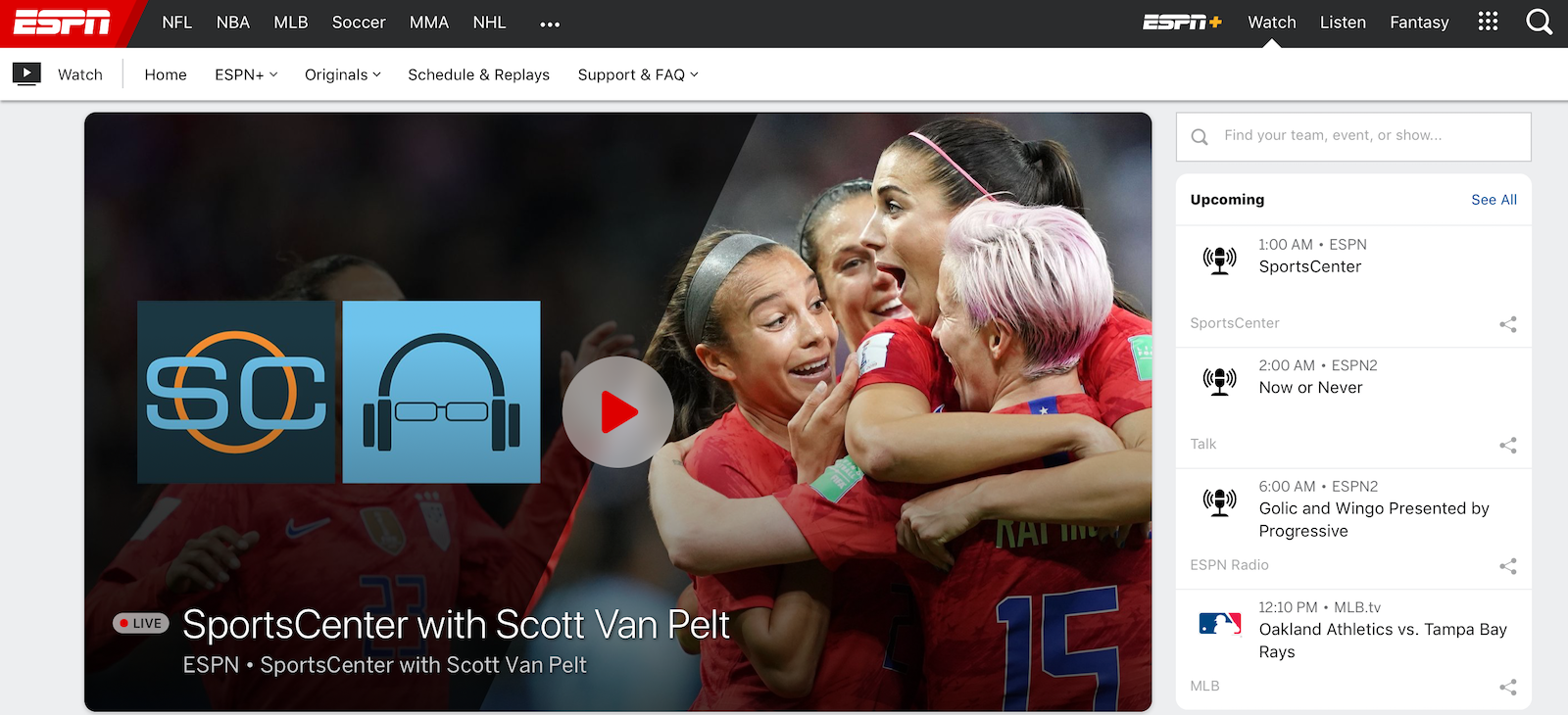 If you have a working cable account, you can sign use ESPN3 and WatchESPN to access most, if not all, of ESPN's live programming on its various cable channels through a desktop or mobile device, which includes each game of the 2019 College World Series.
2019 College World Series format
The format of the College World Series is funky. Think of it as a cross between the World Cup group stages (or any round-robin tournament for that matter) and the NCAA basketball tournaments. It's a double elimination through the bracket stage, but the championship round is a best-of-three series.
In the double-elimination portion of the World Series, the eight teams are divided into two four-team brackets. Within those brackets, the teams play one another until every team has two losses with the exception of one team that will advance to the championship.
Below you'll find the bracket-stage games better illustrated as well as the initial match-ups.
* — An asterisk indicates a game that only needs to be played if a tiebreaker is necessary.

Bracket One
Saturday, June 15
Game 1: Michigan vs. Texas Tech at 2pm ET (ESPN)
Game 2: Florida State vs. Arkansas at 7pm ET (ESPN)
Monday, June 17
Game 5: Game 1 loser vs. Game 2 loser at 2pm ET (ESPN)
Game 6: Game 1 winner vs. Game 2 winner at 7pm ET (ESPN)
Wednesday, June 19
Game 9: Game 5 winner vs. Game 6 loser at 7pm ET (ESPN)
Friday, June 21
Game 11: Game 6 winner vs. Game 9 winner at 2pm ET (ESPN/ESPN2)
Saturday, June 22
*Game 13: Game 11 winner vs. Game 11 loser at 2pm ET (ESPN/ESPN2)
Bracket Two
Sunday, June 16
Game 3: Louisville vs. Vanderbilt at 2pm ET (ESPN)
Game 4: Auburn vs. Mississippi State at 7:30pm ET (ESPN2)
Tuesday, June 18
Game 7: Game 3 loser vs. Game 4 loser at 2pm ET (ESPN/ESPN2)
Game 8: Game 3 winner vs. Game 4 winner at 7pm ET (ESPN/ESPN2)
Thursday, June 20
Game 10: Game 7 winner vs. Game 8 loser at 8pm ET (ESPNU)
Friday, June 21
Game 12: Game 8 winner vs. Game 10 winner at 7pm ET (ESPN)
Saturday, June 22
*Game 14: Game 12 winner vs. Game 12 loser at 7pm ET (ESPN/ESPN2)
College World Series Finals schedule
Game 1: Monday, June 24 at 7pm ET (ESPN)
Game 2: Tuesday, June 25 at 7pm ET (ESPN)
*Game 3: Wednesday, June 26 at 7pm ET (ESPN)
The Daily Dot may receive a payment in connection with purchases of products or services featured in this article. Click here to learn more.