---
Lightweight contenders Dustin Poirier and Dan Hooker meet in the UFC's homegrown Apex pandemic bunker in Las Vegas on Saturday night on ESPN and ESPN+, and to the unpracticed eye, the two men look as evenly matched as two men could be.
Poirier has 25 wins in his professional career and six losses, while Hooker is 20-8. Both men spent time in the featherweight division before filling out and moving up. They even had their first professional fights within two months of each other in 2009. Yet despite all their similarities in age and experience, somehow Poirier feels much older, an elder statesman to Hooker's upstart, the representative of experience standing up to the boldness and daring of youth, clinging to his place in the world.
True, Poirier has been in the UFC a few years longer than Hooker and has fought in far more main events, so his name has rung out more. But my perception of their fight really has more to do with my own history than any statistic or marketing strategy. 
Back in 2011, I was a journalist covering movies and politics for an alternative weekly newspaper in Austin, drinking and pondering and dutifully indulging all the other habits of the trade, all the while secretly harboring a scandalous fascination with mixed martial arts. I had begun to fall in love with the sport in private, watching videos of Fedor Emelianenko and Anderson Silva fights on YouTube. But around friends, I kept it to myself, and even in my own head, I struggled to reconcile this new fascination with a lifetime of pacifism, cowardice, and indifference—even hostility—to combat sports, especially something as hideous as cage fighting.
But that March, I was assigned to review a documentary called Fightville that was premiering at the South by Southwest Film Festival and during the screening, something clicked. Fightville followed a promoter and two young fighters struggling to make it on the small professional MMA circuit in Lafayette, Louisiana. One of those fighters was a very young Dustin Poirier.
Needless to say (primed as I was by that point), I was swept up by Fightville and by Poirier's story: a classic fighter's tale of sacrifice and misery ending in triumph and a move into more expansive worlds—a true bootstrap tale. When I learned at the post-screening Q&A that Poirier had actually made his UFC debut just two months earlier, I took it as a sign: Poirier's arrival dovetailed perfectly with my awakening as a fight fan, and both were meant to be.
Over the succeeding nine years, my belief never wavered. Poirier has made it easy for me by being a brilliant fighter but not a perfect one. No doubt recognizing my need for drama, he has generously peppered his rise with moments of collapse, even despair: a humiliating knockout loss to Conor McGregor here, a humbling at the hands of lightweight champion Khabib Nurmagomedov there—all in service of a more compelling narrative. If Poirier's success had been unblemished, I probably would have disconnected from him a long time ago. His story is far more appealing for being marked by both tragedy and triumph. Perfection may be admirable, but it inspires no human warmth.
This long history must explain my misguided belief that Poirier is so much older than he actually is, despite the evidence. Because for exactly as long as I've been watching the UFC, Poirier has been fighting in it. And unlike Dan Hooker, who for many years was just a talented fighter struggling to distinguish himself from the hundreds of other talented fighters on the UFC roster, I always kept an eye on Poirier. He could never be anonymous to me.
Whether he eventually wins a belt or not, whether he beats Hooker on Saturday or not, whether he ever wins again or not, doesn't matter to me a bit. I'm naturally hostile to the idea of blind sports loyalty, but Poirier is the one fighter I've pledged my devotion to. He's the exception.
Here's everything you need to know to watch Poirier vs. Hooker.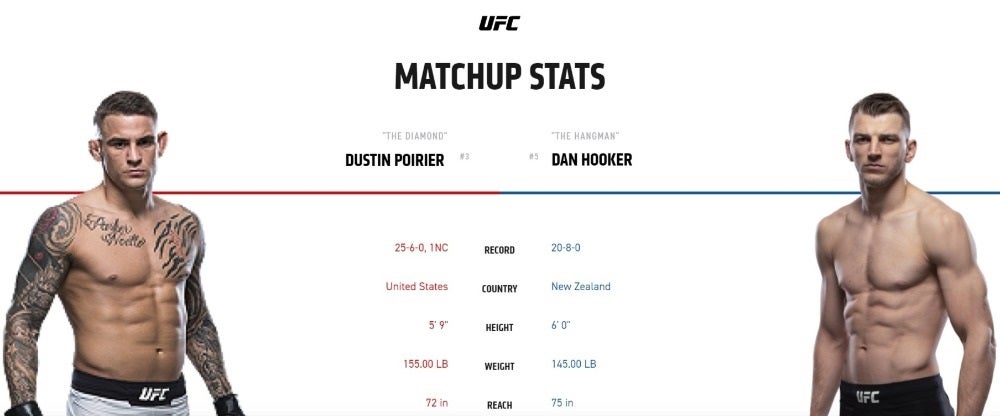 Dustin Poirier vs. Dan Hooker
How to watch Poirier vs. Hooker
You can watch this card on either ESPN or ESPN+.
The ESPN+ app is available on Amazon Fire Stick and Fire TV, Google Chromecast, PlayStation 4, Xbox One, Roku, Apple TV, Android TV, and iOS and Android devices.
If you'd rather watch the fights on ESPN, most of the major live streaming services offer the channel, and all of the ones featured below include a free one-week trial. Here are a few options for you to stream ESPN:
For a more à la carte service, look to Sling TV. It offers two cable packages, Sling Orange and Sling Blue, each of which costs $30 per month. If you order both (Sling Orange + Blue), you can save $10 per month. Sling Blue offers more bang for your buck with more than 40 channels, including sports necessities like FS1, NBCSN, and NFL Network. You'll also gain access to the usual cable mainstays like Food Network, Discovery, Cartoon Network, SYFY, and FXX. Whichever package you choose, you can save $10 on your first month. Here's the complete guide to Sling TV channels.
YouTube TV is a fantastic solution for families because one subscription can add up to six accounts, and each account comes with unlimited cloud DVR. You can't beat the variety, either: There are sports channels like NBCSN, NBA TV, and four ESPN channels, while Disney, Disney XD, Disney Junior, and Cartoon Network will keep any kid (or kid at heart) busy for hours. It also comes with a few Spanish-language channels like Telemundo and NBC Universo. AMC, BBC America, and IFC are there too, so you won't miss out on all that prestige TV. (You can find the full list of YouTube TV channels here.)
Hulu with Live TV is one of the most popular ways to stream live TV, perhaps because you get access to a huge library of on-demand content including classic and current TV shows and movies. Plus, you get all of Hulu's original programming. As far as live-streaming goes, you'll have a ton of local, entertainment, and sports channels to flip through, including HGTV, a full suite of ESPN channels, Cartoon Network, FX, and even deep cuts like Nat Geo Wild and Syfy.
ESPN+ is a subscription-based streaming service that lets you watch all sorts of live sports action you won't find anywhere else. Think of it as a way of super-sizing your ESPN viewing, allowing you to stream more exclusive UFC fights.
But ESPN+ offers a lot more than UFC cards, though. In addition to 20 UFC Fight Night events per year, you'll also get 180 NHL games, at least one MLB game every day for the entire season, and thousands of college sporting events. No matter what sport you're into, you'll find plenty to watch on ESPN+: Top Rank Boxing, Grand Slam tennis events, and international soccer from Italian Serie A, EFL, and UEFA Nations League. It also offers the equivalent of NFL Sunday Ticket for Major League Soccer games, allowing you to watch every out-of-market MLS game for the entire season. That's roughly 250 games.
Plus, you'll gain access to the entire 30 for 30 catalog, 150 entries, and counting.
---
Poirier vs. Hooker live stream schedule
All times ET
Main Event | 8pm on ESPN
Dustin Poirier vs. Dan Hooker
Mike Perry vs. Mickey Gall
Brendan Allen vs. Kyle Daukaus
Gian Villante vs. Maurice Greene
Sean Woodson vs. Julian Erosa
Prelims | 6pm on ESPN+
Luis Pena vs. Khama Worthy
Philipe Lins vs. Tanner Boser
Takashi Sato vs. Ramiz Brahimaj
Jordan Griffin vs. Youssef Zalal
Kay Hanson vs. Jinh Yu Frey
For a year-round sports fix, sign up at the bottom of this page where it says "Get the Daily Dot in your inbox" to receive our weekly boxing newsletter. You'll hear about all the biggest fights and best knockouts from the Daily Dot's streaming sports guru Josh Katzowitz.
The Daily Dot may receive a payment in connection with purchases of products or services featured in this article. Read our Ethics Policy to learn more.