Nyan Cat is one of the most important internet phenomena ever. Originally created by Christopher Torres during a donation drive for the Red Cross in 2011, Nyan Cat's popularity has only continued to grow in its six years of existence. From many, many parody videos to bands using the character for their music videos, Nyan Cat is a testament to why we love the internet so much—for that feeling when a strange, unexpected discovery sticks with us in such a profound way.
Indeed, its staying power in the internet's consciousness is without parallel. Just this week, a Kickstarter launched to build a gigantic Nyan Cat Car to take to music festivals and serve free Pop Tarts. It is a meme that will last forever. But what do you really know about it?
16 cuddly facts about Nyan Cat
1) The original wasn't named Nyan Cat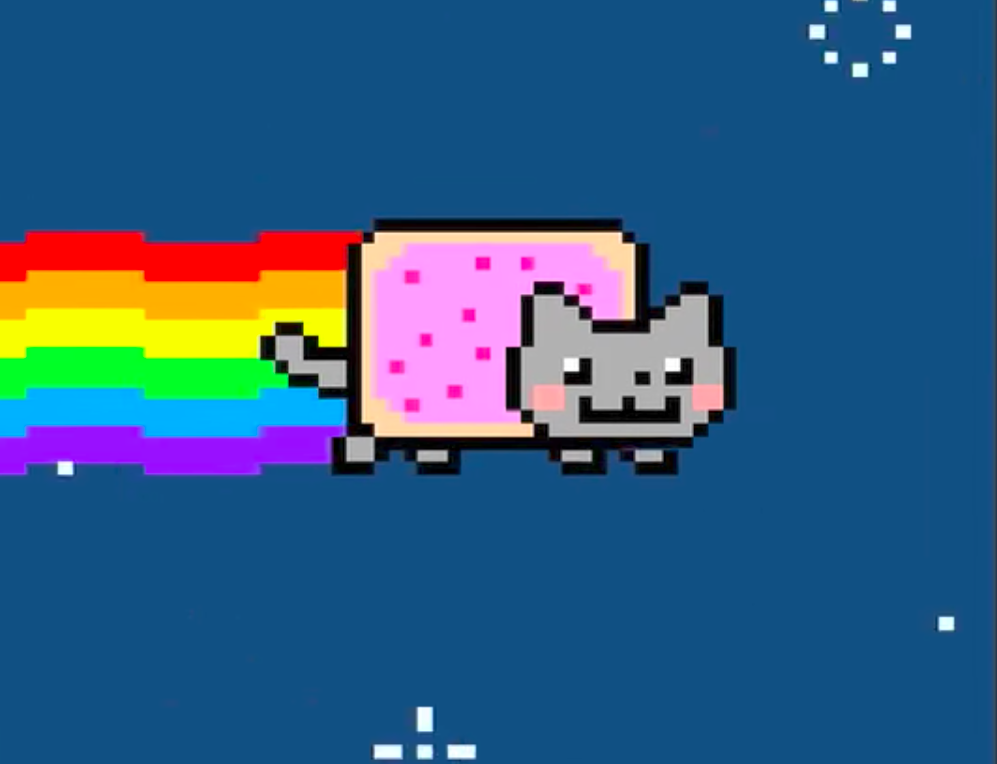 Nyan Cat wasn't the work of just one person. Christopher Torres created the GIF, in which he paired together his cat, a Pop Tart, and a rainbow shooting out its rear. He gave it the name "Pop Tart Cat." Three days later, though, a YouTuber added a track from Japan to the GIF and uploaded it as a video, calling it "Nyan Cat," after the onomatopoeic lyrics in the song accompanying it. From there, fame grew.
Torres was fine with that. "Originally, its name was Pop Tart Cat, and I will continue to call it so, but the Internet has reached a decision to name it Nyan Cat, and I'm happy with that choice, too."
2) "Nyan" is the Japanese word for "meow."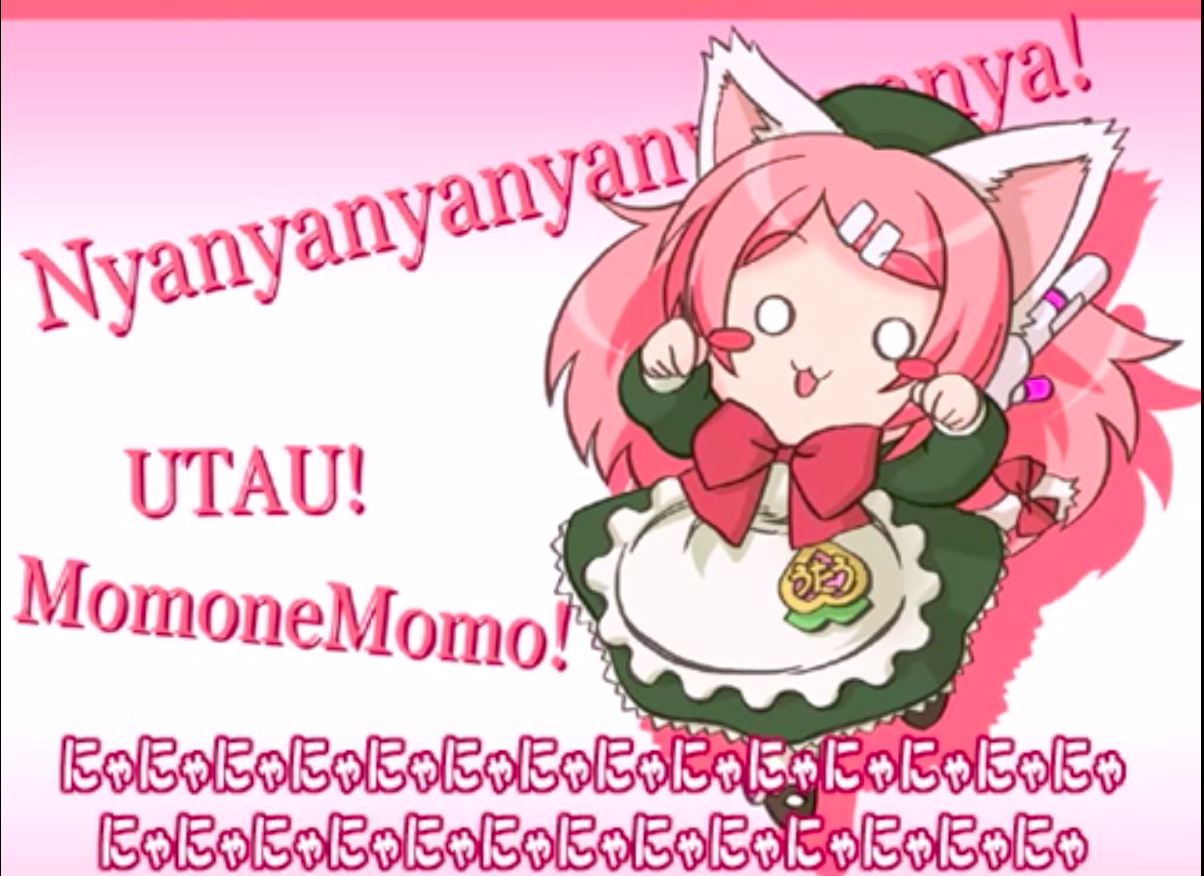 The track behind the video comes from the synthesized voice of a Japanese woman, Momoko Fujimoto, and can still be found on YouTube.
https://www.youtube.com/watch?v=_EuPsXanYzY
In it, she is saying the Japanese word for "meow."
3) You're saying it wrong
Although many people pronounce it as "Nigh-on," its proper pronunciation is "Knee-Anne."
READ MORE:
4) People think Nyan Cat pairs well with Slipknot's "Psychosocial"
Thanks to YouTube commenter xDaZJMx, fans of Nyan Cat and Slipknot's "Psychosocial" quickly realized just how well the two unlikely forces paired together. xDaZMJx went into the comments of Slipknot's video to advise viewers to watch "Psychosocial" on mute while simultaneously playing Nyan Cat. Ultimately, plenty of people ended up leaving comments about Nyan Cat on the comments page for "Psychosocial," showing that when it comes to the internet, a viral sensation can be made in the unlikeliest of ways.
Whether it really works, though, is a matter of debate. Judge for yourself.
5) A science thesis on Nyan Cat escaping the moon actually exists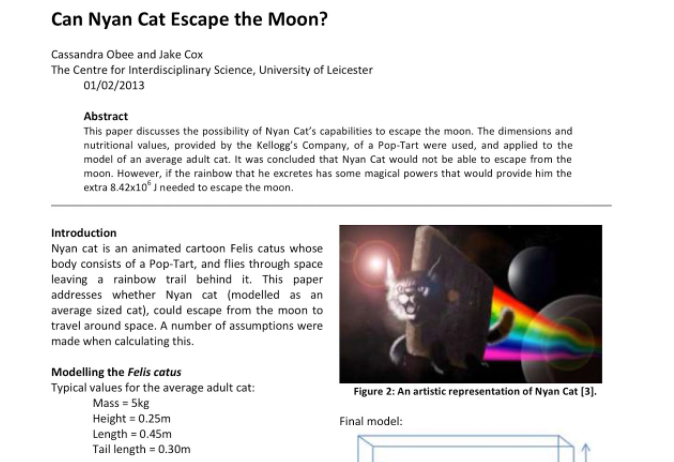 Titled "Can Nyan Cat Escape The Moon?," the paper "discusses the possibility of Nyan Cat's capabilities to escape the moon" and the "dimensions and nutritional values … of a Pop-Tart were used, and applied to the model of an average adult cat." Unfortunately, at his current pace, Nyan Cat wouldn't be able to escape the moon's orbit. However, researchers Cassandra Obee and Jake Cox did write, in the Journal of Interdisciplinary Science, that Nyan Cat could escape the moon if the rainbow that followed him "has some magical powers that would provide him" with the 8 million joules necessary to do so. Right now, Nyan Cat is only exerting 51,000 joules, much less than necessary.
6) Nyan Cat has its very own cryptocurrency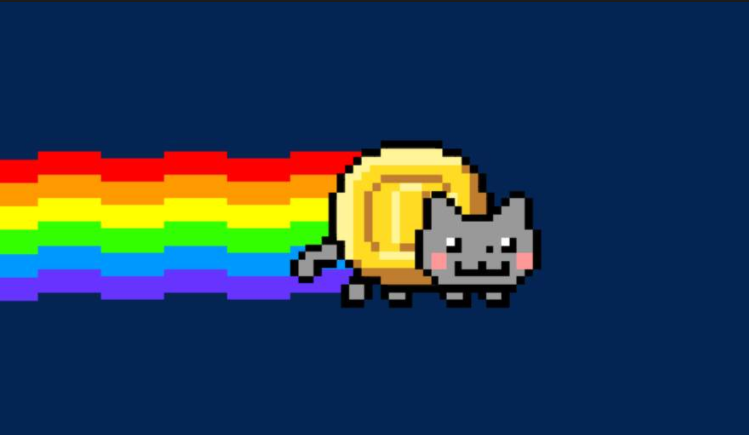 "With all due respect to the other team and their attempts to get a Nyancoin up and running, it just didn't seem very well put together for a variety of reasons; they hoarded 10% of all coins and tried to coax me into taking legal action against them. Lots of users were complaining about the bad functionality, they even restarted the entire system setting all user-generated coins to zero. It was just not how I envisioned it working at all," Torres told the Daily Dot.
READ MORE:
Granted, Nyancoin doesn't seem to be doing too well nowadays (especially in comparison to cryptocurrencies like Bitcoin and Ethereum), but if anything, it is a testament to the virality of Nyan Cat.
Although not doing too well is probably overselling it. One share is currently worth a tenth of a penny.
7) Deadmau5 had a Nyan Cat Ferrari and then almost got a Nyan Cat Nissan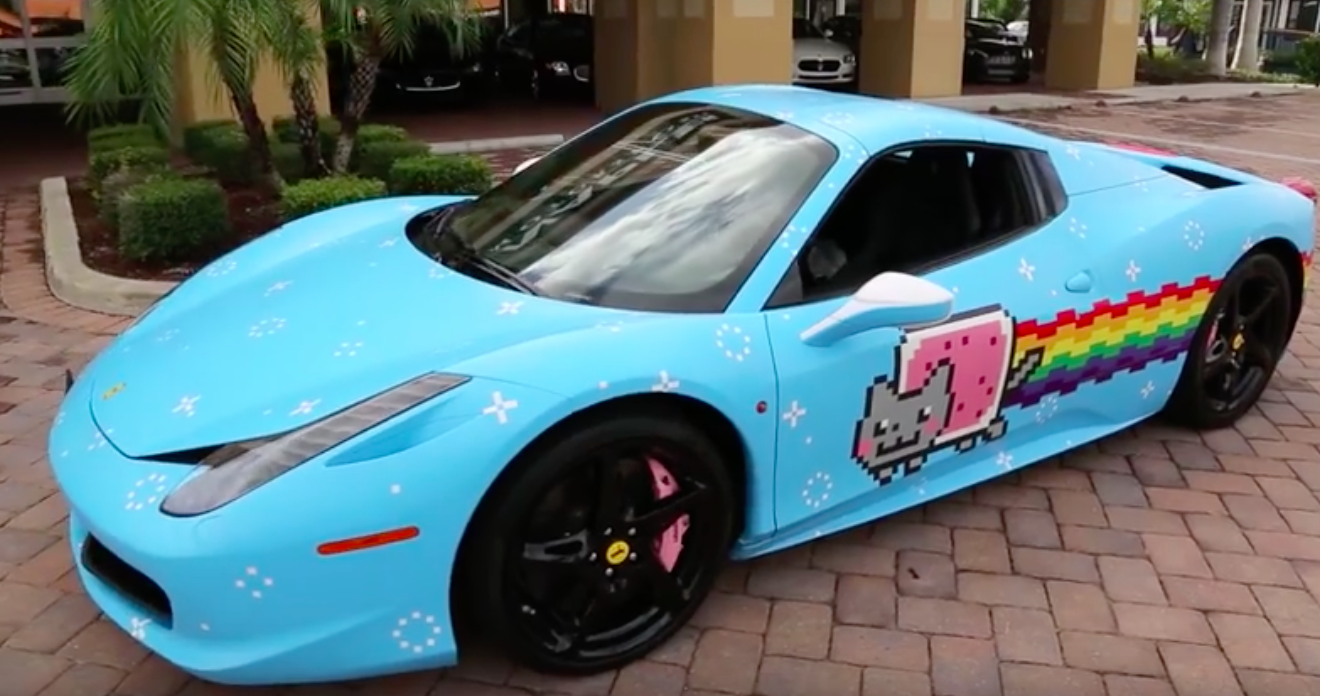 8) There's a Nyan Cat game, and someone played non-stop for 3,289 hours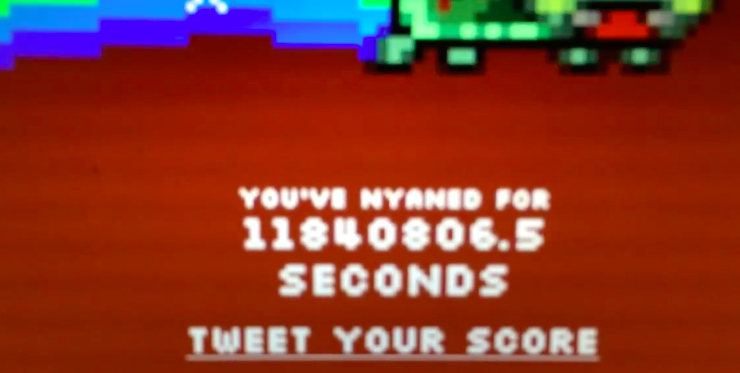 9) The real Nyan Cat is no longer with us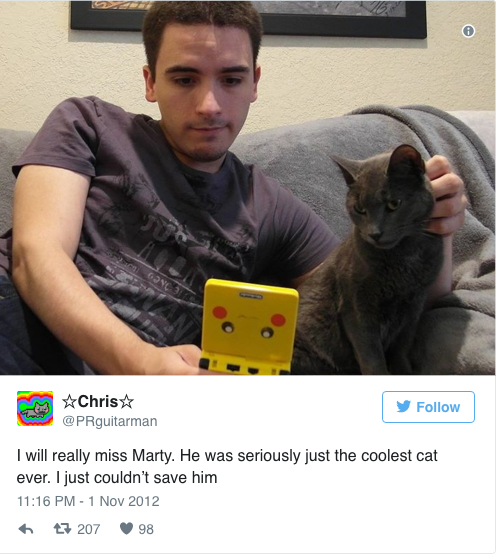 READ MORE:
10) The 10-hour Nyan Cat video loop was the first of its kind
The first 10-hour video to ever be uploaded on YouTube was of Nyan Cat, courtesy of TehN1ppe and called "Nyan Cat 10 Hours." This ultimately inspired the "10-Hour Challenge," where people dared their family and friends to watch an entire 10-hour video non-stop. The best 10-hour video of someone watching Nyan Cat, though? This guy, who basically wins by default for being the ONLY person to have filmed himself watching it.
11) A guy pranked an employee by playing the 10-hour Nyan Cat video loop on 80 separate windows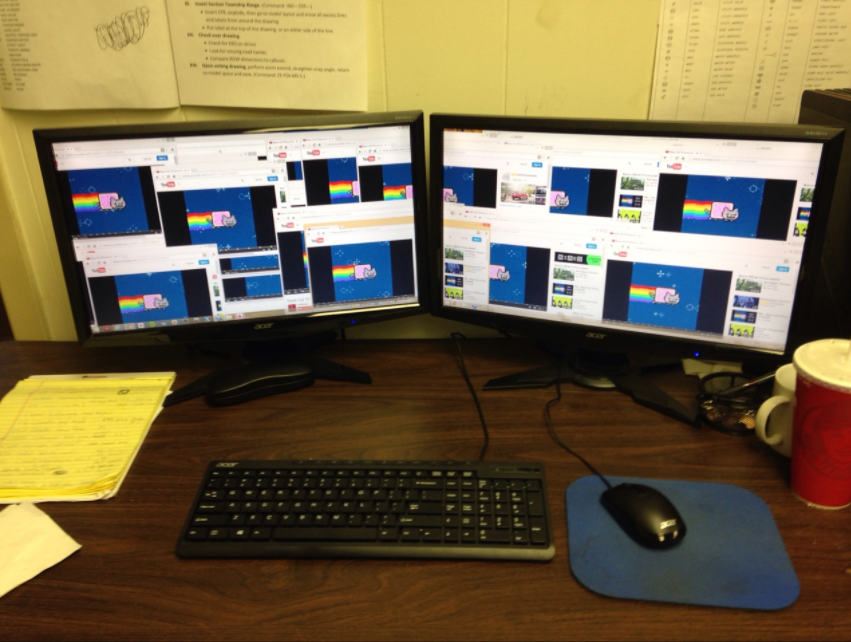 Apparently on, Oct. 22, 2014, a man by the name of Kenneth Callahan pranked one of his co-workers by opening 80 windows, with each one playing the 10-hour Nyan Cat video. No word on how long it took the victim to close all the tabs.
12) Nyan Cat made an appearance in Sum 41's 'Fake My Own Death' video
The music video, which features a number of viral moments that have occurred throughout the last several years, initially included an appearance from Nyan Cat without permission from Torres. He wasn't happy. 
"There are procedures and agreements for when someone wants to use my art commercially, and Sum 41/Hopeless Records skipped all of the formalities that other brands have highly sought Nyan Cat out for," Torres said in an interview with Forbes. "At the end of the day, I'm just like any other lone indie artist and it sucks when I see my art making other people a lot of money without permission. If they didn't see any actual value in Nyan Cat, then they wouldn't have used it in the first place." 
Ultimately, Sum 41 blurred out the images of Nyan Cat in the video.
13) There is a Nyan Cat compilation album
The album features both the Daniwell-P and Momone Momo versions of Nyanyanyanyanyanyanya, along with 21 other tracks. You will lose your brain listening to it. 

READ MORE:
14) Nyan Cat can be added to the new MacBook Pro Touch Bar
When Apple announced its line of new MacBooks last year, it positioned the TouchBar as its primary selling point. But it's up to app makers and developers to actually find a useful way to implement the long, slender touchscreen.
One developer did just that, but his creation doesn't enhance any apps or make the MacBook any more useful; it simply adds a great deal of charm to the device. Instead of populating the TouchBar with links or shortcuts to various features, the bar is completely taken over by a colorful, animated Nyan Cat.
15) Nyan Cat and Tom Waits make a terrific pairing
Thanks to 24-year-old GIF creator Kyle Weir, Nyan Cat got to meet the Nyan Rain Dog. In the video, the enigmatic songwriter is crouched over a Pop Tart guitar, galloping through space in style with a rainbow at his tail. A Waits-esque 'Nyan' growl soundtracks the entire thing.
16) Nyan Cat and Keyboard Cat teamed up for a lawsuit
Meme cats need to be hyper-protective of their copyrights. Just ask Grumpy Cat. Which is why Nyan and Keyboard got together. The duo sued Warner Bros. after likenesses of their memes appeared in the Nintendo game Scribblenauts without their permission. They said Warner Bros., as well as the developer 5th Cell, knowingly infringed on their cat copyrights. The duo settled out of court, with Scribblenauts getting to continue to use the two cats, but with both Torres and Keyboard Cat creator Charlie Schmidt getting compensated for their creations.
Editor's note: This article is regularly updated for relevance.