This summer marked the five-year anniversary of Psy's worldwide hit "Gangnam Style." Released on July 15, 2012, the song would become known throughout the world thanks to its highly repeatable catchphrase, as well as its absurd but wildly entertaining music video, which showcased Psy venturing through Seoul, Korea's Gangnam District. It's still one of the most-viewed video in YouTube history—and with good reason. 
In honor of its five-year anniversary, here are 20 facts about "Gangnam Style" that will remind you just how invasive the song really was. Because let's be honest, you tried to forget it. 
20 OPPA facts about "Gangnam Style"
1) "Gangnam Style" was Psy's 18th single
Prior to "Gangnam Style," Psy had already released a bunch of singles, dating back to 2001. Of course, "Gangnam Style" was Psy's first worldwide hit, but the artist had hit the No. 1 spot several times in Korea with songs such as "Bird," "Champion," "Entertainer," and "The End."
2) "Gangnam Style" has been awarded several Guinness World Records
The accolades are as follows:
Most viewed video online (Ed.'s note: On July 11, Charlie Puth and Wiz Khalifa's "See You Again" passed "Gangnam Style" for most views online, followed quickly by "Despacito.")  

Most "liked" video online

First video to be viewed more than 1 billion times on YouTube
First video to be viewed more than 2 billion times on YouTube

The "

Largest Gangnam Style Dance

" which took place during a performance at Seoul City Hall
3) T-Pain is partially responsible for sending "Gangnam Style" into the stratosphere

T-Pain was reportedly the first celebrity to tweet about "Gangnam Style," writing back on July 29, 2012, "Words cannot even describe how amazing this video is." The tweet was retweeted over 2,000 times, but T-Pain didn't stop there. Three days later he tweeted the lyrics to the song's chorus, and then he tweeted a video of Psy performing "Gangnam Style." By the end of August that year, the two were tweeting at each other, talking about a potential collaboration. Almost five years later, the world has yet to see a Psy and T-Pain collab, but at least we'll always have these tweets to remember T-Pain's part in making Psy a worldwide phenomenon.
4) The Korean Tourism Organization has a "Gangnam Tour"
It will "take you to the most interesting sites of Gangnam and tell you about the area's history," the tour's website reads. "We will visit the hippest shopping districts, eat delicious foods and wander through some of the coolest neighboring areas, such as the underground shopping centers and Samsung's headquarters. If you're up for it, we can even go to a Karaoke Party or a Korean Sauna." The tour lasts six hours, so be ready to venture through the district for most of the day.
5) A "Gangnam Style" dance-off between two Bangkok gangs resulted in a shootout
According to Thailand's Independent News Network, the incident occurred on Sept. 21, 2012. Two gangs were dining in the same restaurant when "the younger members of both groups danced provocatively at each other in the manner of top hit 'Gangnam Style.'" The dance-off turned into an argument and then a shootout in which one of the gangs "fired at least 50 bullets." Fortunately, no one was injured, and the two gangs (which apparently have a history of confrontation) received arrest warrants following the gun attack.
6) A group of teens in Australia took a bad batch of LSD imprinted with an image of Psy doing the "Gangnam Style" dance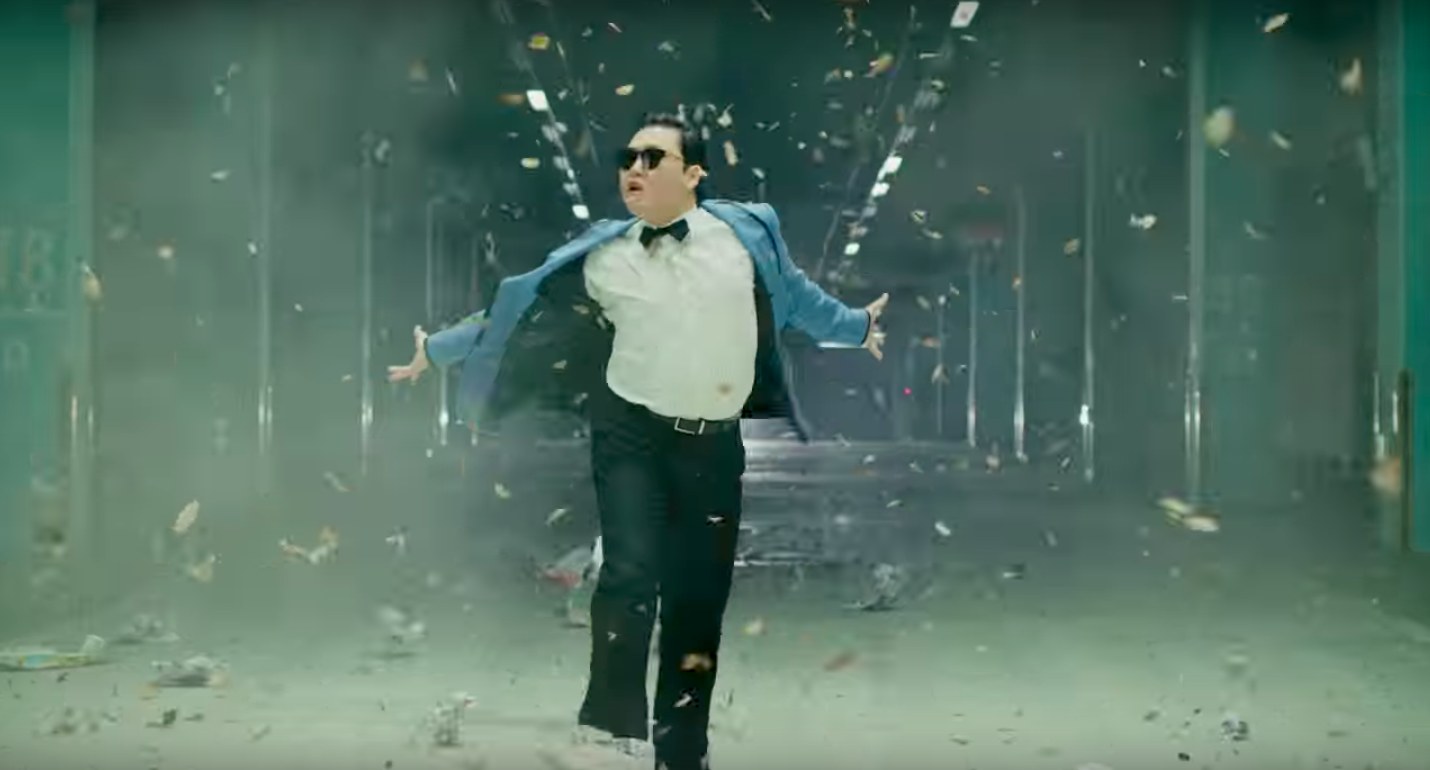 7) A man died while attempting the "Gangnam Style" dance
Eamonn Kilbride, a 46-year-old man, collapsed with chest pains and died at an office party while trying to do the "Gangnam Style" dance back in December 2012. The death prompted Bernard Keavney, a consultant cardiologist at Newcastle University, to advise other older men to not "stray outside your comfort zone" while attending Christmas parties.
8) Psy created the "Gangnam Style" dance during a talent contest at a post-concert event in August 2011
Speaking at Oxford University back in November 2012 about his worldwide success, Psy divulged the origins of "Gangnam Style," particularly its popular dance. "I was so desperate to get noticed I went to a TV production company in Korea and started doing a dance—a crazy dance—up and down the corridors," Psy recalled. Ultimately, the dance worked and he was offered a slot on the show. But Psy wanted to perfect the dance, so much so that he claimed to have "stayed up for 30 nights to find the … dance," and tried imitating elephants, monkeys, kangaroos, and snakes, before ultimately deciding on a horse.
9) A doomsday hoax is centered around "Gangnam Style"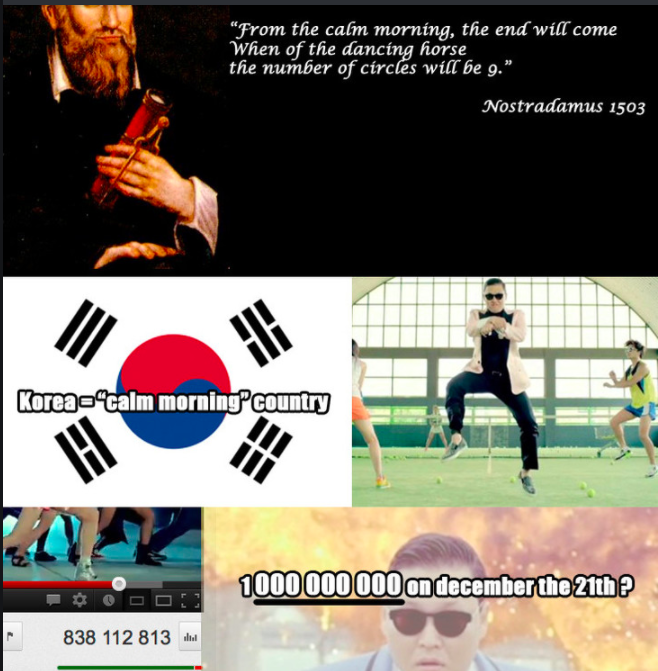 The English translation of the characters for Korea translates to "Land of the Morning Calm."

The dancing horse is in reference to the horse dance integral to the choreography of "Gangnam Style."

The nine circles is in reference to the "Gangnam Style" music video hitting 1 billion views on Dec. 21, 2012.
Piece it all together and you have a doomsday hoax where Psy was basically supposed to usher in the destruction of the earth. Fortunately, that didn't happen.
10) Psy's favorite "Gangnam Style" spoof was by the Ohio University Marching Band
Psy declared this particular spoof as his favorite during a Reddit AMA four years ago. However, even before the AMA, Psy had already spoken highly of the college marching band in an interview with the Herald Sun.
"Some college football team at halftime, they did some marching band, playing this music and suddenly they stopped marching and they put their instrumentals down and they are dancing my dances at the football field," Psy said. "That was like wow, I can tell their effort to prepare that. That was huge. It's so touching for me, that's what music is all about and that's what entertaining is all about."

READ MORE:

11) Psy genuinely has no idea why "Gangnam Style" was so popular
In an episode of Korea's Ask Us Anything that aired in May 2017, Psy admitted that he didn't know "Gangnam Style" would become as big as it did, and he spoke of the negative impact the success had on him. "It felt like it was my birthday and the day never seemed to end. Metaphorically speaking, I went up without preparing a parachute. I didn't know I would go up that high," Psy said. "I tried to ignore the fact that the audience is expecting a lot from me, and later I realized that the person expecting the most out of me is myself. So after 'Gangnam Style,' I kept on thinking, 'Why doesn't this song succeed like 'Gangnam Style'? I think that period in my life was the hardest for me."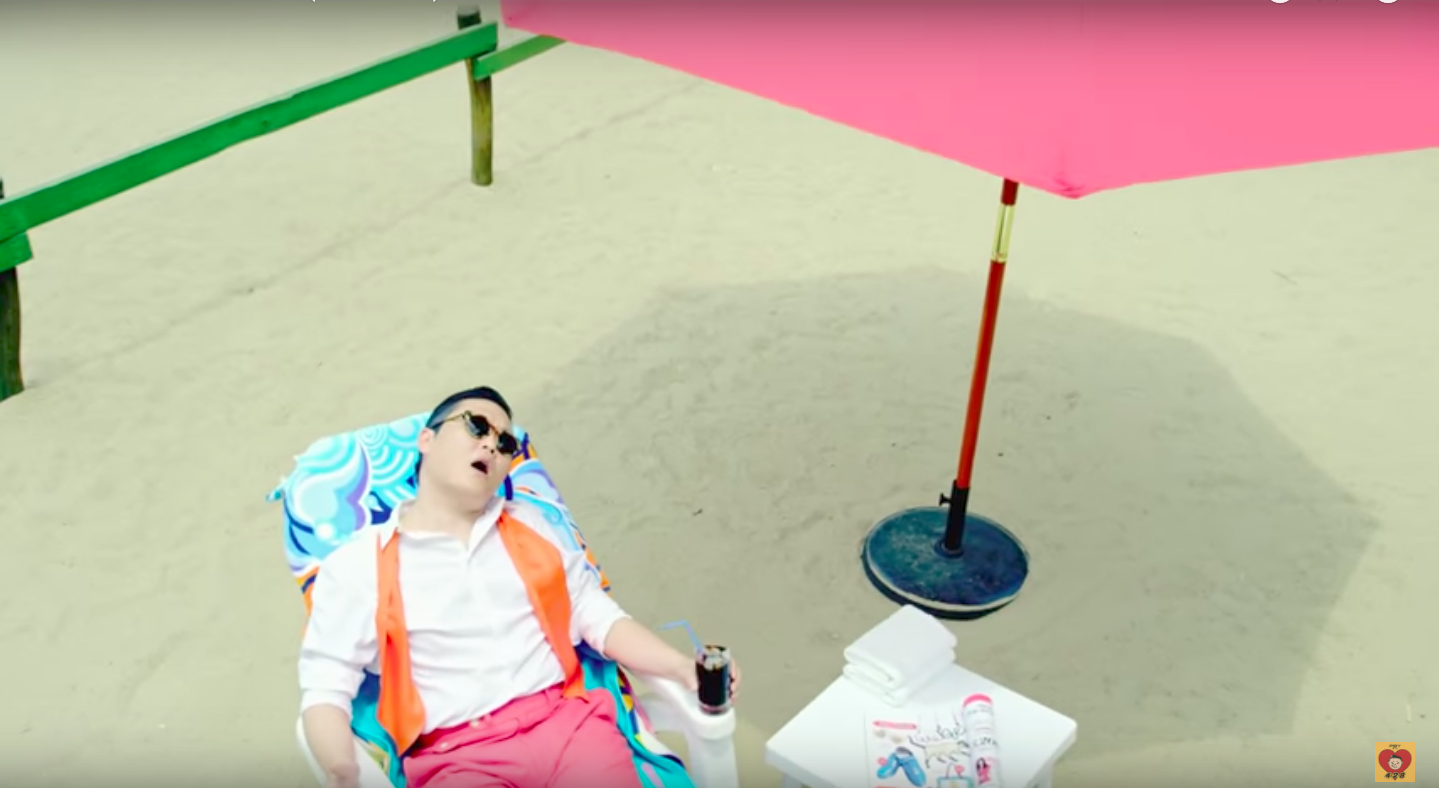 12) There was once a "Gangnam Style" food cart in New York, as well as a "Gangnam Style" restaurant in Los Angeles
Neither the food cart or restaurant exist anymore, having popped up when "Gangnam Style" was still a worldwide phenomenon. But the coolest thing about both was that Psy never sued them. Although his team briefly considered legal action against the restaurant, Psy didn't care about it at all, reportedly finding the imitation a form of honor.
13) There is a "Gangnam Style" monument in Seoul, Korea
Unveiled last year at Seoul, Korea's Coex Mall (at the eastern patio of the mall, where parts of the "Gangnam Style" music video were shot), the bronze statue shows two fists overlapping each other, referencing the popular dance associated with the hit song. But that's not all. Visitors approaching the statue can trigger sensor devices that surround the sculpture, which activates multi-colored flashing lights that are accompanied by the "Gangnam Style" song.
14) There is a Teddy Bear Museum in Korea's Jeju Island that features a life-size "Gangnam Style" bear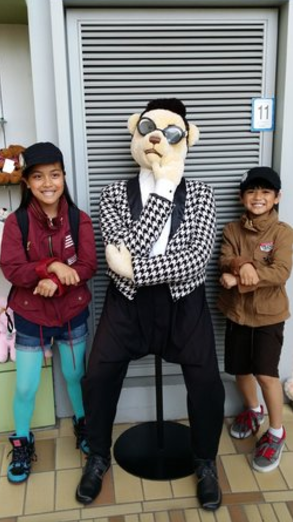 15) A "Gangnam Style" EP remix includes remixes from Afrojack and Diplo
Released in 2013, the four-song Gangnam Style (Remix Style) was highlighted by two remixes: one courtesy of Afrojack and the other Diplo, whose version features guest appearances from Tyga and 2 Chainz. Trust me when I say that the original is better, and you don't need to listen to the remixes unless you hate yourself.
16) There's a Psy comic book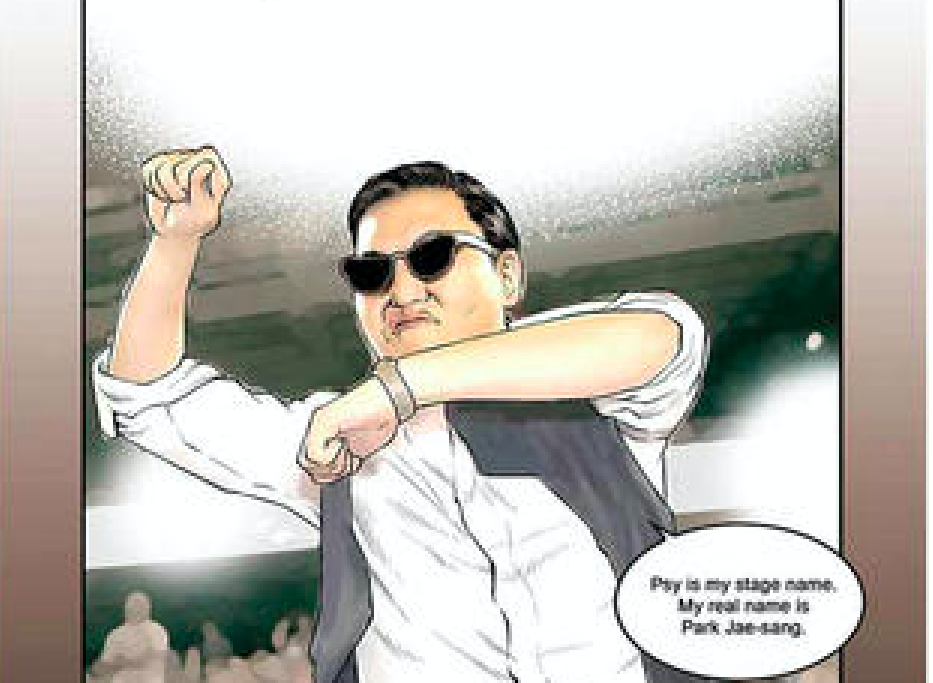 17) There's a 743-track collection of "Gangnam Style" mashups, reinterpretations, and remixes
It's a sequel to 2014's GANGNAMCORE, which featured over 100 reinterpretations of "Gangnam Style" from Bandcamp user Triple Q. GANGNAMCORE 2 (which is actually divided into two parts) primarily features the Psy hit song combined with popular songs from Nirvana ("Smells Like Teen Style"), Ricky Martin ("Livin' La Vida Gangnam"), Michael Jackson ("Stylish Criminal"), Eminem ("Forgot About Psy") and many, many, many others. Triple Q has also released a GANGNAMCORE 3, which is just as ridiculous as its predecessors. Each collection is $7 with all proceeds going to charity.

READ MORE:
18) "Gangnam Style" was used to protest censorship in China by Ai Weiwei
An ingenious use of pop culture phenomena for political and social commentary, Ai Weiwei created his own "Gangnam Style" spoof called "Grass Mud Horse Style" on Oct. 24, 2012. In the video, Weiwei not only called out the Chinese government for arresting him in 2011, but for the country's strict censorship laws, with the name of the video referencing a made-up creature, which has become a symbol to protest censorship in China. By the afternoon of Oct. 24, the video had been viewed 300,050 times, with most views coming from outside of China. Several hours after its release, Chinese authorities took the video down.
19) There's a conspiracy theory where if you watch "Gangnam Style" backward it's actually about Psy losing all of his friends in a dance competition.
It seems that this theory came about in the comments section for a video of "Gangnam Style" being played in reverse back in July 2012.
If you watch the gangnam style clip backwards, it's about a guy losing all of his friends in a dance competition. Like and share if true!

Posted by Gangnam Style on Friday, September 7, 2012
Unsurprisingly, only a handful of people seemed to notice the darker narrative that the video was telling when played backward.

20) There was a "Little Psy" in China, but he died
Real name Quan Minyu, the 12-year-old earned the name of "Little Psy" after he performed "Gangnam Style" on several different Chinese television talent shows. Unfortunately, in 2014, Minyu was diagnosed with a brainstem glioma (essentially a brain tumor) and traveled to South Korea in hopes of getting treated. Minyu continued to get worse and died from the effects of his illness on Feb. 6, 2016.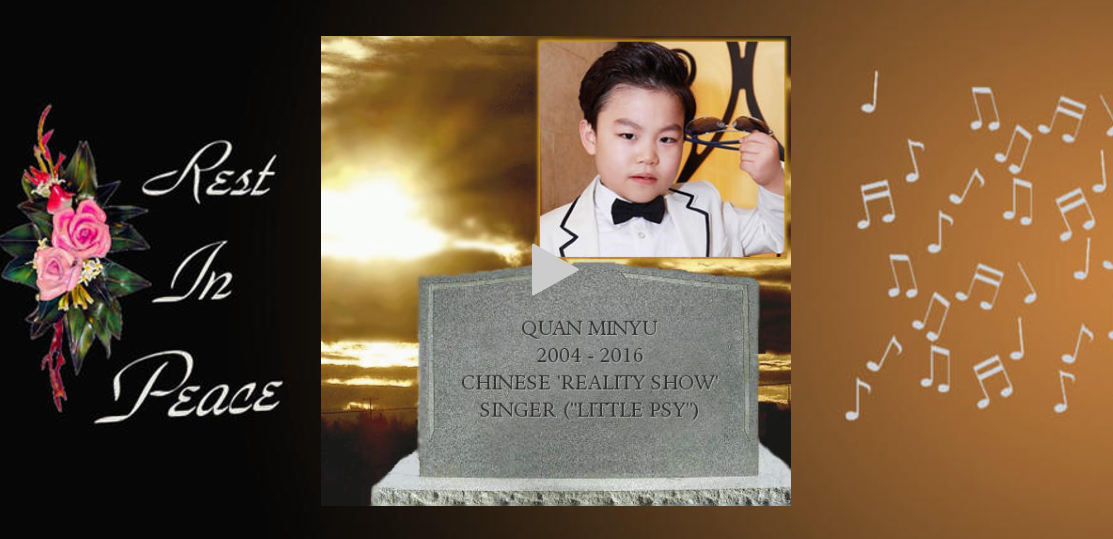 21) "Gangnam Style" was so popular it broke YouTube
When YouTube was invented, its founders underestimated how popular videos on the service would become. So they used a 32-bit integer for their view counter, which meant that it couldn't count over 2.1 billion views. "Gangnam Style" blew past that, and so they forced to upgrade to 64-bit integer.
Now, the counter goes all the way to 9,223,372,036,854,775,808 views.
"Despacito" still has a way to go.
22) YouTube got plenty rich off of "Gangnam Style"
"Gangnam Style" exploded on the internet, and perhaps the biggest beneficiary was the video hosting service themselves. Speaking in January 2013, Google senior vice president and chief business officer Nikesh Arora said that the video raked in $8 million in ad sales alone.
While it's not known exactly how much YouTube paid out back then, it's estimated Psy received about half that sum. Either way, it pales in comparison to Google's full earnings. The last quarter of 2012, they company pulled in over $14 billion.
23) Psy once retired "Gangnam Style"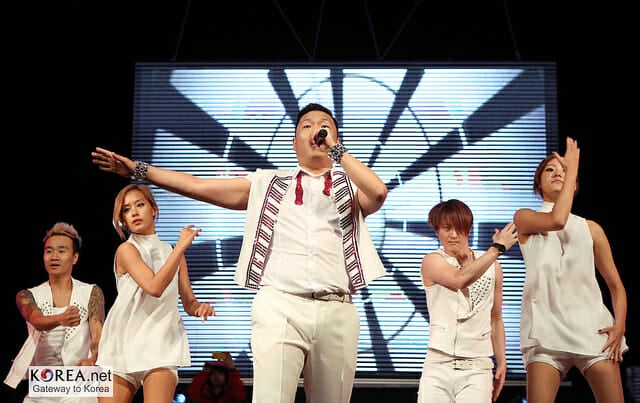 Psy announced in 2012 in an MTV interview that he planned to retire the song after he performed it in front of the crowd in New York City's Times Square during ABC's "Dick Clark's New Year's Rockin' Eve 2012."
"Being in Times Square on New Year's Eve is already special—it's the biggest stage in the universe—plus it's my birthday, so, with all that, it may be the ending of 'Gangnam Style,'" Psy said. "I mean, what better way to do it? It's my biggest and most meaningful birthday."
"The song became too popular, and so you start to have some concern about its life period," Psy continued.
If it truly was the last performance ever, Psy certainly went out with a bang, bringing out MC Hammer.