Porn and memes have been a perfect match since before an "internet meme" was even a thing. Back when there was no Facebook, no Twitter, and no Reddit, people were finding (barely) safe-for-work (SFW) ways to share porn jokes. Ironically, the advent of modern social media has made jokes based on "sanitized" porn even more popular. Unlike uncensored porn, sharing these comedy images doesn't violate the no-nudity clauses of some of the big networks. Here's how "SFW porn memes" went from a good joke on the Something Awful forums in the early 2000s to, 15 years later, a staple of the meme ecosystem.
The history of porn memes
In the beginning, there was a 2002 "Comedy Goldmine" post on humor site Something Awful called, "Make Porn Work-Safe." Comedy Goldmine was a regular feature collecting Photoshopped images from the Something Awful forums, always centered around a single theme: in this case, replacing the nudity in porn stills with regular, mundane objects.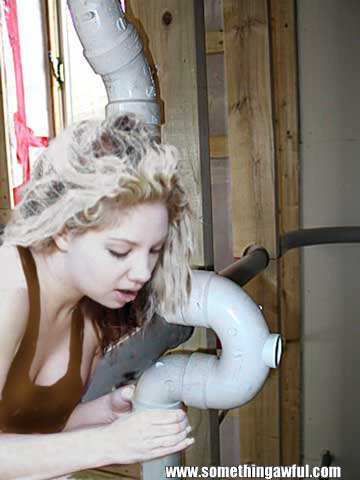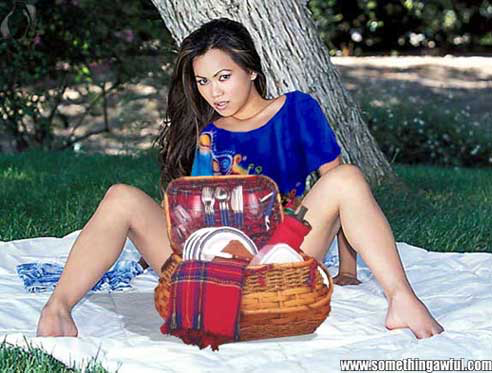 The concept proved so popular that it later inspired a second Comedy Goldmine post in 2006, plus an entire "safe for work porn" commercial for Diesel jeans, circa 2008. (Diesel would later become a meme itself, but that's another story.)
More than that, it inspired an entire cottage industry of web content. Sites like PornSFW , which sprung up around the time of the Diesel ad, are entirely devoted to shoddy MS Paint coverups of nudity and sexual content. Perhaps the most famous example of the genre is this image of a masturbating woman who now appears to be DJing: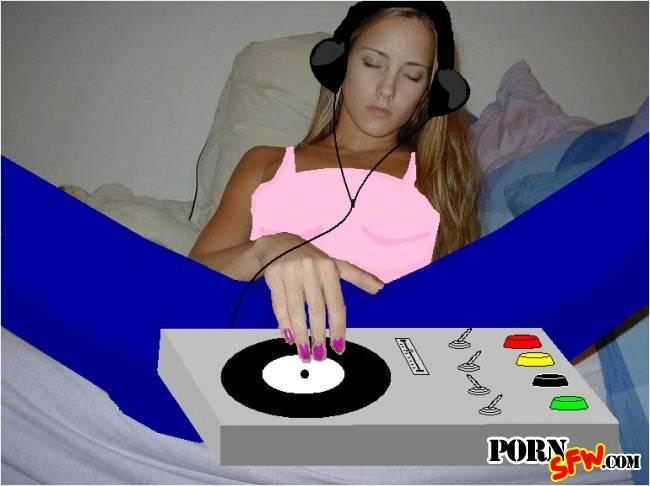 As social media rose in the late 2000s and early 2010s, Reddit became the locus of the SFW porn phenomenon. Although a lot of meme content on Reddit is imported from the wild west of 4chan's /b/, safe-for-work porn tends to be homegrown. Because 4chan has no qualms showing nudity, tentacle porn, bukkake, futa, mpregs, and anything else you probably don't want to Google, censored porn was never a necessity there. Occasionally, someone will make a "safe for work porn" thread, but the posts tend to be non-nude images that are meant to be arousing, not purely comical.
"Safe For Work (SFW) Porn is the opposite of NSFW pr0n and a /b/tard's worst nightmare. It is also one of the most pointless things on the internets because if you are at work you can't fap in the first place," Encylopedia Dramatica, the reference site for all things depraved and online, says.
But in other, non-4chan areas of social media, the lack of explicit nudity leads to more shares, making an image more likely to go viral.
There's a moderately active SFW porn subreddit with more than 7,000 subscribers and the tagline "It's ok to show your kids," and a much more active SFW porn GIFs community. That one has 35,000 members and is mostly devoted to animated GIFs of the wacky, non-sexual "plot" scenes from porn films. Many of the posts take a more traditionally meme-y form, with "when you …" and "MFW" (my face when) captions proposing funny explanations for the onscreen action.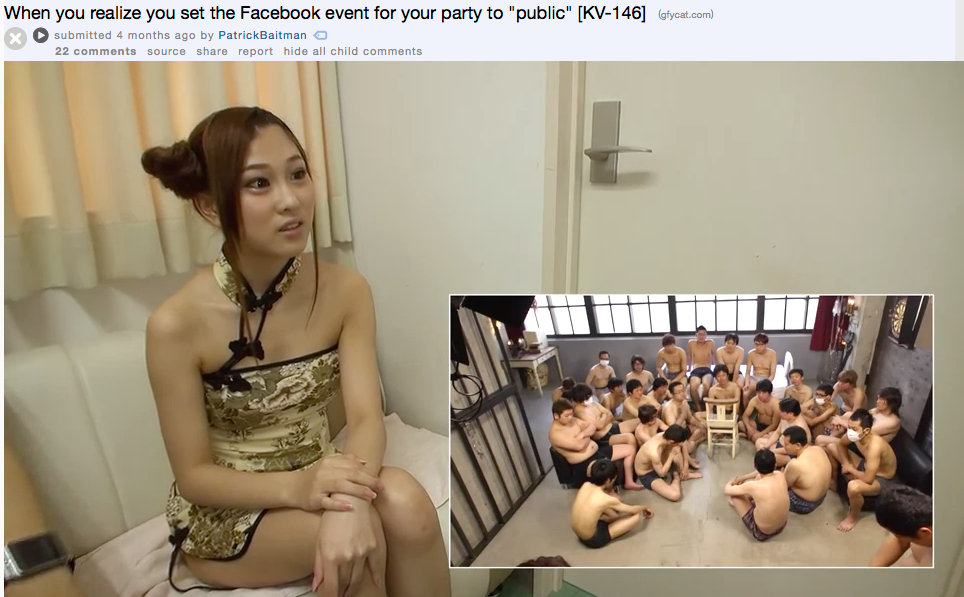 Only a few pornographic scenes have truly broken into the mainstream as standalone memes, though, and most of them seem to have come from Reddit in the past year or so.
"It's so fucking big" features porn megastar Tori Black from a scene she did for interracial pickups. The joke is to add a caption that describes a big, non-pornographic object or situation. Because there's no nudity, the memes ends up being mostly work-safe. (Porn nerds on Reddit have noted that Black actually says "Oh my god," during this scene, not "It's so fucking big," but that's beside the point and hasn't hurt the meme's popularity.)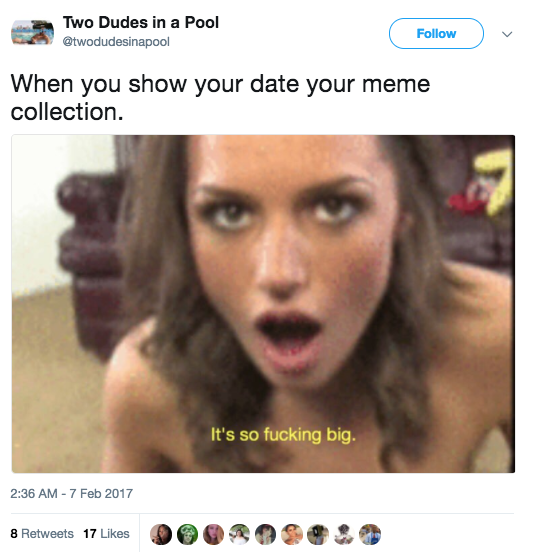 Another successful SFW-ish porn meme is  "what you see vs. what she sees," starring Elsa Jean. The joke here is to add a second image of someone not normally considered sexy, like a video game character or weird YouTube personality. The explicitly pornographic elements have been edited out, but the implication is that the second character is receiving oral sex from Elsa Jean. Because the entire joke here is "lol, blowjob," it's less safe for work than some of the other non-nude porn memes out there.
A more recent entry is "Oh fuck, put it back in," which went viral in July 2017. In this meme, taken from the video "Naughty Bookworms 43," porn actress Riley Reid seems distressed that something has come out. The joke is to write a non-sexual caption that refers to anything other than a penis. Good examples include, "When you take your hot pocket out of the microwave but it's still cold in the middle," and "When you take your clothes out of the dryer but they're still wet."
Not all porn-based memes come from Reddit, though. Twitter memers recently discovered hilarious a scene from gay porn site men.com where an attractive woman eats a salad while two men discreetly have sex in her kitchen. When she catches onto what's happening, she delivers the immortal line "Seriously? Right in front of my salad?"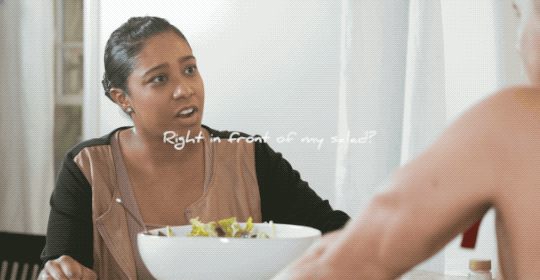 The quip has become a universal way of expressing surprise or disgust at anything, and the actress, Nikki V., has become internet famous as a result. Because the meme is basically just a catchphrase, sometimes paired with a screengrab of Nikki's face, it's the safest of safe-for-work porn humor. If you didn't know the context, you wouldn't guess it was from a porn video at all.
READ MORE:
Edited porn memes have a bright future in a world where women are fighting to "free the nipple" on censored platforms like Facebook and Instagram. They're a way of dodging the censors and having a laugh at the same time, and there's a bit of winking going on between people who know where the images originally came from.
But, because they're still porn pics, many of them still carry a bit of a stigma that keeps them from becoming totally mainstream. As one poster on Reddit's meme economy subreddit, where users debate the relative value of memes in a mock stock market, put it, "normies won't touch a blatant porn meme." A safe-for-work porn meme is never really at risk of becoming overexposed on social media. In fact, you might say the point of it is to be just exposed enough.