At the risk of getting all Andy Rooney, kids these days don't appreciate how good things are these days for anime fans. In the '90s the only way to watch anime was by purchasing expensive VHS tapes which often only contained two or three episodes. In the '00s, things got marginally better with the introduction of DVD boxsets, but they were still often prohibitively expensive to purchase, leaving you beholden to whatever your local video store stocked.
Today, thanks to the magic of streaming, anime fans can gorge themselves on more content they fans of yesteryear could ever fathom for less than the cost of a DVD. Of course, with increased options comes increased competition. Many services even offer simulcast with Japan, meaning you won't have to wait for an import to see a hot new series.
With so many options, it can be hard to find the right service. Here's a rundown of the major players, and where they currently stand.
If you want an unending fountain of anime and live-action Asian TV shows, Crunchyroll is as good as it gets. Offering up tens of thousands of episodes across a wide range of genres, simulcasted shows from Japan, and even some films, Crunchyroll is an anime fan's dream come true. The service features deep genre categories, ensuring that fans of giant robots and romantic dramas are treated with the same level of care.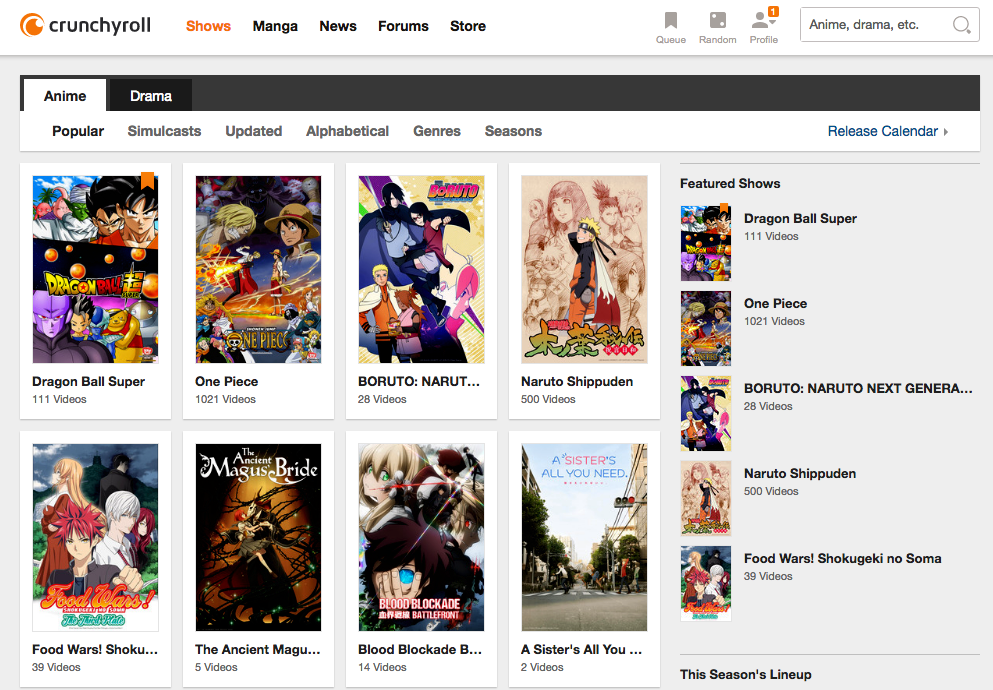 Crunchyroll offers Action, Adventure, Comedy, Drama, Ecchi (sexy), Fantasy, Historical, Mecha, Romance, Science Fiction, Seinen/Mature, Shoujo, Shounen, Slice of Life, and Sports. No matter your level of interest in anime, Crunchyroll's massive catalog has something for you. Its biggest issue is the sheer amount of content can sometimes be intimidating at first, especially if you're not sure what to watch. (Here are our top picks for the best anime on Crunchyroll.)
Beyond its animation selections, Crunchyroll has over 100 live-action series and films to watch, including the original live-action adaption of the mega-popular Death Note. From high school melodramas to cop shows and ninja stories, Crunchyroll's live-action section is a fully formed addition to the service.   
Cost: Free for standard definition with ads, or $6.95 for an ad-free HD experience. A $59.95 annual plan is also offered. During the average 20- to 30-minute show, you can expect to see at least three ads using the free experience. Want to try premium? Crunchyroll offers a 14-day free trial.
Simulcast with Japan: Yes
Who is it for? Anime obsessives who swoon at the idea of almost a thousand animated series at their fingertips.
How do you watch anime on Crunchyroll? Crunchyroll is available on Xbox One, Xbox 360, PlayStation 4, PlayStation 3, PlayStation Vita, Wii U, Apple TV, Roku, Amazon Fire devices, Google Chromecast, iOS, Android, and even Windows phone.
Watch anime online: Netflix
Netflix is one of the largest streaming services in the world, with over 100 million subscribers. Netflix is investing heavily in anime, producing the critically acclaimed and anime-influenced series Castlevania earlier this year. While the response to its original anime series Neo Yokio was mixed, the service has pledged to produce 30 new anime projects in the coming years. So, obviously, there's a lot to look forward to.
With high-quality HD, massive market share, and a familiar interface, Netflix is a solid service for many casual anime fans.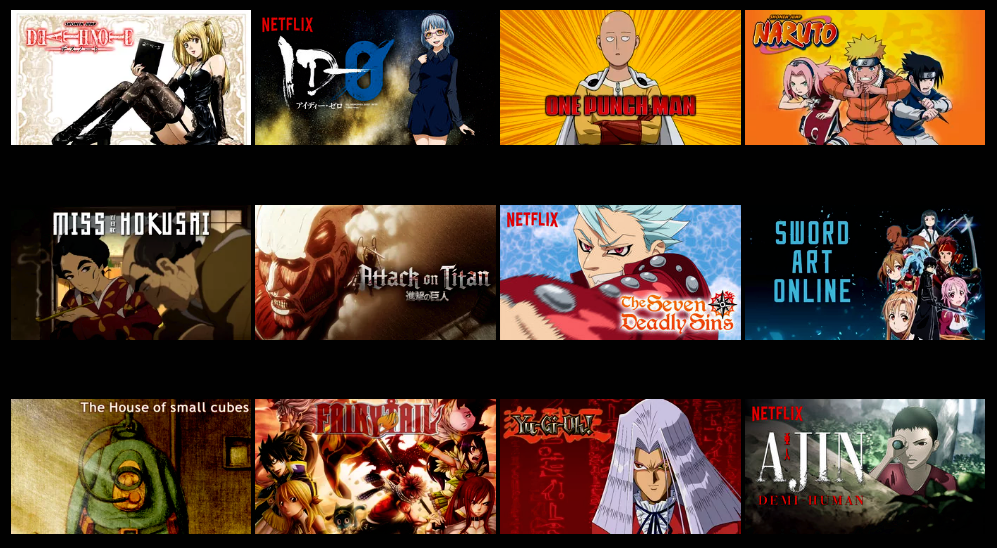 There's just one issue: a severe lack of options. Netflix currently has 119 titles streaming, and those titles are almost exclusively action-based. Beyond that issue, many of those titles are different parts of the same series, with four Inuyasha movies, three Berserk: The Golden Age movies, six offerings from Naruto, and so forth. While the titles they offer are great, there isn't a lot of variety available. Of course, if you're already subscribing to Netflix and don't want to sign up for another service, it's nice to have. 
READ MORE:
Cost: Netflix costs $7.99 per month for one screen at a time in SD, $10.99 per month for two screens in HD, or $11.99 per month for four screens in HD and Ultra HD. There is no free option.   
Simulcast with Japan: No
Who is it for? People who like anime but not enough to subscribe to a new service to watch more than a limited number of titles.
How do you stream anime on Netflix? Netflix works on basically every streaming device known to man. You can even use it with Kodi. If you have an internet connected game console, it supports Netflix. If you have a smartphone that uses Android, iOS, or Windows, it supports Netflix. If you have a streaming stick or device it also supports Netflix. Our point is, at this point almost every streaming option that can connect to the internet has Netflix.
Watch anime online: Hulu
Hulu hasn't made a big deal about its anime selection, which is surprising given the depth of content it offers. While Crunchyroll excels at deep cuts and legendary series, and Netflix does its best with a limited offering, Hulu is quietly becoming a major force in the anime streaming world with an archive of beloved series and films. '90s anime nerds will flip out to see series like Cowboy Bebop, Fist of the North Star, Ranma ½, Rurouni Kenshin, Slayers, and Trigun among their streaming options.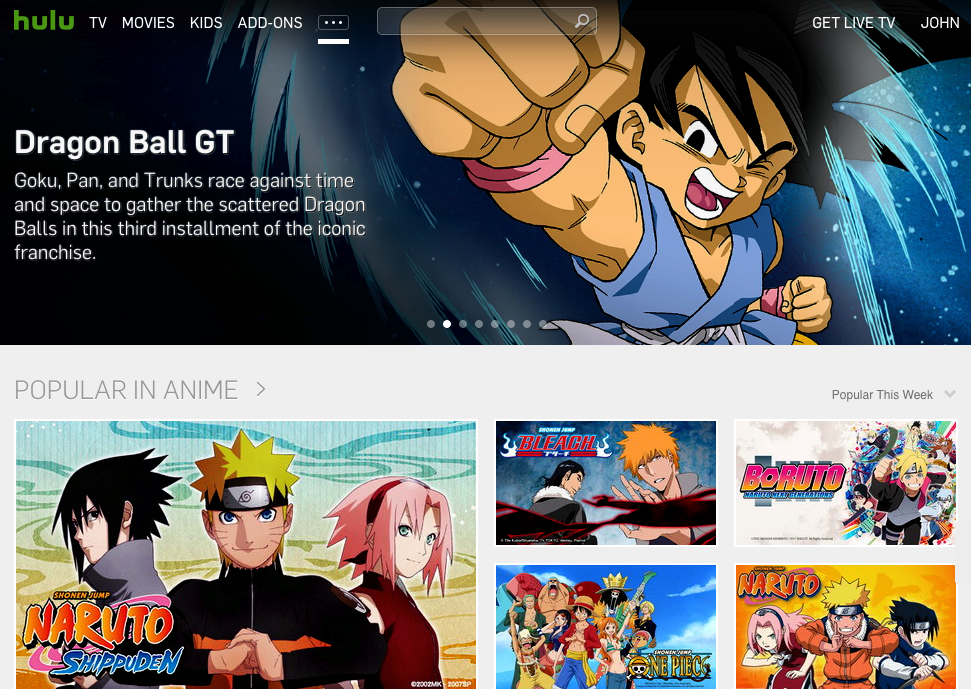 If you're looking for new episodes, Hulu is currently simulcasting eight different series as they air in Japan. Of all the services, Hulu also offers the best movies, including essential titles like Akira, Ghost in the Shell, Ninja Scroll, and Trigun: The Movie. Sadly, what its movie selection can boast about its quality, the same can't be said for its quantity. Hulu offers hundreds of series but only a few dozen films. Still, between the two major streaming services on this list that you probably already subscribe to, Hulu is far superior to Netflix, at least for now.   
READ MORE:
Cost: $7.99 per month with ads, $11.99 per month without ads.
Simulcast with Japan: Yes
Who is it for? People who want a deeper selection of anime than Netflix but also want to stream standard TV and movies.
How do you stream anime on Hulu? As with Netflix, Hulu streams on basically every device, smartphone, streaming stick, and game console on the market. Yes, that even includes your beloved Kodi.
Funimation has been supplying American audiences with anime since 1994, finding wild success with Dragon Ball Z, along with other classic properties. If you grew up worshiping Toonami, you owe Funimation a hug. While Crunchyroll focuses more on current hits and obscure classics, Funimation aims to draw in fans with a massive grouping of classic shows and new dubbed content. Every wanted to see all nine seasons of Dragon Ball Z, its movies, and specials? Funimation is the place for you.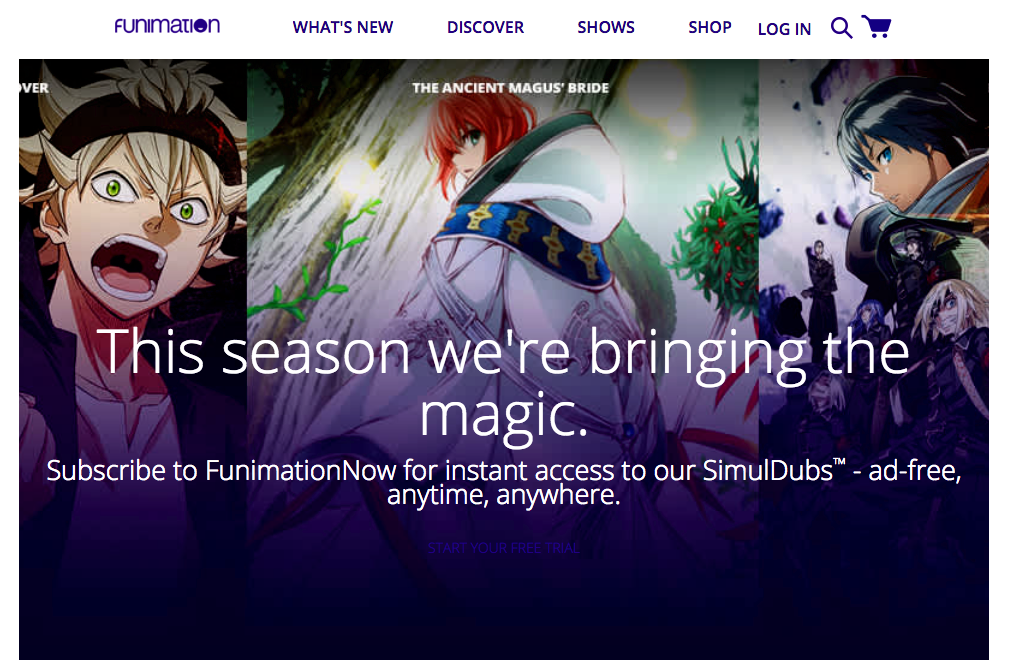 There is a fair amount of overlap between Crunchyroll and Funimation, but each service offers hundreds of options you won't find on the other, thanks to a partnership the two services reached in 2016. Crunchyroll offers more genres, but Funimation still has a broad scope of titles across every type of anime. Funimation boils its choices down to Action/Adventure, Comedy, Drama, Fan Service, Fantasy, Horror, Live-Action, Psychological, Romance, Sci-Fi, Shoujo, Shounen, and Slice of Life.  
Funimation also includes far more movies than Crunchyroll, but the series-based focus of both service's sites makes it difficult to separate the films from the shows. Funimation has also put a broader focus on dubs than Crunchyroll, so if you hate reading subtitles, Funimation is a better choice. Either way, you'll get more anime than you could ever possibly watch. It all comes down to the little details.
Cost: $5.99 per month or $59.99 per year, with a 14-day free trial.
Simulcast with Japan: Yes
Who is it for? Anime fans who want a massive library of series and movies to watch but are more interested in dubbed shows than subtitled ones. Or you want to watch all of Dragon Ball Z.
How can I stream it: Funimation can be watched via almost every major streaming option, including iOS, Android, Windows Phone, Apple TV, Chromecast, Xbox One, Xbox 360, PlayStation 3, PlayStation 4, PlayStation Vita, Roku, Amazon Fire TV, and Kindle Fire.
READ MORE:
Watch anime online for free: YouTube
YouTube, home of all the content you can imagine with all the questionable legality of early internet streaming. Given the service's massive user base, it's not surprising that you can find tons of anime on YouTube, but the quality and consistency of it wildly varies. Of course, you don't go looking for free content on YouTube because you care about video quality; you go to find things you can't find other places.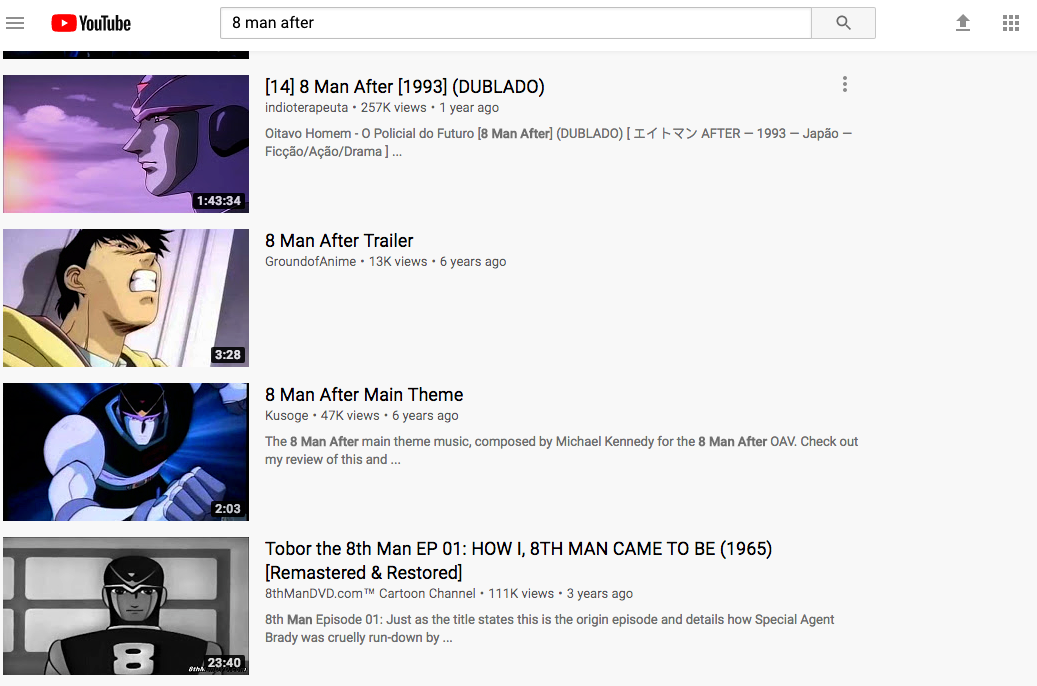 YouTube's audience has filled the site with out-of-print classics and modern hits that have yet to make it to America. You just have to take occasionally shoddy quality video, the risk of odd dubbing, and a series getting pulled off for copyright reasons before you can finish it as the cost of doing business.
READ MORE:
Cost: Free
Simulcast with Japan: Sometimes, but not officially. If you want the latest new series, you're gonna need to subscribe to an official service.
Who is it for? People who don't want to pay for a subscription to a streaming site.
How do you stream anime on YouTube? YouTube is everywhere. It works on every major computer, game console, streaming device, smart TV, and smartphone on the market. The only exception is Amazon's Echo Show device, which recently lost the ability to use the service.
Editor's note: This article is regularly updated for relevance.