We crawl the web so you don't have to.
Sign up for the Daily Dot newsletter to get the best and worst of the internet in your inbox every day.
Hello fellow citizens of the internet! Kira here. Welcome to today's edition of web_crawlr.

Today's top stories are about: a supposed elevator hack that teaches you what to do when disaster strikes, a viral video about a mom who says she hates parenting, the right-wing conspiracy theories surrounding the Lewiston shooting, and a new brand of fraternity hazing brought to you by TikTok.
After that, dig into Ramon's "Main Character of the Week" column and answer our weekly news quiz.
Until tomorrow,
— K.D.
---
⚡ Today's top stories
One TikTok claims to have the solution to your worst fear coming true, but does the science check out?
A mother recently went viral on TikTok after she expressed a truth many mothers feel—she hates parenthood. Viewers had thoughts.
Though conspiracy theorists might say otherwise, there is no evidence the shooting is related to Israel or Palestine. X has only furthered the confusion.
The new Greek life trend may be a safer way to "haze" new pledges.
---
We crawl the web so you don't have to. Sign up to receive web_crawlr, a daily newsletter from the Daily Dot, in your inbox each day.
---
👀 Take our weekly news quiz!
Are you the most online reader of web_crawlr?

Prove it by answering our question of the week! The answer can be found somewhere in one of our newsletters from this week.

If you answer correctly, you'll be entered to win our brand new "Crawl Into Fall" shirt, and we'll shout out five people who won the shirt!
Which billionaire recently shot up his own car to prove it was bulletproof?
Think you know the answer? Sign up for web_crawlr so you can answer next week's question!
---
👑 Main Character of the Week
By Ramon Ramirez
Managing Editor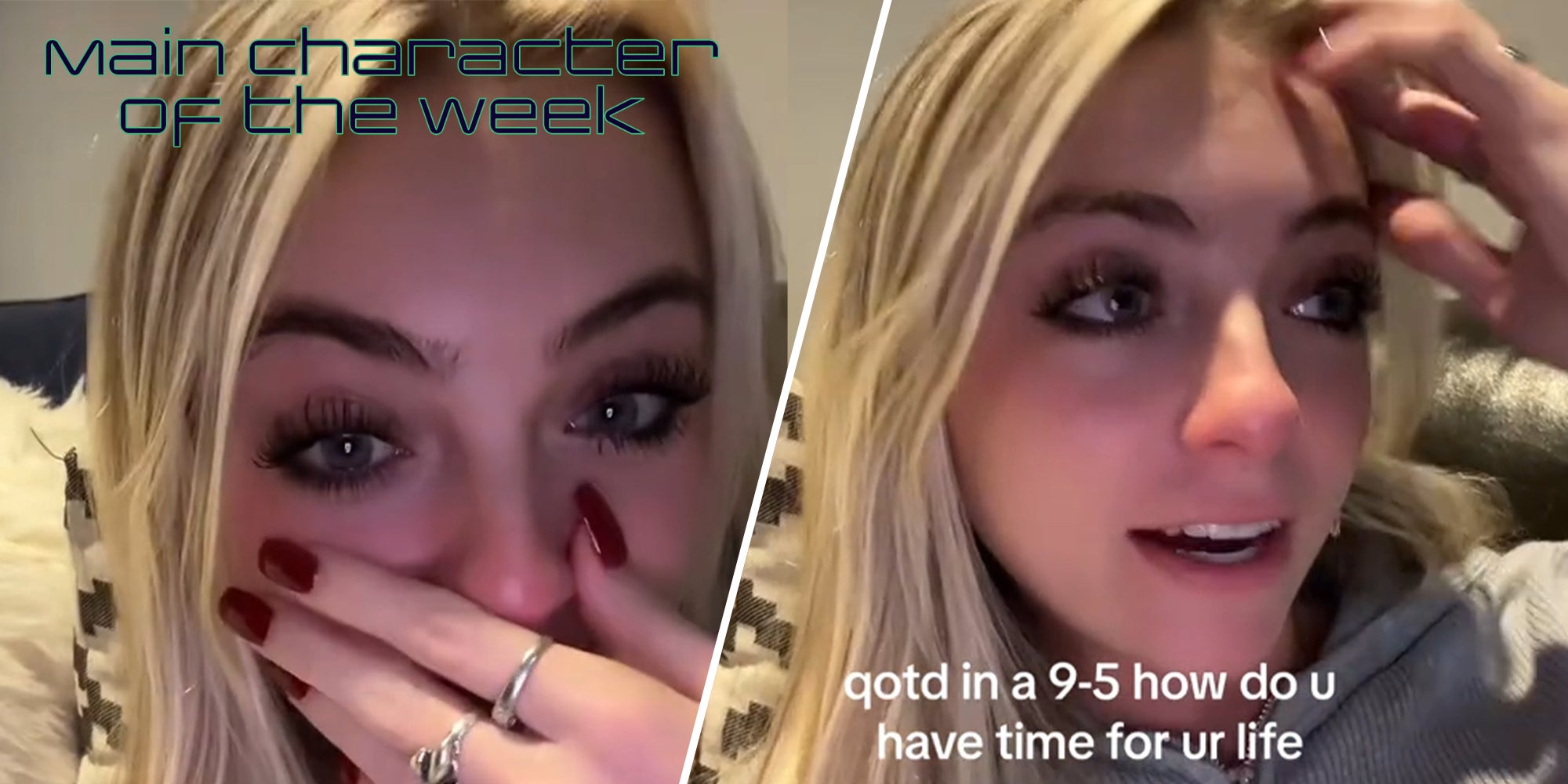 Main Character of the Week: 9-5 struggles girl
Main Character of the Week is a weekly column that tells you the most prominent "main character" online (good or bad). It runs on Fridays in the Daily Dot's web_crawlr newsletter. If you want to get this column a day before we publish it, subscribe to web_crawlr, where you'll get the daily scoop of internet culture delivered straight to your inbox.
---
🕸️ Crawling the web
Here is what else is happening across the 'net.
🩺 A TikToker took her friend to a musical festival so he could get his sore throat checked out at the medical tent, proving just how expensive healthcare in the US is.
🐕 A woman dressed up as a 'crusty white dog' for Halloween, calling it 'the perfect mix of hot, offensive, and funny.'
🗳️ Trump called Speaker of the House nominee Tom Emmer a RINO (Republican in Name Only) and he dropped out of the race.
💵 Crypto bro Ben Armstrong tagged both his wife and his mistress in his divorce post. He was quickly ratioed.
🍲 A couple questioned a restaurant's 20% service charge policy, igniting a debate about tipping culture.
🔋 A man on TikTok revealed the purpose of the Duracell battery package, shocking viewers.
📺 Get stunning color and light from every corner of the room with the best OLED TVs on the market.*
🌐 From the Daily Dot archive: Here are the viral marketing campaigns that helped shape the internet as we know it.
---
👋 Before you go
A popular TikToker, Jorlala (@bhadbarista), went viral after recounting how a customer demanded a refund—and a remake—on a sandwich she'd ordered the day before.
The barista reenacted an encounter with a disgruntled woman who demanded a refund and a new sandwich. When Jorlala explained that she could either issue a refund or remake the sandwich—but not do both—the customer lost her cool.
Jorlala began to make the woman a new sandwich, but when she opened the bag, she realized the woman had already eaten it the day before. To make matters even more frustrating, Jorlala brought her manager in and he took the customer's side, giving in to her demands. "i do not miss having these types of managers," Jorlala wrote in the caption.