The only thing more exhilarating (or stressful) than the 2018 midterms race is Election Night. Control of both the Senate and House of Representatives is up for grabs, and most races are too close to predict. Whether you're looking to live stream election results on a traditional cable news channel like CNN or MSNBC, or you're looking for special coverage from respected news outlets like the Washington Post or some lighter fare from late-night hosts, here's everything you need to watch online. 
Election results 2018: 8 ways to watch online for free
All of the major live TV streaming services offer at least a free seven-day trial. If you haven't yet cut the cord or you're just stuck on mobile for Election Night, this is a great opportunity to see what you've been missing.
Cost:

$39.99 for your first month and $44.99 per month thereafter (after a 7-day free trial)

Devices:

Roku, Apple TV, Amazon Fire, Android TV, iOS and Android devices

News channels for 2018 election results:

CNN, CNBC, Fox News, MSNBC, BBC America
Billed primarily as a sports-focused streaming service, FuboTV isn't surprisingly solid for news as well, providing the four main pillars of cable news (CNN, CNBC, Fox News, and MSNBC), as well as BBC America. In addition to a ton of specialty sports channels, you'll also get great channels like AMC, Syfy, FX, and more. (Here's a complete guide to FuboTV channels.)
Game-changing feature: Three-day replay for games and 30 hours of cloud DVR.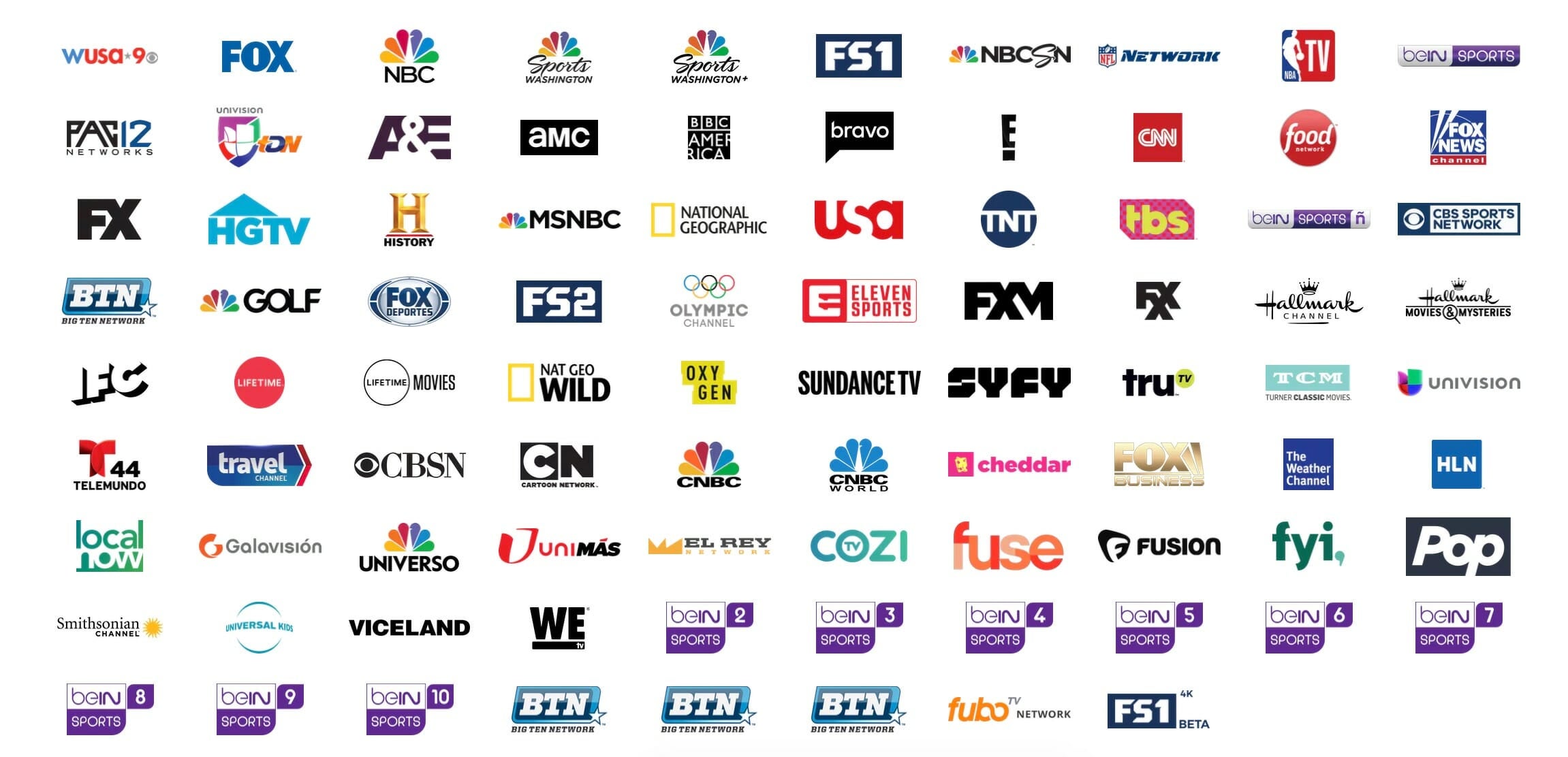 Sling TV is split up between two separate basic packages (which you can combine for a premium), and a few add-on options, so getting your news and election results can be tricky. If you're a Fox News acolyte, you're out of luck. Sling TV doesn't offer it at all. But if you want CNN, both Sling Blue and Sling Orange offer it, but Blue will get you more overall channels. If you want MSNBC or CNBC, you'll have to pick Blue (or the combination Sling Orange + Blue package), then add on Sling's "News Extra" package for $5 per month. It's a bit of a jumble, but Sling TV is worth the hassle.  (Here's a complete guide to Sling TV channels.)
Game-changing feature: Price. Sling TV offers the most flexibility for the least amount of money.
Cost:

$40 per month (after a 7-day free trial)

Devices:

Roku, Apple TV, Google Chromecast, Amazon Fire Stick and Fire TV, Xbox One, Xbox 360, Nintendo Switch, and iOS and Android devices

News channels for election results:

CNN, Fox News, CNBC, MSNBC, ABC
There's no BBC available on Hulu (or any Viacom properties, like Comedy Central), but you get the majority of necessary news channels to keep up with election results from a variety of political perspectives. (Here's a complete guide to Hulu Live TV channels.)
Game-changing feature: Every subscription comes with free access to Hulu's on-demand library, meaning you can catch up on all of your favorite shows. (Here are our picks for the best movies on Hulu, Hulu documentaries, anime, and the must-see Hulu originals.)

Cost:

$40 per month (after a 7-day free trial)

Devices: 

Google Chromecast

,

Roku

,

Apple TV

,

Android TV

, Xbox One, iOS and Android devices

News channels for election results:

BBC World News, CNN, Fox News, MSNBC, CNBC
YouTube has a fair bit of fluff (do you really need a channel devoted to Seattle Sounders FC?), but you've got basically every option you need for election results 2018 coverage. If you're looking to keep the streaming service after the election, there are better entertainment packages out there, but YouTube TV is great about letting up to six people make accounts through one subscription. And it's the same price as Hulu with Live TV. (Here's a complete guide to YouTube TV channels.)
Game-changing feature: You can add up to six accounts per household, and each one of those accounts gets unlimited cloud DVR. Even better: You can fast-forward through ads in recorded programs.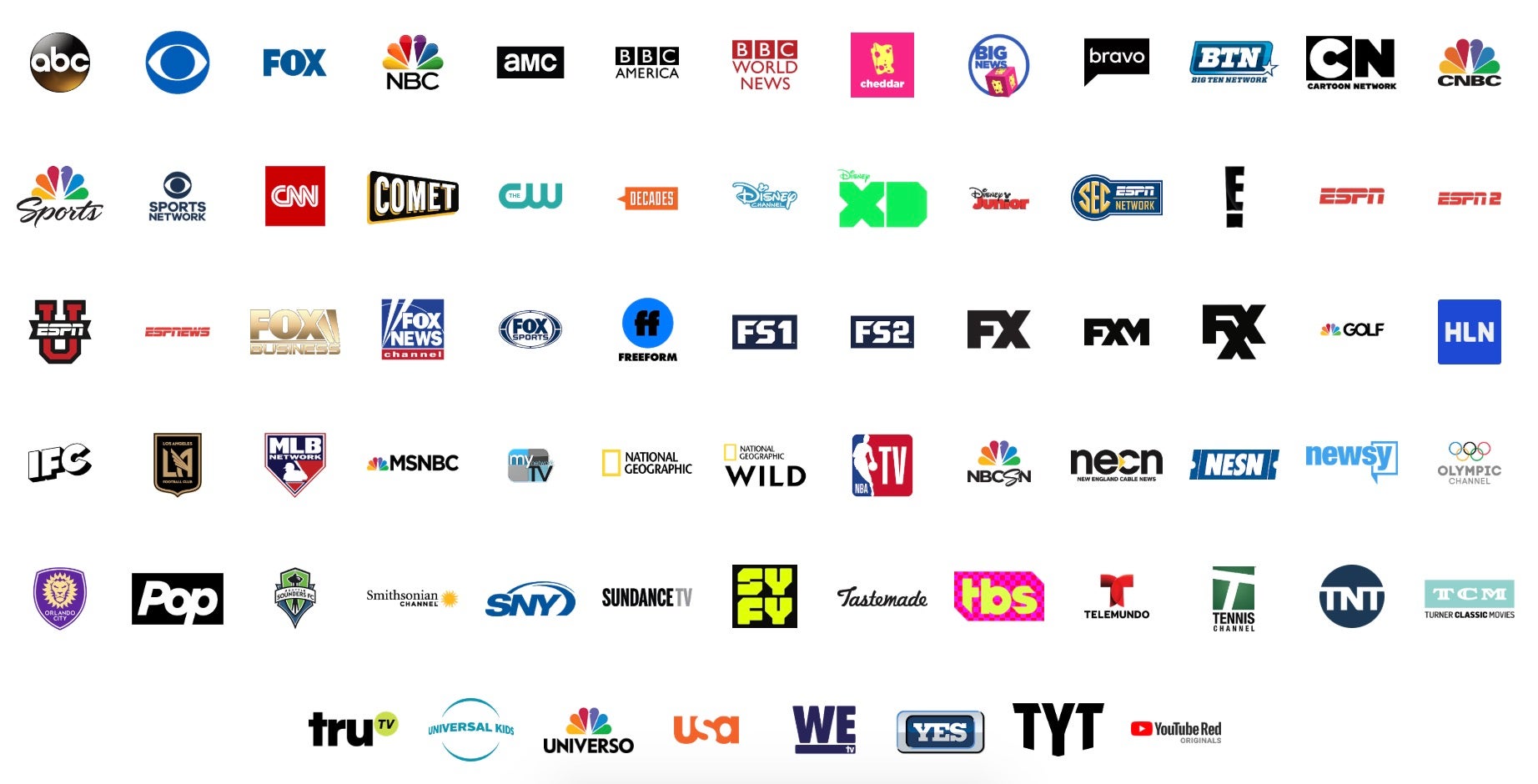 Even though it sits in the standard-to-high price range, DirecTV Now gets you the most bang for your buck. With more than 65 channels, the entry-level Live a Little package will get you the major news networks, but not BBC World News, unfortunately. You'll have to go two packages up to the $65-per-month Go Big option for that. If you plan on keeping the streaming service after election results 2018 are in, DirecTV Now is the cheapest way to get HBO as an add-on, for a measly $5 per month. (Here's a complete guide to DirecTV Now channels.)
Game-changing feature: AT&T Unlimited customers can save $25 a month off every DirecTV Now package.

Cost:

$44.99-$79.99 per month (after a 7-day free trial)

Devices:

PlayStation 3 and 4, Roku, Amazon Fire, Google Chromecast,

Kodi

, iOS and Android devices

News channels for election results:

CNN, CNBC, Fox News, MSNBC
PlayStation Vue is available on way more than just your living room console, and altogether it's not a bad option for watching election results 2018 on the four main news networks. That said, its more expensive packages quickly delve into redundant channels you'll never watch. The silver lining is that PlayStation Vue has one of the wider selections of add-on packages, including Spanish-speaking channels and HBO. (Here's a complete guide to PlayStation Vue channels.).
Game-changing feature: You can stream on up to five devices at once, and there's unlimited cloud DVR.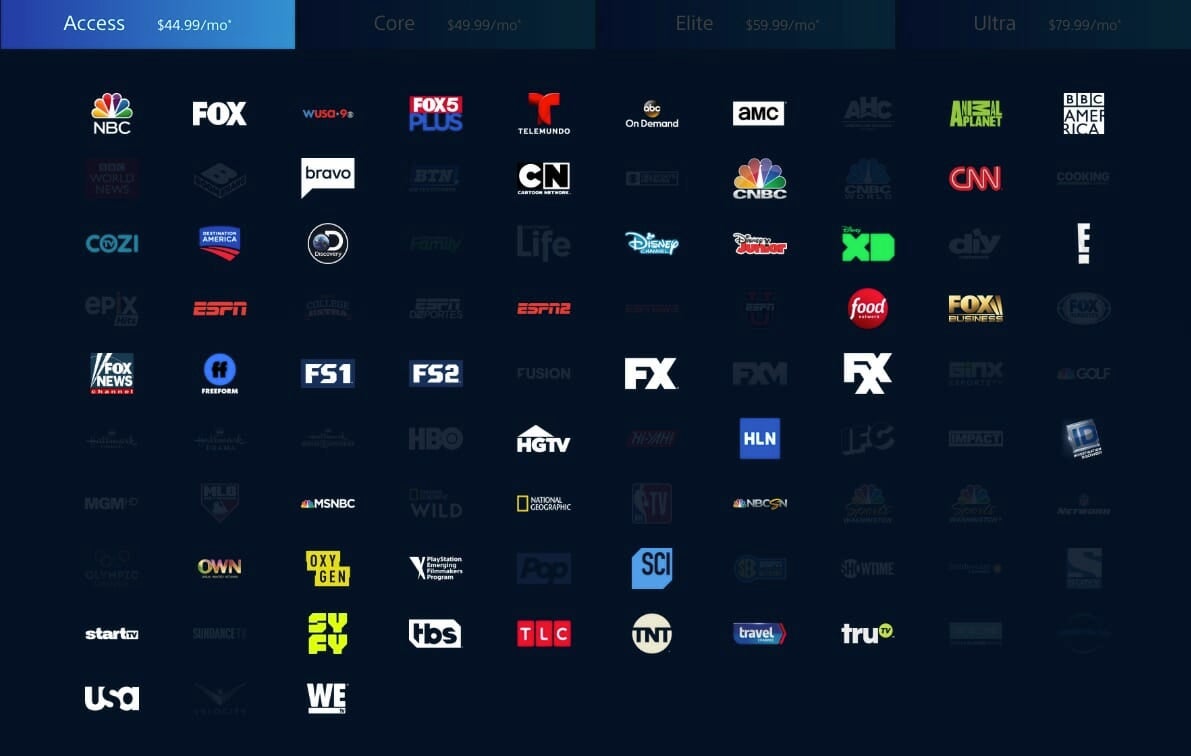 Cost:

Free

Devices:

Desktop, iOS, Android,  

Roku

,

Apple TV

,

Amazon Fire TV

,

Android TV

, and

Google Chromecast

, PS4.

News channels for election results:

 CBSN, NBC News, CNBC, Bloomberg, TV Election 2018, TYT Network
Yep, that's right free, and it'll get you live streams of NBC News, MSNBC, CNBC, CBSN2, and a few other smaller options. PlutoTV's channel lineup is very untraditional. Instead of major channels like AMC or FX, you'll get more genre-based options. Dig martial arts action? Try out Flicks of Fury. Stand-Up 24/7 is exactly what it sounds like, and Anime All Day will fill your heart with giant robots piloted by cute girls. And thanks to a recent update, you'll also get TYT network and a special TV Election 2018 channel. (Here's a guide to Pluto TV)
Game-changing feature: Besides being free, Pluto TV is a familiar format for anyone coming from cable channel grids.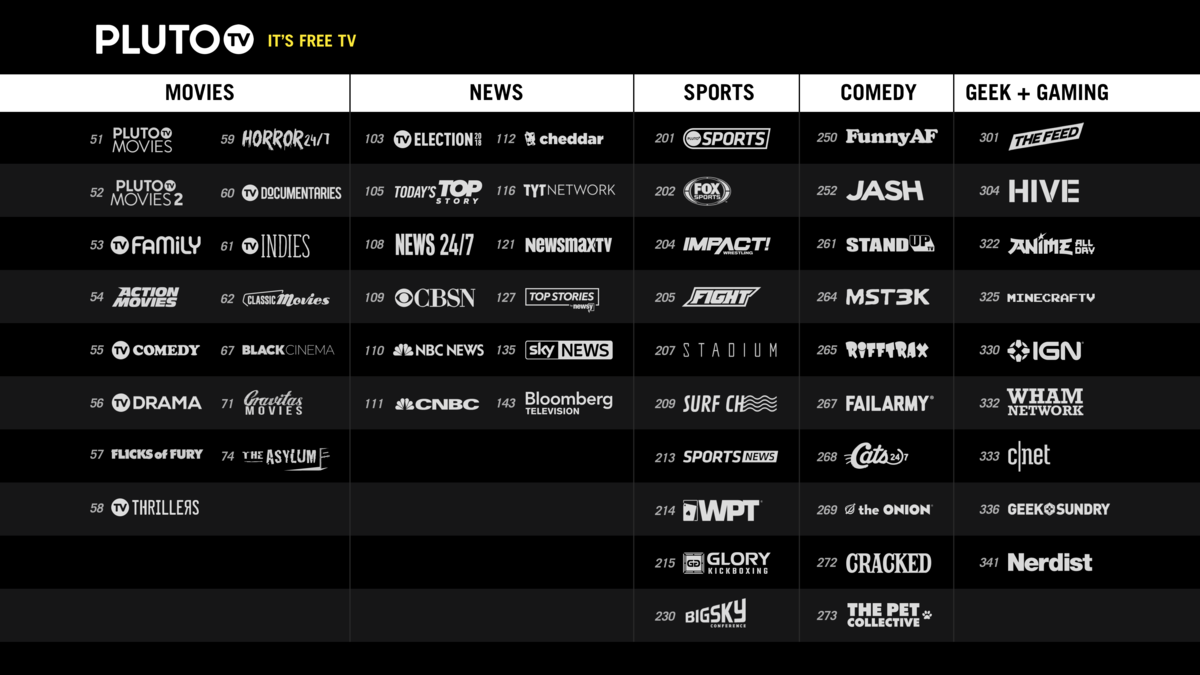 Cost:

$16 per month (after a 7-day free trial)

Devices:

Roku, Apple TV, Amazon Fire Stick, iOS, Android

News channels for election results:

BBC World News
The good news is Philo TV is almost $10 cheaper than Sling TV's barebones Sling Orange package. The bad news is it's almost a desert of news content, save for BBC World America. So I guess if you prefer the sweet tones of British accents delivering the news of your country's fate to your eager ears, you can't go wrong with Philo. To be fair, Philo does a surprisingly good job of getting entertainment options like AMC, BBC America, Comedy Central, BET, HGTV, and more. (Here's a guide to Philo TV channels.)
Election results 2018: Other ways to watch results online
It's 2018, and you're just as likely to be on the internet while you watch the future of American politics play out. Plenty of news outlets have already created hub pages where you can follow live streams and watch the polling data come in. Plenty of entertainment shows like The Daily Show and The Late Show with Stephen Colbert will be jumping into the fray, hoping to ease the tension with some laughs. If you're fixated on your social media apps, you can bet they'll be there, too. Here's a comprehensive guide to where you can find all these election results 2018 hubs.
Washington Post Live is WaPo's hub for live journalism, meaning it's the place the publication frequently hosts speakers, policy wonks, and politicians who discuss the issues of the day. The Post is already featuring midterms previews, so you can bet it'll have live commentary on the election results as they come in. No subscription is needed.
If you want the hard data as it comes in, WaPo is also providing a state-by-state breakdown of each individual race with easy to understand text and graphs. Not only that, interactive maps of each state let you see how voting results break down from county to county. If you're someone who hasn't managed to keep up with every single race in your home state, WaPo's tracker is an easy-to-use option, and it provides enough surface level context to quickly bring you up to speed.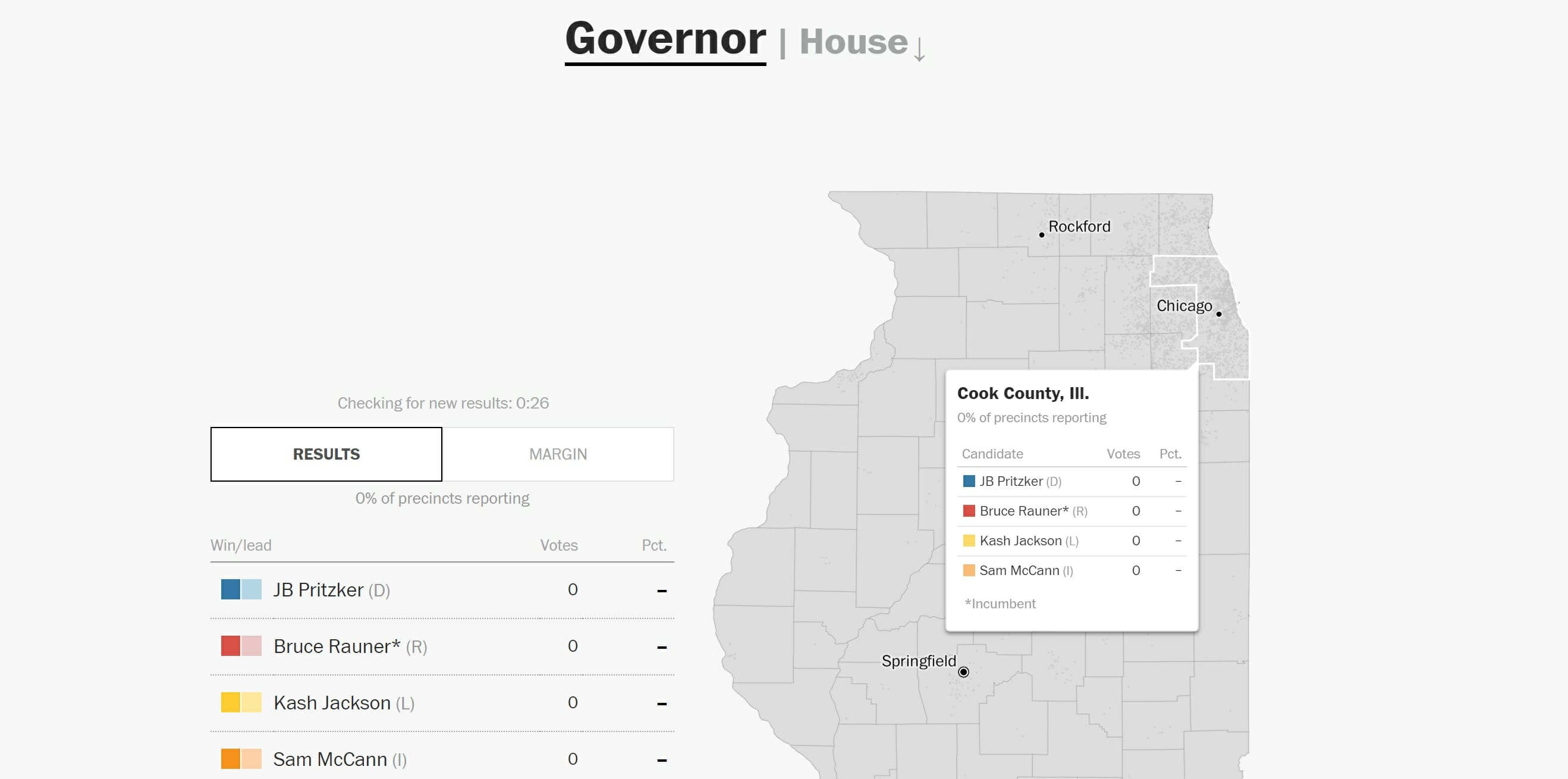 Be careful with this one, as it's evidently subject to the same story limit as any other New York Times article. If you've been scouring through their site reading other stories, you could lock yourself out of the results hub. That said, it's a broader version of the Washington Post's tracker.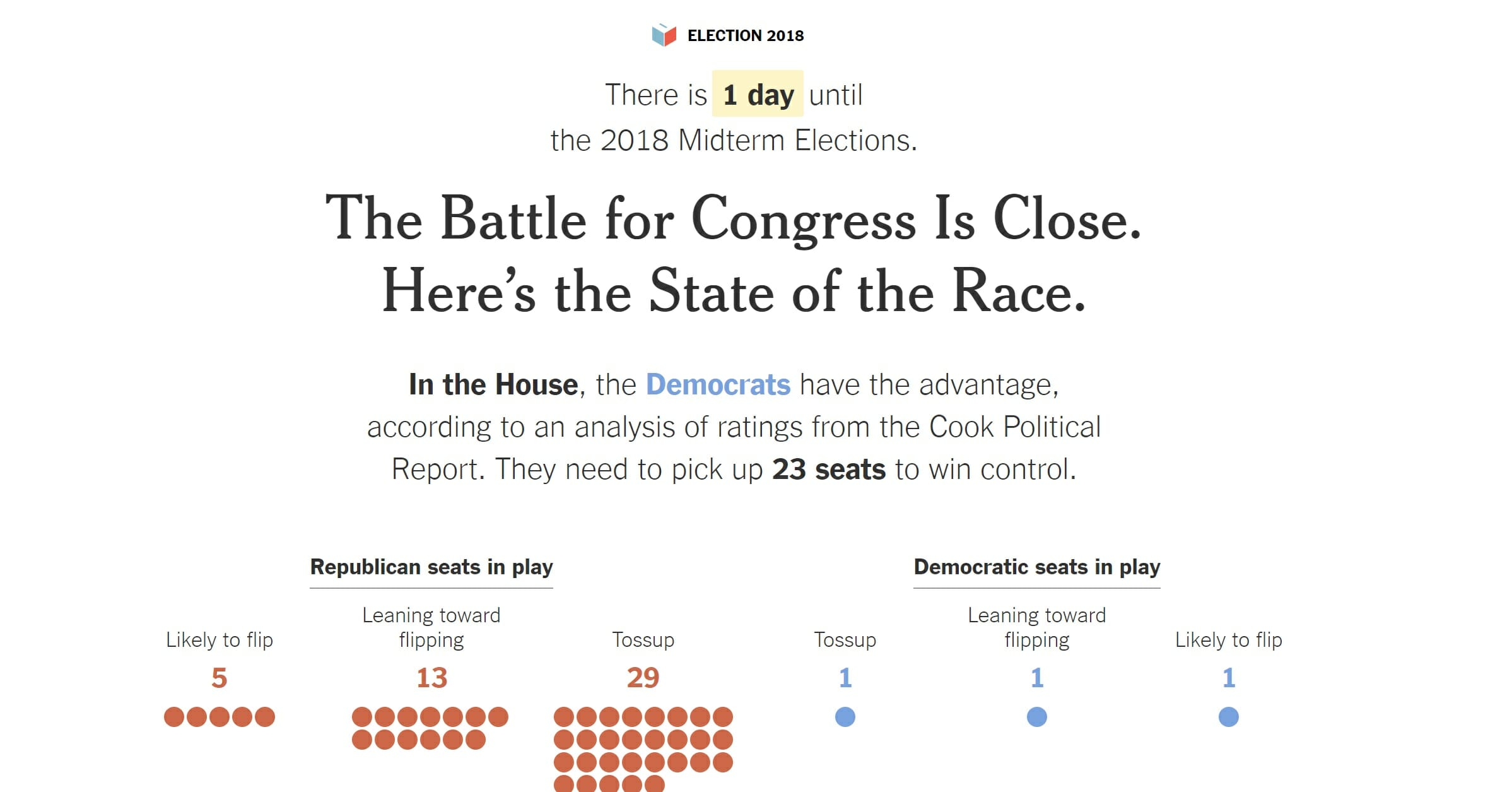 Like a lot of other outlets, the Associated Press will be regularly updating its own midterms hub with various reports and visual data to help you parse out how the night is going. If you're looking for a more narrative account of the night that isn't the dread-inducing Twitter, this is a solid option.
BuzzFeed News had strong Election Night coverage in 2016, and we expect more live commentary on the site's YouTube channel.
If you have the Apple News app on your iPhone or desktop, you'll get a pleasant little surprise on Nov. 6, when the app switches out its midterms previews coverage for a new Election Night section. The new section will also replace the Apple News Digest at the bottom of the app. You'll be able to track live results and key race updates. It'll also have a cool graphic of the split between Democrats and Republicans that's updated every minute or so. If you like your news more bipartisan and curated, Apple News will be cultivating reports from all the major outlets. And don't worry: Apple says you don't have to authenticate a TV provider if you want to watch video coverage.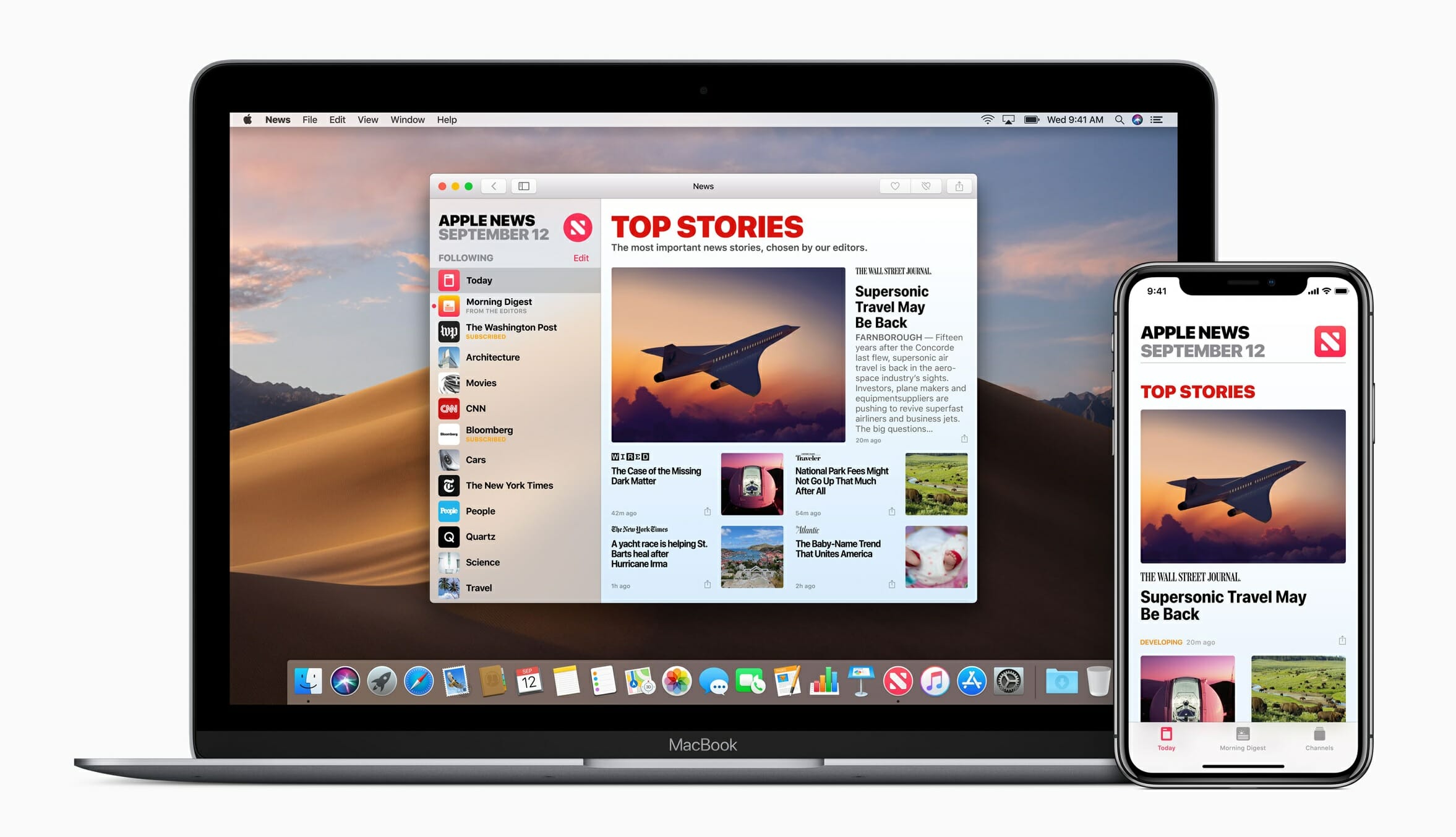 Politico's hub can be a little much to look at at first, but it's surprisingly well-organized, with tabs for individual state election results, live analysis, a live call feed for when final tallies come in, and more. My favorite bits are the two simple graphs for the Senate and House races, with a clear "Politico favors ____ to gain/maintain control of the _____." Beneath that, you'll find small blog posts detailing each state election in the order in which they close their polls.
Nate Silver's FiveThirtyEight was one of the few outlets to poll Donald Trump as having a legitimate chance of winning the election, and while it's more of a data aggregator than a pollster, it's proven itself a fairly reliable resource for election data. You can find a House forecast here, and a Senate forecast here.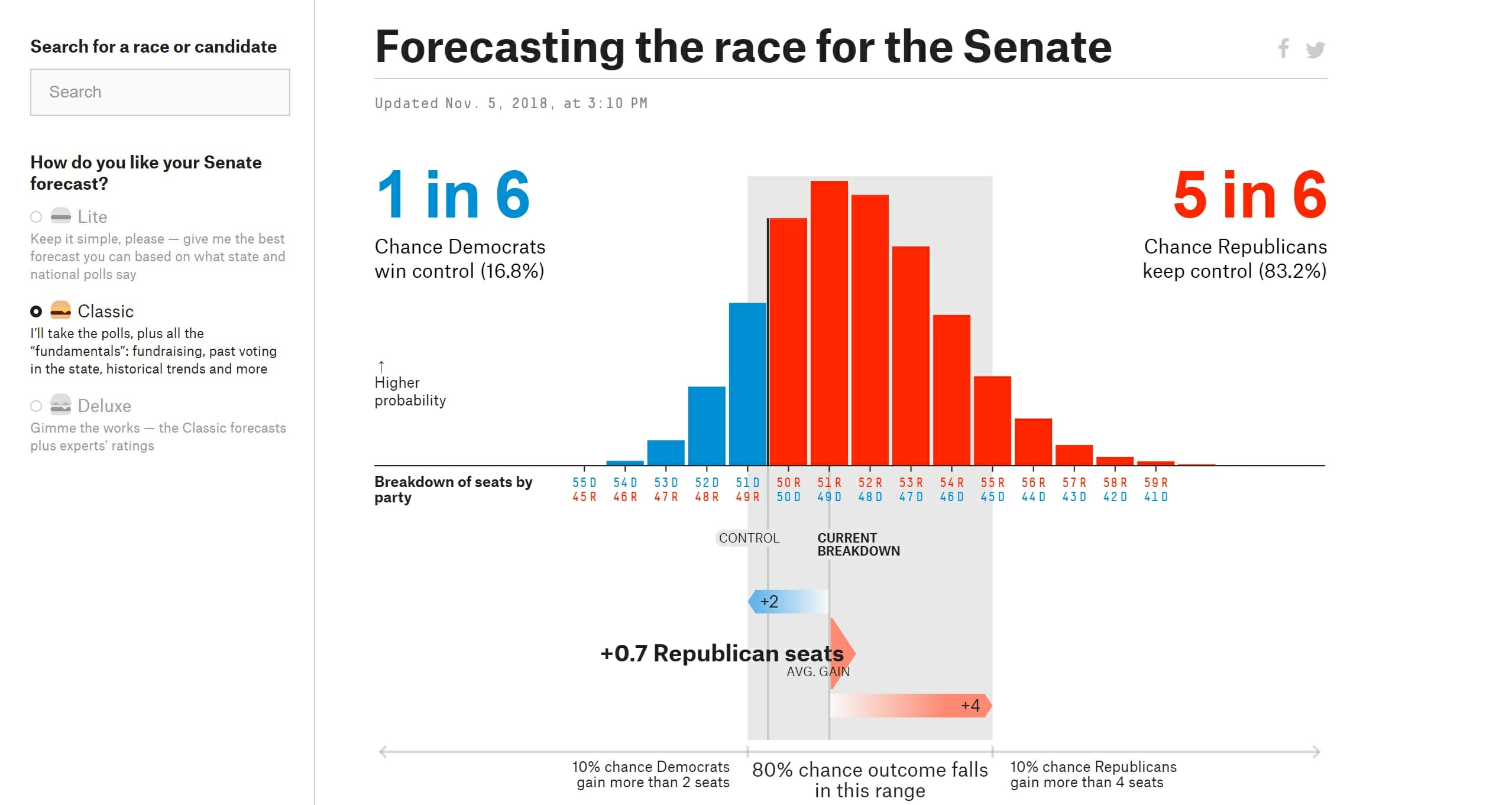 Snapchat has been doing a bang-up job of encouraging users to get to the polls as of late. Aside from the filters and lenses that proudly show off the fact that you've voted, Snapchat has provided registration information and successfully registered more than 400,000 users in a two-week span. Snapchat is also showing people where their polling location is via a partnership with Get to the Polls. If you're just looking for election results, though, Snapchat is also planning on hosting a live stream on its Discover page. It will include streams from the Washington Post and local stations in Florida, Georgia, and Texas. Snapchat's original show, Good Luck America, is planning on airing new episodes throughout Election Night.
Yahoo and HuffPo are teaming up just in time for the midterms to launch a news channel on Roku. It features content from Yahoo News, Yahoo Finances, HuffPost, MAKERS, Yahoo Sports, and RYOT. All you have to do is add the Roku channel to your existing Roku device. (Here are our guides for the best Roku channels, Roku private channels, and Roku free channels.)
Bonus: Late-night shows
The usual roundup of late night entertainment shows will be presenting either live or special editions of their programs for election night. Expect to see Stephen Colbert, Seth Meyers, and Trevor Noah's Daily Show.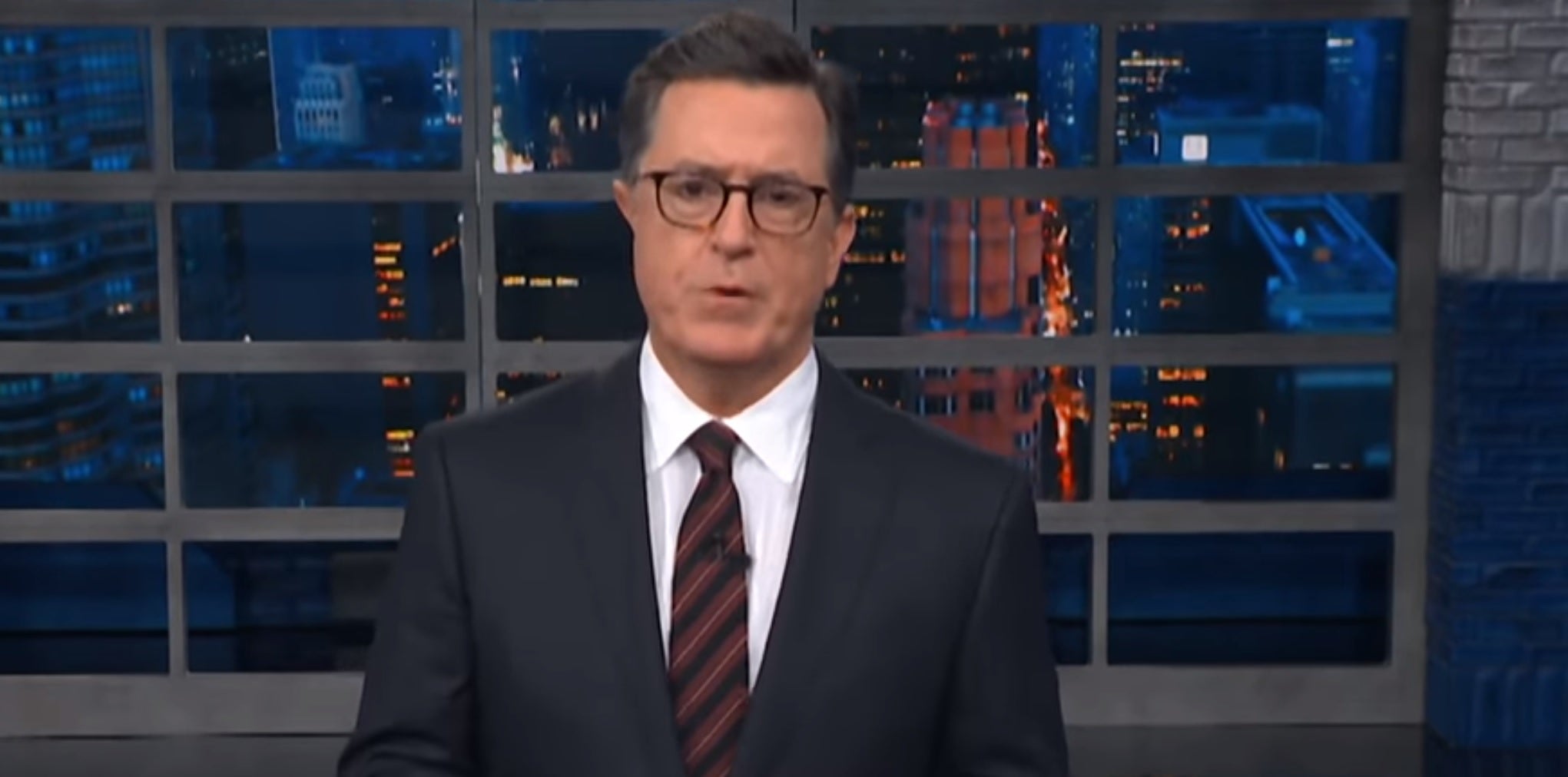 Of course, you can always follow along here on the Daily Dot. We'll be keeping tabs on the evening's tightest races and following the major narratives around the House and Senate.