Analysis
In 2020, it only takes one bad old tweet to get you canceled. That's why celebrities, reporters, and politicians pay people to have their social media scrubbed, to make sure an askance thought posted in 2012 doesn't drag down your life.
But what happens when the tweets everyone keeps dredging up aren't your own?
Call it the Joe Budden-Joe Biden dilemma.
Joe Biden is a longtime politician. He's leading in the 2020 Democratic primary.
While he has a lengthy history of public statements that could be called damning—comments about segregationists, support of the 1994 crime bill, his handling of the Anita Hill hearing—people this week are wording how the front-runner for the Democratic nominee was so casually horny on Twitter for years.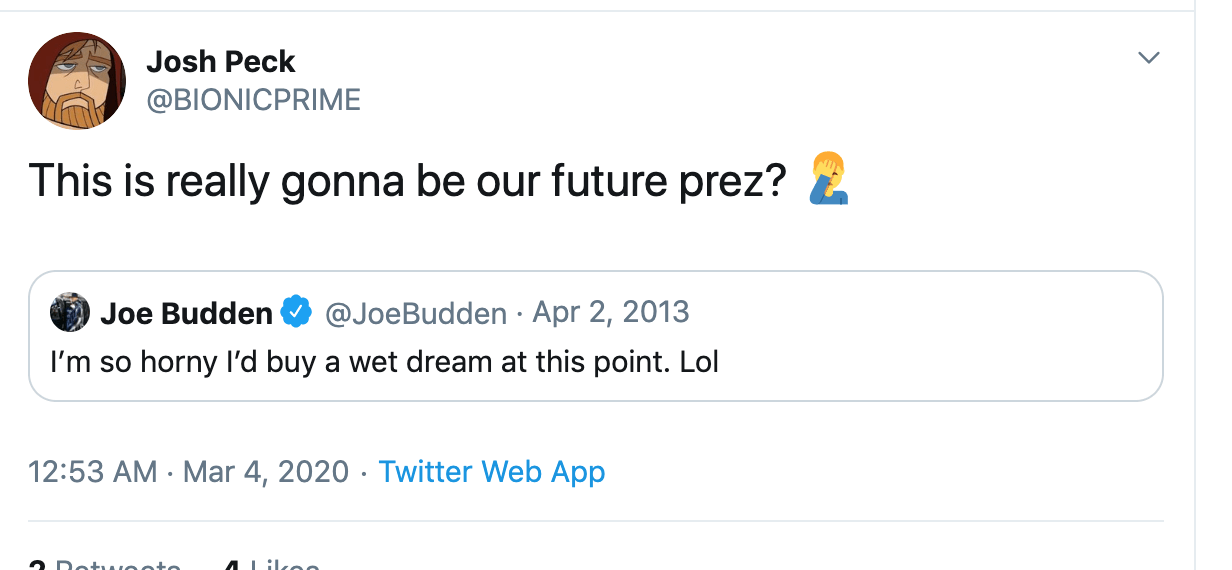 Was Joe Biden, on April 2, 2013, just months into President Barack Obama's second term, thinking about buying a wet dream?
No, that would be Joe Budden, the Jersey City rapper who grew from mixtape fame and made a dent on the Billboard charts with 2003's "Pump It Up."
Budden loved, back in the older days of Twitter, posting about how horny he was. Like being so horny you could "create a whole new hole."
While a presidential candidate needs to be industrious and determined, people want to know, would you vote for someone who would post that on main?
Would Joe Biden be delivering hard truths about sex on the TL?
Maybe?
It seems like a mix of deadpan humor and earnest confusion, but it's making noise on the social network.
Although only a few Budden tweets have been retweeted, just about every tweet could be made to get a laugh if you flagged it as something Biden may have said years ago.
Biden and Budden did not respond to a request for comment.
READ MORE: