An advisor for Sen. Elizabeth Warren (D-Mass.) caught heat on Twitter after she posted a now-deleted tweet comparing Warren and fellow Democratic presidential candidate Sen. Bernie Sanders (I-Vt.). Some are accusing her of ableism.
Esther Choo, a health policy advisor for Warren, posted the photo in question on Monday night. The photo is of Warren climbing stairs while Sanders is using an escalator.
"Good lord this photo just hits me so hard," Choo captioned the photo.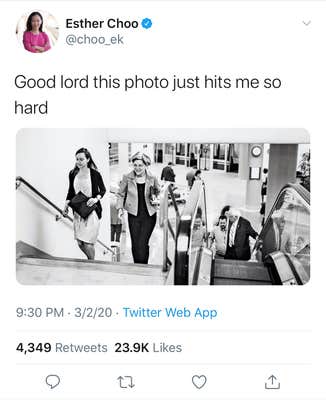 Her tweet was called out for being ableist by a slew of disability activists.
"This comment hits me so hard with it's ableism," disability advocate Allison Wallis wrote in response. "We don't need to be judging the ability to govern by whether someone takes the stairs vs the elevator."
Wallis continued to note that it's unknown if Sanders needed to take the escalator himself or if somebody else needed it. "But like I said," Wallis wrote. "It shouldn't even be an issue."
Twitter user @Decorno weighed in and shared their own experience about living with a disability, claiming that things are not always as they seem.
"I present as 'able' but have a birth defect in both ankles. Sometimes pain means I take escalators or stairs to reduce additional pain," they wrote. "You just never know why someone is engaging in a particular mobility strategy. You can criticize Bernie for other reasons."
Others turned Choo's phrasing into a meme, posting various dramatic pictures of Warren or other politicians. One maliciously edited photo purports to show former Vice President Joe Biden holding a gun in the mouth of an elderly woman. According to Snopes, the photo is fake. Regardless, doesn't it "just hit you so hard?"
The Daily Dot has reached out to the Warren and Sanders campaigns for comment.
READ MORE: