Ever felt unsafe walking or biking home? A new feature in Google Maps for iPhone will allow users to share real-time data with friends and family while in transit. The Google Maps real time feature allows users to send their current location, route, and ETA over text message or third-party apps including Facebook Messenger and WhatsApp.
Whether you want to let your pals know you got home safely or share real-time updates when you're running late, this update serves as a virtual "OMW!" text. 
Over the past year, Maps has rolled out additional features like a destination match feature, group planning, and real-time transit location tracking. In October, Google introduced the option to "follow" your favorite businesses and locations on Google Maps to receive regular updates. After you upgrade to the latest version of Google Maps, share your real-time Google Maps updates with friends. It only takes a few simple steps.

How to share Google Maps real time data on iOS
Once you have input your destination and begun navigating, press the ˄ button at the bottom of your screen. Next, select the Share trip progress option. Choose which friend to share your Google Maps data with and what method of contact to use.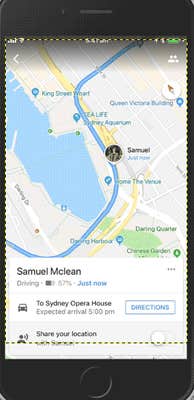 This feature is really that simple. Google Maps will automatically stop sharing your location once your trip ends.
A recent blog post from Google notes that the journey-sharing feature works for driving, walking, and cycling navigation but not public transport. The feature can also be utilized when traveling with ride-hailing apps such as Uber and Lyft as well.
"Getting where you need to go is important, but making it to your destination safe and sound is the most important thing of all," Google's post reads.
READ MORE:
Long a go-to for drivers, the app has recently made a push toward becoming a more social tool for urbanites. In the past year, Google Maps has offered integration for waiting on train arrival times, group planning, restaurant recommendations, opened itself up to developers for gaming integration, simplified pin-dropping, and improved accessibility.