This Saints team keeps finding ways to win.
The New Orleans Saints are known as an offensive team, but with Drew Brees sidelined, it was the defense that came up big last week. Though Teddy Bridgewater has been shaky, the Saints keep piling up Ws. However, despite their so-so record, the Tampa Bay Buccaneers may pose a real challenge to New Orleans this week.
The Saints played a dominant defensive game last Sunday. Generating three turnovers, for instance, the Saints rendered the best Dallas offensive weapons ineffective.
Though Bridgewater didn't play a great game, throwing for only 195 yards, he managed to feed his team's best players. Michael Thomas caught nine balls for 95 yards, while Alvin Kamara still managed 69 yards on a quiet day for the star back.
The Saints defense isn't always this good, but they have really stepped up in Brees' absence. Though, the question is whether they can keep it up. Despite the win, Bridgewater made some very bad mistakes, including taking a sack for a massive loss late in the game that almost changed the outcome.
It feels strange to say, but this up-and-down Buccaneers team might be the team the Saints don't want to see right now. Averaging over 30 points a game and coming off a mammoth 55-point scorcher against LA, you have to wonder if a Brees-free Saints will be able to keep up with Tampa Bay.
No, the Buccaneers aren't perfect, but, Jameis Winston has been throwing for nearly 300 yards a game, while Bridgewater is averaging a measly 178. Can Teddy keep up?
Tampa's defense has also looked good. Three interceptions against the Rams and a wild strip sack that led to a Ndamukong Suh touchdown to put the game away showed just how effective this D can be.
The Buccaneers aren't perfect. Tampa's secondary hasn't played as well as its front, and Winston still tends to make risky throws that can lead to picks. But this team feels better than their record. As a result, they are a threat to any team.
In short, look for a competitive game with outcomes that could vary wildly depending on how the quarterbacks play and which defense gets more pressure.
New Orleans Saints vs. Tampa Bay Buccaneers
When: Sunday, Oct. 6 at 1pm ET
Where: Mercedes-Benz Superdome in New Orleans, Louisiana
Streaming: Fox, NFL Sunday Ticket
There are a number of options for watching Saints vs. Buccaneers on streaming platforms that carry FOX. However, consult a coverage map to see what game your regional channel will be playing.
If a game is not being carried in your area, the only option might be an NFL Sunday Ticket package.
New Orleans Saints vs. Tampa Bay Buccaneers live stream: How to watch NFL online
If you're a big-time sports fan, FuboTV is your best streaming service option. If you love international soccer and you're a Spanish speaker, FuboTV also offers various add-on packages, including Fubo Latino and Fubo Português. FuboTV's basic plan showcases nearly 100 channels and includes NFL Network. At $54.99 per month, you'll also get FS1, FS2, NBCSN, NBA TV, Big Ten Network, Pac 12 Network, BeIn Sports, and CBS Sports Network, along with premium channels like FX/FXX/FXM. The only notable omission for sports fans is ESPN. You can add Fubo's Sports Plus package for an additional $8.99 per month, which allows you to stream NFL RedZone, (Here's the complete FuboTV channels list.)
---

Cost: $44.99 per month
Hulu devices: Roku, Apple TV, Google Chromecast, Amazon Fire Stick and Fire TV, Xbox One, Xbox 360, Nintendo Switch, and iOS and Android devices
Hulu local channels: ABC, CBS, Fox, NBC, the CW (check your local availability here)
Hulu with Live TV includes sports programming among its offerings, including ESPN and FS1, and as a subscriber to the service, you'll get free access to Hulu's sizable on-demand library. (Check out the full list of Hulu Live TV channels.)
---
While select football games are no longer on Sling, you can still catch them with AirTV.
AirTV solves one of the Sling's biggest problems: The inability to receive all of your local channels. By purchasing a basic AirTV for $79.99 or the AirTV Player for $119.99, you can merge those local channels into your Sling TV, (or on your mobile device if you have the basic AirTV). As the Daily Dot wrote in its AirTV review, "it's practically magic." While select football games are no longer on Sling after its contract impasse with Fox—which for now means no Fox, FS1, or FS2 via Sling—you can still catch the Fox telecasts with AirTV.
The basic AirTV is a dual-tuner streaming device, while the AirTV Player is basically an upgraded Chromecast that has Netflix preinstalled. You'll still need to own an HD antenna because even though AirTV gets you access to your local channels, it doesn't actually physically show them to you.
But AirTV—which has no monthly fee—serves to strengthen one of Sling's biggest weaknesses compared to other live streaming services like Hulu with Live TV, YouTube TV, and PlayStation Vue. All those services have plenty of local channels.
---
If you'd like to watch live NFL games directly from your PS4, PlayStation Vue is your best bet. PlayStation also works with streaming devices like Roku and Amazon Fire products, but what separates PlayStation from the rest of the streaming services is that it's also compatible with Kodi. No matter how you stream, you'll get to choose from four tiers of channels—all but the cheapest include NFL Network. From there, you can also add NFL RedZone as part of the $10-per-month Sports Pack, which also unlocks ESPN Bases Loaded, ESPN Classic, Longhorn Network, Outside TV, and NBCUniversal regional sports networks. You can see the full list of PlayStation Vue channels here. Two other great perks: You can stream on up to five devices at once, and there's also unlimited cloud DVR.
---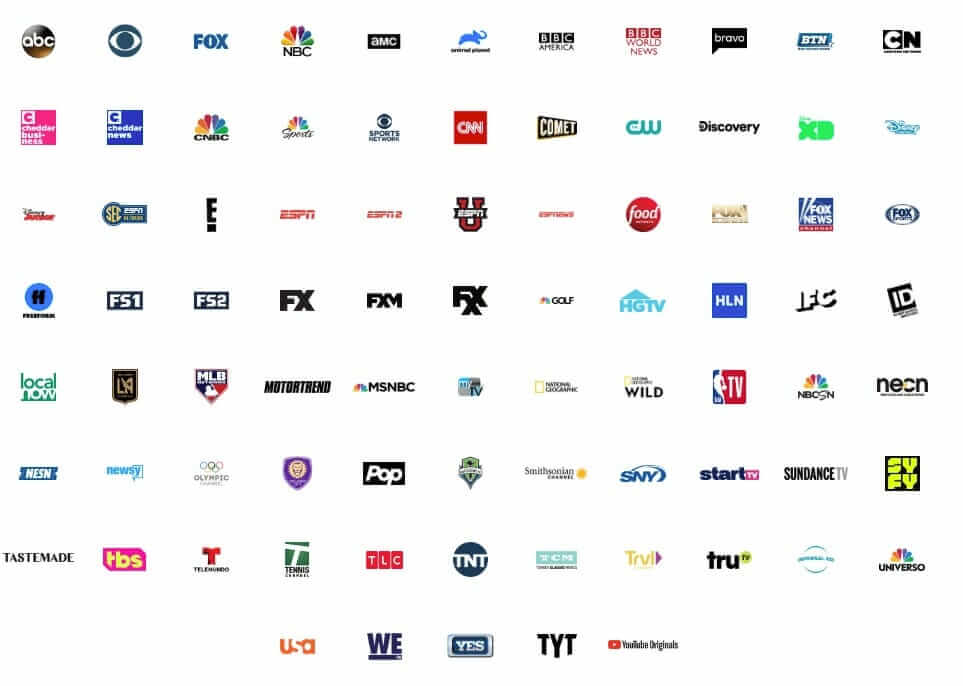 YouTube TV is a great option for college football fans, including ESPN and FS1. (Take a look at the full list of YouTube TV channels here.)
---

Cost: $73.99 per month for four months, or one single payment of $293.96
There are two—and only two—ways of acquiring NFL Sunday Ticket without DirecTV. There's NFLSundayTicket.TV, which costs $73.99 per month for four months. It's everything you love NFL Sunday Ticket but online-only. You can stream from pretty much any device that connects to the internet (but only on one device at a time).
You can also upgrade to the NFLST.TV Max bundle for a total of $99 per month for four months or one single payment of $395.99. You can also add on NFL Game Pass, which allows you to watch replays of every game after they air, for $50 for the full season.
There's another way to watch NFL Sunday Ticket without DirecTV: Amazon Prime. While you can't pay for the package using Amazon Prime, you can at least watch all of the games on the service. To start, first download the NFL Sunday Ticket channel on Amazon Prime. It's free. From there, you'll just need to sign in with your subscription credentials.
College students can purchase NFL Sunday Ticket at a discounted price through  NFLSundayTicket.TV U.
TRY NFL SUNDAY TICKET ON AMAZON PRIME
---
Fantasy Football: Who should I start?
Saints
Michael Thomas, Wide Receiver: It's easy to point to Thomas or Alvin Kamara as starters. However, with Teddy Bridgewater at the helm, it is hard to consider any other Saints player a surefire option. Look for these two to continue taking the bulk of the work until Drew Brees returns and mixes things up.
Buccaneers
Chris Godwin, Wide Receiver: Every Mike Evans owner is starting him. Now, Godwin should also be considered a must-start. Godwin has actually outperformed Evans in three of the first four games.
New Orleans Saints vs. Tampa Bay Buccaneers: Why it matters
Any inter-divisional matchup matters, but with the Falcons and Panthers struggling in various ways, these might be the two best teams in the division.
For Tampa Bay, the key is going to be limiting Jameis Winston's mistakes. If he plays a clean game, this is a team that can beat anyone, as they proved last week. While Winston isn't Drew Brees, he is certainly the better signal-caller in this matchup.
New Orleans needs a complete game on both sides of the ball to hide Teddy Bridgewater's weaknesses here. Tamp Bay is a productive team, and replicating last week's defensive stand is going to be a tough ask.
We still give the edge to the Saints here because coach Sean Payton has found a way to make it work with Bridgewater so far. Given his track record, it is best to trust him until he gives us a reason not to. However, if anyone can take advantage of Bridgewater's weaknesses, it is Bucs coach Bruce Arians, long known as a QB whisperer.
Though it is hard to guess what this game will look like, it promises to be one of the most interesting matchups of Week 5.
READ MORE: 
For a year-round sports fix, sign up here to receive our weekly boxing newsletter. You'll hear about all the biggest fights and best knockouts from the Daily Dot's streaming sports guru Josh Katzowitz.
The Daily Dot may receive a payment in connection with purchases of products or services featured in this article. Click here to learn more.