Netflix original anime is quietly winning over fans and critics. In the last year, the streaming service has released five original anime series, along with a Godzilla movie, and there's a lot more in the works.
More importantly, Netflix has obtained exclusive international distribution for some great anime selections. While the company has yet to have a breakout hit on par with Yuri on Ice, taken as a whole, Netflix has one of the strongest anime collections around.
It's a lot to take in. For this list, we've gathered summaries of our reviews for every Netflix original anime released to date, as well as the anime series exclusively distributed by Netflix in the U.S.
To make this Netflix anime guide as comprehensive as possible, it's broken down into categories below. We've also rounded up what we know about Netflix's upcoming anime releases.
The best Netflix original anime
These Netflix original anime series are available right now on-demand
1) Blood of Zeus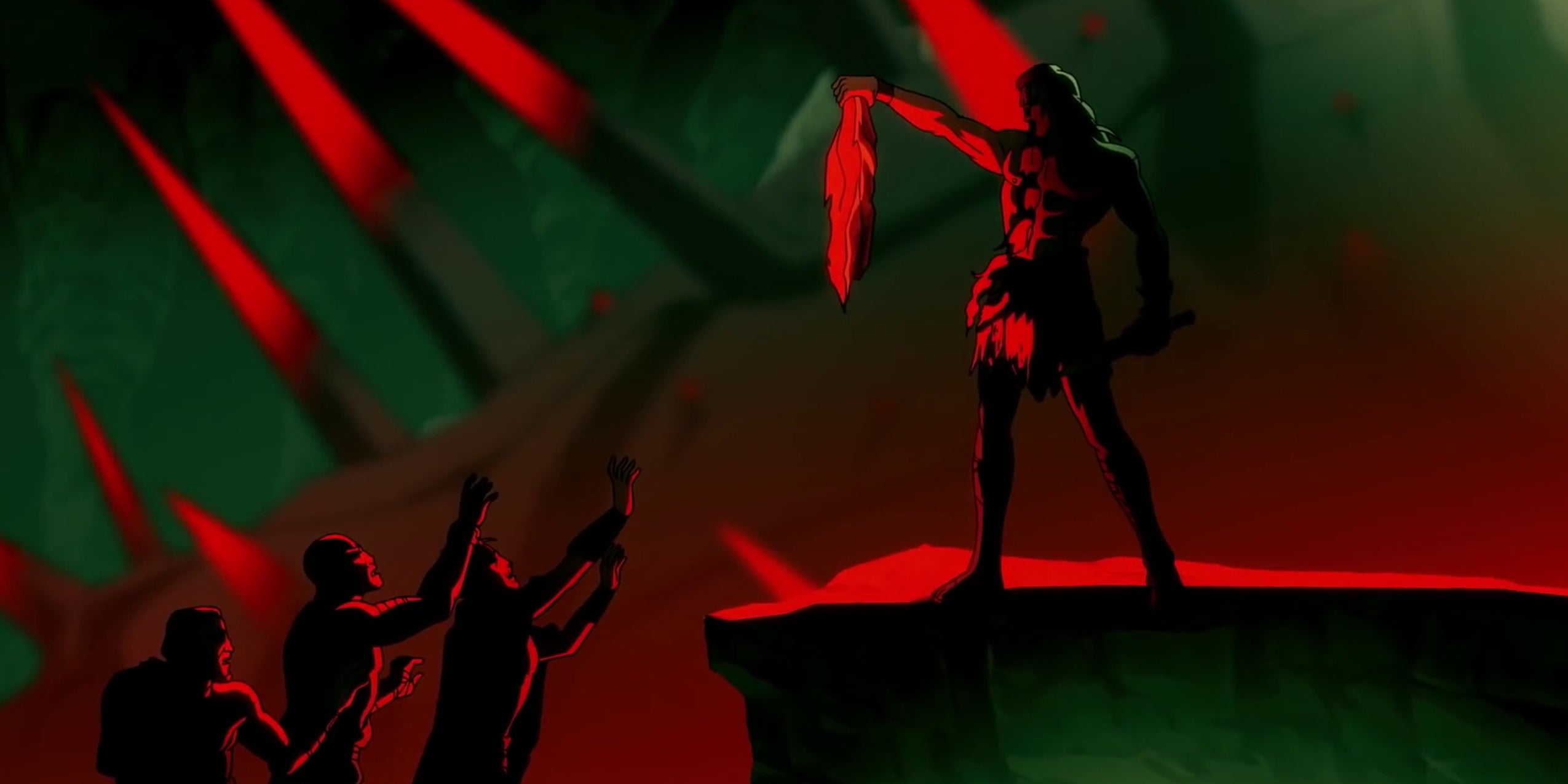 Anyone whose taken 9th grade English knows that Zeus, God of Gods in Greek mythology got around. One of his many bastards, the demigod Heron is one of the heroes of legend lost to time, at least, until now. Austin-based Powerhouse Studios is behind this beautiful production, making this one of the few homegrown anime. –Jaime Carrillo
---
2) Devilman Crybaby
This Netflix original anime is the latest adaptation of influential manga artist Go Nagai's 1972 series. It readapts and recontextualizes its story for the modern day. Mild-mannered Akira Fudo and troubled, enigmatic Ryo Asuka seem like an unlikely pair, but the two are best friends. Ryo reveals to Akira that a race of demons are planning to start a war with humanity. Why? To re-conquer Earth, which they consider to be rightfully theirs.
The best way to fight them is to fuse with demons themselves, transforming Akira into Devilman. Akira must battle not on the behalf of all humanity, but to remain himself despite the demon inside him. Devilman Crybaby, with its ultraviolence and graphic sex, may look like violent snuff porn at a glance, but at its core lies a hauntingly tragic love story. —Caitlin Moore
---
3) Aggretsuko
This Netflix original anime follows the life of Retsuko. She's a young professional red panda trying to make it in the big city. Retsuko is a "single, a Scorpio, blood type A" with a demeaning office job. She also has two obnoxious supervisors, and a big secret. Retsuko has a death metal karaoke persona—Aggretsuko. In other words, angry is the new cute. —Christine Friar
---
4) B: The Beginning
B: The Beginning tells two parallel stories. Both take place in the fictional European archipelago nation of Cremona. In one, detective Keith Flick returns to the force after years in isolation to find his sister's murderer. He believes they may be connected to a series of killings by a man the local police have named Killer B. In the other, a young man named Koku uses his superpowers to fight a group of genetically-altered humans called "Reggies." It's a weird mish-mash of two completely disparate stories, held together with spit and glue. —Caitlin Moore
---
5) A.I.C.O. -Incarnation-
It's been two years since Aiko Tachibana lost her parents in a terrible lab accident. The accident, known as the "Burst," involved an artificial lifeform called "Matter" breaking out and running wild. The city around the research was cordoned off and abandoned. Aiko, now 15, is about to enter it with a team of professional divers. Why? Because a transfer student told her there's a secret in her body, and the answer lies at the core of the Burst. A.I.C.O. is a solidly entertaining science-fiction story with interesting imagery. However, it seems to regard things like character development as silly and extraneous. This, ultimately, holds back what could have been a great series from ever becoming anything more than a diversion. —Caitlin Moore
---
6) SWORDGAI The Animation
The title may refer to the main character, Gai, but it's hard not to think of it as SWORD GUY. That's pretty much everything SWORDGAI The Animation is. Gai has been possessed by the sword Shiryu. His mother, who was herself possessed, died giving birth to him. Now a young man, he wears Shiryu as a prosthetic arm. He is not the only one possessed by a demonic weapon. The organization Shihodai exists to collect them and treat their wielders before they become irrevocably transformed. SWORDGAI The Animation offers up some pretty good sword fights and a delightfully stupid and shallow main plot—the kind of series you watch to laugh at, though definitely not with. —Caitlin Moore
---
Netflix original anime: Exclusive distribution
Netflix might claim these anime titles as original, but truthfully, the service has merely obtained exclusive distribution rights for outside of Japan. Regardless, it's a lot of great anime anime that's available exclusively on Netflix.
7) Ajin: Demi-Human
Kei Nagai was just an average student before the accident. Perhaps he could stand to be a little more empathetic, but what teenager couldn't? Then he was hit by a truck, revealing himself to be an Ajin, a superhuman being of incredible and terrifying power. Now on the run from the government, Kei must decide if he will live his life fleeing from the authorities or if he'll join the resistance against his persecutors.
Ajin: Demi-Human travels well-worn territory in the anime genre but manages to keep things fresh, thanks to stunning CGI animation and its original take on how the Ajin's powers work. Netflix has the complete anime, made up of 26 episodes, but at 23 to 24 minutes apiece, it's easy to binge the whole thing. It's nice to see a series deal with the psychological impact of being hunted and discovering you have incomprehensible power, but when the action pops off, you'll be quickly reminded this isn't just a thoughtful meditation. Fans of David Cronenberg should take note of this dark sci-fi nightmare. —John-Michael Bond
---
8) Children of the Whales
Children of the Whales tells the story of Chakuro, a young man living on a giant vessel known as the Mud Whale that floats aimlessly through a sea of sand. The people of the Mud Whale lead peaceful lives, but when a ruined boat holding a young woman chances to drift by, they find that there is a much wider world out there.
With a fascinating speculative world, truly stunning animation, and a compelling premise, Children of the Whales could have been one of the best fantasy series of the decade. Instead, it's dry, exposition-heavy, and fails to deliver on any of its early promises—a master-class in wasted potential. —Caitlin Moore
---
9) Dragon Pilot: Hisone and Masotan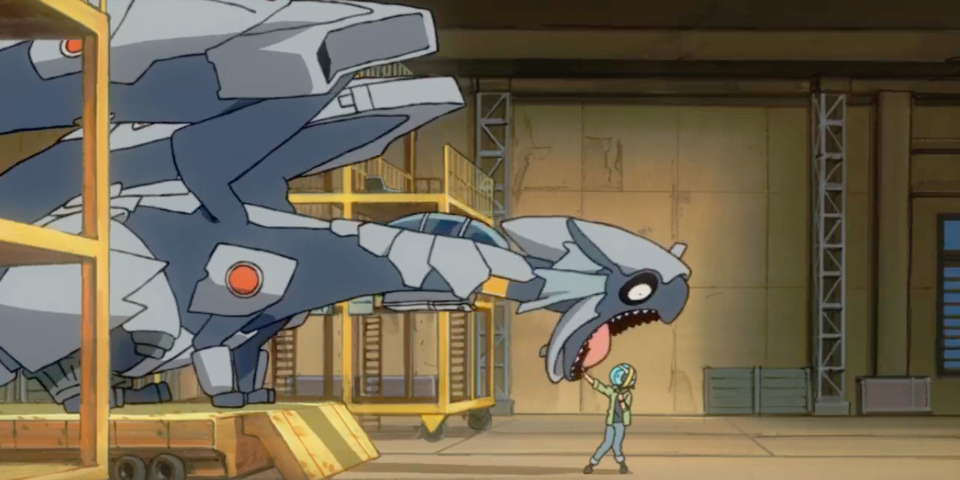 This charming fantasy series shares some similarities with the How to Train Your Dragon franchise. It tells a charming fantasy story about a young pilot (Hisone) and the dragon (Masotan) who becomes her partner in Japan's Air Self-Defense Force. It's a riff on mech suit tropes, with a gruesome twist. Dragons need a human pilot to fly. But instead of just strapping on a saddle, the pilots have to be eaten by the dragon and then vomited up again once they're done with a mission. Yikes! — Gavia Baker-Whitelaw
---
10) Fate/Extra: Last Encore
If you've been considering getting into the Fate franchise on Netflix and weren't sure where to begin, here's a tip: Don't start with Fate/Extra: Last Encore. This latest anime to come out of the long-running multimedia franchise is as newbie-unfriendly as they come. Although there is plenty of exposition about the features unique to Fate/Extra, such as the SE.RA.PH. system and Dead Faces, the script presumes the audience is familiar with the fundamentals of the Holy Grail War that has been the centerpiece of the franchise since Kinoko Nasu's original visual novel. And while Fate/Extra: Last Encore isn't a good starting place for newbies, with weak writing and characterization and a dour outlook, it isn't much fun for established fans either. —Caitlin Moore
---
11) Knights of Sidonia
This series concerns a futuristic human society aboard a giant spaceship, fighting to survive against a species of killer aliens. The premise—a young space cadet is unexpectedly thrust into battle—is very clichéd, borrowed from everything from Ender's Game and Starship Troopers to Starfighter. It's the incredible, VR-inspired animation and a thorough take on human gender and human engineering in a sci-fi age that makes this series worth watching. —Aja Romano
---
12) Little Witch Academia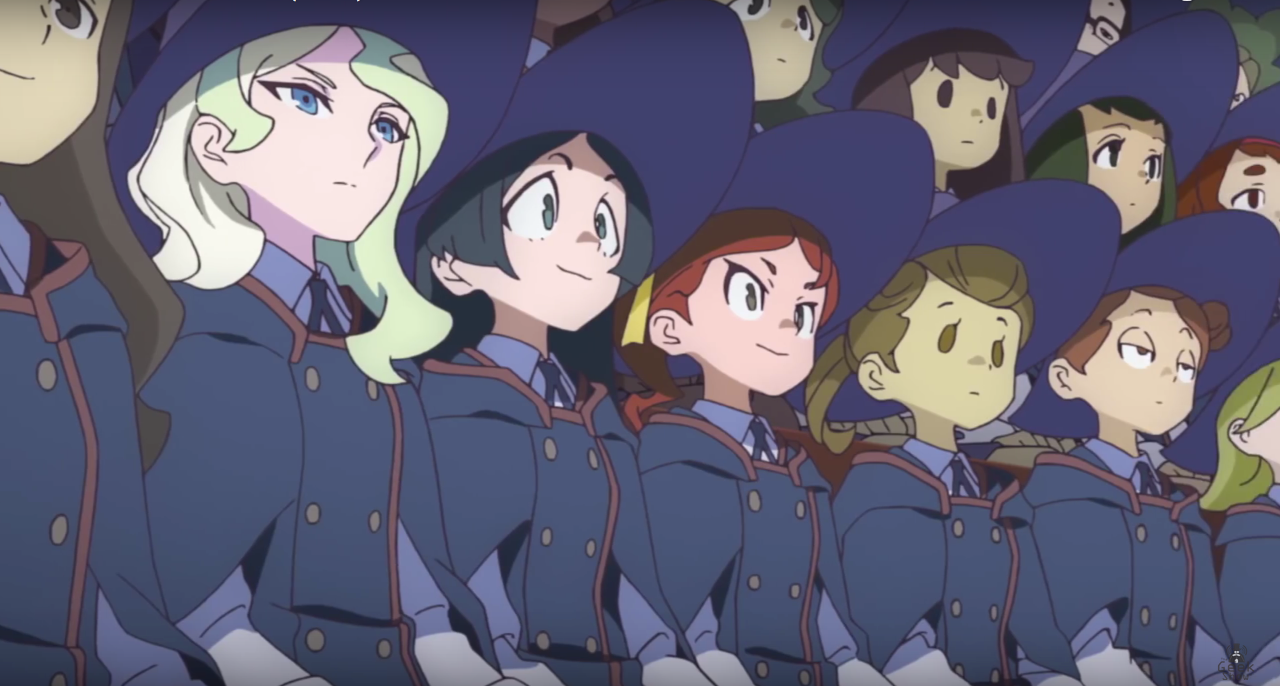 This charming anime short is about a young girl attending a Harry Potter-style magical academy. It won the hearts of anime fans when it began circulating in 2013.
Originally a standalone short film, Little Witch Academia made a huge splash. Studio Trigger was able to launch a lucrative crowdfund for the follow-up. The result is a winsome, delightful fantasy adventure. It features magic, dragons, and a host of adorable little witches. What's not to love? —Aja Romano
---
13) Violet Evergarden
Violet Evergarden follows a former child soldier in an ambiguously European country. She's smack dab in the middle of a World War inspired conflict. Her commanding officer's final order was for her to live and love freely before he went missing-in-action. But Violet, after spending her life being treated as a killing machine, doesn't understand how to follow through.
Violet Evergarden may be Kyoto Animation's most gorgeous series yet. Visuals border on theatrical quality and nary a stiff or off-model shot. However, the story carries the nuance of your average Hallmark film. It falls somewhere into the uncanny valley between maudlin and embarrassingly sincere. —Caitlin Moore
---
14) Dragon's Dogma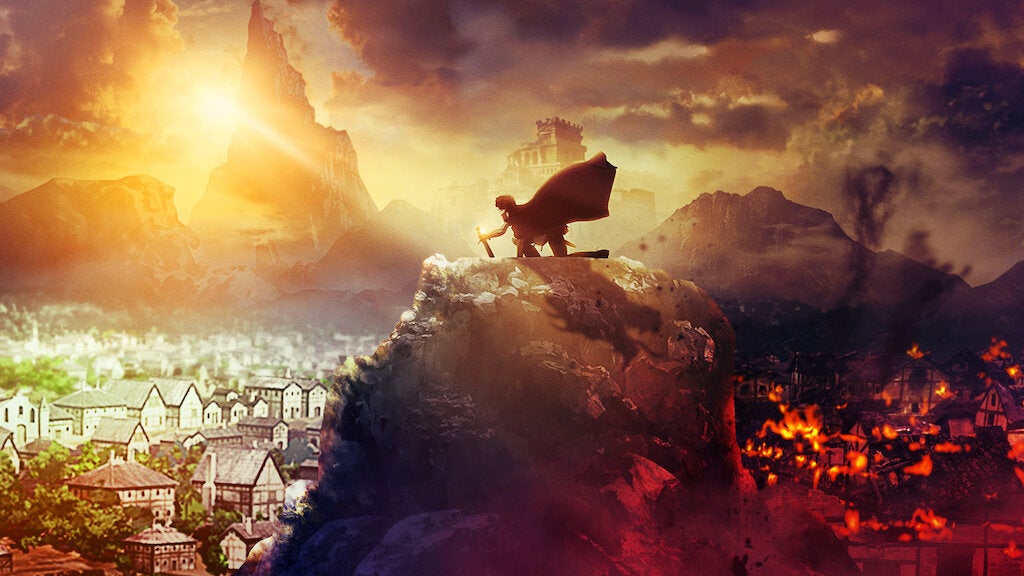 This dark fantasy series is based on the Capcom video game Dragon's Dogma. Anyone familiar with the series knows the story of the hero known as Arisen. After being brought back to life, he must battle monsters representing the seven deadly sins. Then, if there's time, take revenge on the dragon that stole his heat.
---
Netflix anime list: Everything else
Cyborg 009: Call of Justice

Fate/Apocrypha

Cannon Busters

Glitter Force

Glitter Force Doki Doki

ID-0

Kengan Ashura
Baki

Kuromukuro

Adventures of Sinbad

Kakegurui

The Seven Deadly Sins

Rilakkuma and Kaoru
Ultraman
Ingress
Seis Manos
Japan Sinks: 2020
The Idhun Chronicles
---
Here's an overview of the Netflix original anime you have to look forward to in the near future.
High Rise Invasion
This trippy new anime is based on the manga of the same name. Here's a the official teaser from Netflix.
The unhinged and gory death-game manga High-Rise Invasion, created by Tsuina Miura (Ajin: Demi-Human) and Takahiro Oba (Box!), finally gets an anime adaptation! High school student Yuri Honjo finds herself lost in an "abnormal space" where countless skyscrapers are connected by suspension bridges and "masked figures" mercilessly slaughter their confused and fleeing victims. To survive in this hellish world, she has two choices: kill the masked figures or be killed. Yuri is determined to survive in order to destroy this irrational world, but what will be her ultimate fate?
---
Editor's note: This article is regularly updated for relevance.