What happens when a brand-new, untested museum-turned-animation studio adapts an award-winning manga right out of the gate? Forest of Piano is the debut full-length series from studio Gaina, formerly known as Fukushima Gainax. Despite the name, Gaina has had no connection to the acclaimed studio behind Neon Genesis Evangelion, Gunbuster, and other seminal anime classics since it broke off in 2015. Nor was it really founded to be a studio, but rather a museum designed to revitalize the Fukushima region after the 2011 nuclear disaster.
---
The 10 Best Anime Series on Netflix:

---

Forest of Piano, on the other hand, comes from an award-winning manga that ran for 17 years. (Veteran director Masayuki Kojima adapted the first arc into a well-received film in 2007.) The story, which revolves around skilled pianists, requires detailed animation of hands making intricate movements. It's a risky choice for an untested staff, including two directors who have never worked on a single anime before, and the risk never pays off in the resulting series.
Forest of Piano tells the story of two pianists: Shuhei, who has a pedigree and upbringing tailor-made for a global competitor; and Kai, the son of a sex worker who learns to play from a piano abandoned in the woods by the brothel where he lives with his young mother. When Kai invites Shuhei into the woods, they discover the piano will only respond to Kai's fingers, while producing dull thuds for anyone else who attempts to play it. It turns out that piano once belonged to Sosuke Ajino, their school's music teacher and a former world-class pianist.
Music anime can be tough; there's a fine line between filling in the blanks for non-musical viewers and overexplaining. The musicians' movements must be accurately rendered, but linger too long and you'll alienate half your audience. Forest of Piano utterly fails to walk that line. It is, frankly, as ugly a show as one would expect from its origins.
The character designs, based closely off the 1998 manga, look like nothing else out these days. While that may have offered a certain charm in a better-executed project, the failure of the animation on every other level just makes it seem old. The animation mixes two-dimensional character art with three-dimensional backgrounds—except for the music sequences, which also use computer graphics—but the two approaches never harmonize. Creating backgrounds out of filtered photographs is common practice in anime productions these days, but most of the computer-generated imagery in Forest of Piano is the graphical equivalent of an original PlayStation game. The two-dimensional character art offers little sense of depth, is frequently off-model, and barely moves.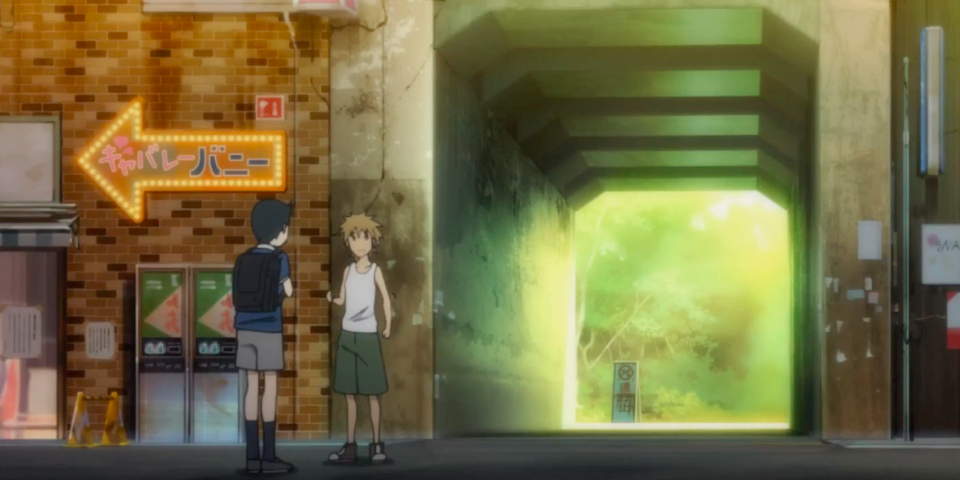 This might be forgivable if the music sequences were better animated, but they fare as poorly as everything else. Close-ups show Kai and Shuhei's fingers tapping away bonelessly at the piano's keys, resembling pale sausages more than fingers. Long shots are barely animated—characters sway back and forth slightly if they move at all. Other instruments fare even worse than the piano: A violinist holds his bow by the horsehair and moves it across the fingerboard, two cardinal sins in string music.
The animation in the series' first half is so poor that it's hard to immerse oneself in the characters and their stories. Much of the plot hinges on the same themes and questions as most stories about classical music: Which is superior, Shuhei's carefully cultivated skill or Kai's natural genius? Should musicians play the music exactly as written, or put their own spin on it? It's familiar territory, and Forest of Piano does little to make it compelling.
Things pick up in the second half, after a five-year time skip. Shuhei returns to Japan after studying abroad in Poland and finds himself in a slump after chancing on Kai, dressed as a clown and playing piano on TV. He goes to Morinohata, the red-light district where Kai grew up, and finds his friend cross-dressing and playing classical piano in a strip club. Kai playing Chopin as women pole dance around him onstage is one of the series' more interesting scenes, but unfortu,nately it doesn't last.
Kai is, of course, excited to see his old friend again, but when the two enter the same international Chopin competition, Shuhei worries that by helping Kai as children, he created his own insurmountable rival. The last quarter of the series introduces a parade of new characters who show up to play their Chopin pieces and then exit the story.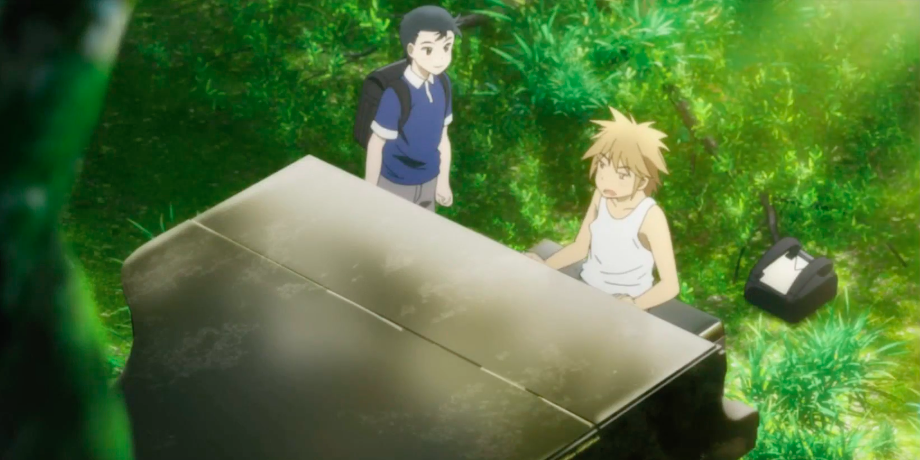 While Shuhei's character develops, Kai offers few glimpses into his personal life. How did he spend the five years Shuhei was studying abroad? Does he harbor any resentment toward the judges who rejected him for playing the music differently than how the composer intended? Flashbacks show he suffered terrible abuse at the hands of the woman who ran the brothel where he grew up, but none of it seems to have any bearing on his personality. Instead of the rebellious misfit he was as a child, Kai is pleasant and polite as a young adult, with no hint of his former abrasiveness.
The piano-playing sequences improve in the latter six episodes; the CG models are still jarring, but their motions are more expressive and offer a few moments of interesting artistic direction. The traditionally animated sequences are still stiff and off-model, though, to the point that some characters look flat-out strange.
Had it chosen something less ambitious for its first major project, Gaina could have become the newest Little Studio That Could. After all, anime fans love to see underdogs doing their best and not quite succeeding. But Forest of Piano is the kind of story that needs to be adapted by an experienced team, as the latest iteration hits nothing but dissonant notes.
Still not sure what to watch tonight? Here are our guides for the absolute best movies on Netflix, must-see Netflix original series, documentaries, docuseries, and movies.
Need more ideas? Here are our Netflix guides for the best war movies, documentaries, anime, indie flicks, true crime, food shows, gangster movies, Westerns, and movies based on true stories streaming right now. There are also sad movies guaranteed to make you cry, weird movies to melt your brain, and standup specials when you really need to laugh. Or check out Flixable, a search engine for Netflix.