On Norm Macdonald's new talk show, there's no audience, no band, no monologue. Macdonald often walks on with his guest, and you can see the guts of the set. He doesn't wear a suit; he and co-host Adam Eget do their own outro song. The walls that often exist on late night are stripped away, but Norm Macdonald Has a Show still doesn't feel that radical.
The series, which follows the same setup as podcast Norm Macdonald Live, debuts in the midst of a reshuffle on Netflix. Michelle Wolf's talk show was canceled last month (as was Joel McHale's), and though Macdonald's show was already planned, it's still a bummer to have another woman's voice pulled. Netflix already handed a show to David Letterman (and, essentially, Jerry Seinfeld), and Letterman serves as "special counsel" on NMHAS.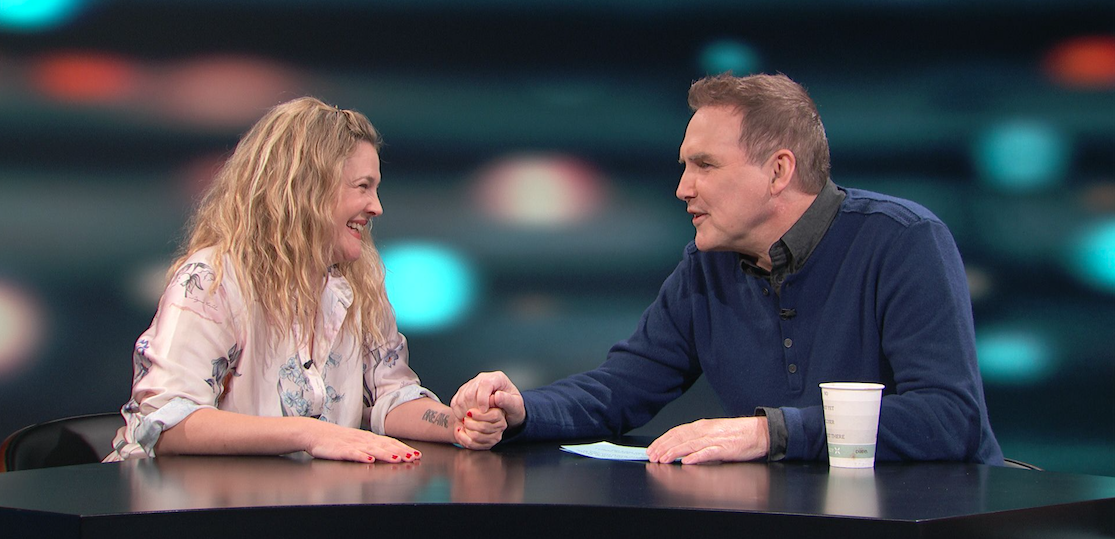 As a conversationalist, Macdonald isn't as by-the-book as the Jimmys of late night; he interrupts guests, redirects the conversation, loses the thread. In the first episode, featuring guest David Spade, Macdonald lightly ribs him, and Spade shovels it back, but he also makes him restart a story about being catfished on Twitter. There's a running meta commentary about Netflix: Macdonald often mentions Chief Content Officer Ted Sarandos by name, and of the four episodes made available for review, all the guests have some tie to Netflix. 
Macdonald mentions early in the Spade episode that Tom Snyder's The Tomorrow Show was inspirational, and while nothing approximating that show exists on Netflix, Drew Barrymore makes for a spirited sparring partner, opening up about drugs, hosting SNL as a kid, and navigating her career. Jane Fonda's interview ups the stakes a little more. "You're weird," she tells Macdonald after his initial line of questioning about men she finds sexy and Suzanne Somers' thighs. The first half made me a little nervous but Fonda is a pro and never gets flustered, whether she's talking about her mortality or contemplating Macdonald's bad pickup line.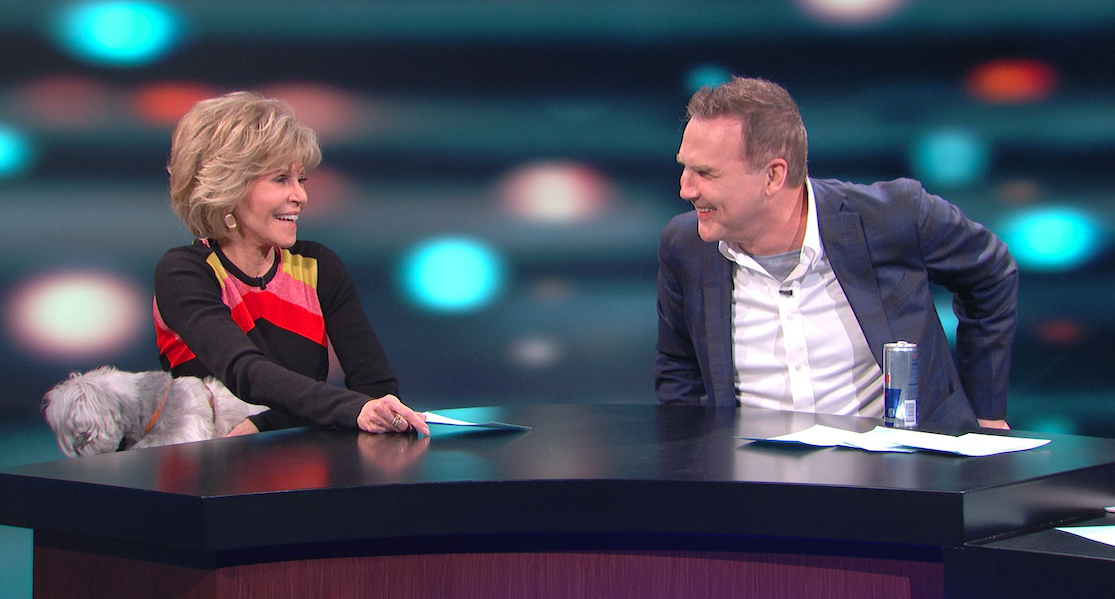 Letterman helped sell the show to Netflix, and he's also one of the guests. In light of more allegations coming out against CBS CEO Les Moonves this week, Letterman's 2009 on-air admission that he had sex with women who worked for him is seeing renewed scrutiny, but he's one of Macdonald's heroes. In an interview with the Hollywood Reporter this week, Macdonald defended Roseanne Barr (he wrote for her show), Louis C.K., and Chris Hardwick, and claimed he's "happy the #MeToo movement has slowed down a little bit." He said of Barr and C.K.: "There are very few people that have gone through what they have, losing everything in a day. Of course, people will go, 'What about the victims?' But you know what? The victims didn't have to go through that." (He later apologized.) 
Perhaps it's best NMHAS is free from topical humor. Instead, Macdonald tells Letterman a joke about The Beverly Hillbillies and talks about how they're now part of the "brotherhood" of Netflix. But after a while the white noise of two comedy guys talking about the old days made me tune out. Netflix comedy execs Robbie Praw and Lisa Nishimura were recently asked about giving Louis C.K. another special and were barred from answering the question. Here's another: Does Netflix need a Norm Macdonald talk show or another Louis C.K. special? 
Macdonald does get some good banter out of his guests and has a talent for sifting out true(ish) Hollywood stories. But he's still planted in the classic era of comedy, where many of his heroes originated, while ideas about comedy and standup change elsewhere. 
Still not sure what to watch tonight? Here are our guides for the absolute best movies on Netflix, must-see Netflix original series, documentaries, docuseries, and movies.
Need more ideas? Here are our Netflix guides for the best war movies, documentaries, anime, indie flicks, true crime, food shows, LGBT movies, gangster movies, Westerns, film noir, and movies based on true stories streaming right now. There are also sad movies guaranteed to make you cry, weird movies to melt your brain, old movies when you need something classic, and standup specials when you really need to laugh. Or check out Flixable, a search engine for Netflix.