"This is Mexico. A good taco."
These words, spoken toward the end of the first episode of Netflix's Taco Chronicles, could serve as the show's thesis: No food is as important to a nation as the taco is to Mexico. 
Taco Chronicles

RELEASE DATE:
7/12/2019
CREATOR:
Pablo Cruz
STREAMING:
Netflix
Netflix continues to revolutionize the food show genre with this mouth-watering series.
Taco Chronicles argues that Mexico and the taco are inextricable, and a thorough exploration of the taco will provide a deeper understanding of the country. The series rigorously adheres to this point of view, tackling a different type of taco in each episode. It calls upon chefs, cultural anthropologists, waiters, food critics, and even passersby to tell a story that is part behind-the-scenes cooking show, part cultural history, and part intimate documentary. The result will make you hungry, make you think, and even melt your heart a little bit, like barbacoa in your mouth.
Episode 1, "Pastor," chronicles the history and extreme popularity of al pastor: pork meat cooked in a style of Middle Eastern shawarma. From there, Taco Chronicles tackles carnitas, canasta, asada, barbacoa, and guisado tacos. Each episode highlights the relationship between a particular taco meat and the region in which it originated.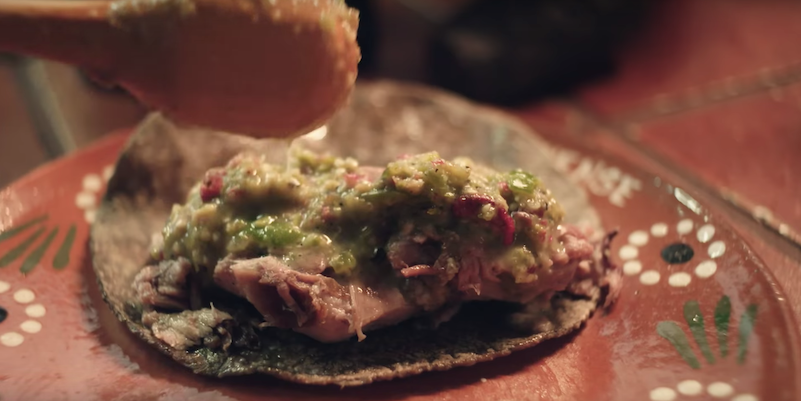 The series traces the origins of al pastor back to Asia Minor and follows the dish as it developed in Lebanon and Turkey before ultimately making its way to Mexico. The show's experts highlight the similarities between al pastor and Greek gyros and Turkish doner kebab while noting the ingredients that make it uniquely Mexican. (For starters, al pastor is made with pork while similar Asian dishes are made with lamb.) It explains that the history of pigs in Mexico is rooted in colonialism and has evolved along with the nation. The show similarly contextualizes other taco styles, chronicling each meat's development and various methods of preparation. 
Taco Chronicles isn't just historically and sociologically rigorous; it is also beautiful. The care with which the team shoots every taqueria is worthy of an independent feature or viral Instagram account. The show splices interviews with footage of taco preparation and b-roll of bustling Mexican cities. Sometimes the filmmakers even include a lovely overhead crane shot of a cattle ranch or a tracking shot through a local celebration. Even the photography bolsters the sense of rich cultural history, as vintage photographs from chefs offer a sense of how their respective restaurants and taco culture have grown.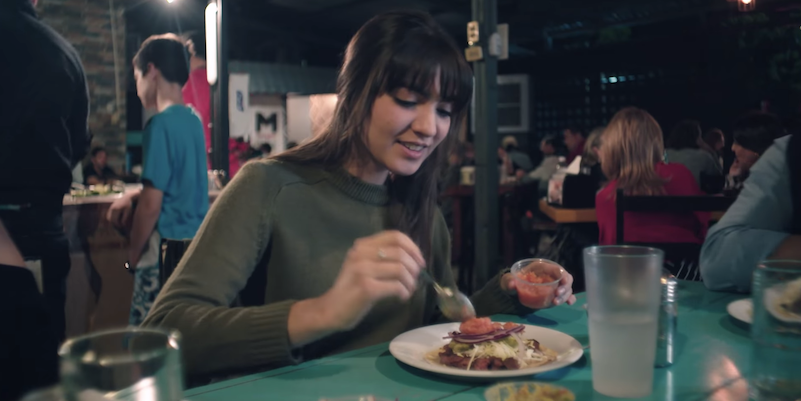 Taco Chronicles is also concerned with how people interact with tacos; at times, it presents the taco as more of a sociological tool or anthropological artifact than a food. Interviews with customers who grab tacos after a night out in Mexico City explore the connection between al pastor and nightlife. Some of these interviews—such as one with a craftsman who makes pots for cooking carnitas in Michoacan and another with a Sonoran rancher who raises cattle that will one day become carne asada—tie the meat to the traditional culture of Mexico. Ultimately, Taco Chronicles illuminates the role the taco has played and will continue to play in Mexican society.
Despite the high bar it sets by trying to be many things at once, Taco Chronicles works effortlessly well. Even some of the show's stranger choices, like narrators who speak from the perspective of the episode's chosen taco meat, succeed thanks to the clarity of vision and confidence. Taco Chronicles connects its disparate elements with steadfast devotion to exploring everything a taco can be.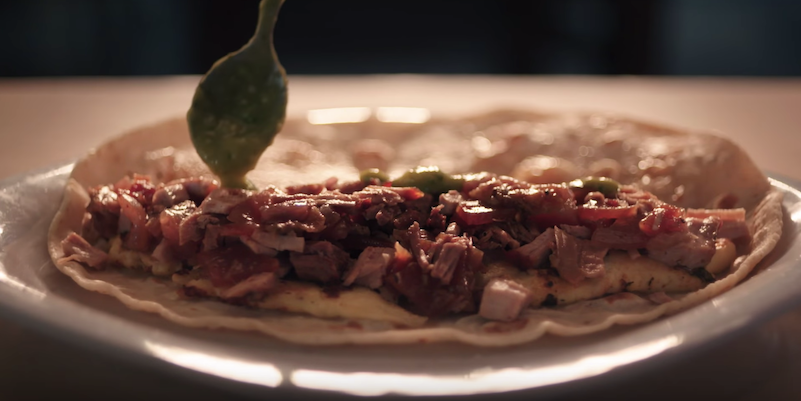 It's difficult to say if Taco Chronicles is the best food show in recent memory because it has so much great competition. The Great British Baking Show has stately charm. The work of the late Anthony Bourdain sparkled with sardonic, chaotic curiosity that made him a legend. Even a show like Diners, Drive-ins and Dives has its partisans. Taco Chronicles works much like Chef's Table and Street Food, which boast similarly gorgeous cinematography and thoughtful construction. But where Street Food found depth, this series seeks breadth, showing as many different chefs and talking heads from various backgrounds as possible in a 30-minute episode. Your preference between the two series will depend on your taste, as both tackle their chosen subject expertly.
While Netflix has struggled to produce narrative content of consistent quality, its food shows have set a new standard. With its dazzling photography, expert culinary explorations, and sheer passion, Taco Chronicles joins an elite class of food shows revolutionizing the genre. Just make sure to look up the nearest taco truck before you start watching.
Still not sure what to watch tonight? Here are our guides for the absolute best movies on Netflix, must-see Netflix original series, documentaries, docuseries, and movies.
Looking for something more specific? Here are our Netflix guides for the best war movies, documentaries, anime, indie flicks, true crime, food shows, rom-coms, LGBT movies, alien movies, gangster movies, Westerns, film noir, and movies based on true stories streaming right now. There are also sad movies guaranteed to make you cry, weird movies to melt your brain, old movies when you need something classic, and standup specials when you really need to laugh. Or check out Flixable, a search engine for Netflix.