In recent months, Netflix has made it clear that its commitment to pushing social and political boundaries only extends as far as its profit margins. This indifference and even outright distaste for political art is evident in the streaming service's new multi-cam sitcom Family Reunion.
Family Reunion
RELEASE DATE:
7/10/2019
CREATOR:
Meg DeLoatch
STREAMING:
Netflix
The new sitcom about a Black family that moves from Seattle to Georgia aims for 'Blackish' but winds up closer to 'Fuller House.'
The internet erupted in March when Netflix canceled One Day at a Time despite the passionate fandom it amassed over three critically acclaimed seasons. The show, along with ABC sitcoms like Fresh Off the Boat and Blackish, marked an era of broadly appealing sitcoms that pushed the cultural and political envelope, highlighting issues important to Latinx, Asian, and Black communities. It seemed like television was experiencing a shift to more socially conscious sitcoms that mixed mass appeal and critical thought. Offerings like Family Reunion, however, show that isn't always the case. In fact, the glut of Netflix sitcoms that shy away from politics and promote a more conservative vision of family makes you wonder if the tide is reversing.
Family Reunion follows the McKellans, a Black family that moves from Seattle to a small Georgia town. Moz (Anthony Alabi) is a professional football player who decides it's time to hang up the cleats and enjoy a quiet rural life with his wife Cocoa (sitcom veteran Tia Mowry-Hardrict) and their children in the town where he grew up. As they try to figure out what their new lives will look like, they stay with Moz's parents, setting the stage for an intergenerational sitcom full of heartwarming life lessons.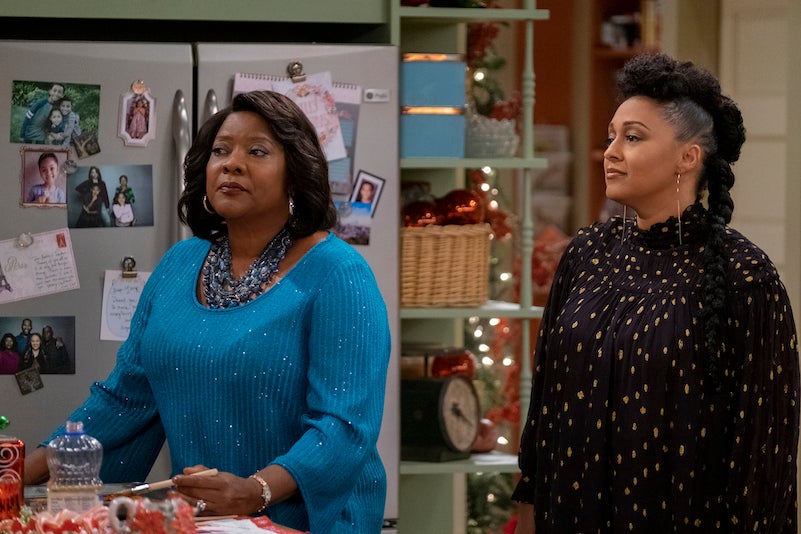 The series quickly unloads the standard tropes of generational conflict. When Cocoa tells her in-laws that she and Moz are "new-school parents," Moz's mother M'Dear (Loretta Devine) retorts that "the jails are full of new-school children." Family Reunion presents the signifiers of Southern Black culture, from cornbread to church hats, but it rarely says anything politically or socially daring. The writers clearly wanted to capitalize on the success of shows like Blackish without the controversy, to profit off Black culture without meaningfully engaging with it. The result is a show that's more akin to inferior Netflix multi-cams such as The Ranch and The Good Cop, which settle for easy jokes over social commentary.
One of the most glaring examples of Family Reunion's apolitical nature comes when M'Dear threatens to spank Jade (Talia Jackson), the show's "cool teenager." The series essentially argues that corporal punishment has value and plays the halfhearted opposition to spanking for laughs. In 2014, Blackish tackled the issue of spanking with much more thought. Though Family Reunion's episode airs five years later, it feels like it was written 30 years earlier. 
If any character in this series has potential to be compelling, it's Jade. She is quick to challenge the conservative ideals of her family members, and Jackson plays the role with vibrance and smarts. The show acknowledges her light skin—which it attributes to Jade taking after Cocoa's mother—within the first five minutes of the pilot. Later in the episode, Jade encounters young Black Lives Matter activists at a party and is embarrassed when they call her out for not knowing who Huey P. Newton (co-founder of the Black Panthers) is. It's a promising moment that falls flat, as the show plays it merely as the new girl getting bullied. This sets the tone for the rest of the series, as Family Reunion frequently mentions hot-button issues and toes the line of saying something interesting, only to settle for safer punchlines.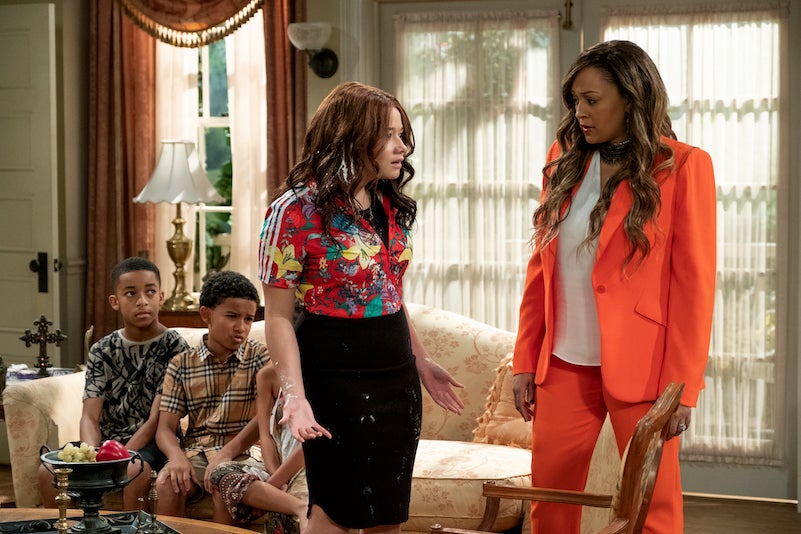 Sometimes these easy jokes are harmless, albeit stale; Family Reunion makes a Girls Gone Wild reference in 2019. But at times, the show's emphasis on church and family affirms the patriarchy and the necessity of "slower," more "community-oriented" neighborhoods with "family support." The show clearly hearkens back to more conservative Black sitcoms of yesteryear, but it's hard to imagine why its target audience would watch this instead of reruns of those very sitcoms.
Mowry-Hardrict has built a fine career acting in and producing projects that are tonally and politically similar to her '90s hit Sister, Sister. Family Reunion offers the same kind of easy nostalgia as her own recent sitcom Instant Mom and fellow Netflix property Fuller House. Each of these new projects feels a little staler than the previous one, as the culture has moved further away from them. 
That said, Netflix has a lot of data at its disposal, and it wouldn't make these shows if it didn't think people would watch. Therein lies the problem with Netflix presenting itself as a "woke" brand. By letting go of a forward-thinking show like One Day at a Time and producing an uninspired, regressive new project like Family Reunion, the streaming giant is saying it only cares about being progressive when it's good for business. And being political only when it's popular isn't political at all.
Still not sure what to watch tonight? Here are our guides for the absolute best movies on Netflix, must-see Netflix original series, documentaries, docuseries, and movies.
Looking for something more specific? Here are our Netflix guides for the best war movies, documentaries, anime, indie flicks, true crime, food shows, rom-coms, LGBT movies, alien movies, gangster movies, Westerns, film noir, and movies based on true stories streaming right now. There are also sad movies guaranteed to make you cry, weird movies to melt your brain, old movies when you need something classic, and standup specials when you really need to laugh. Or check out Flixable, a search engine for Netflix.
Correction: A previous version of this review misidentified Jade as not part of the nuclear family.