Back in March, a single left hook upset the perfect quiet of an arena in Brasilia, Brazil, introducing the world to the brutality of mixed martial arts in the era of quarantine. Brazilian grappling genius Gilbert Burns, who fights Tyron Woodley on Saturday night in a fight you can stream on ESPN, caught Demian Maia on the chin with a counter that knocked him cold and broke the hearts of countless fans who had come to view Maia as both a hero to the middle-aged and a throwback to a time when a specialist could still make his way in MMA.
While a great fighter can go far on skill and experience and guile even as his body starts to turn on him, speed will always betray age in the end. And Maia's 42-year-old eyes never saw Burns' left hand coming. Mourn as we may this changing of the guard, though, there was no begrudging Burns the recognition that he had finally, after six years in the UFC, reached the top tier of the welterweight division. As a reward for that achievement he's been given a fight with Woodley, a power puncher who's spent the last year searching for an outlet for his boiling anger.
The year must have felt like an eternity for Woodley. After holding the welterweight title for three years, he was humbled by Kamaru Usman last March in a one-sided mashing, and since then, his life has been a series of disappointments, physical collapses, and delayed shots at redemption. Woodley's road back to the belt was supposed to start with a rematch against Robbie Lawler that June, but Woodley was forced out with a hand injury a month before their fight. That injury left the former champion with little to do but stew over his performance against Usman and mourn the belt he'd lost, before he was finally given a fight with rising star Leon Edwards this March.
But that fight also was wiped out, this time by the COVID-19 pandemic and Woodley was forced once again to wait and fume.
To keep sane, he directed his anger outward, calling out everyone he could think of: Usman, of course, and divisional bigmouth Colby Covington and middleweight champion Israel Adesanya. Woodley even tried for the biggest fish in the MMA sea, superstar Conor McGregor, but the Fates, and the cruel realities of a public-health crisis, were aligned against him. He was a warrior without a war, drowning in pent-up desires and rage—which is both the best and the worst place for a professional fighter to be.
Thankfully, at the same time Woodley was fruitlessly searching for a fight with the biggest names in MMA, Burns was looking for a fight to increase the size of his own. And what better fighter to help him do that than the No. 1-ranked welterweight in the world and the division's former longtime champion? Beating Woodley would be a huge feather in Burns' cap, instantly making him a real player in the division. And while beating Burns would mean less for Woodley's career no doubt hitting anyone at this point will do wonders for his mental state.
Here's everything you need to know to stream Woodley vs. Burns.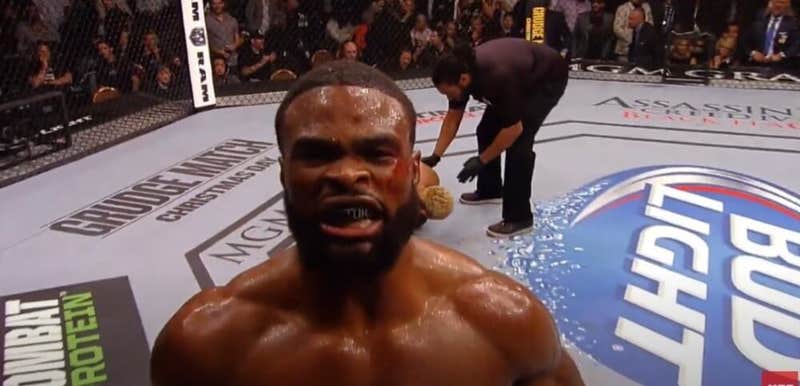 Tyron Woodley vs. Gilbert Burns
When: Saturday, May 30, at 9pm EST
Where: UFC Apex in Las Vegas
Streaming: ESPN (free trials with various streaming services)
How to watch Woodley vs. Burns without cable
ESPN+ is a subscription-based streaming service that lets you watch all sorts of live sports action you won't find anywhere else. Think of it as a way of super-sizing your ESPN viewing, allowing you to stream more exclusive UFC fights.
But ESPN+ offers a lot more than UFC cards, though. In addition to 20 UFC Fight Night events per year, you'll also get 180 NHL games, at least one MLB game every day for the entire season, and thousands of college sporting events. No matter what sport you're into, you'll find plenty to watch on ESPN+: Top Rank Boxing, Grand Slam tennis events, and international soccer from Italian Serie A, EFL, and UEFA Nations League. It also offers the equivalent of NFL Sunday Ticket for Major League Soccer games, allowing you to watch every out-of-market MLS game for the entire season. That's roughly 250 games.
Plus, you'll gain access to the entire 30 for 30 catalog, 150 entries, and counting.
---
Most of the major live streaming services offer ESPN, and all of the ones featured below include a free one-week trial. Meanwhile, here's how to watch ESPN+ and what the streaming service has to offer. Once you download the ESPN app and type in your credentials, you can watch the prelims and the main event from one convenient location. Here are a few options for you to stream ESPN:
Hulu with Live TV is one of the most popular ways to stream live TV, perhaps because you gain access to a massive library of on-demand content including classic and current TV shows and movies. Plus, you get all of Hulu's original programming. As far as live-streaming goes, you'll have a ton of local, entertainment, and sports channels to flip through, including HGTV, a full suite of ESPN channels, Cartoon Network, FX, and even deep cuts like Nat Geo Wild and Syfy.
For a more à la carte service, look to Sling TV. It offers two cable packages, Sling Orange and Sling Blue, each of which costs $30 per month. If you grab them both (Sling Orange + Blue), you can save $10 per month. Sling Blue offers more bang for your buck with over 40 channels, including sports necessities like FS1, NBCSN, and NFL Network. You'll also gain access to the usual cable mainstays like Food Network, Discovery, Cartoon Network, SYFY, and FXX. Whichever package you choose, you can save $10 on your first month. Here's the complete guide to Sling TV channels.
YouTube TV is a great solution for families because one subscription can add up to six accounts, and each account comes with unlimited cloud DVR. You can't beat the variety, either: There are sports channels like NBCSN, NBA TV, and four ESPN channels, while Disney, Disney XD, Disney Junior, and Cartoon Network will keep any kid (or kid at heart) busy for hours. It also comes with a few Spanish-language channels like Telemundo and NBC Universo. AMC, BBC America, and IFC are there too, so you won't miss out on all that prestige TV. (You can find the full list of YouTube TV channels here.)
Watch UFC on ESPN+
While ESPN is the only outlet broadcasting the action on the main card, UFC fans should also have ESPN+ on their radar—the streaming service which, as of March 2019, signed a seven-year deal with the MMA organization to be the exclusive home of UFC PPV telecasts and nearly two dozen UFC Fight Nights per year. The prelim card on Saturday night can be seen on both ESPN and ESPN+
The ESPN+ app is available on Amazon Fire Stick and Fire TV, Google Chromecast, PlayStation 4, Xbox One, Roku, Apple TV, Android TV, and iOS and Android devices.
Woodley vs. Burns live stream schedule
All times ET
Main Event | 9pm on ESPN
Tyron Woodley vs. Gilbert Burns
Blagoy Ivanov vs. Augusto Sakai
Billy Quarantillo vs. Spike Carlyle
Roosevelt Roberts vs. Brok Weaver
Mackenzie Dern vs. Hannah Cifers
Prelims |6pm on ESPN+
Katlyn Chookagian vs. Antonina Shevchenko
Daniel Rodriguez vs. TBA
Jamahall Hill vs. Klidson Abreu
Tim Elliott vs. Brandon Royval
Louis Smolka vs. Casey Kenney
Chris Gutierrez vs. Vince Morales
---
For a year-round sports fix, sign up here and check the "sports" box to receive our weekly boxing newsletter. You'll hear about all the biggest fights and best knockouts from the Daily Dot's streaming sports guru Josh Katzowitz.