For Jessica Eye and Cynthia Calvillo and every other female flyweight contender in the UFC, success is a double-edged sword.
All mixed martial artists dream of headlining a UFC card—which will happen on Saturday night when Eye and Calvillo battle in a main event you can stream on ESPN+—and getting the chance to fight for a UFC belt. But to excel in the flyweight division is to put yourself directly in the path of arguably the most dominant fighter in the UFC today. That'd be flyweight champion Valentina Shevchenko, a woman so strong, so skilled, so worlds ahead of her competition that her fights have a fatalistic air about them. In the women's flyweight division, all roads lead to misery.
Just ask Eye, who's been the No. 1 contender in the flyweight division since it was created. Before 2017, Eye was forced to fight at bantamweight, struggling for years to put her striking skills to good use against much larger women. But since she started fighting women her own size, she's been a terror.
Yet when Eye finally got her long-awaited shot at a UFC belt last year, it was as if she'd been tossed in the cage with a lion. Even as the top contender, her doom felt predetermined. In the second round, Shevchenko hit Eye with a sublime and awful head kick that knocked her out cold, and for several long minutes, Eye lay unconscious on the canvas while everyone in the arena held their breath.
It was the kind of moment that gives even the most hardened MMA fans pause, making them wonder what it says about their souls that they've fallen in love with such a sport. Despite that harrowing loss, however, Eye remains the top-ranked flyweight in the UFC, a testament both to her abilities and the relative thinness of the division. But how in the name of athletic legitimacy and human decency could UFC matchmakers justify putting her back in the cage against Shevchenko after that knockout? It would be indecent. As long as Shevchenko is champion, Eye is stuck: too good to give up her ranking, not good enough to justify another shot at the title.
Which explains why she's fighting Calvillo.
Desperate to find someone, anyone, who might one day present Shevchenko a challenge, the UFC has been forced to improvise. So they reached all the way down the rankings to No. 10 and pulled up Calvillo and hope she gives Eye enough trouble to create some hype and justify a future championship fight. It's Calvillo's big break, a chance to cut the line and make it into the top-five at last. Which in any other circumstance would be heaven for a professional fighter, but at women's flyweight sounds like madness: The beginning of a terrible end, the prelude to a long, hard look in the mirror.
Here's everything you need to know to watch Eye vs. Calvillo.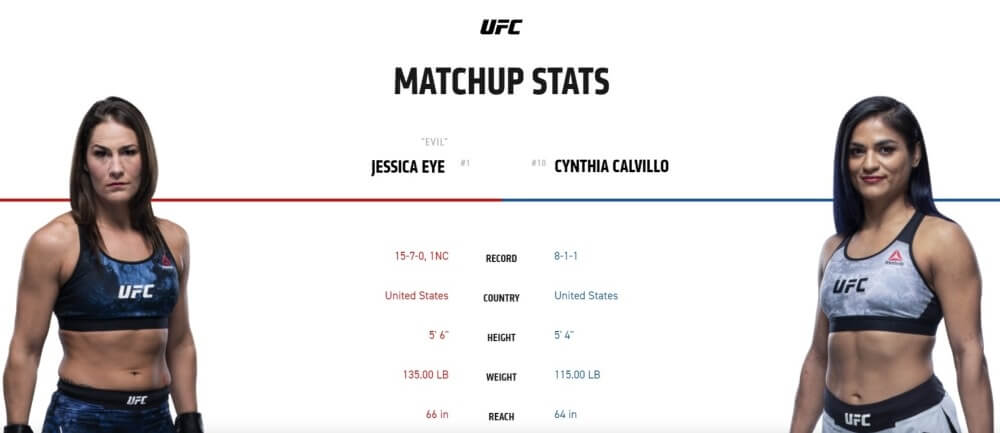 Jessica Eye vs. Cynthia Calvillo
When: Saturday, June 13, at 9pm EST
Where: UFC Apex in Las Vegas
Streaming: ESPN+
---
How to watch Eye vs. Calvillo
ESPN+ is a subscription-based streaming service that lets you watch all sorts of live sports action you won't find anywhere else. Think of it as a way of super-sizing your ESPN viewing, allowing you to stream more exclusive UFC fights.
But ESPN+ offers a lot more than UFC cards. In addition to 20 UFC Fight Night events per year, you'll also get 180 NHL games, at least one MLB game every day for the entire season, and thousands of college sporting events. No matter what sport you're into, you'll find plenty to watch on ESPN+: Top Rank Boxing, Grand Slam tennis events, and international soccer from Italian Serie A, EFL, and UEFA Nations Cup. It also offers the equivalent of NFL Sunday Ticket for Major League Soccer games, allowing you to watch every out-of-market MLS game for the entire season. That's roughly 250 games.
Plus, you'll gain access to the entire 30 for 30 catalog—150 entries and counting.
The ESPN+ app is available on Amazon Fire Stick and Fire TV, Google Chromecast, PlayStation 4, Xbox One, Roku, Apple TV, Android TV, and iOS and Android devices.
Saturday night's prelim card, meanwhile, can be watched on either ESPN or ESPN+. Most of the major live streaming services offer ESPN, and all of the ones featured below include a free one-week trial. Here are a few options for you to stream ESPN:
Hulu with Live TV is one of the most popular ways to stream live TV, perhaps because you gain access to a massive library of on-demand content including classic and current TV shows and movies. Plus, you get all of Hulu's original programming. As far as live-streaming goes, you'll have a ton of local, entertainment, and sports channels to flip through, including HGTV, a full suite of ESPN channels, Cartoon Network, FX, and even deep cuts like Nat Geo Wild and Syfy.
For a more à la carte service, look to Sling TV. It offers two cable packages, Sling Orange and Sling Blue, each of which costs $30 per month. If you grab them both (Sling Orange + Blue), you can save $10 per month. Sling Blue offers more bang for your buck with over 40 channels, including sports necessities like FS1, NBCSN, and NFL Network. You'll also gain access to the usual cable mainstays like Food Network, Discovery, Cartoon Network, SYFY, and FXX. Whichever package you choose, you can save $10 on your first month. Here's the complete guide to Sling TV channels.
YouTube TV is a great solution for families because one subscription can add up to six accounts, and each account comes with unlimited cloud DVR. You can't beat the variety, either: There are sports channels like NBCSN, NBA TV, and four ESPN channels, while Disney, Disney XD, Disney Junior, and Cartoon Network will keep any kid (or kid at heart) busy for hours. It also comes with a few Spanish-language channels like Telemundo and NBC Universo. AMC, BBC America, and IFC are there too, so you won't miss out on all that prestige TV. (You can find the full list of YouTube TV channels here.)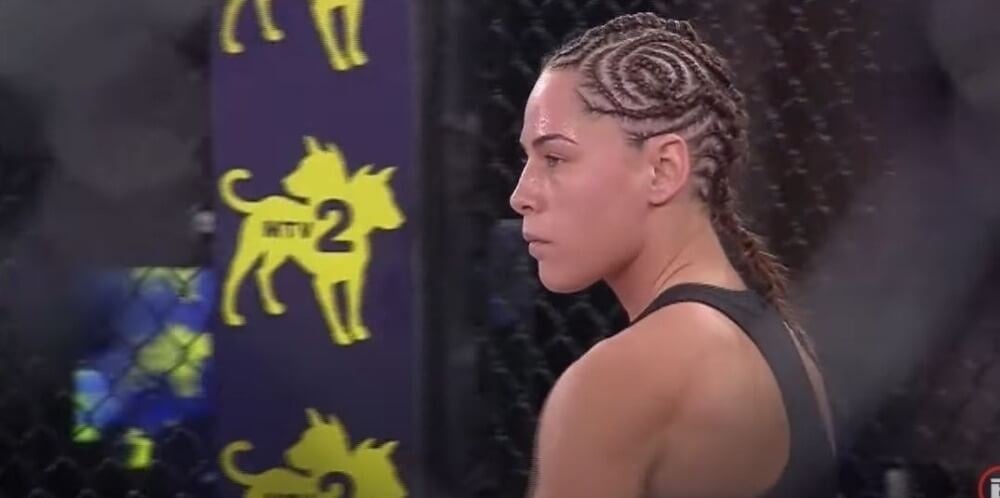 Eye vs. Calvillo live stream schedule
All times ET
Main Event | 9pm on ESPN
Jessica Eye vs. Cynthia Calvillo
Karl Roberson vs. Marvin Vettori
Merab Dvalishvili vs. Ray Borg
Andre Fili vs. Charles Jourdain
Jordan Espinosa vs. Mark De La Rosa
Prelims | 6pm on ESPN+
Mariya Agapova vs. Hannah Cifers
Charles Rosa vs. Kevin Aguilar
Julia Avila vs. Gina Mazany
Tyson Nam vs. Zarrukh Adashev
Jordan Griffin vs. Darrick Minner
Anthony Ivy vs. Christian Aguilera
---
For a year-round sports fix, sign up here and check the "sports" box to receive our weekly boxing newsletter. You'll hear about all the biggest fights and best knockouts from the Daily Dot's streaming sports guru Josh Katzowitz.
The Daily Dot may receive a payment in connection with purchases of products or services featured in this article. Read our Ethics Policy to learn more.