Not since the dark early days of MMA, when fights were always at risk of being shut down at the last minute by appalled local governments or wary state athletic commissions, has there been a UFC event as star-crossed, storm-blown, and uncertain as UFC 249—which will finally take place on Saturday with a main event of Tony Ferguson vs. Justin Gaethje.
---
Originally scheduled to take place April 18 in Brooklyn, New York, and featuring a long-wished-for fight between lightweight champion Khabib Nurmagomedov and No. 1 contender Ferguson, the event was wiped out, along with the rest of the sports world, by the coronavirus pandemic. At first, UFC President Dana White—a man who exhibits all the braggadocio, bullying, and delusional self-regard of a born fight promoter—did all he could to make sure the show went on. He defied government guidelines, public-health warnings, common decency, and common sense in an attempt to bolster the UFC brand; tried to make good on billion-dollar deals with the promotion's owners and broadcast partners; and attempted to prove his personal toughness in the face of the worst global health threat in 100 years.
In the end, though, even White had to concede to the harsh reality the rest of the world had acknowledged weeks before: There could be no sporting events in the age of social distancing, not in Brooklyn, not on a Native American reservation, not even on a private island. White may have kept pushing even after Nurmagomedov got locked down in his native Dagestan, but by then, the writing was on the wall.
One month later, and with the world taking its first baby steps back toward something like normalcy, it appears White will actually get his wish and the UFC will be the first major sports promotion to return to action—though not without some serious alterations and compromises.
To start with, the main event will no longer feature Nurmagomedov (thus making UFC 249 just the latest in a long series of planned fights between him and Ferguson to get canceled). The champion is still stuck at home so he will be replaced by Gaethje, who will fight Ferguson for an interim belt. In addition, the event will take place not in a roaring Barclay's Center but in the eerie silence of the VyStar Veterans Memorial Arena in Jacksonville, Florida.
Even in Florida, though, there are limits to how open economies can be in May 2020, and, so far anyway, Gov. Ron DeSantis is drawing the line at arenas full of potential virus carriers. In addition, all the fighters will undergo daily COVID-19 testing, temperature checks, and dietary screenings. To ensure social distancing, they'll be staying in a hotel otherwise free of guests, they'll have all their food delivered to their rooms, and they'll be assigned their own workout rooms and saunas for weight-cutting.
Whether you think such precautions are adequate for pulling off a sporting event in the middle of a pandemic is probably largely an indicator of your political disposition. But let's put aside for a moment the social risks of flying dozens of fighters and coaches and officials from around the country and exposing them and their families to countless non-MMA-related strangers (and vice versa). Instead, let's focus on the far more predictable and pleasurable and far less morally dubious risks involved in an MMA match.
Because, even forgetting the pandemic, the fight between Ferguson and Gaethje will feature more of them than your average cage match. Ferguson is a whirlwind of unconventional elbow attacks, spins, and even somersaults that cause all kinds of damage to his opponents. While Gaethje may not possess Ferguson's creativity, he's the hardest puncher in the lightweight division, and he has leg kicks that break other fighters—first physically then mentally. Between Ferguson's ability to cut and Gaethje's to hobble, their meeting will be a bloody battle of equal and opposite fighting philosophies.
Under normal circumstances, it would be an absolute godsend for MMA fans. But these are the circumstances we've got. Whether UFC 249 is the joyous herald of a new, more open world or an act of colossal hubris with all manner of unforeseen but foreseeable consequences is anyone's guess. In the meantime it puts devoted MMA fans bored by two months of quarantining in a moral quandary: forced to choose between the sport they love and their sense of shared humanity.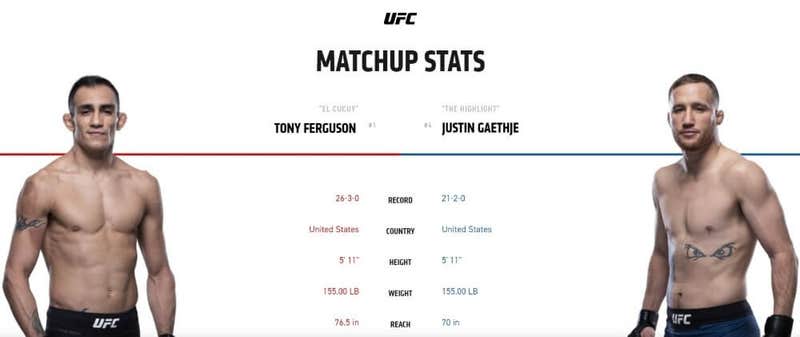 UFC 249: Tony Ferguson vs. Justin Gaethje
When: Saturday, May 9 at 10pm ET
Where: VyStar Veterans Memorial Arena, Jacksonville, Florida
Streaming: ESPN+
UFC 248: How to watch Ferguson vs. Gaethje
Thanks to a huge seven-year deal, ESPN+ is now the only way to watch UFC 249 (and all subsequent UFC PPVs). The good news: ESPN+ is now your one-stop shop for the MMA promotion's most important fight cards. Here's how it all breaks down:
UFC 249 cost:
In other words, you can buy UFC 249 for a one-time price of $64.99, but if you spend only $20 more, you'll also receive one year of ESPN+ to go with it. That's a $50 value, and if you're a big MMA fan, that's a nice deal. Along with all kinds of exclusive live events (see below), you can also watch plenty of UFC Fight Night events every year with ESPN+.
If you don't currently subscribe to ESPN+—which now boasts more than 6.6 million subscribers—you can purchase UFC 249 from your desktop or smartphone here. If you already subscribe, you can easily buy the PPV from the ESPN app by simply clicking on the event in the ESPN+ tab.
One thing to remember: Only the UFC 249 main event and prelim cards will be featured on ESPN+, and you will have to pay the $64.99 PPV fee (full schedule and watch guide below). Here's the main event card:
Tony Ferguson vs. Justin Gaethje
Henry Cejudo vs. Dominick Cruz
Francis Ngannou vs. Jairzinho Rozenstruik
Jeremy Stephens vs. Calvin Kattar
Greg Hardy vs. Yorgan De Castro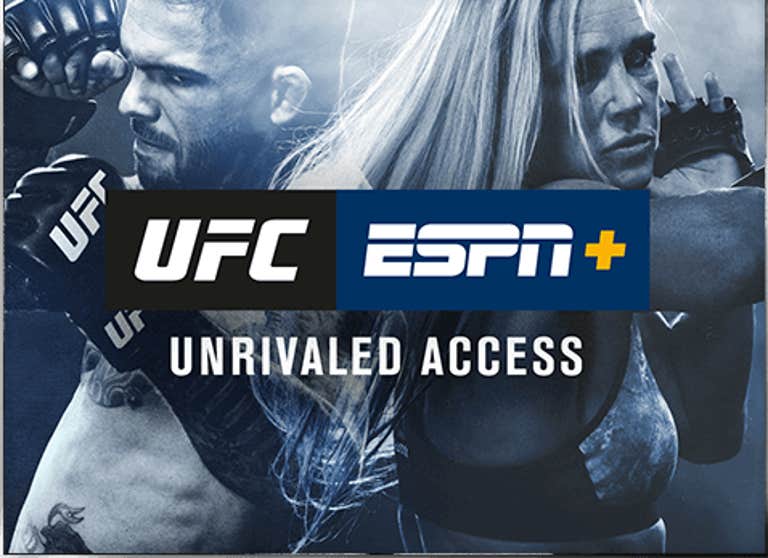 Devices: Chromecast, Amazon Fire Stick and Fire TV, Apple TV, Android TV, Roku players and TV, Oculus Go, Xbox One, PlayStation 4, Samsung smart TVs, and iOS and Android devices
ESPN+ is ESPN's subscription streaming service. It works as an extension of the ESPN app that you probably already have on your mobile device. Have you noticed the live events, articles, or series tagged with a gold "E+" that resides in the corner of the app? Those are the events that are locked behind the ESPN+ paywall. It's literally thousands of broadcasts per year, including the aforementioned UFC Fight Nights and a bunch of exclusive Top Rank boxing events. You'll also get all of the best 30 for 30 episodes, daily MLB action, every out-of-market MLS game, international soccer matches, and more college sports than you can dream of.
Along with access to a number of original series, your ESPN+ subscription also gives you fewer ads across the ESPN network.
TL;DR: It's a pretty great deal and essential for just about every sports fan.
UFC 249 live stream: ESPN prelims
Unlike UFC PPVs in the past, your ESPN+ subscription will also allow you to watch the ESPN prelims for free. If you choose to watch it on the network on your TV, you'll still need to have a cable or live TV subscription to view it beginning at 8pm ET. Here are the matches you'll be able to watch on ESPN (and ESPN+ now):
Anthony Pettis vs. Donald Cerrone
Aleksei Oleinik vs. Fabricio Werdum
Carla Esparza vs. Michelle Waterson
Uriah Hall vs. Ronaldo Souza
If you don't already have a way to watch ESPN online, every major live TV streaming service carries the channel, and all of them offer at least a one-week free trial before you need to start paying. Once you download the ESPN app and type in your credentials, you can watch the prelims and the main event from one convenient location. Here are a few options for you:
Hulu Live TV is one of the most popular ways to stream live TV, perhaps because you gain access to a massive library of on-demand content including classic and current TV shows, movies, not to mention Hulu's original programming. As far as live-streaming goes, you'll have a ton of local, entertainment, and sports channels to flip through, including HGTV, a full suite of ESPN channels, Cartoon Network, FX, and even deep cuts like Nat Geographic and Syfy.
---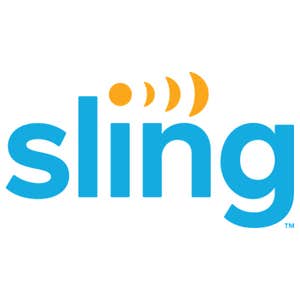 | | |
| --- | --- |
| Sling Orange | $35 |
| Sling Blue | $35 |
| Sling Orange & Blue | $50 |
For a more à la carte service, look to Sling TV. It offers two cable packages, Sling Orange and Sling Blue, each of which costs $35 per month. If you grab them both (Sling Orange + Blue) you can save $10 per month. Sling Blue offers more bang for your buck with over 40 channels, including sports necessities like FS1, NBCSN, and NFL Network. You'll also gain access to the usual cable mainstays like Food Network, Discovery, Cartoon Network, SYFY, and FXX. Whichever package you choose, you can save $10 on your first month. Here's the complete guide to Sling TV channels.
---
YouTube TV is a great solution for families because one subscription can add up to six accounts, and each account comes with unlimited cloud DVR. You can't beat the variety, either: There are sports channels like NBCSN, NBA TV, and four ESPN channels, while Disney, Disney XD, Disney Junior, and Cartoon Network will keep any kid (or kid at heart) busy for hours. It also comes with a few Spanish-language channels like Telemundo and NBC Universo. AMC, BBC America, and IFC are there too, so you won't miss out on all that prestige TV. (You can find the full list of YouTube TV channels here.)
---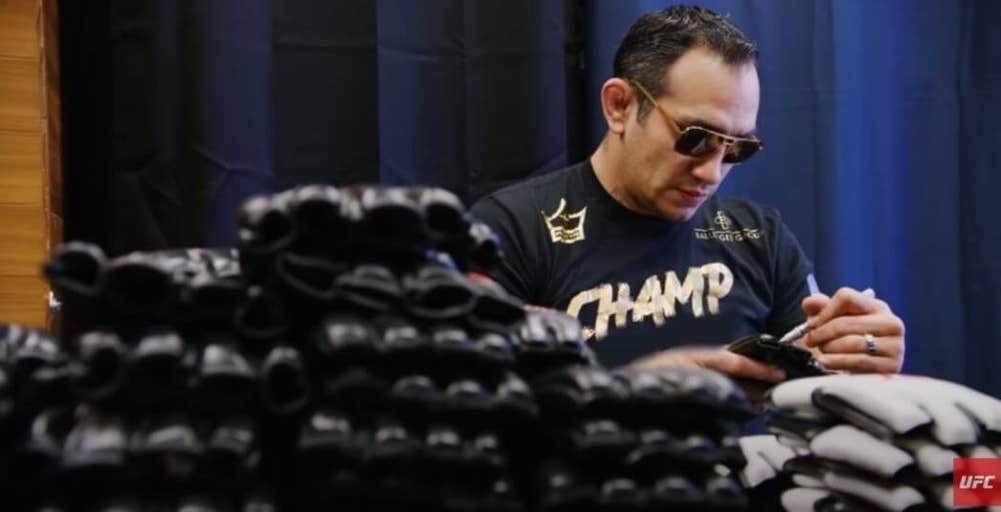 UFC 249 live stream: Fight Pass early prelims
For the die-hard fans out there, UFC's Fight Pass carries the early prelims, which start at 6:30pm ET. Here's the full Fight Pass lineup:
Vicente Luque vs. Niko Price
Bryce Mitchell vs. Charles Rosa
Ryan Spann vs. Sam Alvey
UFC Fight Pass launched in 2014. The service hosts the early undercard bouts of every UFC PPV card, and it's also where you'll find the smaller, more local UFC events that aren't picked up by national TV broadcasts. The streaming platform has even begun hosting more occasional boxing cards. The app is incredibly versatile. You can download it via Apple TV, Xbox One, Xbox 360, Amazon Fire TV, Chromecast, Roku, Samsung smart TVs, LG smart TVs, and iOS and Android devices.
Tony Ferguson vs. Justin Gaethje live stream schedule
All times in ET.
Main card | 10pm on ESPN+
Tony Ferguson vs. Justin Gaethje
Henry Cejudo vs. Dominick Cruz
Francis Ngannou vs. Jairzinho Rozenstruik
Jeremy Stephens vs. Calvin Kattar
Greg Hardy vs. Yorgan De Castro
Prelims | 8pm on ESPN and ESPN+
Anthony Pettis vs. Donald Cerrone
Aleksei Oleinik vs. Fabricio Werdum
Carla Esparza vs. Michelle Waterson
Uriah Hall vs. Ronaldo Souza
Early Prelims | 6:30pm on Fight Pass
Vicente Luque vs. Niko Price
Bryce Mitchell vs. Charles Rosa
Ryan Spann vs. Sam Alvey
For a year-round sports fix, sign up here and check the "sports" box to receive our weekly boxing newsletter. You'll hear about all the biggest fights and best knockouts from the Daily Dot's streaming sports guru Josh Katzowitz.
The Daily Dot may receive a payment in connection with purchases of products or services featured in this article. Read our Ethics Policy to learn more.