It's one of MMA's great mysteries why Amanda Nunes isn't a giant superstar. All the ingredients for fame are there. Nunes, who fights Felicia Spencer on Saturday night in the UFC 250 main event that you can stream on ESPN+, is the first female fighter to hold UFC belts in two weight classes.
She's the first openly gay champion in UFC history. She's the woman who sent Ronda Rousey into retirement; who knocked out Holly Holm, the woman who ended Rousey's seemingly unstoppable reign of dominance; who humiliated Miesha Tate, the woman who took the belt from Holm; and who, for good measure, went up a weight class and knocked out Cris Cyborg, the most feared woman in the history of MMA.
Add in her two victories over Valentina Shevchenko and you have a streak unrivaled in the sport's history: In four short years, Amanda Nunes has beaten five of the greatest female mixed martial artists of all time.
Yet outside the small MMA world, Nunes may as well be anonymous. Despite erasing both Rousey's and Cyborg's reputations as unbeatable monsters in under two combined minutes, she seemed to collect none of their shine.
Fame is a funny thing, the product of a mysterious blend of timing, effort, desire, and luck. But the simple fact is the UFC has failed at every turn to market Nunes properly (a black mark for a promotion famous for its marketing savvy). When Nunes fought Rousey in December 2016, for example, it was Nunes who held the bantamweight belt, but you never would have known that by the marketing campaign. Every commercial and every poster trumpeted the return of Rousey while treating Nunes as an afterthought. Considering Nunes smashed Ronda in under a minute, this approach felt, and still feels, like a giant missed opportunity.
The UFC, of course, would argue they were wise to take the approach they did, seeing as Rousey was a cultural phenomenon at the time, guaranteed to bring in outside eyes and dollars, while Nunes was just a mere dominant champion. What do casual fans care about a dominant champion when her challenger is appearing in movies and on talk shows?
---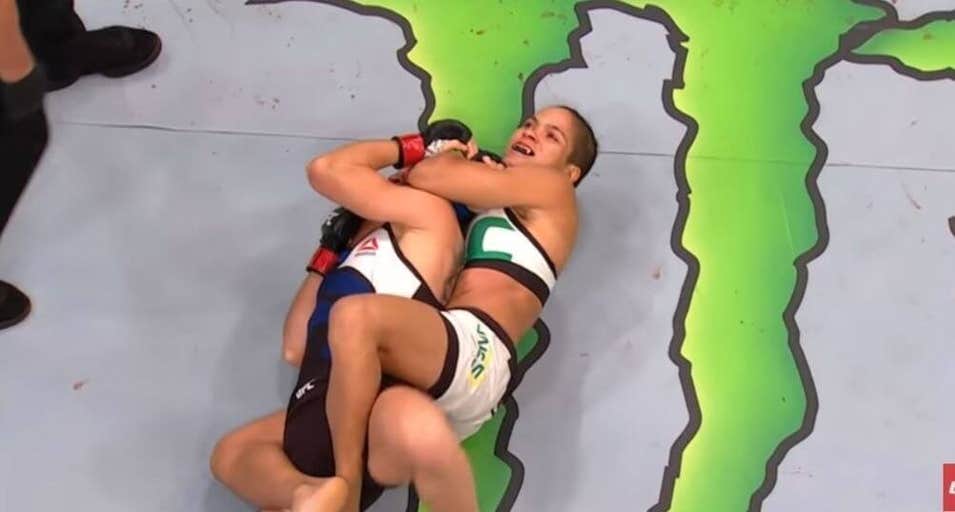 But fame doesn't exist in a vacuum. It needs a whole marketing machine to make it grow, and the UFC made a choice to push Rousey and ignore its Portuguese-speaking Brazilian champion. It was an inexplicably short-sighted decision considering just how momentary Rousey's return turned out to be and how much the UFC's push into the mainstream relies on foreign territories and new demographics—two worlds Nunes, as a non-American, openly gay woman of color, could be an ambassador to.
Thankfully for us, Nunes doesn't seem to care too much about the lack of media attention. She seems content knowing that no one has an answer for her blend of sublime striking ability, uncommon power, and black belt-level jiu-jitsu skills that she's augmented in recent years with a high-level fight IQ. When kickboxer Germaine de Randamie threatened Nunes' featherweight reign last December, rather than indulge her pride as a striker, Nunes grabbed onto the challenger and took her to the ground, where de Randamie had no ability to fight back. This was brilliance augmented by wisdom.
Which is a terrifying prospect for Spencer, who is a great grappler herself and a game soul but who has only one way to win. As long as this fight stays a striking match, Spencer will be lost in Nunes' world. Her only hope is to get a hold of the champion and pray that somehow her Brazilian jiu-jitsu black belt is worth more than Nunes'. It's a frighteningly small prospect to pin one's hopes on, but it will have to suffice. With any luck, Spencer can spin that tiny thread it into a miracle. But before that can happen, she'll have to survive something harrowing.
Here's everything you need to know to watch Nunes vs. Spencer.

UFC 250: Amanda Nunes vs. Felicia Spencer
When: Saturday, June 6 at 10pm ET
Where: The UFC Apex in Las Vegas
Streaming: ESPN+
UFC 250: How to watch Nunes vs. Spencer
Thanks to a huge seven-year deal, ESPN+ is now the only way to watch UFC 250 (and all subsequent UFC PPVs). The good news: ESPN+ is now your one-stop shop for the MMA promotion's most important fight cards. Here's how it all breaks down:
UFC 250 cost:
In other words, you can buy UFC 250 for a one-time price of $64.99, but if you spend only $20 more, you'll also receive one year of ESPN+ to go with it. That's a $50 value, and if you're a big MMA fan, that's a good deal. Along with all kinds of exclusive live events (see below), you can also watch plenty of UFC Fight Night events every year with ESPN+.
If you don't currently subscribe to ESPN+—which now boasts more than 6.6 million subscribers—you can purchase UFC 250 from your desktop or smartphone here. If you already subscribe, you can easily purchase the PPV from the ESPN app by simply clicking on the event in the ESPN+ tab.
One thing to remember: The UFC 250 main event and prelim cards will be featured on ESPN+ (but not the early prelim fights), and you will have to pay the $64.99 PPV fee (full schedule and watch guide below). Here's the main event card:
Amanda Nunes vs. Felicia Spencer
Raphael Assuncao vs. Cody Garbrandt
Aljamain Sterling vs. Cory Sandhagen
Neil Magny vs. Anthony Rocco Martin
Eddie Wineland vs. Sean O'Malley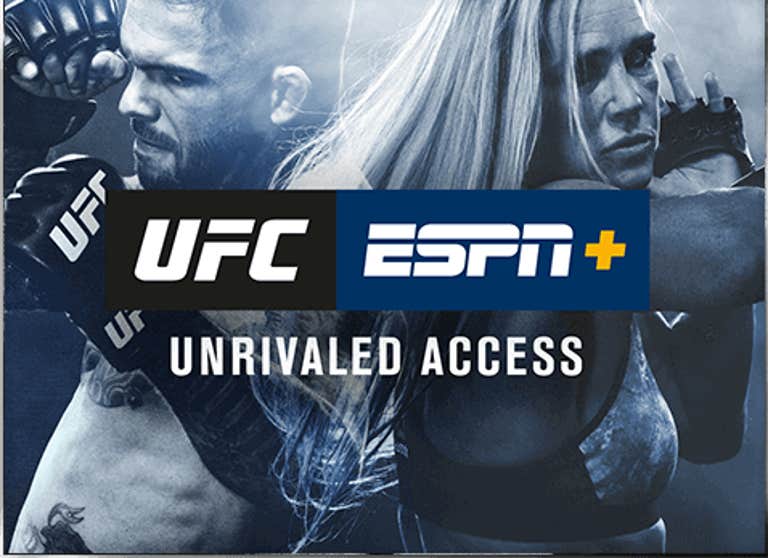 Devices: Chromecast, Amazon Fire Stick and Fire TV, Apple TV, Android TV, Roku players and TV, Oculus Go, Xbox One, PlayStation 4, Samsung smart TVs, and iOS and Android devices
ESPN+ is ESPN's subscription streaming service. It works as an extension of the ESPN app that you probably already have on your mobile device. Have you noticed the live events, articles, or series tagged with a gold "E+" that resides in the corner of the app? Those are the events that are locked behind the ESPN+ paywall. It's literally thousands of broadcasts per year, including the aforementioned UFC Fight Nights and a bunch of exclusive Top Rank boxing events. You'll also get all of the best 30 for 30 episodes, daily MLB action, every out-of-market MLS game, international soccer matches, and more college sports than you can dream of.
Along with access to a number of original series, your ESPN+ subscription also gives you fewer ads across the ESPN network.
TL;DR: It's a pretty great deal and essential for just about every sports fan.
UFC 250 live stream: ESPN prelims
Unlike UFC PPVs in the past, your ESPN+ subscription will also allow you to watch the ESPN prelims for free. Until recently, only those with an ESPN subscription could watch the prelims. But now you can watch the prelims on ESPN or ESPN+. If you choose to watch it on the network on your TV, you'll still need to have a cable or live TV subscription to view it beginning at 8pm ET. Here are the matches you'll be able to watch on ESPN (and ESPN+ now):
Alex Caceres vs. Chase Hooper
Ian Heinisch vs. Gerald Meerschaert
Cody Stamann vs. Brian Kelleher
Charles Byrd vs. Maki Pitolo
If you don't already have a way to watch ESPN online, every major live TV streaming service carries the channel, and all of them offer at least a one-week free trial before you need to start paying. Once you download the ESPN app and type in your credentials, you can watch the prelims and the main event from one convenient location. Here are a few options for you:
Hulu with Live TV is one of the most popular ways to stream live TV, mostly because you gain access to a massive library of on-demand content including classic and current TV shows and movies along with Hulu's original programming. As far as live-streaming goes, you'll have a ton of local, entertainment, and sports channels to flip through, including HGTV, a full suite of ESPN channels, Cartoon Network, FX, and even deep cuts like Nat Geo Wild and Syfy.
For a more à la carte service, look to Sling TV. It offers two cable packages, Sling Orange and Sling Blue, each of which costs $30 per month. If you grab them both (Sling Orange + Blue) you can save $10 per month. Sling Blue offers more bang for your buck with more than 40 channels, including sports necessities like FS1, NBCSN, and NFL Network. You'll also gain access to the usual cable mainstays like Food Network, Discovery, Cartoon Network, SYFY, and FXX. Whichever package you choose, you can save $10 on your first month. Here's the complete guide to Sling TV channels.
YouTube TV is a great solution for families because one subscription can add up to six accounts, and each account comes with unlimited cloud DVR. You can't beat the variety, either: There are sports channels like NBCSN, NBA TV, and four ESPN channels, while Disney, Disney XD, Disney Junior, and Cartoon Network will keep any kid (or kid at heart) busy for hours. It also comes with a few Spanish-language channels like Telemundo and NBC Universo. AMC, BBC America, and IFC are there too, so you won't miss out on all that prestige TV. (You can find the full list of YouTube TV channels here.)
UFC 250 live stream: Fight Pass early prelims
For the die-hard fans out there, UFC's Fight Pass carries the early prelims, which start at 6pm ET. Here's the full Fight Pass lineup:
Jussier Formiga vs. Alex Perez
Alonzo Menifield vs. Devin Clark
Evan Dunham vs. Herbert Burns
UFC Fight Pass launched in 2014. The service hosts the early undercard bouts of every UFC PPV card, and it's also where you'll find the smaller, more local UFC events that aren't picked up by national TV broadcasts. The streaming platform has even begun hosting more occasional boxing cards. The app is incredibly versatile. You can download it via Apple TV, Xbox One, Xbox 360, Amazon Fire TV, Chromecast, Roku, Samsung smart TVs, LG smart TVs, and iOS and Android devices.
Amanda Nunes vs. Felicia Spencer live stream schedule
All times in ET.
Main card | 10pm on ESPN+
Amanda Nunes vs. Felicia Spencer
Raphael Assuncao vs. Cody Garbrandt
Aljamain Sterling vs. Cory Sandhagen
Neil Magny vs. Anthony Rocco Martin
Eddie Wineland vs. Sean O'Malley
Prelims | 8pm on ESPN and ESPN+
Alex Caceres vs. Chase Hooper
Ian Heinisch vs. Gerald Meerschaert
Cody Stamann vs. Brian Kelleher
Charles Byrd vs. Maki Pitolo
Early Prelims | 6pm on Fight Pass
Jussier Formiga vs. Alex Perez
Alonzo Menifield vs. Devin Clark
Evan Dunham vs. Herbert Burns
---
For a year-round sports fix, sign up here and check the "sports" box to receive our weekly boxing newsletter. You'll hear about all the biggest fights and best knockouts from the Daily Dot's streaming sports guru Josh Katzowitz.
The Daily Dot may receive a payment in connection with purchases of products or services featured in this article. Read our Ethics Policy to learn more.