A Turning Point USA (TPUSA) employee recently claimed his thumb was broken and camera stolen by antifa inside Seattle's Capitol Hill Occupation Protest (CHOP). However, his claims should raise eyebrows considering his past and the fact that he admits he likes to "plan shit."
Colton Duncan, the TPUSA "production administrator" and Benny Johnson's content-creating protégé, entered CHOP to "expose" it by filming demonstrators inside, alongside TPUSA firebrand Katie Daviscourt. He made the claims of violence in mid-June.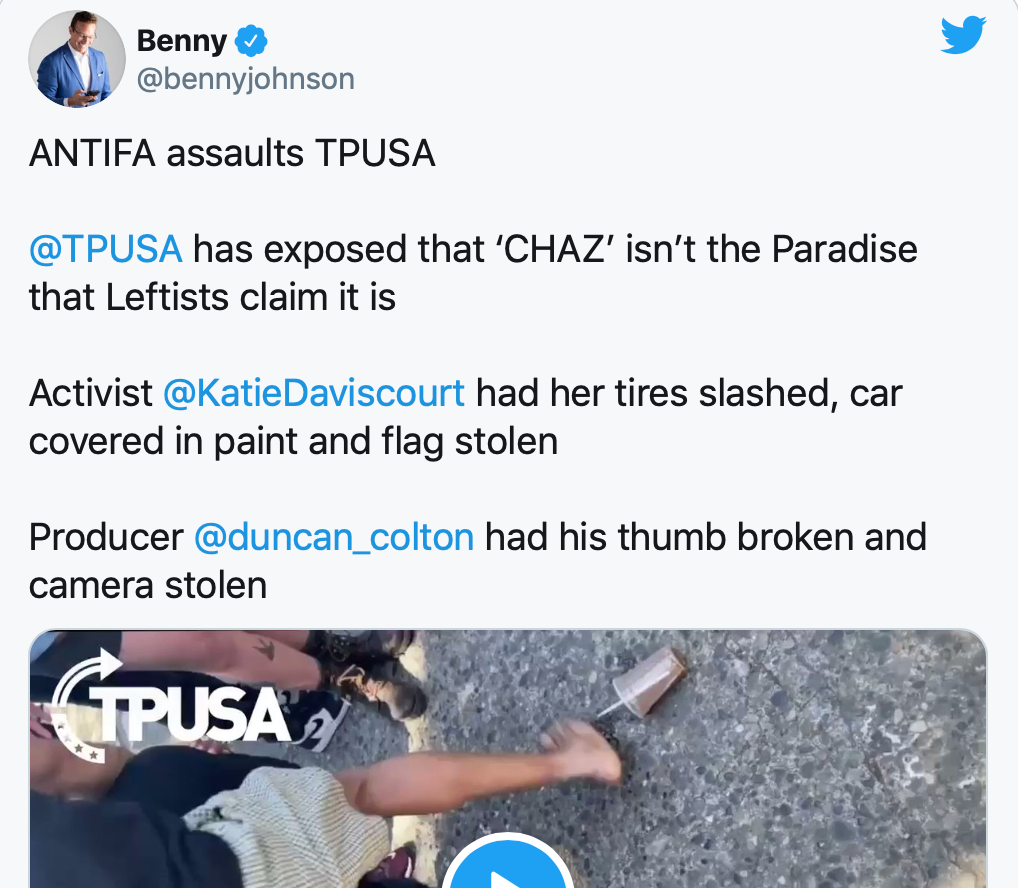 "ANTIFA attacks @TPUSA @KatieDaviscourt & myself had camera gear and an American flag stolen Her tires were slashed & my thumb is fractured. These people represent the Fascism they claim to hate," Duncan tweeted, along with a video.
The video doesn't show Duncan in pain. He doesn't state he hurt his hand during the encounter in which demonstrators allegedly snagged the activist's camera.
When asked by the Daily Dot if he had medical records proving he broke his thumb, Duncan didn't respond.
Duncan has a checkered past, from being pulled over for driving while intoxicated to suggesting that Democrats eat babies and sharing sexist remarks online.
In addition to working for Charlie Kirk's conservative youth organization for over the past year, Duncan also sells pro-Trump phone cases.
Duncan told the Daily Dot that the DWI charge, along with a drug possession charge, was dropped.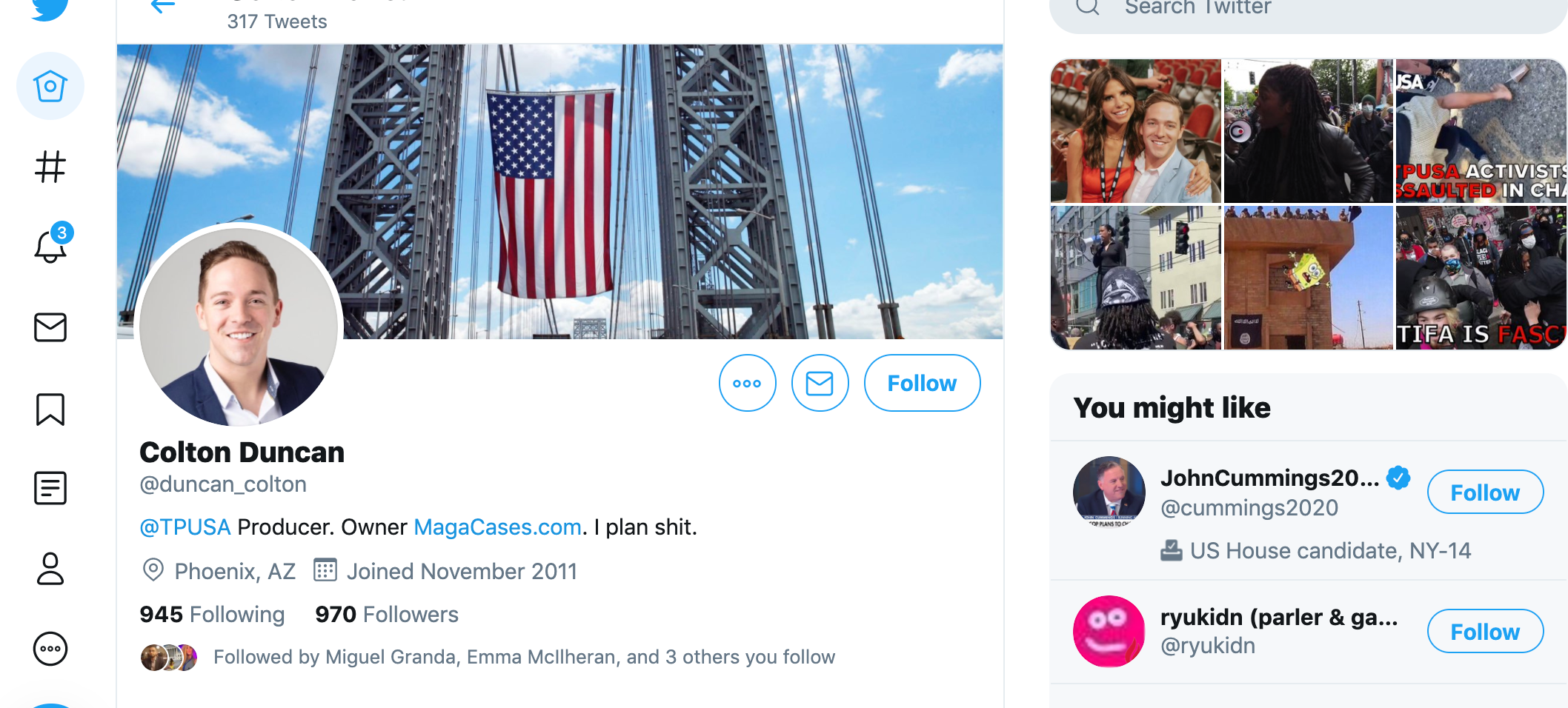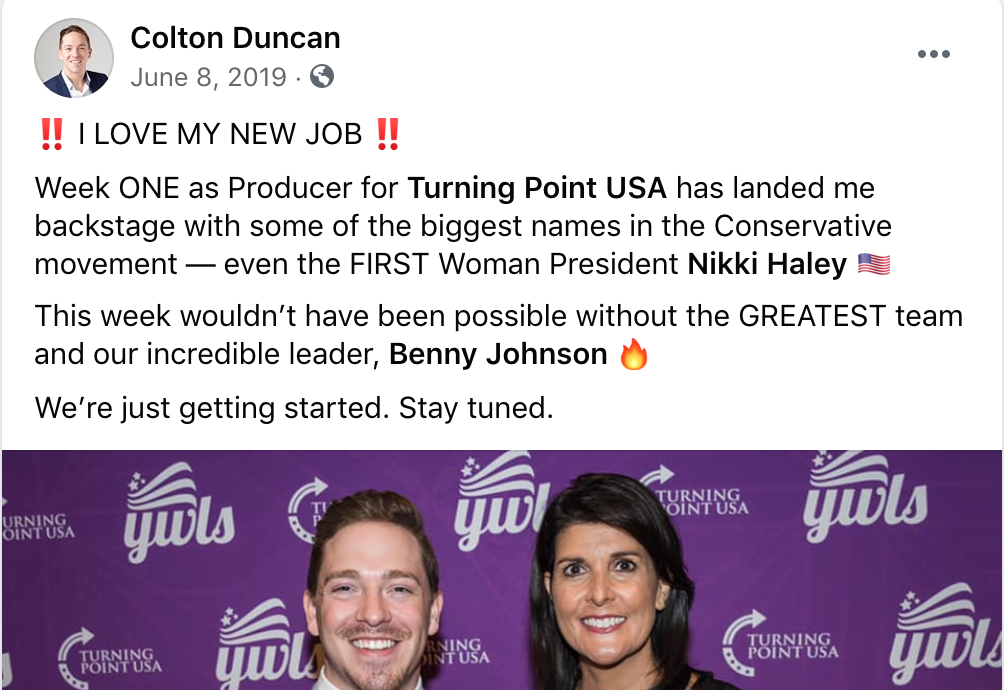 When asked by the Daily Dot about one of his posts in which he suggests Democrats eat babies, Duncan replied, "I'm pretty sure that's Democrat Governor Ralph Northam. Kind of hard to tell since he's not in his Klan Robe or Blackface."
Duncan wrote back in 2015, "Girls have it easy. They can take their clothes off and ppl throw money at them. When I do it they call it 'indecent exposure' #sexism."
"What do a pregnant woman, frozen beer, and burned pizza have in common? In all cases there is a man who forgot to take it out quick enough," Duncan tweeted back in 2011.
Duncan has also amplified sexist remarks through his retweets. "If you watch Cinderella backwards, it's a refreshing film about a woman who learns her place," one of his retweets reads.

When asked about his sexist tweets, he stated, "As I'm sure you'll agree, women are the superior sex."
During multiple exchanges between the Daily Dot and Duncan, he erased "I plan shit" from his Twitter bio but left up the tweets in question.
In June, Duncan shared a bizarre meme about SpongeBob SquarePants after the character came out as a member of the LGBTQ+ community. In the meme, SpongeBob is being pushed off a building. "Spongebob better pray there aren't any Radical Muslims in Bikini Bottom," Duncan captioned the meme.
Johnson didn't respond to the Daily Dot's request for comment.
The rising TPUSA employee has even rubbed elbows with political D.C. elites such as Donald Trump Jr.
On his LinkedIn (which appears to be outdated), Duncan touts that he currently serves as a "field associate" for GOP mega-donor Charles Koch's grassroots activist organization, Americans for Prosperity.
The page also states that Duncan should have graduated college back in 2018 from Texas State Univerity, where he was involved in numerous right-wing on-campus organizations and in student government.
The Daily Dot's multiple requests for comment have gone unreturned by TPUSA.
The conservative student organization has long struggled to deal with its young activists using derogatory and racist remarks online.
READ MORE: