Far-right columnist Michelle Malkin has moved even further in aligning herself with white nationalist "Groypers."
Not only has Malkin become one of their most vocal supporters online, but she allegedly went up against a top Turning Point USA (TPUSA) donor on their behalf.
On a Monday live stream alongside white nationalist Nicholas Fuentes, Malkin said she had a conversation with long-time Republican and TPUSA mega-donor Foster Friess about why he continues to support the influential conservative youth organization.
"The problem is you got this extremist libertarian cabal, they run these nonprofits, these campus organizations like TPUSA and Young America's Foundation (YAF)," Malkin began. "They are duping a lot of their rank and file loyal donors."
Malkin previously worked on YAF's speaking circuit before being booted from her post due to her alignment with Fuentes, who is a Holocaust denier.
Malkin, 49, went on to say that many of the wealthy donors who give to groups that support conservative activists on college campuses know little about technology or the battle between Fuentes and TPUSA.
The far-right author blasted the elderly donors by explaining that most don't even know how to use a basic smartphone, let alone Telegram.
"I actually confronted Foster Friess, who is the mega multimillion-dollar donor to TPUSA. In fact, he just earmarked a couple million more to TPUSA as some sort of pat on the back because they didn't get federal PPP (Paycheck Protection Program) money," she said.
Malkin—who was recently praised by President Donald Trump on Twitter—then said she believes Friess has no idea what he's actually funding, calling him "completely clueless."
"He had no idea that TPUSA and the types of people that are 'brand ambassadors' there advocated for all sorts of social nihilism and liberal excess and libertarian excess, and he had no idea that the Koch Brothers were largely underwriting all of these DACA dreamers," she said.
The controversial columnist then called out other donors for also being oblivious to what their money to TPUSA is going toward.
In an email, which was obtained by the Daily Dot and sent out by TPUSA at the end of April, the non-profit can be seen fundraising off of Friess' donation.
This was after TPUSA applied for the PPP loan, then publicly rejected the aid. The move was seen as an attempt to raise its public image with Trump.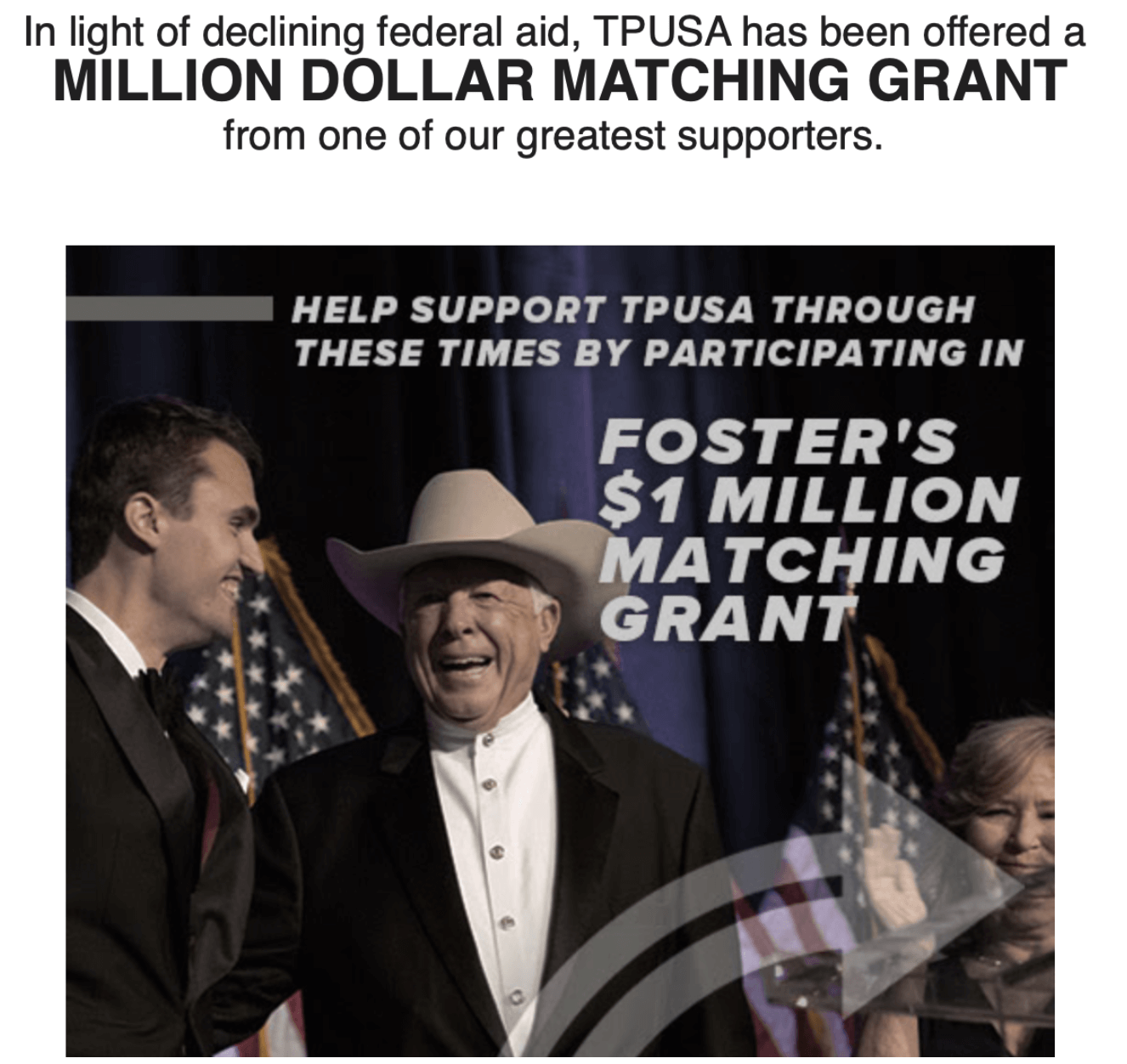 The Daily Dot has reached out to Friess and a representative for Friess Associates but did not receive a response by publication time.
The feud between Fuentes and TPUSA stems back to the fall when Groypers would appear at TPUSA founder Charlie Kirk's campus speeches to troll him with absurd questions. (They don't believe Kirk is conservative enough.)
Fuentes, who has been banned on social media platforms like YouTube, Reddit, and TikTok, hosts a nightly podcast show called America First on DLive.
In the interview with Malkin on Monday, Fuentes said he will be starting his very own student organization that will have campus chapters, like TPUSA's.
"We are building our own student organization called 'America First Students.' You know not—I don't even know what Turning Point means," the white nationalist stated.
Fuentes then revealed his plans to go on a campus speaking tour similar to Kirk's, in which he travels to different campuses to speak to and debate with students.
Neither TPUSA nor Fuentes returned the Daily Dot's request for comment.
READ MORE: