Conspiracy theorists are convinced that the recent raid on YouTuber Jake Paul's home is connected to child trafficking.
Paul, who boasts more than 20 million subscribers on his channel, had multiple firearms seized from on Wednesday after federal agents carried out a search of his California home.
The FBI has since confirmed that the raid is related to an ongoing investigation into allegations that Paul participated in a riot at a shopping mall in Arizona last June. Paul was not home at the time, and no arrests have been made thus far. The guns were also reportedly removed from the home as a precautionary measure and are not tied to the investigation.
But false rumors swirling on Twitter claim that Paul is instead being investigated for drug dealing and sex trafficking children.
"So Jake Paul got raided by FBI for sex trafficking girls," @Garurusama said. "Why am I not surprised."

Countless videos have appeared on TikTok as well, accusing Paul of not only sex trafficking but of drugging underage girls.
Many of the claims appear to cite the same two social media posts. The first appears to be an anonymous tweet making false assertions about the raid.
The second is a legitimate Facebook post from 2019 made by a mother whose daughter had attended a party at Paul's mansion. Reports that women were drugged during the party, thrown for the rapper Desiigner's birthday, were investigated by police at the time.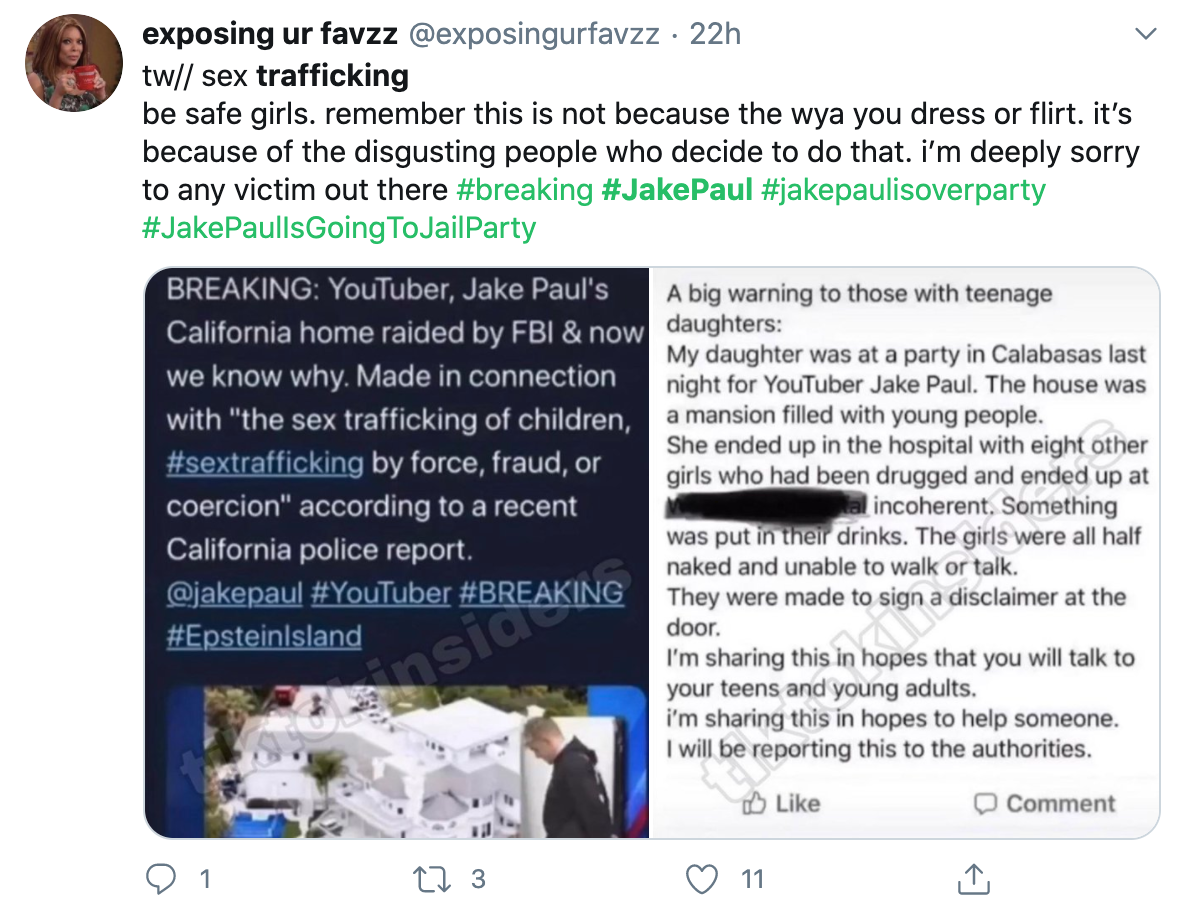 No evidence has ever shown that Paul was involved in the alleged drugging, and the raid this week is unrelated to the 2019 incident. Conspiracy theorists appear to have merely tied the two incidents together to bolster their claims.
A Photoshopped image purporting to show a news banner linking the raid to sex trafficking also made the rounds online.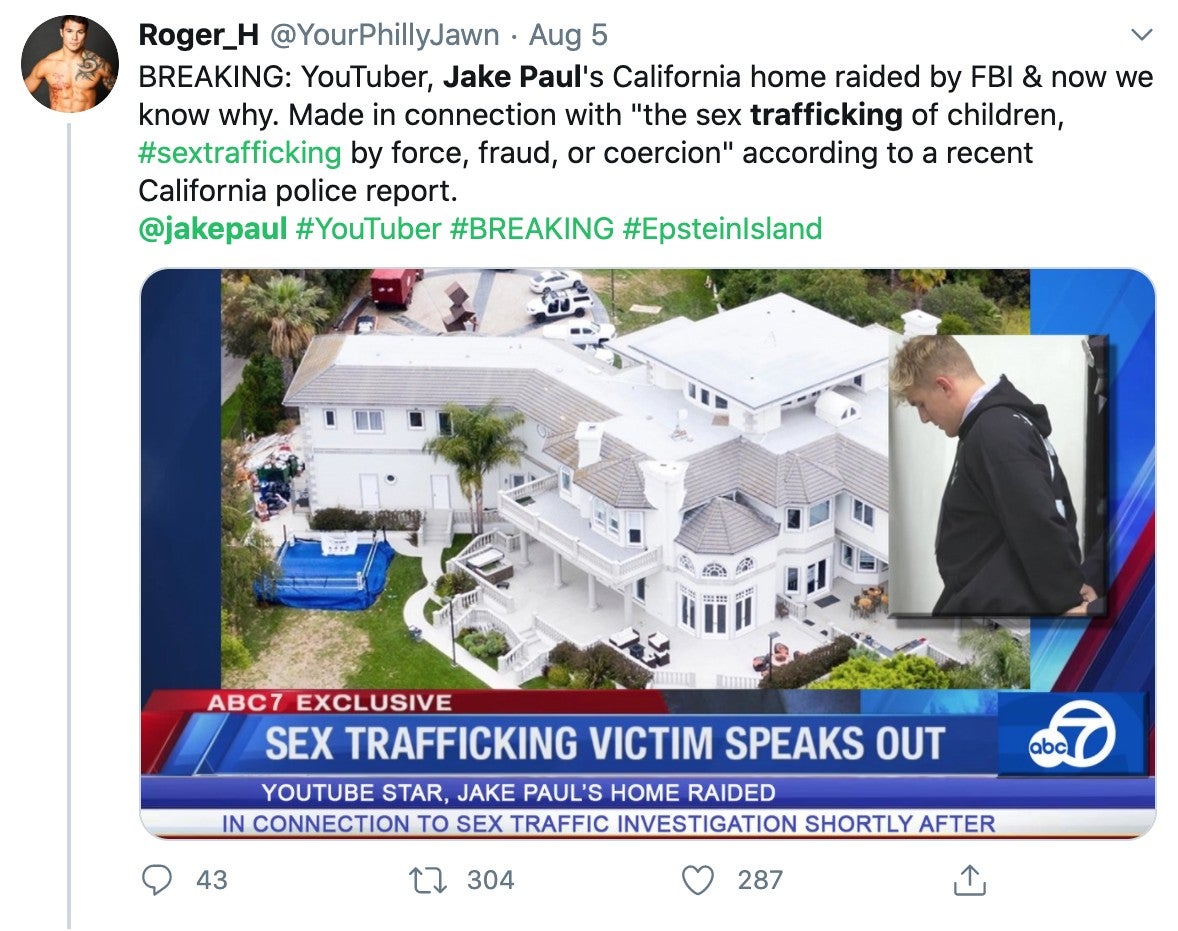 The fake story drew the attention of conspiracy theorists tied to QAnon and Pizzagate. Believers of the conspiracies think an elite group of liberals, entertainers, and politicians run a child sex trafficking ring.
A friend of Paul's, Armani Izadi, was detained by FBI Agents in Arizona as well on Wednesday after a raid on the "Graffiti Mansion." The FBI confirmed that the raid was also tied to the riot investigation.
The raid helped fuel the conspiracies further as Izadi happened to be wearing a pizza-related sweatshirt during the raid. Followers of the Pizzagate conspiracy believe any references to pizza are proof of pedophilic activity.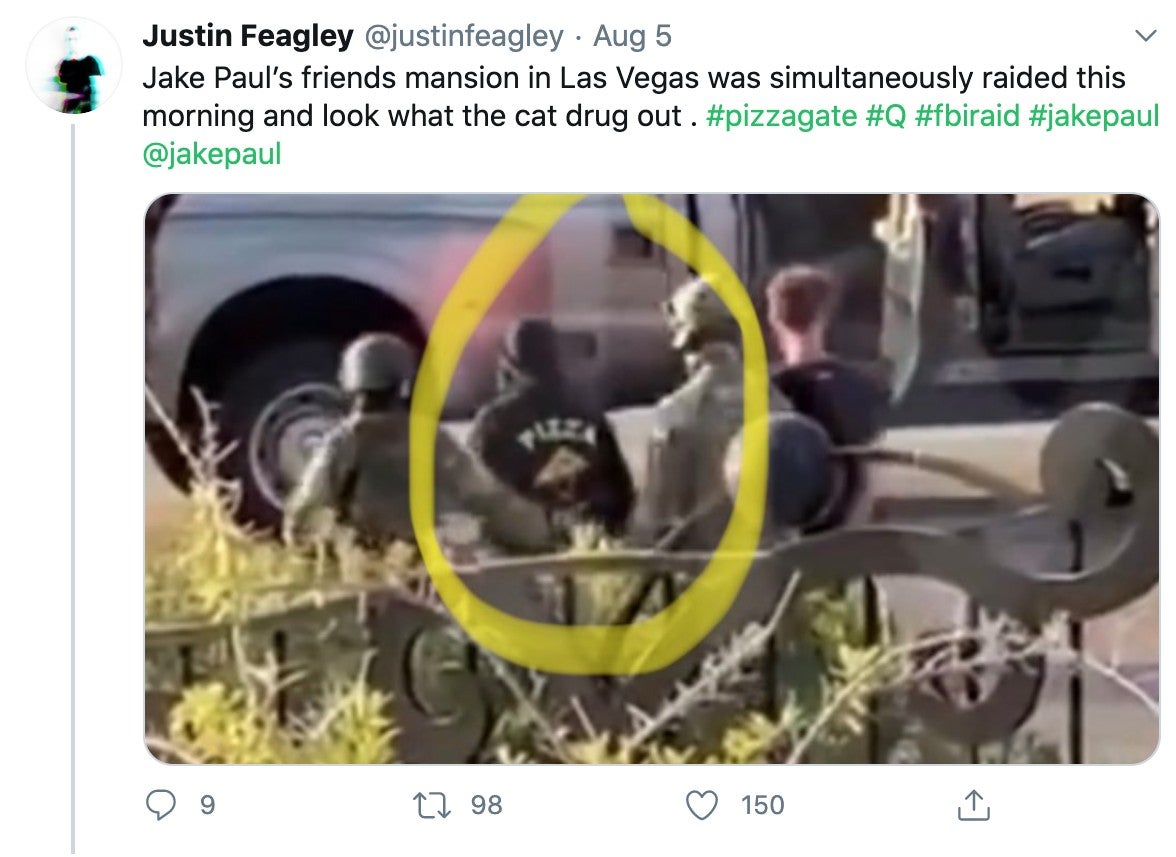 Paul so far has not responded to any of the conspiracies surrounding the raid. With Paul now associated with child trafficking conspiracies, however, it's unlikely the topic will die down anytime soon.
READ MORE: