The day after a huge party at YouTuber Jake Paul's house on Saturday, rumors began swirling that multiple women had been drugged. But the Los Angeles County Sheriff's Department told the Daily Mail it had not received any complaints like that from the party.
The rumors first began with an apparent Facebook post from a mother's group in southern California and from an Instagram post from a firehouse that serves the Calabasas area where Paul lives.
On the private Moms of Conejo Valley Facebook group, which has more than 17,000 members, this message began circulating on Sunday.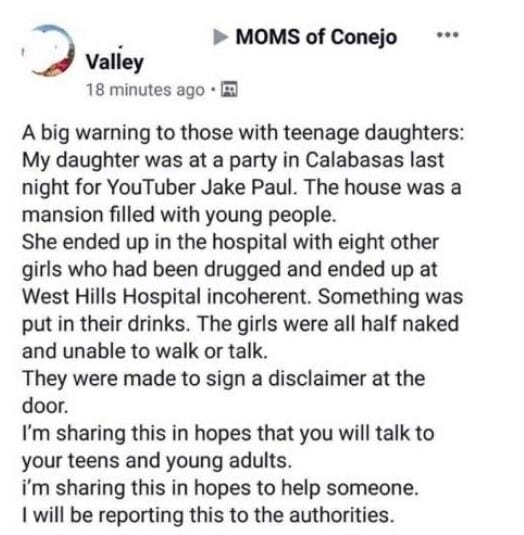 The post claimed that the mother's daughter was at Paul's party on Saturday night and she "ended up in the hospital with eight other girls who had been drugged and … ended up incoherent. Something was put in their drinks. The girls were all half naked and unable to walk or talk." The mother also claimed the party-goers were made to sign a disclaimer of some kind before they could enter the party.
The speculation was further fueled by the apparent Instagram account of @firestation68. The account is no longer available, but according to reports, a post said firemen had spent the majority of their Saturday night "transporting multiple patients" from the party to the hospital.
https://twitter.com/KEEMSTAR/status/1125167610516185091
Paul has not commented on the reports on social media, and he didn't immediately return a message left by the Daily Dot—there is no indication that Paul had anything to do with any reports or allegations of women being drugged. Paul's brother, Logan, seemingly had a good time at the party, which was thrown in honor of rapper Desiigner's birthday.
jake paul threw threw the best party LA has ever seen

— Logan Paul (@LoganPaul) May 5, 2019
A spokesperson for the L.A. County Sheriffs' Department told the Daily Mail that nobody had reported anything about women being drugged. The only complaint the department received was about loud music and that the party that was "getting out of hand." One of Paul's elderly neighbors was "scared" by the party and fell as a result, but there were no other injury reports.
READ MORE: