Under different circumstances, a movie as gratuitous as Once Upon a Time… In Hollywood would deserve no recommendation. Quentin Tarantino's ninth feature film is an opulent period piece that romanticizes a bygone version of Hollywood that maybe never existed, and glorifies a hyper-masculine, "embattled" antihero archetype who still exists today but deserves no deification. It relegates its women to the sidelines other than to exact violence upon them, which it does with disturbing, unadulterated pleasure.
Once Upon a Time… In Hollywood
RELEASE DATE:
7/26/2019
DIRECTOR:
Quentin Tarantino
RELEASE:
Theatrical
The freewheeling, late-'60s buddy comedy is quintessential Tarantino, for better and for worse.
But for Tarantino fans, self-indulgence and a fundamental misunderstanding of women are not impediments to enjoying his movies; they're just prerequisites for those movies' existence. From a pure entertainment perspective, Once Upon a Time… In Hollywood is an uproarious buddy comedy and languid stroll through its creator's intoxicating fantasy world, anchored by disarmingly tender lead performances. Whether it's Tarantino's masterpiece—or even one of his top-tier movies—is besides the point. It is simply a quintessential (Quentessential?) Tarantino movie.
Leonardo DiCaprio stars as Rick Dalton, a past-his-prime action star who's been downgraded from network television leading man to the token Heavy who gets his ass whupped on a different show every week. He's also a binge-drinking, hippie-hating headcase who considers casting agent Marvin Shwarz (Al Pacino)'s suggestion to shoot a Spaghetti Western in Rome a fate worse than death. The threat of impending has-been status triggers Rick's public meltdown, and the duty of picking up the pieces falls on Cliff Booth (Brad Pitt), his longtime stunt double and de facto chauffeur since Rick earned one too many DUIs.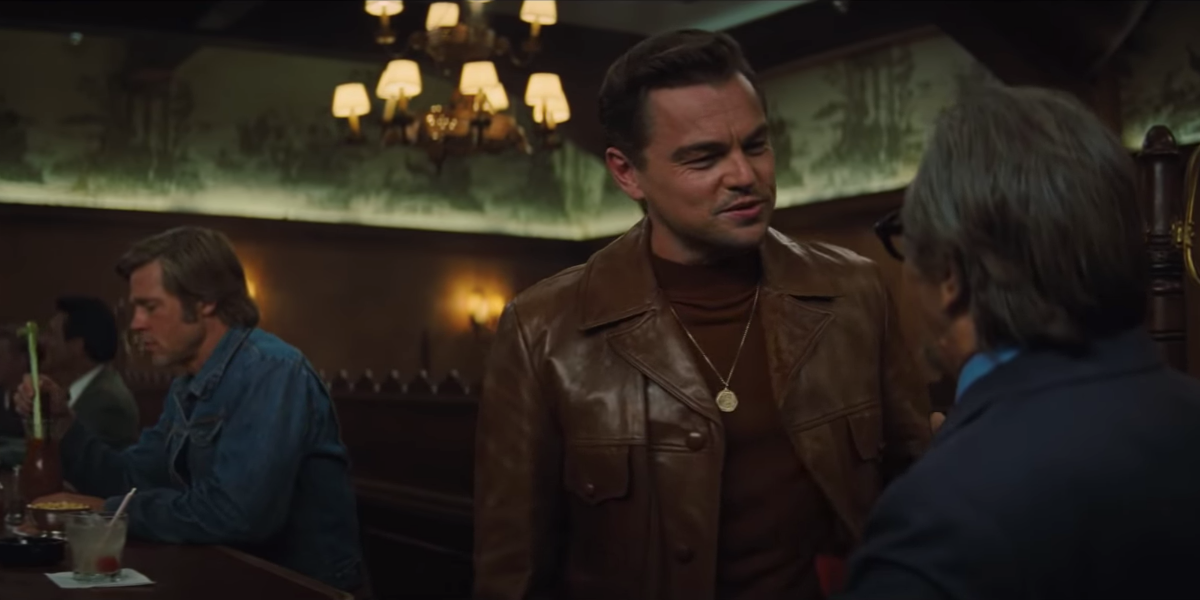 Cliff is quick to crack a cold one and happy to sit and watch Rick's old reruns; his enthusiastic narration of Rick's action sequences are the sign of a true friend. He's the yin to Rick's yang, exuding an effortless swagger and seemingly content living in a dumpy trailer behind the Van Nuys Drive-In with his impossibly obedient pit bull, Brandy.
But that swagger belies a dark side. Directors don't like having Cliff on set, what with those pesky rumors that he killed his wife. (The film neither confirms nor denies this.) He wisely rejects the advances of a teenage hitchhiker named Pussycat (Margaret Qualley), who lives with the Manson Family on the abandoned Spahn Movie Ranch. Perhaps this is supposed to establish his moral compass before he beats the ever-living shit out of another Family member who gives him lip as he tries to leave.
Pitt's livewire performance hearkens back to his character in Fight Club, and the Cliff/Rick duality evokes Pitt's relationship with the older film's tightly wound, neurotic Ed Norton. Similarly, Once Upon a Time… In Hollywood glamorizes Cliff's myriad beatdowns under the pretense of "high art." His mean streak is indiscriminate, but Tarantino films him pummeling women with such palpable glee that these scenes go far beyond the realm of good taste. They'll make you laugh out of discomfort, but these moments are not funny, or even particularly entertaining. They're violence porn through and through.
As Cliff joy-rides around Hollywood and picks fights on-set with the likes of Bruce Lee (seriously), Rick is having a redemptive experience on the set of a new TV show called Lancer. Inspired by his precocious 8-year-old co-star (Julia Butters), Rick finally gets his shit together and acts like his life depends on it. For a man who only knows show business, maybe it does.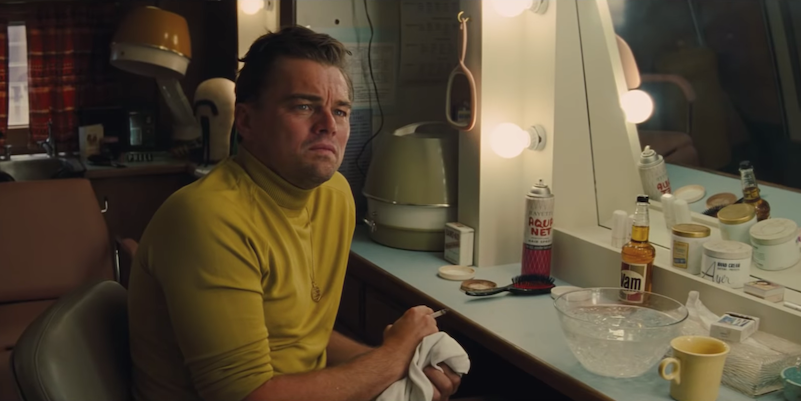 It's easy to see Rick as a reflection of DiCaprio, who at 44 is still a box office juggernaut and playboy, but whose glory days won't last forever. Or perhaps Rick symbolizes Tarantino, an iconoclast and old-fashioned purist whose shock tactics are no longer quite as en vogue in a film industry that's growing incrementally more progressive.
Oh, I almost forgot to mention there's a woman in this film, too. Her name is Margot Robbie, and she plays Sharon Tate, up-and-coming actress and wife of Roman Polanski (Rafal Zawierucha), Rick's next-door neighbor. I hate to sound dismissive, but I've already given Robbie more attention than Once Upon a Time… In Hollywood gives her. The 29-year-old actress (already too old to date her co-star DiCaprio) illuminates every scene she's in, particularly one in which she convinces a movie theater owner to let her see her own movie for free. Tate crackles with exuberance as she watches her klutzy character and waits for other moviegoers to laugh at her pratfalls.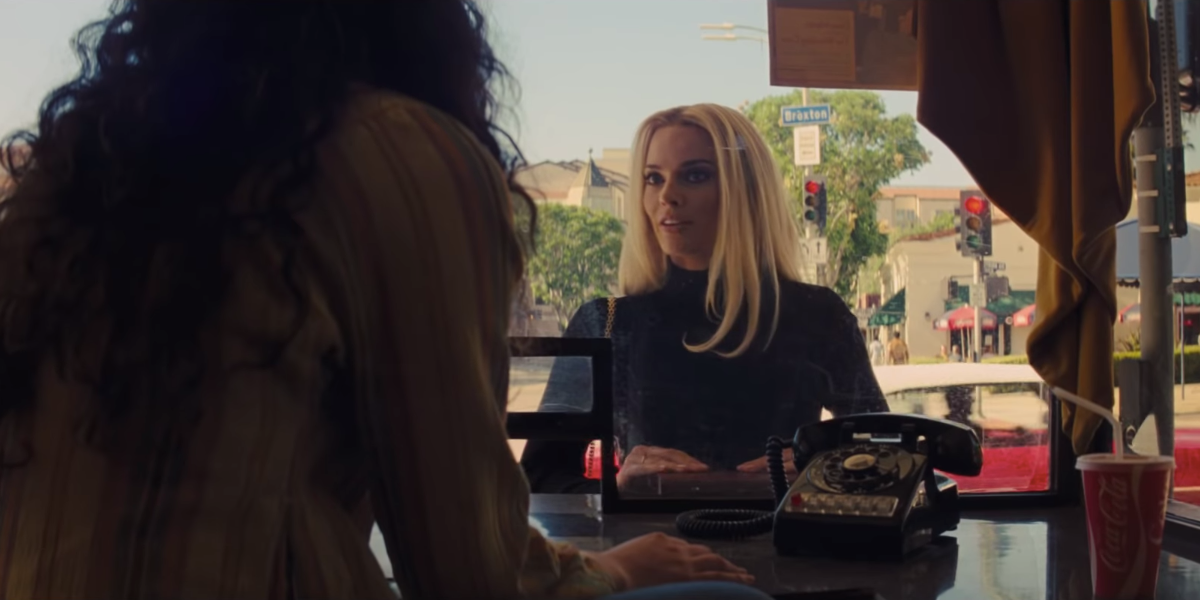 Robbie could easily go toe-to-toe with her male cohorts (as Wolf of Wall Street demonstrated six years ago), which makes her glaring lack of dialogue even more tragic. Call it a reflection of Hollywood's dismissal of women in the '60s if you want; it's really just a criminal underuse of talent.
All of these separate stories unfold at a leisurely pace until the film kicks into overdrive in its last 40 minutes, using a six-month flash forward that doesn't feel entirely earned. Tarantino gives the Manson Family saga a grisly rewrite that doesn't exactly feel like a resolution, which is OK, because the preceding two hours don't exactly feel like a plot. In a summer of super-stuffed franchise blockbusters and ghastly reboots, it's delightful to spend nearly three hours in Tarantino's meticulously crafted, albeit overly romanticized dreamland. It's hard to pinpoint what exactly Once Upon a Time… In Hollywood wants to accomplish, but to paraphrase its characters: It's far out, man.
READ MORE: